Evernote nabs Chris O'Neill from Google as new CEO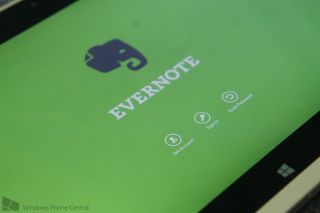 Evernote has announced that it has appointed a new CEO, Chris O'Neill, who will step into the job on July 27. Co-founder and current CEO, Phill Libin, will step down from the position to become the Executive Chairman. Evernote says that Libin will stay "actively involved with the company," though they didn't specify exactly what that would look like.
From Evernote:
Prior to joining Evernote, O'Neill spent several years in various leadership roles at Google. His most recent position was within Google X, the company's lab for more experimental work, where he served as head of global business operations. He has also lead Google's operations for all of Canada.
Source: Evernote (opens in new tab)
Windows Central Newsletter
Get the best of Windows Central in in your inbox, every day!
Nooooooooo! There goes evernote for windows! :(

That's what I am afraid of too :(

He is so committed to Google's cause to kill windows phone, he quit his job there to serve the cause

If they do use OneNote, it's better than Evernote.

Sure, buy a lot of people use evernote and rely on it daily

No one said change was easy. Sometimes it just has to be done. Usually once it's done you realize it wasn't as bad as you though it was going to be.

Not against the article, but how is this related to Microsoft or Windows..?

The guy will make the app disappear for our platform.

Anything except that perspective..?

to put it simply, EverNote is a popular app used by users of both Windows and Windows Phone.
that's how it is related to us. :)

Should be renamed to Windows and Others Central. Lol

Evernote is a popular application that many users of Windows rely on. Many have noted that Evernote tends to lag behind the other mobile platforms though. Plus the modern app is nowhere near as powerful as the desktop app. This could give some insight into the future of Evernote. If Evernote does drop Windows, it could either be a boon for OneNote or people could possibly ditch Windows instead as some people heavily rely on it, even some businesses really on Evernote.

Some of it looks feasible ;)

This is a very important app, so I was glad it showed up here. I follow Evernote news very closely.

I hate to read too deep into this, but will this affect our Windows app? I'm guessing he'd let it live.

They could as well say the app is done and removed tomorrow, it's Google, they don't care about their customers like Microsoft, that's why we are all afraid about that position on google

- What will be your first decision as the new CEO?
- To remove the app from windows stores.

Well it's a .exe as well so it's available for Windows. But I don't think it will be removed.

It's Google. Anything is possible. I'm downloading it now so that in ready if it's removed tomorrow

How is it better that OneNote?I find OneNote comfortable

A lot of people use it. I'm an OneNote user as well but both are good. Anyway, this is not good news

Evernote has password protection

Chris O'Neill is No more Googler So App isn't going anywhere.
If google buy Evernote.... Then you know...

I'm glad I use OneNote for everything...

Google acquiring Evernote in 3... 2... 1...

Yet another app we'll be reading about no longer on the platform.

I don't see where this is going to be a problem. The guy doesn't work for Google any longer. As for Evernote, I've used it for BlackBerry, Windows Phone, desktop Windows, and Android. Yes, I also use OneNote. Both apps are useful. Posted via the Windows Central App for Android

"A criminal has killed, done jail and got out, but you don't never assume he won't kill again"

Actually I do, that's why I would want capital punishment to be approved in my country.

Once I switched to Windows Phone, I stopped using Evernote. The integration of having my notes with me via OneNote syncing back and forth was too good a system.

For the love of all things holy, please make Evernote notes transferrable to other formats....keeping formatting intact! As it stands, if someone without Evernote wants to see your work....and you don't want them to suffer the unreadable formatting....you have to go through it in word or docs, line by line, and move things around.

Its time to transfer files and docs to onenote..just in case
Windows Central Newsletter
Thank you for signing up to Windows Central. You will receive a verification email shortly.
There was a problem. Please refresh the page and try again.