Eyes-on with the beastly new Alienware 17 gaming laptop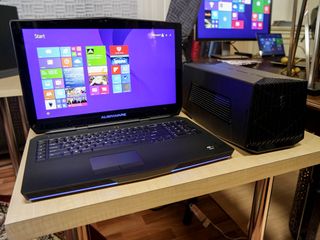 This morning at CES 2015, Dell introduced a range of new Windows 8.1 products across its different laptop lines. It's gaming lineup from Alienware has a new 15-inch and 17-inch model to join the 13-inch that was launched in late 2013. At the media event in Las Vegas we managed to get a quick look at the new 17-inch gaming powerhouse.
It's more an eyes-on than a hands-on, because it's still pretty big. Despite being slimmer and lighter than previous big Alienware laptops it's still got size to it. But, more so than ever – especially with the optional graphics amplifier you can also buy – Alienware is providing options for the serious gamer on the go.
Both the 15-inch and 17-inch models are available with an Intel Core i7 CPU – apart from the 'entry level' 15-inch model – with options up to NVIDIA GTX 980m graphics and come with a Full HD display with touchscreen options. If you drop down to the 15-inch model there's an option to have a 4K touchscreen display.
The Intel Core i7 will also automatically overclock when plugged into the graphics amplifier. Storage wise you'll be able to spec up to a 1TB hard-drive with a companion SSD up to 256GB, or just have a 512GB SSD drive which is pretty fantastic. They're tough as hell, too, with construction materials like opper, aluminum and carbon-fiber composites.
Ultimately if you're buying an Alienware laptop, you're buying it because you want power. Be that for gaming or even media production as was highlighted in the media event, Alienware has the power on hand to deliver. Prices for the Alienware 17 start at $1499 while the 15-inch starts at $1199. Both are available to order today from Alienware.com (opens in new tab). Check out a bunch more images below.
Windows Central Newsletter
Get the best of Windows Central in in your inbox, every day!
Managing Editor - Tech, Reviews
Richard Devine is a Managing Editor at Windows Central with over a decade of experience. A former Project Manager and long-term tech addict, he joined Mobile Nations in 2011 and has been found on Android Central and iMore as well as Windows Central. Currently, you'll find him steering the site's coverage of all manner of PC hardware and reviews. Find him on Mastodon at mstdn.social/@richdevine
+ALIENWARE I just love their style.

Just The style. They are like apple, they produce mid quality overpriced stuff. It has only the brand name, their products are nit that good.

Have you ever owned a Alienware Laptop? If not, Ya can't critisize something you've never used.

I'm sure it's good quality but you could build an absolute beast of a desktop for that price...

But you can't build a laptop... Why... Why don't people get this simple thing?

I know that... but me personally, I would rather give up portability for an immensely superior machine at the same price. If you are specifically looking for portability than this is an awesome device.

He knows that, he's making the point that for the same amount of money you can make a gaming PC that is much more powerful, and can handle higher end games. Sure the portability of a gaming laptop is awesome to have, but you're limited to what you can do with them. If you need more hardware to run a more power hungry software it's much simpler to take the side casing off of a desktop and swap out a component than it is in a gaming laptop. If you're somebody who likes portability and don't plan on upgrading your machine every year then a gaming laptop is perfect. But if you plan on wanting the highest end hardware out there for the year then your money is best spent on a desktop rig.

I own one. His statement is valid. Not worth the money at all. See my comment below.

So, I feel I must answer your comment. I see these a lot everywhere and I don't know why. I'm an owner of two Alienware products over the past three years. The first, an Alienware X51 which I used as my primary computer for a good while until I decided I preferred even more mobility. It became a fantastic TV computer for guest playing games. I also own the late model Alienware 18 equipped with dual video cards. I have to say that these products are fantastic and not just from an aesthetic point of view. They are well designed, well built, and quite user servicable. I know because I decided post-purchase I wanted a larger SSD cache/storage, so I upgraded the mSATA card. As for support, I'd give them high marks as well. I had to interact with them regarding what I thought was a hardware problem only to figure out later it was just a settings issue I caused. There are certainly options from competing products that are cheaper, but to say that their products are "not that good" just isn't fair without some more information regarding your experience. Their brandname has staying power as long as they keep it up.

I feel I must answer your comment. I have an Alienware 17 with 780M and I can't get rid of this thing soon enough. It arrived (brand new from Alienware) with a broken CTRL key. The webcam/mic went out shortly after I bought it. I researched it and others have been having the same problem. The consensus seems to be a poor hinge design causing wiring malfunctions. I used to be able to adjust the position of the monitor and have it work if positioned just right, but it no longer works at all. The power cable has separated where they put that silly LED. I guess they were running out of places to put lights and decided the power cable needed one. Lastly, installing my own copy of Windows (it came with regular Windows 8 and I already owned a copy of Windows 8 Pro) was a huge PITA due to the embedded serial keys. Everybody seems to think Alienware has good quality, but that's not been my experience. Not worth the money, IMO. Now you know why. My next laptop will likely be the Aorus X7 Pro next month which is much thinner, has 970M's in SLI, and a 17" IPS display.

LOL. No such thing as a brand new alienware with a 780M in it.

Not anymore, no, but there was a brand new one in July 2013 when I bought mine and it arrived with a broken CTRL key.

Obviously you have never used one. And therefore your opinion can be rendered moot. Useless moron.

Imagine Alienware Windows 10 phone

I just can't imagine lol :D

They would add extra weight to the phone just to make it Alienware.

The design would probably be amazing and futuristic looking. Especially if they allowed for like an optional led band that slowly pulses around the sides of the bezel lol that would get annoying after a while but so many people would look and be amazed and ask what kind of phone is THAT!
Oh its a Windows Phone.
"jaws and iPhones drop to the pavement"

Lol... True, it'll be a looker... Even more than Red Lumias, and that's enough to make people asking me what phone it is.

Yes, with a graphics amplifier and hdd so I can use my phone as my PC!

It would be awesome to add surface support to the graphics amplifier, but the ports are just too slow, right?

Finally added touchscreens! Surprised it took them this long. While 4k is a nice added feature, performance will be a little poor even with a 980m unless you drop some of the eye candy. I have the M17x with a 780m and that still handles anything at full detail and 1080p above 30fps which is still impressive. I will say the weight of my laptop is the only deterrent from using it more. I hate lugging it around. What I would have loved to see more was the annoucement of an Alienware tablet. That would easily be a reason to ditch my laptop. An Alienware WP10 would be cool too, but even more unrealistic.

Love that it's made of opper.

Not a fan of Alienware. My current laptop is a giant beast, although aging now.

I can only dream of owning this laptop.

No longer beastly. As an owner of an Alienware 18 that they have decided to cancel, the new machines are nothing like the Alienware we used to know. No SLI, everything is soldered now so no upgrading on your own. They have been moving more and more away from extreme performance and have gimped the ability to overclock. The new 13 has a processor that will bottleneck the new graphics accelerator. And it goes on and on. Still the best built laptops out there but for the price of the 17 and 15, you can now get much more bang for your buck. Especially since a new gaming laptop with 1 gpu and no option to upgrade will be obsolete in 18 months. Its really a shame what zdell is doing to what was once the holy grail of gaming. The new area 51 desktop however, is a beast.

Laptop? A desktop with a fold out screen.

The word that is actually being used in the real world is "desktop replacement", but when it's specifically a gaming laptop it's not that often used. I've had a few of such from Asus in the past, mostly so that I could have a portable machine but still game.

Alienwares use to be good, until dell bought them. Now every component is stuck together like an apple mac so you can't upgrade it, that way when ONE component breaks, you have to buy a whole new laptop. I hate dell.

i would go with ASUS ROG G751 before this

Wtf the almost top tier one (at $2350) still only has a HDD. What year are we in? 2010 where SSD's were super expensive?
Windows Central Newsletter
Thank you for signing up to Windows Central. You will receive a verification email shortly.
There was a problem. Please refresh the page and try again.