Facebook and Instagram experience denial of service attack, outage [Update: Restored!]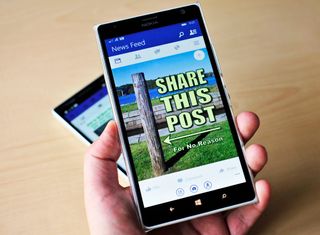 Update: Both social networks are now functional again. If you can't access them in your region just yet, hold tight. Services are being restored.
Facebook and Instagram, the popular social network and it's photo-centric sub-division, are currently experiencing a denial of service attack that's affecting access for some users. If you've been trying to check your feeds and you've been getting errors, don't worry — it's them, not you.
Both Facebook and Instagram have solid infrastructure and seldom experience downtime. I'm still not able to access either but that should pass as their systems are restored. Let me know if you have access and, if not, when it gets restored.
In the meantime, if you still can't get onto Facebook or Instagram, you can still get your social fix on Twitter.
Windows Central Newsletter
Get the best of Windows Central in your inbox, every day!
Good. Maybe this get people to stop walking/driving/shit**ng/talking/eating while looking at their phones and taking a picture of themselves. I approve this message! Long live face to face communication

+50 Whoever caused the attack just saved 10,000 lives.

Your comment should get a 1000 upvotes lol

You should thank the Lizard quad or whatever they are called... They are apparently behind this attack as well...

IDK, Facebook claims it's not a DDoS, http://www.csoonline.com/article/2876052/business-continuity/facebook-sa... I don't put much stock in the word of those Lizard Turds. I think they are more of a bunch of kids that wait for something to go down and claim it was them.

Or was this just a warning to Facebook by the NSA to let them know what will happen if they try to curtail the NSAs access. Perhaps Sony was given a similar message not long ago. One of the many problems when authority becomes all-powerful and attains control over all information. People begin to fear the power of government rather than the government fearing the strength of a constitution and the people.

Unless you have any facts to back this statement up, it's nothing more than conspiracy theory.

Obviously, and that's how I phrased it. The problem is that we are allowing the tools and power needed for abuse to proliferate unchecked. Even when abuse is exposed, it continues. What was once improbable conspiracy theory is now on the verge of reality, if it hasn't yet partially become reality. This is the direction we're heading, unfortunately.

Not to mention, facebook claims that they were the one's that caused the outage.

For a short time, businesses and entire nations were plunged into productivity

lol I like how he censored "ti"

Hahaha Facebook got hit by a DoS attack. How's that even possible??!

First of all: DDoS* :) Also, every network has a chance of being affected by a DDoS attack. Whether the infrastructure is built to migitate 500TB of data per second or 1TB, it's only a matter of attacksize to bring a service to its knees.

I do know what DDoS is but the post said DoS so I went with it. How could they possibly attack Facebook servers? They're built to handle almost a Billion people logged on at once if I remember right. How could their servers be possibly flooded by requests to carry a DDoS?

Because facebook doesn't have the most secure users. Since a DDoS relies on a bunch of people with less than secure PC's to take a hold of, I would bet of all the regular facebook users there are, the majority have PC's that are open to attack. Add that to the amount of users that are constantly logged in, and you have an overload.

Facebook says it was an internal error, not an attack, the Associated Press has reported.

I have still not understood the point of Twitter except that regular people beg and plead celebs or famous personalities to re-tweet without any self respect. Posted via the Windows Phone Central App for QWBASIC :|

Sadly when this happens, others are affected.

It's all back up. As you were.

My instagram is back .. Not fb

When instagram final version is going to get released??

Wrong question and bad timing dude...... ;)

its already out with a different name 6tag :D

Another one. Try asking Facebook using the Microsoft Feedback button in the Windows Phone store. They would know much more than we would.

it took almost 1 hour... maybe hacking some people again.

Facebook is slowly becoming a shit..

It's already shit, the worst shit.

Slowly? It has and already was shit. Posted via the Windows Central App for Android

I had tried refreshing my instagram feed and it couldn't. Now I know

I can login in both Facebook and Instagram in my 1520 and 925. Is the dos over?

ya ..its back now (India)

After the attack facebook seems faster

It's back.. Posted via the Windows Central App for Android

Finally we can see some updates of instagram.

Wtf are you talking about?

No. I'm talking in general that new ui is needed for insta. Plus support for video upload too.

Don't expect it sometime soon, or ever ;)

Ask Facebook directly. That's what the "Feedback" button in the Windows Phone store is for. :)

please update the both apps, instagram Facebook

:D . btw im also a fan of led zeppelin. Legend band

Sounds like an excellent question to pose to Facebook itself, since they own the Instagram app ;)

The NSA must be pissed they're losing out on so much data now

Or this was just a warning to Facebook by the NSAto let them know what will happen if they try to curtail the NSAs access. Sony was given the same message not long ago.

Its working,now Facebook (vienna)Austria

Awesome, finally we can see what the narcissistic people posted and what the baby mommas baby did and see the drama queen rant and see the sob story guy and of course see the complainers complaining about it lol Posted via the Windows Central App for Android

No problem here in Portugal. Works well.

Both app Works fine with Me

Now its working in Uzbekistan

Salom Shaxrux, xa Uzbekistandan, lekin Karakalpakstandan man

All losers that care about these services shouldn't. Go to bed

Still not able to open facebook..! Zzz

We can also get our social fix on Windows Central!

Too bad it couldn't be taken down forever. Think of how productive everyone would be!!!

Nah, chicks would just go back to reading People magazine and dudes would just continue chasing after them.

Seriously, when will Instagram ever update their crappie app for Windows Phone?! They don't seem to care at all.

They made the app just to shut us up that's it

Their waiting for Windows 10 or 11...or 19.

Sounds like a great question to post to Facebook, since its their app. ;)

I hope it's someone from windows for treating us like shit and ignoring us.

Mine was down for a couple hours then both came back up

The world didn't not end... whaddiya know !!

For a second I thought that both apps were updated, sadly no :(

Thought it was an app update

I thought it was an update for WP =(

I thought this said facebook and instagram updated damn shit

Try asking Facebook :) since they own the Instagram app. That's where your question should be geared.

Dammit!! I need to know what people had for breakfast.

But.. But.. if facebook is down, how are poor kids in Africa going to get their water supply?!! :(

I'm not able to install FB it shows error code 80073cf6
What to do??

I didn't even notice because I don't use either. Yay for privacy!