Facebook has been using contractors to transcribe Messenger voice chats
By Joe Maring last updated
How. Does. This. Keep. Happening.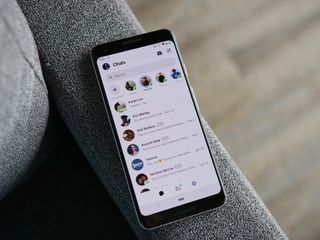 (Image credit: Windows Central)
What you need to know
A report indicates that Facebook was paying third parties to transcribe Messenger audio conversations.
The conversations were anonymous and often "vulgar."
Facebook says it has since stopped this human review process.
Were you sitting there to yourself and thinking, "Gee, it's been too long since Facebook screwed up?" Me neither, but that's exactly what's happened. Again. According to a report from Bloomberg, Facebook has been paying hundreds of third-party contractors to listen to and transcribe audio conversations from Facebook Messenger.
This news came to light on August 13, with the report saying:
Facebook claims that it has since stopped this transcription process and "will no longer do so."
In a statement, the company said:
The report continues:
While this is bad enough on its own and considering the other multiple privacy concerns Facebook has been regularly facing, it's even more damning when you take into account CEO Mark Zuckerberg's comments from his Congressional testimony that took place back in April 2018.
Speaking to Senator Gary Peters, Zuckerberg said:
Oh really?
To its credit, Facebook was transcribing the audio to improve its AI's ability to interpret messages and not necessarily push ads. Furthermore, people that had their conversations transcribed "chose the option in Facebook's Messenger app to have their voice chats transcribed."
Even so, it's hard to not feel a little dirty when you add this on top of a growing pile of privacy and security controversies we've seen in just this past year.
Exactly. They think AI or in this case Machine Learning aka fancy statistics name just happens.

I don't use Facebook Messenger, but I wonder if the feature was enabled by default and the users had to manually turn it off. Not opting out is very different from actually opting in.

You agree to the terms and conditions when you sign up an account, that is you opting in.

Well you have to press a button to use it so in theory they shouldn't get your voice data if you don't press that button.

I don't understand why they need transcriptions of voice chats. That is in essence a a voice over IP phone call. It is not directed at some AI that needs to analyze the speech to perform a function. It is two people talking to each other. This is way different that using people to help improve machine recognition in a system where people are talking to a machine. In Google and Amazon's case people are talking to Google and Amazon. In this case two people are talking and Facebook is eavesdropping/wiretapping.

The bot wants to parse your voice chats, to extract data, so that they can know you better?
Windows Central Newsletter
Get the best of Windows Central in in your inbox, every day!
Thank you for signing up to Windows Central. You will receive a verification email shortly.
There was a problem. Please refresh the page and try again.