Facebook Messenger app for Windows Phone gets new but tiny update [Updated]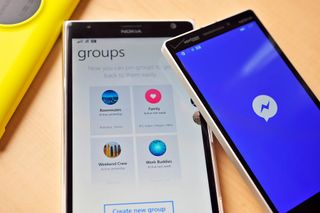 Update: Looks like the app got another small bug fix update for the second time today, bumping up the version number to 8.0.2.0.
Original story Facebook Messenger for Windows Phone got a new update today, but don't get too excited as it just bumps up the version number to 8.0.1.0 with what appear to be just bug fixes.
In other words, this update isn't nearly as significant as the last one that was released last week, which added a way to forward messages and photos. Still, feel free to grab the new version and see if it works any better for you. Thanks to the many folks who tipped us!
Get the Windows Central Newsletter
All the latest news, reviews, and guides for Windows and Xbox diehards.
Well need WhatsApp update too .!! Long**** due XD

Yeah it's been "lond" since we had an update.

We need a WhatsApp and Facebook update. Facebook some times not shows images and WhatsApp some times said that my O.S. isn't compatible.

BBM also needs and update and instagram is on SHYTE with the beta period ...

What do you think about John Callaham not saying "What do you think..."

Pff, support big screen devices!

1520? Cause works fine over a 5"

and 1320 which i've and some apps look so freaking big on this screen.
Extrem big font + black line under the app

WTF. The update removed one feature--> You can't see if someone is online via WEB, Mobile, Messenger etc. It just shows whose Online, not HOW. Damn Fb.

Thanks for telling me I canceled the update right away!

Yeah cool reminder I wont update

No problem Guys, stay cool with the old app, don't update

Just updated the app on mine and I still have the icons which show where the only user's are. Try re-installing. :)

Same here. Stop alarming people haha

Feature added again in 2nd update

Thanks for the warning; I won't update then. I think this is the only mobile platform where features are routinely stripped away, instead of being added. (Yes, I know that Facebook is a third party company, who makes this app....)

I still haven't updated Nokia creative studio also...after which Microsoft ruined this app

Well if you look at the profile pictures u can see the messenger icon or fb web icon. No biggy

I don't understand what you mean, it's the same for me: "F" when is web and the messenger logo when is online on messenger

It was written below the name - "Web", "Messenger", "Mobile" etc. Now it's not, that you can see.

Still no biggy, i always looked at the icons

You're right, I noticed that now that you said it. But I think that we can identify it by the icons.

I'm not following. Why would I need to know if someone is responding to my on their mobile or a PC? The only thing useful is knowing that they are online or not.

Your choice guys, I looked at the text, go on your way, the thing you like.

If someone else can see if I'm using pc or mobile, I want to have the same information about them. Just being fair.

In my opinion, I think it's more sure that the person will answer you if he is avaliable on the PC because it's much easier to talk on the PC

Yea u're right. In the online list it just shows the names of the people online,no green text under it showing how they are online ,web or mobile or messenger.

They should make a facebook app too!!

My whatsapp keep showing error message. It was always said that whatsapp its not supported for your os version. I am using Lumia black preview for developer window phone 8.1 update 1

That's because it still only supports Windows Phone 8.0. The last update for WhatsApp was before 8.1 was officially released...

WhatsApp update, Instagram update and a official fb app is what I want from Suckerburg. Then maybe I call him Zukerburg

Not much of a sucker when your worth billions lol

They should update this faster. Two main features are missing. It's not possible to send videos from the camera roll and voice calling is missing too.

Just give us theme support :(

Isn't it time for facebook to give us the call feature in the messenger app??? It has been almost 8 month since the app got released. I think I am asking for too much, aren't I ?

Now if the app had a way to turn off notifications till you want to turn them back on again...

?. You can set notifications in WP settings. Am I missing something here?

You can mute people whom you don't want to chat with

Still no landscape keyboard....

Does WhatsApp never wants to giving an update for WP anymore?

They need to fix the Facebook app so it shows the feed instead of the half missing stories

Yes! It's been a week since it broke! Facebook is a rather important app, whether people admit it or not.

No whatsapp update almost 3 month. Try to reach them on twitter seems useless since the also haven't tweet since April if I'm not mistaken. Where did they go? Are they on the Mars already? -.-"

I wonder when they'll get around to fixing these issues: When you get multiple messages from one person, and open one of the messages from the notification bar, all of the messages from that person aren't cleared out from the notifications. After tapping a message from someone in the notification bar, and it takes you to the conversation, it rarely refreshes the app with the latest message. You end up having to back up to the friends list, and then opening the conversation again.

Not there new draw feature then (sad face)

Facebook calls already on iOS,update indeed!

I am skeptical on using facebook messenger after reading a recent article that this app collects all sort of user data in iOS

I will just stick with the integrated messenger that comes with my phone. I like how you can switch from texts to fb.

Thought that was removed with 8.1

I miss integrated messenger. Also the speech to text feature was handy.

http://www.inferse.com/17779/facebook-messenger-ios-tracks-private-data-...

It goes to the main screen when you open it from the tile...no proper resume. Is this an 8.1 app?

There's an option to turn off 'enter sends a message'

Normally every time you pressed enter it would send your typed message. Now you can disable that and just use the "send" button. So you can separate thoughts in a single message.

I don't use FB messenger after all the sneaky stuff they pull I don't trust them I just use the integrated fb chat on my +ICON I don't want them listening to my conversation, taking pics, recording video etc. I like the app but do I really have to give up that amount of privacy to use it?

Exactly the reason why I refuse to use it. I don't want my private photos or some jerk off watching anything I have on my phone.

That stuff doesn't happen. It would never pass security of the store. That was some tin foil wearing paranoia from some bloggers trying to interpret the Terms of Service.

What surprises me is so many of you are using fb messenger app despite it blatant abuse of your personal data...have you not read the advise????? Crazy

Exactly, I had some moron give me crap recently about how safe it is. All I'm thinking is that either he works for fb or he's just another mindless drone.

Disagreeing with you doesn't make one a "mindless drone". Perhaps you ate paranoid. None of these violations have been proven possible.

Well there's a clear difference between paranoia and distrust. I don't think that everyone is after me, and clearly as we don't know each other, your assumption is lacking evidence.

My personal data is far less important than being able to conveniently being able to keep in contact with my friends. I've experienced no negative issues after having used Facebook for years.

Good point, I on the other hand, don't need fb gaining access to my camera for any reason whatsoever. That's just my pure distrust for a company that has a clear indication on their user agreement that states they may have access to your camera and so forth. So, unless this can be disproven, I'll just jeep using web based fb. And by all means, I have never suggested that no one else should stop using. That's purely MY preference.

I suspect that it requires access to your camera so you can share a picture that you take within the app. I can't imagine the app just enabling the camera for no reason though.
And it just seems from the comments above that other feel the same as you. I find it interesting.

Mine just got updated and I still see who is on

This app is actually so good I'm mad Facebook doesn't make an official Facebook app for our beloved OS. The beta a so glitchy it's not even funny.

What WP are you using? I'm on 920 and frankly, beta works better than the official, but that's just my experience.

I cannot install this update because the error message in store says I need to update my phone. I have Windows 8.1.1 but since its DP, Microsoft never pushed the Cyan update for my Lumia 625. Anyone else facing this update your phone to update this app issue??

I cant update my app... For second time... Any one help!!!!

Reinstall the app. If it doesn´t work Try a soft reset (hold vol down + power button for 10s-15s) and try to install again.

Exactly... I get an error that I need to update my phone to update this app... -_- Dumb Facebook Inc.

An app I will never install.

Thanks for letting us know. We were worried you might, now I can rest easy.

That's a little over sarcastic. He never told you not to use it.

His comment adds nothing of value. No reason to comment at all if you're just going to say your not going to install an app.

Huh, usually moderators would send an email to the commenter when they have done something wrong. But seeing that the post is still up, it looks like he's still allowed to post anything he wants, even I anyone disagrees with the comment/post. Just saying.

Much like how my sarcastic post is also still up. I guess we're both in the clear.

Still no log out option..F***** facebook

Uninstall and reinstall. Do you have multiple accounts or something?

Yes WhatsApp update please..
No resume process quick open

Was the ability to disable sending messages with enter included in the last update or was it new to this one?

It was there in the last update too...

Okay, thanks for answering my question.

Facebook in desperate need of an update.

Now they can listen too.... :-)

You can see that FB added new feature in this 0.2 version. Now you can turn on/off enter to send messages

Actually, that feature was included in the previous update.

Seems faster LOL wait I haven't updated yet lol

It's crashing like hell now, and showing loading screens

A minor change, now the messenger doesn't shows the device name I.e mobile and web, under active row through which the users are operating there fb message.

Need an urgent whatsapp update. Since the acquisition of whatsapp by Facebook they have releasing updates to facebook messenger and not to WhatsApp

Still wont download this spyware.. Was happy with the integrated chat.. Then I got used to the one in the FB app (which I want MS to keep making, caus I trust them more), and now they remove that, for what reason?! It still sends me notifications, even though I disabled that...

Question is, when are we going to be able to send previously recorded videos, and play videos in full screen? Both have been available on Android (and I guess iOS) for a while...

I hope chat heads were available in nxt update

Would someone explain me how this messenger is spyware?

How to sort online friends by fovourite ?

STILL NO landscape mode in Chat view! WHY IS THIS SO PROBLEMATIC! Plain Pivot-controll supports this!!!