Facebook Messenger picks up major update, now available as native Windows 10 Mobile app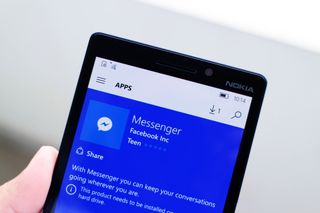 Facebook Messenger has received a major update with a redesigned user interface for Windows 10 Mobile, bringing it in line with the updates rolled out to the beta client a few weeks ago.
The update brings the ability to send GIFs, change theme color, customize your username, and much more. Download the update from the link below, and let us know how you're liking the changes in the comments.
Download Facebook Messenger from the Windows Store (opens in new tab)
Thanks everyone for the tips!
Is this the Messenger (Beta) coming out of Beta? Feel like the fact Windows Central already reported on the Beta the head line should be something along those lines. Great this is now generally released, any updates over the beta? Actionable notifications last major thing I'm missing

Yes, it is the one. At least it looks exactly the same.

Looks like actionable notifications are still missing.

Normal notifications are also missing, if you go in notifications and action you won't be able to find messenger there.

So the Facebook app must be almost there... Not sure if I'm ready to say goodbye to the people hub integration yet :-(

The new app is probably going to have People integration too.

so far it doesn't. And it sucks to not have it anymore.

We need to let them know through feedback within the app about that,instead of just commenting here

I already done my part leaving (sorry) harsh review with not more than average score just to at least show that the app still needs work. While at it, we must also use the dedicated feedback system within the app in any means. Hopefully that's enough as long as most of us will submit similar feedbacks.

People hub integration AND the notification badges for the lockscreen.

And pinning og groups to the start screen.

Yes previews of images in notifications and actionable so we can reply

Wait now I am confused, which are rich and actionable? I thought rich notifications are the banner which you can swipe down and reply through it instead of going to the app. Btw I am afraid they wont add it, that this is the downside of the porting apps, they port it but wont add the key Windows features like people hub and lockscreen notifications.

Rich notifications include image thumbnail AFAIK. Of course, that is only when someone sends you an image. Or for other apps like news apps or WC, an image would be present with the article name.

So whats the name of the feature which is currently present in SMS app? You recieve banner notification (swipe down) and reply. Quick reply?

I think Rich notifications are the notifications with images, and actionable is the ability to reply through the notifications. (I think)

"Interactive notifications"

I hope not anytime soon, at least they MUST implement that feature seriously. Most of contacts is largely dependant on Facebook metadata which will suck so hard if I lost that, resulting a long list of outdated photos and no contact photo with some missing info's. I was going to be really harsh for now that have to rate these new Facebook apps to be lowered since I don't think it deserves high rating yet, not to mention performance is still very sluggish, though gladly its more stable now.

I've started adjusting my contacts in anticipation of losing the Facebook integration. It's been a time consuming process, but now I'll be fine if they do pull the plug.

I'm starting to think about it, but it's definately time consuming process for real and I find it even hard to give it some time for such a busy life, it's doable but just way too inconvinient. This is why I against really that Facebook to replace the current one with some less important features for something that is honestly a less important Facebook thingy ones. Facebook app makes everything organizing contacts just plain easier since most people have account there already, it's actually not a chore to sync contacts unless there is a bug that prevents to work properly (my friend's iPhone for example can't sync some contacts for unknown reason). I'm really thinking about to turn off auto-updates because of this (which is a bummer since Windows Store doesn't even have a freaking option to have selective apps to only auto-update like on Google Play). I've tried the new app and despite I use Facebook, I honestly didn't the new app much of a benefit compared to the old one, heck the UI is actually looks more lively and with that swipe pivot controls makes that 8.1 Facebook app seamless to use, which is similar to Android version of the app. This is why I have to very harsh this time to give not-so-high reviews of the app and constructive feedback as much as possible since I care. Not to mention, some of my remaining friends and family that still use Windows phones would going to get annoyed with the changes, likely I'm expecting a call from my family members who are just average users to ask why their contacts and other stuff they used to know gone or acts differently. I had enough explanation of things issues about W10M already, but this Facebook apps would be a biggest deal for them since this is what common people use most of the time.

Dude you can keep this current fb app too just for people hub integration. Just make sure to turn off it's notifications.
Use new app and keep old app just for integration. (well as long as old one is available or new one introduces integration)
Idk why but twitter also dropped down integration altogether when it released it's new win 10 app.

The problem is eventually the new Facebook will replace the old one which have People app integration. That's the big concern since the current Facebook app doesn't have any sign of that and especially how they just surprise us that Messenger app replaced the old one with little to no changes or improvements from beta, this is not a good sign. The current Facebook app sounds like already a bad release candidate. I haven't noticed any noticable improvements and changes to address issues like this yet, there is a race whether they will replace it first or improve it first, but I bet it will be the former.

The new app uses a different listing. One can always get the old app back even if it gets unlisted, unless MSFT updates it pointing to the new one.

Just keep the Microsoft Facebook installed and u will still have FB integration ...but i have a feeling FB will be integrating FB and Instagram into people hub in the near future.

Where do I change the theme color?

Click the contact name on the top of the conversation.. And there you'll be able to change the colors

This is bullcrapp. They should let people change dark ot white.... Just the change of some small icons don't mean change themes.....

These apps do not have an option for dark and light theme on any platform..

It's a windows phone design language, all apps are supposed to give users that option regardless if other platforms don't. Take whatsapp for example, it has the option for dark and white themes on only windows phone. This and many other cross-platform apps.

There is no "Paint It Black" option now.

Where is the video call???

Still in development...I think.

This is an article. WC doesn't do video calls for articles.

But it can't remember my login. I am fed up of log in once every few days. No thanks, WhatsApp is good enough for my messaging needs.

The Beta has been fine when it comes to saving my login info

Telegram is love, Telegram is life.

Nobody in my main social group uses Telegram but they all have Facebook. Everyone has WhatsApp too apart from one guy who refuses since everybody is on fbook messenger anyway

Two years ago, when I started using it, there were only 2 of my friends. But it's obviously gaining momentum since there are now 20, 10 of that have joined during last ~3-4 months. And it IS a very good and quite often updated messing app

All things are in Telegram and Telegram are in all things.

Is it a proper Windows 10 app designed with Microsoft's dev kit? Or the ios port using Facebook's own set of tools?

It's ported from iOS using Facebook's own osmeta tool, just like on PC.

Honestly, the new app feels so wrong. Even the camera is a cheap copy of the iOS one. I welcome all the new features, but frankly, if I wanted iOS I would just buy an iPhone. But on Windows Mobile I want a Windows Mobile interface with all of its beauty and simplicity.

And I want good, working, updated apps. And that's what this is. Very glad to have it.

Except it isn't. My biggest problem so far is that autocorrect does not work for words that you have already written. Startup is very slow for me, I miss the notification on the lock screen a lot and it sometimes stops syncing messages and I need a couple of restarts until it starts working, support for MS Band is also gone, and some more smaller things. So, in exchange for all the cool features of W10M (or WP8.1), we got changeable chat colours. This app was not written for Windows Phone, and probably not even as a cross plattform app. And it shows everywhere. I could live with an iOS-style interface, but such an app will always provide the best experience on its native plattform.

Also very laggy and VERY unstable on my fast ring 950XL.

Yea! Kick me while I'm down ;)

And you got negative comment because you said it was laggy and very unstable. Seriously, maybe we are unlucky bastards that the app doesn't work well on us. What I find even worst about it that the performance is so poor that everytime I type something on new Messaging app, it lags for few milliseconds tyring to catch-up my typing speed, and this is an app meant for messaging! This experience would be worst for people who can type really fast finding out that the app simply lags behind, not to mention that auto-correction doesn't work properly in that process.

Don't use beta OS's if you can't handle it.

Even if ported, is it possible for them to do specific W10 tweaks? Perhaps for future releases.

Once ported it's way easier to adapt the code to the MDL so it feels like home. But it's up to the Facebook team to do so.

Cant login anyway, crashes straight after login and never loads, dies on splash screen

No voice call no video call

Noooo the transparent live tile is gone? Also I don't see anything about theme colors

Is it just me, or the transparent tile went away? :/

Transparent Tile wasn't ever implemented in this new Messaging app, maybe they will make an update for that next time.

72.6 mb size for download ?

That's what you get when fb fully ports app instead of making true uwp

Actually that's what you get when you ask for a fully featured app.

Its not opening, but was able to open from windows store only, no dark theme ? Only white ?

Probably all the gifs and pictures it comes with.

Omg, omg, omg. Finally! Thank you Facebook. Finally I will not have to use the old version for 8.1 anymore :)

No transparent tile, and connecting to current facebook app doesn't work if you try e.g. change your profile info choosing the option from messenger app

Grab the Facebook Beta, they link together. The beta from Facebook rather than Microsoft

This is what we get when FB is stubbornly using their own porting tool instead of Microsoft's Visual Studio Posted via the Windows Central App for Android

I don't know how but once I got the calling option on messenger (pc). I tried calling my friend twice but he didn't picked up. After that I changed my fb id then that option just gone. I still wonder how that happened.

I have seen the same bug. Somehow there was once the telephone button. I pressed on it, it did weird things. I think they just ported the code and then tried to hide it from the interface.

Taking more time for opening..showing logo..added group separate, no calling option yet.i didn't feel a major change.

the good news is i finally saw windows 10 mobile white theme on windows central post xD

The football game has been added but basketball has been removed. ☹

I didn't get the update.. !!! Why??

Dies this mean the official Facebook app is gonna come out soon? Just curious, even tho I am already using the beta.

Keep using the beta version. Despite the distorted live tile image

It looks exactly like the earlier Messenger (Beta), just the system requirements is different. So is it really an UWP? Can uninstall the earlier beta version?

What is wrong with you people??? The new design is horrible! Yeah, there's a lot of new -long awaited- features like gif support but the UI is the same stupid iOS port that they brought to instagram. The app size is a bad joke, loading times suck and there's no option for live tile personalization.
I hate the update and the new user interface that people at Facebook are pushing...

Stop whining and use the app

That's what all the companies want their users to do. Not whine. Just take whatever they give you and shuttup about it. You're a good boy in their eyes.

Really? We now have an app that works more than fine. Performance-wise it's great, 1000x better than the old app. Of course I'd like it to have the classic Windows UI, but we should be thankful to be receiving decent apps from FB.

Maybe I should try and reinstall it, because for me it's slooooww and jittery while the MS app works almost perfectly

Develop your own app and do whatever you want with it.. You are ever complaining

Wow, now remaining the fb aapp

Wow, now remaining the fb app

Please upload call option

Great. Transparent live tile is gone. This looks HORRIBLE on my start screen. Also, as everyone else is asking, where is the option to change theme color? SMDH.

Miss that transparent tiles

There are no themes. You can change individual chat bubble colors just like in Android/iOS. There are hardly any Windows-specific features at the moment. Hopefully, they will come once the app's stable and on par feature-wise with Android/iOS.

I also got the call option once but later it disappeared. Still wondering why? I hope the new Facebook app supports continuum because MSFT own Facebook supports it and also actionable reply.

Works well! Update here! Btw viber UWP has just been released!!

Viber UWP was released 2-3 weeks ago and recieved first update yesterday.

Nice .there is an option to log out . Finally. Plus a good UI.

Nice update. Now my experience is the same as in my Surface. I'm not the biggest fan of iOS ported apps though, but hey, we have asked for more feature parity but we also know they won't develop app specifically for WM right?
Appreciation time~~

That's nice but what about Facebook itself that really needs some performance improvement.

Live tile is not transparent because it is "live" now and shows latest posts. But does not have any personalisation yet, WTF?

Live tiles can also be transparent numpty

Live tile is not transparent because it is "live" now and shows latest posts. But does not have any personalisation yet, WTF?

What about the calling option, has it been available yet? Posted via the Windows Central App for Android

It will be rolled out soon,I guess server side changes

Stable, got windows 10 feel, and fast loading. But still no voice and video call.

I don't think it has a Windows 10 feel but at least the back button works so we don't have to use the navigation UI at the top. Overall we got some really important features like GIF support that was missing in the old app, been using the preview and prefer it to the old app feature wise

Back button works for navigation, but it doesn't put the application in suspended state, it simply closes. Everytime I open the application splash screen and loading cicle shows up, not a big deal, but visually is not that great :)

Anyone try to delete a message? Why i cant delete any message after the update?

I don't think that's possible anymore. I only found the option to delete conversations (swipe left...)

What about the calling option? Has it available yet? Posted via the Windows Central App for Android

The previous transparent Live Tile encouraged me to have the messenger app pinned to Start screen without obstructing my background images. NO RESPECT FOR USERS!!

You do need some colourful tiles also to make a great start screen interface....thats the beauty of this os....if every tile gets transparent then how horrible and less colorful it will look

I completely disagree. Microsoft intentionally left the Start screen as the sole place for user customization of their device. They should be REQUIRING apps to have the option for a transparent tile to give the users a choice.

I'm sure it will happen, Facebook didn't release Instagram with a transparent tile but they amended it soon after, first with a semi-transparent tile and then with a completely transparent one. I imagine they'll make the same changes to Messenger soon.

Just out of topic, but Official steam app now available on W10M.

Messenger is gone from lock screen as quick status option :(

Can't comment on the beta one, never used it. All I can see is that one useful feature (at least for me) is gone with this update.

I see, since I've used both. I can tell it is the same~

Thanks for noticing this! I will use in-app feedback form to tell Facebook. If you do miss this feature, please do likewise.

It's never been here on Instagram neither. And same goes for the new facebook app. Doubt it will ever see the light

I hope you are wrong, a messanging app which doesn't show message count on lockscreen is half useless.

I'll have to agree on Paolo on this, lets just hope for the best

Have this same issue with the Skype UWP Preview on mobile too, I think they need to add in a badge icon in their App Manifests so they can be shown there

Hope they (Microsoft) are not planning to remove quick status notification feature from the OS. Notification center is great, but quick status icons are useful too, I can see on the lock screen if my important application has any new notification and I don't have to swipe down the notification center and scroll through ​other notifications for that.

Feels like the imminent MS classic removing features...

Hey has anyone gotten this to work with continuum? I tried opening the beta app using continuum and nothing happens. Maybe this version will work.

Not yet, best thing is to use the browser version on Edge, very similar experience

Same result, just a black screen. the same for the Facebook (beta) app.

Ugh, hate it when they do away with Transparent Live Tiles and force their brand colour on us....ala..Skype.

Now it completely fills up the screen when i hide navigation bar

they need to do the same for Instagram!

I know, they recently introduced that in the beta and I was so happy :D

I don't understand,now we have a beta and the older one with same features?

Messenger (beta) is currently older than this public release.... I'm seeing beta as v.75.497.13181.0 and the Non-Beta as 75.501.22239.0

This is the exact same app as the Messenger (Beta). I am hoping that after a month or two of updates fixing reliability and performance, making it in par with iOS and Android, they will finally push out a native UI update (MDL2) on this app.

Whatever issue everyone experiencing, let them know through the app,settings, report a problem or general feedback

You mean previous messenger app has been replaced by the iOS ports facebook is working on as UWP Windows Apps tho it uses Facebook's own porting tools instead of Microsoft's. Great. Facebook should be next and it will be great. The app could use some performance improvements but at least it is nearly on par in features with other platforms and may have some hope of updates too.

Can't even launch after updated! Crash immediately! Now I'm out of reach via messenger!

sweet, does it install on sd card?

Beta version does...found that this version installed directly to my device...haven't tried moving it to SD yet. I noticed performance of the Beta is a tad bit better when stored on the device and not SD

Is the beta app still going to be used to test updates before being pushed to the regular app? If so I'll keep hold of it.

Hey, how is the performance, I'm thinking of upgrading to W10M for Messenger, but last time I tried Messenger Beta it was slow and clunky.

It's not lightning fast no.... - but it works fine... :)

Cant add messenger to lock screen quick notification and cant modify messenger notifications

One of the worst ideas for an app ever, why cant we just message through Facebook? I hate having have two app for one site.

It's not just W10M/W10...its Android and iOS as well...its been their model for a while now.

For pipz having trouble after the update, just try rebooting phone. Did good for my L640.

Should I keep the beta app or just this one??

Hey, are there 2 messengers listed after this update? One which when clicked upon doesn't do anything, but I cant even uninstall that one!

Same for me. Uninstalling-reinstalling app didn't solve this "double entry" :-(

Nice. I would prefer a more WP-unique UI than this iPhone-style one, but whatever, it is good it has all the functionality! Also, has anyone found the option to turn on sending messages when you press Enter rather than having to press the Send button? Thanks!

I like how we now have alot more features on this app, and it seems cleaner. However the notifications on the lockscreen are missing. Video call is missing. Transparent tile is missing. And does it continue support for the Microsoft Band (1 & 2)? Good, but not great.

Transparent tile will come, I'm sure, it's what happened after the Instagram app went public. For me, I have been picking up notifications on my Band 1, yeah.

Have you been getting notifications from "Notifications Centre" or the new Messenger app, because there is not option to select Messenger motivations any more.

i have the old messenger app stuck now! have new and old in app list with old tile on start