Facebook for Windows Phone bumped to version 2.5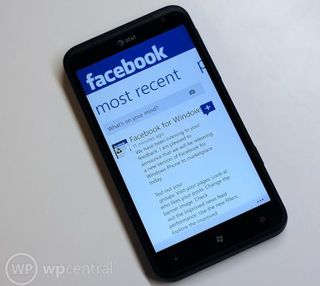 Microsoft has released version 2.5 of the official Facebook app for Windows Phone. The update brings many features requested by the community, including threaded messaging (much like messaging on Windows Phone), group messaging and the ability to tag friends in status updates / posts ('with' and 'at' formats supported).
As well as tagging friends, users can now delete posts and comments by tap-and-holding to bring up the context menu for more functionality. Links within published posts can be selected, which will open up the linked content, and the photo comments and likes views have been updated, that now both match the respective post views. When viewing likes and comments on photos, the photo itself is displayed above the lists, which can be pulled down to view.
And if all that wasn't enough, you can now 'like' comments! You can download the Facebook app for free from the Marketplace.
Source: Facebook; thanks to all who tipped us!
Windows Central Newsletter
Get the best of Windows Central in in your inbox, every day!
Rich Edmonds was formerly a Senior Editor of PC hardware at Windows Central, covering everything related to PC components and NAS. He's been involved in technology for more than a decade and knows a thing or two about the magic inside a PC chassis. You can follow him on Twitter at @RichEdmonds.
Finally I can like comments and tag my friend :)

if only we can filter out the stupid Game Status updates and Game requests via the app. I don't see it on my computer but my phone gets everything. Sometimes it makes it unusuable.

I agree! I hate paging through those farmville requests!

You can do that by logging in from your computer and blocking the posts from your newsfeed. I did it years ago and it's much better.

Do you know how to do that? I thought I had, but they still show in the Facebook app - maybe what I did and what you are talking about are different things.
It also still shows posts from people that I've 'unsubscribed' from their updates.

I have the same problem. It doesn't seem that the Facebook app takes into account these choices you make for unsubscribing and account settings. The only way I've filtered out my news feed is by creating groups of friends in Facebook and just using these groups in the app as my way of filtering. Luckily, the people I like to hear from don't play games too often, so this method works for me. I'm not directly filtering out things like Farmville using this method, but filtering out certain individuals works well enough.

I would love to do this too. Too much noise to use as it stands right now.

The stuff I block on the regular site seems to filter as well for the mobile app on my end. Are you choosing to block all posts from the app in question or just the current post?

Also maybe go into your list of apps and such that have had permissions in the past and delete them as they may still have permission to access your account that way?

This app is definitely now a contender for the best mobile Facebook app. I don't know about anyone else, but it also feels faster than previously....

It does. My feed popped up almost instantly.

Not until they add support for 'Pages' - iOS has this (not sure about Android).

Not sure what you mean. The panel that shows your profile pic and has the box to enter your status has Pages down the list if you scroll down. Same for groups.

"Pages" is there already. Scroll to the left of Notifications - you should see your status update field, along with menu choices for profile, friends, messages, events, etc. Scroll down this list and you'll see "pages" :-)

Errr no? the app still take ages to start up, much like whatsapp, and swiping to the left and right still lags!

Yes, I'm finding it very slugish on the old HD7 where this wasn't even an issue before. I should reboot and give it another go. Changing the banner pic won't respond at all when I select it. Something definitely wrong here. Reboot time. :)

You could already like comments with a press and hold.

You could like posts, not comments on posts.

Where was the WP Manditory "We don't really 'get' Facebook or use it around here but we know you do!"

Here it is: "What's the deal with Facebook anyways...? And did you hear about that IPO?" Yadda, yadda...lol

Hey I'm with you. I don't use facebook either. I just notice your the one who always says it. Lol

LOL, they finally catch up when I've deleted my Facebook. But I'd still rather not have a Facebook.

They need to fix how the Groups work. It shows the latest threads that were posted first as opposed to the latest threads that have been active first. When I wanna check Groups on the go, I have to use the mobile site. I wanna be able to use the app more than the mobile site.

SOMEBODY PLEASE EXPLAIN SOMETHING TO ME!:
"Tagging - Now you can tag friends and locations in your posts in the 'with' and 'at' format."

Does that not imply the method of being able to type the "@" symbol, and linking it to one of your friends? Or does the above feature mean something totally different?
I thought I could update my status with something like, "Hello my friend @John Doe, hope you are well." and John Doe would be a link to my friend.
Or am I wrong? Cuz I don't think that's happenin'...... ??

It's more like, "With John Doe at the Mall." and it would tag John Doe in the status...i think anyway, i never use the feature.

Ah, I think that does explain it all. Thanks "JPDVM2014"

But in that case, BOO! That's not what I wanted! :( I thought this update was going to do the other feature I speak of... whereas you type "@" in your update, and it will link your friend into the status. Oh well.....

Click "add" to add a new status. At the bottom, there's add friend and add location. Pretty sure this is what it means.

Can you "Like" a comment yet?

About time. Much of this functionality probably should've been there from the beginning, and certainly shouldn't have taken this long to implement. Better late than never, though, I suppose.

Yoohoo! Now maybe I'll use the app 70% over the mobile site, up from 40% :)

About time Facebook works similar to the other OS's,...

Sorry. Its really useless because i cannot delete this damn cityville etc. Status-updates. Thats horrible.... :(

No, but you can delete cityville =D

Just unlike & Block cityville

So u have to actually type "with" then the persons name in? Is it a auto suggest or something like when u tag a friend on the computer that finds ur friends name as utype it?

i have a question for wp central. How do you link thw qr code directly to the phones marketplace??? I have an blog about windows phone and a app section where i would to insert such qr codes which i can make but where do i get the link for opening directly in the phones marketplace???

Notifications of posts, comments and messaging are not coming at all. I can now post as my Facebook Page I admin though cannot delete anything. That being said I can only delete my own Posts and comments on my personal wall. It is an improvement though. I wonder if like iOS and Android app involve some tweaking on Facebook's side if this is the same for the Windows Phone version?

A little better responds faster but it's lagging not as much as before.

We need the same update to Microsoft YouTube App. And Twitter App . Follow Me On Twotter @TooiNawfy_Offic doee

Deleting a comment crashes the app on my Focus.

When iOS users play with my 710, the first thing they check out is the FB app. Even before this update they were impressed, with 2.5, I feel this app is a win. Great work dev team.

Marketplace never recognized need to update update for me, although could see the different version #. So I had to uninstall/reinstall to get the update. Lame.

It happens sometimes...no big deal...save the Lame comment for something else..

I know it's not a big deal, but it is lame. I don't appreciate the condescension, I'm not your child.

Don't get your panties in a bunch...I wasn't being condescending....

Same thing happened with me. Had to uninstall and reinstall to get update. Not a big deal, though.

Actually when you see that in the future, just back out to the search results again and re-select the app and it should change to show update on it. I've done it on a number of new apps when I find out about them before my phone is alerted.

yeah but this version does not support lanscape keyboard of my htc 7 pro. It is locked in status commenting to portrait mode. The second bug is in the messages there are no links displayed that i have send or received, no pictures in messages... That are a lot of bug why i still prefer the mobile IE version on my wp7. And why does wp central not have lanscape support for commenting?

Worked fine know when I hit like it crashes. Once I send error report and I hit like button is says like status can not be changed.

Good update, seems to be faster than the previous version. I have my FB set up where I manually accept/deny posts that my friends tag me in. It doesn't seem this update or the people hub has this capability yet.

I want them to add a search button to find pages or groups on facebook

Hi
Is there an issue with the update ?
Im on a LG and the face book loading.... screen justr stays there and i cant get in or does it take a while the first time?
Any one getting this ?


OK fixed it had to remove app (i orogonally did an upgrade) and then reinstall and re give id etc...

hey! And another things was changing...
Now in "Messages" we can read the messages on "other" categorie, so "Sent" was deleted.
And if i visited one of my pages i can post on the wall like Administrator, in fact like if i was using the Page Profile.
Great Work!!!

buggie!!!
hit the like buttom on a friends comment and the app show me no mercy and close itself.
another one: if you post a picture in any group public or not, the picture shows up in your timeline to everybody!!!
Windows Central Newsletter
Thank you for signing up to Windows Central. You will receive a verification email shortly.
There was a problem. Please refresh the page and try again.