A Windows Phone Watch? New Kickstarter project looks good but may be unrealistic.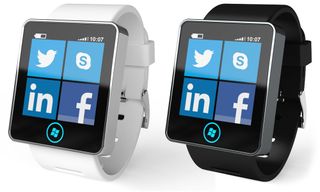 What could be better than having a little bit of Windows Phone 8 goodness strapped to your wrist? If the Kickstarter project Gnomio ever comes to fruition then we might just get a device that works via Bluetooth to send alerts for all kinds of things to your watch.
The devices are purportedly being ranged in some Windows Phone 8 friendly hues called the Gnomio Fresh or a sturdier metal finished 'Strong' variant. Could this be the ultimate Windows Phone accessory?
Kickstarter projects by definition are funded by you, the audience. Think of it like a PBS telethon to raise money. If the group raises enough, in theory you get delievered goods. If it does not, well...you don't. An example of a high-profile, seemingly successful Kickstarter campaign for technology would be Android's Ouya gaming project.
But we're going to advise you take this with extreme caution as we have little idea who these guys are. They don't have a license secured for the OS (as far as we know) and their timeline looks unrealistic. Oh and there isn't a proof of concept, so you have been warned.
The specifications for the watch look pretty impressive on paper, here is what will be inside:
ARM 270 MHz
DDR2 64MB
Flash memory is 8GB
OS - Windows Embedded Compact 7
Distribution of applications - Windows Phone Store
Wireless technology - Bluetooth 3.0 / 4.0
It doesn't end there; the device is going to pack a full array of sensors to help get the job done. But what will its job be? Looks like it will notify you for SMS, Email, Calendar Reminders, Weather, Player Controls and more. Here is the full list of potential uses:-
Notification of incoming and missed calls
SMS and email notification
Facebook and Twitter messages
Calendar reminders, timer
Weather
The player controls
Reminders of low battery charge smartphone
Search feature phone
We love the attention to detail on these designs but looks like they missed the new Windows logo on their "Strong" watch. Reading through the description it's sometimes hard to know what they are getting at for this device. Does it interact with Windows Phone 8 or is it just something made with embedded compact to look like a Windows Phone 8 companion. Shall we mention the spelling of Windows in the footer *note* at the bottom of the webpage?
The designs are fun and we have to admit we're intrigued by this whole project, but we're not even sure anyone wants or needs such a device even if it were possible to make it work. Like many Kickstarter projects these can serve as a bit of fun and even sometimes come to fruition.
Of most interest is the watch that bares more than a passing resemblance to a Surface device. If they get the logo right, work out the complexities of Bluetooth interactivity with Windows Phone 8, license the OS and deliver a project, this could be a great companion for the much vaunted Surface Phone. At present, like the Surface Phone there is simply no way to know if it will ever reach the market.
But ready by April? We're not convinced. Our warning does remain, treat this with care and be careful before you get involved.
We'd like to hear from anyone that has taken the plunge on this or if you would buy one? Tell us what you think in the comments below.
Source: Indigogo; Thanks, cedarlog and others, for the tip!
Windows Central Newsletter
Get the best of Windows Central in your inbox, every day!
Sony have managed it for android so why not a WP watch, might buy one if it reaches the market

Cuz Sony doesn't give a funk. For them new Windows ecosystem is almost like enemy because of strong Xbox integration. Still most of Sony laptops didn't get support for Windows 8 (hugh problem with hybrid graphics), still no phone with WP etc.

I want this so bad.

Looks great. They've got my support.

I am very interested, anything to support WP.

If they had a video of a prototype I would drop $100 right now

It's great to see some WP compatible projects there as well. It's sad to see every project being only about iOS, Android or both in kicstarter.

Btw, nice update from kickstarter/vlc on their progress.

If they are just using the BT connection to the phone, this might be possible. Supposedly this should work for WP8. Now engineering the watch...that is where this thing has the biggest challenge.

Your welcome for tipping you. And I'm not being sarcastic.

He said "Thanks, cedarlog and others" - so you weren't the first to tip, and you weren't the only one. Why should you be heaped with praise and adulation specifically?

I know I wasn't the first. -_-

Oh and I am using a motactiv device. Love it. Wish there was better/any integration with WP8.

i had my motoactv for about 3 months. Used it only as a mp3 player and pedometer. I didn't really like the way it handled the notifications. Phone/text alerts were ok, but the facebook and twitter ones just batched up everything from my wall/feed and dumped it to the device every 15 minutes.
Then one day I pulled it out of the small pocket of my jeans and there was like a quarter inch square dead spot near the middle of the screen, bleeding out a bit in all directions. Still works, but haven't been using it for fear of rendering it unusuable.


What kind of a name is Farkhutdinov? Russian? [EDIT: NM, click their names and it tells you they are from Moscow] That would make sense that the English doesn't read perfect, if it was a second language. But why start this with Windows? Why not start this with Android since that is all free? How will they get the license for so cheap? I'd actually like something that would bluetooth to my phone, and mimic my live tiles. I don't need to see the weather on my watch, but it'd be neat to have something that would send my email counts, who was calling/texts, and weather, battery, FB notifications from my phone to my watch. It would make it the ULTIMATE glance and go platform. Could see it as even more handy for a lady, as they wouldn't have to dig the phone out of their purse.

There is already a watch for Android devices that you can purchase through thinkgeek.com

i have a feeling they already have the watch hardware and this is really just programming it to look like the concept. Also, they are not licensing Windows Phone OS, they are licensing CE7 embedded so you will probably never know if they took a license.

Oh and it is an indiegogo project, not a Kickstarter project like referenced at the start of this article.

I give them 100 bucks,hope they can make it.

Nokia could pull off something like this to add to there collection of Lumia accessories. Technically HTC or Samsung could do this too, but they don't have the accessory support Nokia does, but I would like to see HTC/Samsung develop this as a companion accessory.

I would buy one in each color.

I guess there is a market for watches but I personally don't see the need for them. Like marriage they are now obsolete :)


Lol somebody had a bad experience lol.

:D
Like an idiot I will probaably get married again but this time she better make more money than me ;)

Kidding aside I was refering to the fact that Married couples represented just 48 percent of American households in 2010. Down from 78 percent 1950. People are getting smarter ;)
http://www.nytimes.com/2011/05/26/us/26marry.html?_r=0

Weddings are a grotesque waste of money! I don't know what the defacto laws are like in the US, but in Australia if you've been with someone for 3 years (generally living together, sharing expenses) then it is legally the same as being married i.e. They can claim any assets you made together. Adding children makes it more complicated. But fortunately we don't have the completely ridiculous "alimony" payments (I'm astounded it exists). Child support is a different matter and usually compulsory.

Windoes lol. Maybe it is Win"does"

....hmm...not feeling good about these guys.

Oh, you must have read the article. I didn't, and I'm feeling grrrrrrrrreat!!!!!!!

I had a iPod nano watch and absolutely loved it, till it was smashed in a tragic accident. I would by windows phone watch any day of the week IF I can use my Xbox music on it. And as far as I can tell you can't even use headphones with this. Sad...

It said it had bluetooth, why couldn't you use headphones with this if it has bluetooth?

Ya, battery powered rechargeable Bluetooth headphones have got to be seriously cheap these days. Lol

I am assuming you are making a joke...about the cost of a $50 set of Bluetooth headphones while we are talking about a $100 wrist watch. Logic is not logical.

I would want to use this to run. Are there Bluetooth headphones small enough to do that?

I have been using Motorola S305 for a few weeks. I have jogged as far as 5k and 45 minutes on a treadmill. I have had my eyes on these over the ear bluetooth headphones for almost a year at a popular online retailer that is also the name of a river. The price dropped because the new version is in-ear and has a more water resisitant ear piece.

That's really cool, would buy a couple for sure

The title should read 'Fancy a Bit of "BING" for Your Wrist?' ... Ha!

Looks like microsofts kin on a wrist.

Might spend 40 or 50 bucks for one.

Aren't Kickstarter and Indiegogo different?

The author should really change the title...

I'd need to at least see a working prototype and a UI that makes sense before I plunk down the cash. If they can mimic the feel of Windows Phone then I'd probably donate.

First of all, its a indiegogo campaign, not kickstarter. Second.... The design on this is absolutely horrible. It almost contradicts the design philosophy of WP, escpecially the plastic one their page. And... the steel one, ehh... the button is way out of line, totally uncool. Not good enough for me.

I'm rather surprised by the amount of people here who have left a comment saying they've already contributed money to this project. Did you guys not read the article? Did you ignore the author's warning? Anyone with a few years of CAD experience could have rendered those watch images. Plus there's not enough data to prove this legitimate. I'm not saying it's a scam, I'm just saying I wouldn't expect to see this anytime soon. :/

I'm fascinated by the project, but if they don't make their fundraising goal, they don't get funded. I'm not too worried about scams.

They do get to keep the money...

The concept seems a bit like the pebble watch for iPhone (if I remember correctly that's what it's being called) and if it was real and worked well it'd be pretty damn cool, but I'm not counting on it to be genuine.

Needs a video with a working demonstration before it gets my money.

Totally digging this idea. I ride a motorcycle in the summer and if it has music controls integrated, and the ability to answer a call via a headset, I'm definitely on board. I'd love to see this implemented.

I totally agree... I would definitely use this when cycling to control music or to stop/start activity tracking in apps like Endomondo. That would actually be pretty awesome. It would hopefully be waterproof (and shock / dust proof) otherwise I'd be hesitent wearing it a lot of the time.

it looks nice but im still not sure if i should pay them or not
if it was from microsoft or one of microsoft partners im all in

Does it have not face time but wrist time???

Sony Ericsson had a watch accessory a while back that did some of these things. I wanted it but it was too much money.

These guys aren't even on kickstarter. If they were, they aren't anymore. They're on some other crowdsourcing site. This is beyond sketchy

But it's not a Kickstarter project it's an IndiGogo project.

shut up ! and take my money !!!!!!!!!!

I am glad somebody is trying something.
I almost put together a team to try to create a Windows 8 Smart Watch. I would have done a few things differently, namely not needing a license for the watch itself.
Hopefully, we see more options in this vein becoming available.

Why don't you?! If this is a scam, then there will be many disappointed and many will be desperate for one, and you could get a lot of money out of it! I would give up to 100 on a good windows phone watch. Even 200, just for an amazing gadget!

I would most definitely buy this. If they can get a decent prototype up and running in going for two.

Wasn't wp8 originally gonna support a resolution for these type of devices?

Honestly if windows came out with a watch i woud buy it the first day! ive been really thinking about switching to a galaxy just to ge the galaxy gear. smartwatches are a really big influence in which phone to buy. make one please!

Must go with convex glass. Must be good for sports and the office. Must support bluetooth connections to everything (headphones, car, etc.) This industrial design is way too klunky. Would be best if it were waterproof!

I think it's a good idea. Guys make it happen. The community would probably love it. I know I would