Farming Simulator for Windows Phone, taking a green thumb to a new level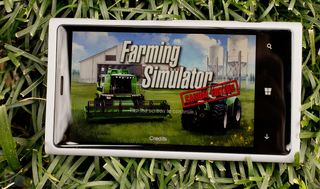 Farming Simulator is a relatively new Windows Phone 8 game that has had some success over on Android, iOS and PC platforms. The game puts you in the role of a local farmer responsible for managing everything from harvesting the crops, cultivating the fields and sowing the seeds for the next harvest.
Farming Simulator lets you control various farm equipment from tractors to harvesters. The game has potential but it's held back by difficult controls and the lack of a trial version. In the end, Farming Simulator may not be much of a bumper crop.
When you first start Farming Simulator you'll have to choose one of the saved game slots and the difficulty level you want to tackle (Beginner, Normal, Expert). From there you jump right into the fields.
The game screen has your vital statistics running across the top center with your farm equipment store button in the upper left and your options menu in the upper right corner. The stat bar includes, from left to right, fuel levels, bank balance, tank fill level, speed, and time of day.
Your vehicle controls sit in the lower left corner and include a vehicle switch button (move from harvester to tractor), a button to drop whatever you're towing with the tractor, a button to lower your farm implement, an auto pilot button and a horn. Some buttons won't be present depending on what task you are taking on or what vehicle you are operating.
Your accelerator is lined up along the right edge of the screen and a pull out map is along the left edge. The map does have icons for particular destinations (market, farm supply store, gas, etc.) and if you tap on the icon a pop-up window appears with details for that location.
The options menu gives you options to view the current prices for crops, your gaming statistics, a quick help menu (just covers the basic controls), access to the online gaming manual, access to the game settings, to view the support/about info, and save/quit a game. Settings cover options to turn on/off missions, the horizon tilts and steering controls with your Windows Phone tilt sensors (on screen controls appear), sound effect and music.
Game play is fairly much free style in nature but missions do pop-up from time to time. You harvest your crops, store them in silos, sell the crops at market, buy more land/equipment/fuel, replant crops, work through the night, and take on other aspects of managing a farm.
Farming Simulator has potential to be a fun game for your Windows Phone 8 device but vehicle control and travel distances to accomplish anything really holds this game back.
Vehicle steering control is accomplished by either using your Windows Phone tilts controls or an on-screen control. Acceleration is controlled by an on-screen slider control. I found tilt control to be the better option for steering but either is very challenging.
For example, connecting to a farm accessory (trailer, cultivator, etc.) requires you to back your tractor up to the hitch and when you get it lined up just right, the connection is automatic. The margin for error is so narrow that this can be very frustrating with the steering controls. Dropping an accessory is accomplished by a press of a button and I think it would have been better to hook up an accessory, once your in the general vacinity, in the same manner.
Once you harvest your crops and go to market to sell, you have to navigate through what feels like rush hour traffic. Not only do you have to travel a country mile but keeping your tractor on the road is very difficult when dodging on-coming traffic. And to get to any of the "off the farm" locations takes a while due to the distance. Between dodging traffic and the distance it takes you away from dealing with farm issues for too long. I would imagine players want to deal with crop management more and deal with travel time to market less.
Granted the game does allow you to multi-task. You can set your harvester to auto-pilot to clear a field while you navigate through traffic with your tractor to go to market. The solution may be to have an auto-pilot mode to get to these off-farm locations to take some of the frustration away from the game.
After giving Farm Simulator a few days to grow on me, I still think it has potential. The game has fantastic graphics/animations and if the developer could fine tune the vehicle controls and shore up the time in between stops it would improve greatly.
There are two more nits with Farm Simulator that don't involve actual game play. First, Farm Simulator (likely due to the graphics/animations) sucks the life out of your battery. A 15-20 minute gaming session drains about 15-20% of your battery. Second, and this may be the deal killer for many, there isn't a trial version. A trial version is really a must with games like Farm Simulator because a) it has a more narrowly focused theme (everyone may not be into farm life) and b) the price.
I can't say Farm Simulator is a complete bust. If you have patience to deal with the spread out game map and sensitive controls (and have a power cord handy), it can be an entertaining game. But it's going to cost you $3.49 to find out and without a trial version, I see many passing on this game.
Farm Simulator is a Windows Phone 8 game that is currently running $3.49 that you can find here in the Windows Phone Store.
Update: Apparently sometime between downloading the game for review and today, a trial version has become available. Which is really nice and should be standard for any game.
Oh... there is also a Windows 8 version available for Farm Simulator that does have a trial (go figure) with the full version running $4.99. You may want to give that a try before taking the leap with the Windows Phone 8 version.
Get the Windows Central Newsletter
All the latest news, reviews, and guides for Windows and Xbox diehards.
George is the Reviews Editor at Windows Central, concentrating on Windows 10 PC and Mobile apps. He's been a supporter of the platform since the days of Windows CE and uses his current Windows 10 Mobile phone daily to keep up with life and enjoy a game during down time.