Fhotoroom for Windows 8 - a fabulous touchscreen photo editor (especially for tablets)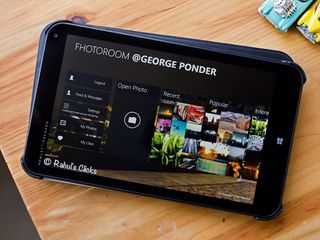 You may be familiar with Fhotoroom as a photo-editor, camera app and photo sharing Windows Phone app but did you know there's a Windows 8 version of the app?
While we have taken a look at the Windows 8 version of Fhotoroom before, a series of recent updates has delivered a serious design makeover to the app and a host of new features. The end result gives the photography app some serious mojo and well worth revisiting.
Fhotoroom is currently at version 5.5.1 and adds a HDR editor, Tiny Planets integration, RAW file support and a lot more. You also have a small footprint with the Windows 8 version of Fhotoroom that makes it especially appealing for Windows 8 tablets where storage space is often at a premium.
Quick Overview
If you have not taken a look at Fhotoroom for Windows 8 in a while, you may not recognize it. With the version 5.5 update, Fhotoroom's editor was re-written to be non-destructive and more desktop friendly. The latest update, version 5.5.1 was pushed out to fix a few bugs that snuck past the developer.
Through all the updates, you still have access to Fhotoroom's social network with the major changes hitting the photo editor. These key features include:
Edit up to 41MP HD images
Support for 150 RAW file formats and, JPG, PNG and TIFF (yes, RAW!)
Editing tools like Crop, Resize, Rotate, Color Correction, Exposure Correction and more
Interactive Editing for the highest level of control and accuracy
Tilt Shift Filter
High Dynamic Range (HDR) Filter
Tiny Planets integration
Filter Brush with saturation, brightness, de-noise, sharpen and redeye options.
Lens Correction, Panorama Rotate
Undo, Redo, Before/After during Filter, Pinch to Zoom
Unlimited Undo with History List tool
You also have design presets, 25 style filters, 22 frames and 28 light leak filters. All of which can be adjusted as to how much of the effect is applied to the image. All totaled, Fhotoroom now has over 90 editing tools.
Support for RAW file formats is a great feature for those shooting the format from a DSLR or from a Lumia Windows Phone with RAW support. Unfortunately, the RAW conversion process is automatic but I cannot complain too loudly because Fhotoroom does a rather nice job of things on its own.
It should be noted that some of the premium features such as Tiny Planets, HDR and some of the filter sets are available through in-app purchase. They are available for trial and can be bundled to save you a few bucks. You also have a selection of free filter packs that can be added should the need arise.
Also, if you aren't too excited about signing up for an Fhotoroom account you can decline and still have access to the editor.
A New Look
Fhotoroom for Windows 8 takes full advantage of the modern design with the main page offering a series of tiles that include:
Logging into your Fhotoroom account
Check your messages and feeds as well as setting up any social network sharing options (Facebook, Twitter and Flickr.
Access the app's settings (choose startup options and view the app's changelog)
View your photos that have been submitted to Fhotoroom's network
View your liked images
Larger tiles span the home page of Fhotoroom where you can open a photo to edit and view recent, popular and interesting images from Fhotoroom's social network.
The editor is laid out really nice with your tool bar running down the left side of the screen with sharing and viewing options running across the top. A settings tab is in the top right corner where you can set the maximum image size. Tapping an editing tool will pull up an options menu to the right of your image where you can make the proper adjustments to the edit.
Fhotoroom has built up a very nice collection of editing tools that will challenge most Windows 8 photo editors. Here is a quick breakdown of all the editing tools.
Crop Tool: Includes preset ratios as well as a unrestricted option
Straighten Image Tool
Presets: Thirty-one adjustable preset filters with history (shows the editing steps used to create the filter effect)
Exposure Tool: Exposure, Contrast, Sharpness, Saturation, Gamma, White, Black, Fade, Highlights and Shadows adjustments
Correction Tool: Color temperature, Tint, Contrast, Shadows, Midtone and Highlight adjustments
De-Noise Filter (noise reduction): This is a handy tool for removing the grainy look photos taken at a higher ISO may have.
PanoRotate: Adjust the X,Y,Z Dimensions
Lens: Curvature, Scale, Chromatic Aberration, Perspective and Displacement adjustments
Pro Tools: Resizing, Filter Brush, Tilt Shift, HDR Filter, Tiny Planets tool, Color Splash, Light Leaks filters, Frames and Vignette tools
Each tool has an Apply, Before and Cancel button to manage any changes. There is also a history tool that allows you to not only see your edit history but also lets you dial back or redo edits.
The HDR Tool will allow you to convert photos and give them that High Dynamic Range feel. You can adjust the gamma, strength, detail and mood of the HDR tonal mapping. The Tiny Planets feature brings the functionality of the stand alone Windows Phone app to Fhotoroom. In a nutshell, it twists your image to create a tiny planet out of your subject. I don't know if this tool will be a feature for every day use but it can create some cool looking images.
Once you have your image just right, you have the option to save the image or share it. Images can be saved in JPG, PNG or TFF formats with quality options available for JPG files. Just as you would with other photo editors, you have the ability to name your image file. Sharing options will include sharing your image to the Fhotoroom network or any other social network you have setup.
Overall Impression
I have been using Adobe Photoshop Express for my mobile editing needs but after using the updated version of Fhotoroom over the past few days that is likely going to change. I still think Photoshop Express is a capable editor but Fhotoroom for Windows 8 is a feature rich, touch friendly editor that is hard to resist and ideal for tablets.
I have it installed on my Surface 2 RT and HP Stream 8 and it truly is an impressive app. I can transfer RAW images captured from my DSLR to edit or transfer images captured by my Windows Phone if I need more elbowroom. Plus, at only 21.3MB it doesn't take up much space on your hard drive.
I would like to see a RAW conversion tool where you can manually control any adjustments made as the RAW file is opened (admittedly I don't know if this is possible). I can also see a need for an editing wizard or auto mode where Fhotoroom selects the optimal edits to apply.
Still, as is, Fhotoroom is a capable photo editor that is very user friendly regardless of your experience level. I can see Fhotoroom appealing to the casual photographer looking for an easy way to do simple editing, as well as the advanced photographer looking for an advanced editing solution. I'll still rely on Photoshop Elements on my laptop but for tablet use, I can see Fhotoroom becoming my workhorse for mobile edits.
If you've tried Fhotoroom v5.5.1, let us know in the comments what you think of the new look and new features. Also, remember to rate Fhotoroom in both the Windows Phone Store and Windows Store to give the developer feedback.
Get the Windows Central Newsletter
All the latest news, reviews, and guides for Windows and Xbox diehards.
George is the Reviews Editor at Windows Central, concentrating on Windows 10 PC and Mobile apps. He's been a supporter of the platform since the days of Windows CE and uses his current Windows 10 Mobile phone daily to keep up with life and enjoy a game during down time.