Fhotoroom for Windows 8 - a fabulous touchscreen photo editor (especially for tablets)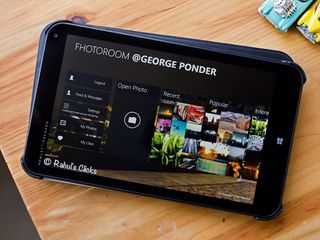 You may be familiar with Fhotoroom as a photo-editor, camera app and photo sharing Windows Phone app but did you know there's a Windows 8 version of the app?
While we have taken a look at the Windows 8 version of Fhotoroom before, a series of recent updates has delivered a serious design makeover to the app and a host of new features. The end result gives the photography app some serious mojo and well worth revisiting.
Fhotoroom is currently at version 5.5.1 and adds a HDR editor, Tiny Planets integration, RAW file support and a lot more. You also have a small footprint with the Windows 8 version of Fhotoroom that makes it especially appealing for Windows 8 tablets where storage space is often at a premium.
Quick Overview
If you have not taken a look at Fhotoroom for Windows 8 in a while, you may not recognize it. With the version 5.5 update, Fhotoroom's editor was re-written to be non-destructive and more desktop friendly. The latest update, version 5.5.1 was pushed out to fix a few bugs that snuck past the developer.
Through all the updates, you still have access to Fhotoroom's social network with the major changes hitting the photo editor. These key features include:
Edit up to 41MP HD images
Support for 150 RAW file formats and, JPG, PNG and TIFF (yes, RAW!)
Editing tools like Crop, Resize, Rotate, Color Correction, Exposure Correction and more
Interactive Editing for the highest level of control and accuracy
Tilt Shift Filter
High Dynamic Range (HDR) Filter
Tiny Planets integration
Filter Brush with saturation, brightness, de-noise, sharpen and redeye options.
Lens Correction, Panorama Rotate
Undo, Redo, Before/After during Filter, Pinch to Zoom
Unlimited Undo with History List tool
You also have design presets, 25 style filters, 22 frames and 28 light leak filters. All of which can be adjusted as to how much of the effect is applied to the image. All totaled, Fhotoroom now has over 90 editing tools.
Support for RAW file formats is a great feature for those shooting the format from a DSLR or from a Lumia Windows Phone with RAW support. Unfortunately, the RAW conversion process is automatic but I cannot complain too loudly because Fhotoroom does a rather nice job of things on its own.
It should be noted that some of the premium features such as Tiny Planets, HDR and some of the filter sets are available through in-app purchase. They are available for trial and can be bundled to save you a few bucks. You also have a selection of free filter packs that can be added should the need arise.
Also, if you aren't too excited about signing up for an Fhotoroom account you can decline and still have access to the editor.
A New Look
Fhotoroom for Windows 8 takes full advantage of the modern design with the main page offering a series of tiles that include:
Logging into your Fhotoroom account
Check your messages and feeds as well as setting up any social network sharing options (Facebook, Twitter and Flickr.
Access the app's settings (choose startup options and view the app's changelog)
View your photos that have been submitted to Fhotoroom's network
View your liked images
Larger tiles span the home page of Fhotoroom where you can open a photo to edit and view recent, popular and interesting images from Fhotoroom's social network.
The editor is laid out really nice with your tool bar running down the left side of the screen with sharing and viewing options running across the top. A settings tab is in the top right corner where you can set the maximum image size. Tapping an editing tool will pull up an options menu to the right of your image where you can make the proper adjustments to the edit.
Fhotoroom has built up a very nice collection of editing tools that will challenge most Windows 8 photo editors. Here is a quick breakdown of all the editing tools.
Crop Tool: Includes preset ratios as well as a unrestricted option
Straighten Image Tool
Presets: Thirty-one adjustable preset filters with history (shows the editing steps used to create the filter effect)
Exposure Tool: Exposure, Contrast, Sharpness, Saturation, Gamma, White, Black, Fade, Highlights and Shadows adjustments
Correction Tool: Color temperature, Tint, Contrast, Shadows, Midtone and Highlight adjustments
De-Noise Filter (noise reduction): This is a handy tool for removing the grainy look photos taken at a higher ISO may have.
PanoRotate: Adjust the X,Y,Z Dimensions
Lens: Curvature, Scale, Chromatic Aberration, Perspective and Displacement adjustments
Pro Tools: Resizing, Filter Brush, Tilt Shift, HDR Filter, Tiny Planets tool, Color Splash, Light Leaks filters, Frames and Vignette tools
Each tool has an Apply, Before and Cancel button to manage any changes. There is also a history tool that allows you to not only see your edit history but also lets you dial back or redo edits.
The HDR Tool will allow you to convert photos and give them that High Dynamic Range feel. You can adjust the gamma, strength, detail and mood of the HDR tonal mapping. The Tiny Planets feature brings the functionality of the stand alone Windows Phone app to Fhotoroom. In a nutshell, it twists your image to create a tiny planet out of your subject. I don't know if this tool will be a feature for every day use but it can create some cool looking images.
Once you have your image just right, you have the option to save the image or share it. Images can be saved in JPG, PNG or TFF formats with quality options available for JPG files. Just as you would with other photo editors, you have the ability to name your image file. Sharing options will include sharing your image to the Fhotoroom network or any other social network you have setup.
Overall Impression
I have been using Adobe Photoshop Express for my mobile editing needs but after using the updated version of Fhotoroom over the past few days that is likely going to change. I still think Photoshop Express is a capable editor but Fhotoroom for Windows 8 is a feature rich, touch friendly editor that is hard to resist and ideal for tablets.
I have it installed on my Surface 2 RT and HP Stream 8 and it truly is an impressive app. I can transfer RAW images captured from my DSLR to edit or transfer images captured by my Windows Phone if I need more elbowroom. Plus, at only 21.3MB it doesn't take up much space on your hard drive.
I would like to see a RAW conversion tool where you can manually control any adjustments made as the RAW file is opened (admittedly I don't know if this is possible). I can also see a need for an editing wizard or auto mode where Fhotoroom selects the optimal edits to apply.
Still, as is, Fhotoroom is a capable photo editor that is very user friendly regardless of your experience level. I can see Fhotoroom appealing to the casual photographer looking for an easy way to do simple editing, as well as the advanced photographer looking for an advanced editing solution. I'll still rely on Photoshop Elements on my laptop but for tablet use, I can see Fhotoroom becoming my workhorse for mobile edits.
If you've tried Fhotoroom v5.5.1, let us know in the comments what you think of the new look and new features. Also, remember to rate Fhotoroom in both the Windows Phone Store and Windows Store to give the developer feedback.
George is the Reviews Editor at Windows Central, concentrating on Windows 10 PC and Mobile apps. He's been a supporter of the platform since the days of Windows CE and uses his current Windows 10 Mobile phone daily to keep up with life and enjoy a game during down time.
Saw the app today. Gonna try it out

I will definitely be trying this out; I to am an Avid Photoshop Express user; but Adobe is neglecting Windows Phone.

I have a 2520. Do I have to use Desktop mode to grab RAW images from my 1020/1520? I don't remember seeing RAW files when I use the standard Windows 8 sync App.

The OneDrive app also allows you to access the phones internal storage

The files app allows internal storage access too.

No, see my post below about RAW support, it should help.

Luv this app on WP. It's like a Photo-social network. Definitely gonna check up on this W8 version.

I think the sponsored articles, literally say, "sponsored article" in the headline...I don't think this is paid news, but an actual app review like any other on the site. Or so I think...could be wrong...

No, you are trolling, just saying

My favorite app ever for WP. Since WP7 this app never failed to impress..

How do you open a RAW image with Fhotoroom? I imported the DNG file from my Icon to my desktop but when I try to open it with Fhotoroom the Metro file explorer is not even showing it.

Hmm...DNG while similar to RAW is a different format (DNG is a proprietary image standard created by Adobe) maybe Fhotoroom doesn't yet support DNG's. EDIT: I was just reading up on DNG...sounds like I should convert my RAW files to DNG...especially if Lightroom is my software of choice.

ty for asking. You need to have the Microsoft Camera RAW Codec installed, here is a link. https://www.microsoft.com/en-us/download/details.aspx?id=26829 Now if this is installed than the issue is that although all DNG files share the same extension they can be vastly different and the Microsoft Codec only support approx 150 cameras (notice not file formats) and only a limited amount of compressions. I am using this temporarily while i convert my own RAW codec which supports over 550 digital camera, most compressions and support for metadata. So big changes are coming.

Thank you for being so accessible to the community. I am also unable to see my Lumia 1020 DNG files when trying to open them through fhotoroom. I have the Microsoft Camera Codec Pack installed on my Windows 8.1 x86 system. You say that this may be an issue with different camera manufacturers using different formats with the same extension but seeing as there are setting inside the app that specifically refer to the Lumia 1020, I thought it would be supported. Is there anything else you can suggest that might allow me to edit my 41MP raw files in fhotoroom? Thank you so much.

I tried Fhotoroom a while back, but somehow I found Fotor to be more comfortable to use. But now I ditched it too and just use Canon DPP on my T100.

Fhotoroom is my main go-to app on my WinPhone and for my desktop/tablet. It gives me the quick fixes I need without much fuss and is fun to use. The Tiny Planet feature is the nicest one out there so far. Kudos to the developers for making a great app for both Windows Phone and desktop/tablet.

Nice!, was noise reduction only added recently? This was a big missing feature for me, and the only reason I used Photoshop Express. RAW support is great, I'll be able to do quick edits on the go without needing Lightroom. Well done!

ty, v5.5.x was a huge update that addressed a lot of issues for users and now with this new core design to build off, things are only going to get much better and faster.

Nice work. I'll definetly be picking it up again and comparing it to PS Express.

hey everyone thank you so much for the support. I wanted to share with you some big updates. George was able to get his hands on v5.5.0 and v5.5.1. So here is what has been updated since then. v5.5.2 (approved and should be available) - History Apply and Cancel bug fixes.
- General Bug fixes and Improvements. v5.5.3 (awaiting approval, hopefully today) - New History Snapshot which applies all filters and resets all controls.
- New Interactive Editing Support.
- Color Shift is back!
- New Faster Rotate Filter
- Rendering Performance bug fixes.
- UI bug fixes and improvements. v5.5.4 (awaiting submission once v5.5.3 is approved) - Updated VigPro, Color Shift, ColorSplash, RedEye, Frames and Leaks
- Added Exif and GPS read/write support
- Bug fixes and Improvements First question might be why so many updates? Simple, v5.5.x was a BIG change and with big changes comes bugs needing fixing, had to add filters back that were not finished, and lastly feedback of features users would love to see added. Thank you again every for the feedback and expect some pretty awesome updates.


something important missed on this list is in v5.5.3 better keyboard arrow support has been added for finer grain control over sliders.

Nice review.I'm getting this.

If you've purchased all the add-ons for WP, do you have to purchase them again on the Windows 8 version? Or are they completely different?

No this is a universal app so all purchases transfer but since they are Microsoft Account dependent you need to use the same account on both phone and tablet/desktop.

Is it better than faintasia painter?

Yes...by default...because Fantasia Painter isn't available for tablet. On the phone, I use both, but this is the tablet/desktop version review.

Yes...by default...because Fantasia Painter isn't available for tablet. On the phone, I use both, but this is the tablet/desktop version review.

Happy to let everyone know that v5.5.3 has been approved and should be available shortly. Later today v5.5.4 will be submitted which will bring more professional features to fhotoroom like Exif and GPS metadata support.

Its always pleasing to see the works done in more smooth way using touching app but still according to me the editing can not be perfect in touching device. So I would prefer to use my normal pc to do the normal editing. Having said that I would love to try this app too to see the difference!


Well like promised, v5.5.4 was approved last night, but we have been getting a lot of emails and reviews. So after an all nighter v5.5.5 was finished and submitted. Where as many of the previous updates were putting things back or optimizing the core code, v5.5.5 was about stablizing the entire workflow. Hope everyone enjoys our updates.

Love the mobile version, but the Desktop version doesn't show the photos that I've posted using the mobile app though.

Can I get the blur features in this app
Windows Central Newsletter
Thank you for signing up to Windows Central. You will receive a verification email shortly.
There was a problem. Please refresh the page and try again.