First look: Kik Messenger for Windows Phone [Video]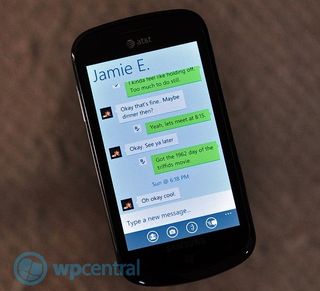 Good news everyone, Kik Messenger is finally live in the Marketplace (see website).
We've been playing around with it for the last few days and have been very impressed with the mobile instant messaging solution. To refresh, Kik messenger is a proprietary IM service designed for mobile use, is available on the iPhone and Android, boasts over 4 million users and is completely free.
So why use it over something like IM+ (see video tour)? In our mind it's simple: Kik is much faster to load, use and more importantly send/receive messages. It's the closest thing to BlackBerry Messenger (BBM) with its Sent, Delivered and Received statuses. From our experience, it's the most reliable and fastest IM client we have used yet on a mobile device: with push notifications (Live Tile, Toast), messages are received in less than 10 seconds nearly every time--truly a great experience. Sure, it's not a multi-client system like IM+ and means you would have to try and get your friends on it, but so far we think it's worth it for mobile use, especially for communicating with those internationally. It's also $10 cheaper i.e. free.
Watch our video tour and then give the app a spin yourself and let us know what you think. You can grab Kik right here in the Marketplace. (Thanks, Mike A., for the tip)
Daniel Rubino is the Editor-in-chief of Windows Central, head reviewer, podcast co-host, and analyst. He has been here covering Microsoft since 2007 when this site was called WMExperts (and later Windows Phone Central). His interests include Windows, Microsoft Surface, laptops, next-gen computing, and for some reason, watches. Before all this tech stuff, he worked on a Ph.D. in linguistics and ran the projectors at movie theaters, which has done absolutely nothing for his career.
Looks awesome but I just found what seems to be a terrible bug, you can't register a new account with a .co.uk email address, I had a .com to fall back onto and then it worked but with the first attempt I got "you must enter a valid email address"Here's hoping that gets fixed very soon

I've passed it on too isn't good for me as my Xitol email and Live email are both .co.uk this needs fixing as soon as

time to create a yahoo.com account XDo... does this mean .co.jp addresses will fail too...?

Yes i had to use a .com address as it gave me an invalid emaill adress when using my .co.uk address.

Downloading it now. WP7 still lacks some basic apps like IM clients etc. Glad to see it's getting better =)And i have to say the interface of Kik is great!

My only problem now is to find people that use this app. Great app none the less.BTW wetworker is my tag on kik. Maybe a WPC network can start on this app,add me.

Hmm, I'm really looking for a WhatsApp version for Windows Phone. Because that App is way more popular in the Netherlands than kik. I haven't even heard of it before I read this article... Also, WhatsApp is supported on iOS, Android, Blackberry and Nokia OVI so it covers even more smart phones.

Funny, I never heard of WhatsApp before and know no one who uses it here.

Exactly, I totally get you.In Panama, everyone uses WhatsApp and BBM. Since Kik doesn't support BBs (which are all the rage right now because of their cheap data plans), it's not bound to catch up.However, I do hope having new IM clients like this supporting our platform rushes competitors like WhatsApp into building their own apps for WP7.Here's to hope!

Oh to add something in .co.uk works on the other platforms for signing up, just it isn't working on WP7.

It's a fast app, good looking app. IM+ is better though. It's not as smooth yet, but having to go out and recruit people to use this app isn't worth the effort. KiK is a mobile app only, and IM+ allows you to chat to desktop IM clients as well as mobile. Ten bucks is on par with the other OSs. KiK is nice, but good luck finding more than 3 people using it. Pretty much everyone use gtalk, AIM, yahoo, facebook. IM+ wins, hands down, not even close.

excellent app. ive been waiting this for months! all of my friends have kik. thanks for the heads up wpcentral your the best!! =)

Been waiting for this app for the last month. BB messenger user and wanted something similar.On my HTC Trophy i've noticed that if the phone is in sleep mode i do not recieve message notifications. Have to wake phone and re-launch application to get messages. Anybody else notice this? Not sure if a setting can let it run in background which is similar to BBM.

I have the same issue on my HD7 and Omnia 7 the notifications all pop up after the device is unlocked for me. But they do pop up as normal when it is unlocked but it took some time for the notification service to start working.

Glad i'm not the only one with the issue. It has been sporadic with pop notification like you said. Takes a few minutes for it to sync notification services which is interesting since were logged in.

Im new to Kik but this seems really great! Even on the crummy 2g AT&T network where I live and work it seems very fast on delivery, much better than waiting on texts. Great job for a version 1!

Great app! My only problem is, no desktop client. Back to im+ i guess...

I'm using Samsung Focus..When I tried to create a New Account..It throws an ERROR.."Registration Failed. Yhis is taking longer than it should. You should try again in a bit."I tried many times but no use. :(

I have been using TextMe as a whatsapp replacement. Which is free, but also had a paid version which allowed the sending of images. Basically TextMe was kinda sporadic in which messages went through and while it had a tick of when it was sent, I was never sure if that meant it was received.This however has a much better interface and seems to work well. I have been having issues with the push notifications but hopefully that will iron itself out over the next few days.So happy with this app!!!!

Just needs a live tile and a better icon!

Did you even try the app?

I like the Icon, Clean and straight to the point.

Great app, I been group chatting with friends for about 2 hours now and I love it. They have a few tweaks to make but its a home run with me. With toast notifications, vibration, and the tile counter this app is perfect. Im once again united with my iOS and android homies. And all for the freesky!!

Its a great App. But the notification system needs some work dont often get the toast notifications when the phones locked and sleeping? these will probs improve when mango comes :D Hurry Up Microsoft with Mango!!!

I guess a few bugs need to be settled out, but its great to finally have an application like this.

why is it free if it has no ads? ... I just wonder what will they come up with later with this app

The iOS and Android apps have been out for years and are still free. Not every company is greedy.In regards to the app, I'm having issues getting the toast and live tile to work.

coo i have kik now i jus downloaded it but i dont know anybody using it add me sedp23

Great app, put on my wifes iPhone... no more silly SMS!no BB support is down, need a BBM replacement for work.
Windows Central Newsletter
Thank you for signing up to Windows Central. You will receive a verification email shortly.
There was a problem. Please refresh the page and try again.