Firstpost brings its digital newsroom to Windows Phone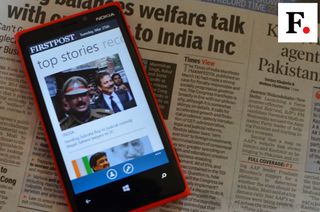 Firstpost is a popular Indian news portal owned by the Network18 media conglomerate that attempts to be a new-age digital newsroom with breaking news and opinion features. Last month Firstpost launched their official Windows 8 app, and now they've landed on the Windows Phone Store as well.
The app offers by-the minute news, views, and analysis around news and current affairs in India and the world. You can view photo galleries, read blog posts, and watch videos from the network's news channels.
It's all good, but there's a serious problem with the app failing to launch for most people. I've only been able to get it running for a couple of times. I'm hoping an update comes soon to fix the issue.
The app allows you to navigate through a wide news category like politics, world, business, economy, investing, living, ideas, Bollywood, and sports. It also features a selection of eBooks authored by Firstpost editors (Bonus tip: You might want to check the latest one – Indian on Top – about Satya Nadella).
You can refer to the history of your viewed articles and the keywords that you've searched. Also, you can save any news article to read at a later time. The app features a nicely designed and functional dashboard to see your activity at a glance. The app also allows you to read and comment on the news articles, as well as share the articles on Facebook or via email.
Download it for free for Windows Phone 8 devices from the Windows Phone Store. The app is pretty neat, and features a functional magazine-like user experience. If you are a fan of Firstpost's tabloid-like content, it's a good app to have or if you are looking for a great news experience on your Windows Phone device, give it a whirl and let us know how you like it, if it actually starts up that is!
Also, grab the Windows 8 counterpart while you're on a downloading spree.
Thanks Vishal, @visnit25, for the tip!
Get the Windows Central Newsletter
All the latest news, reviews, and guides for Windows and Xbox diehards.