Advertisement Feature
Five of the most frustrating things about printers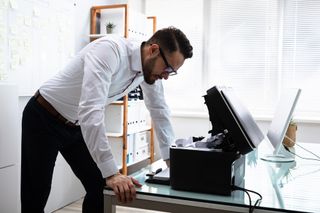 (Image credit: HP)
Like it or not, your printer is essential equipment for your small business. Though the world is evolving ever further along the road to digitization, physical documents and promo materials still very much have a place in small business daily operations. They likely always will.
For many of us, that's not exactly a comforting thought. Printers are, after all, not seen as particularly reliable or cutting-edge. From expensive ink that runs out at the worst possible time to spotty wireless connectivity to an outright refusal to print, trying to make them work reliably often feels like pulling teeth.
We're going to go over a few of the biggest issues with printers - and more importantly, we'll offer you a solution to all of them.
1. Constant disconnects
On paper, wireless printing sounds like a marvelous idea. Unfortunately, printers frequently decide they aren't keen on your Internet connection at the worst moment possible. Cue twenty minutes of restarting and troubleshooting to finally get it working again.
2. A configuration nightmare
Instead of including easily-configurable plug and play hardware, printer setup has a ton of unnecessary steps. Hunting for drivers is incredibly frustrating.
3. Paper jam!
From paper jams to creased prints, there's a whole range of things that can go wrong with your printer hardware. Some particularly fussy models are prone to jamming up if even one page in the tray is out of alignment.
4. A usability nightmare
Connectivity isn't your only issue with printers. Even though it's 2020, most units seem to be just as cryptic as in the 80s - they haven't kept up with modern technology. An app-based option for support and configuration should be the standard, yet it's not.
5. Never enough ink
Printers have a tendency to run out of ink at the worst possible time. To make matters worse, ink usually costs an arm and a leg to buy.
The solution: the power of going Pro
HP's OfficeJet Pro 9015 feels like it was designed by someone who was entirely fed up with the issues described above. It's fast without sacrificing quality, capable of outputting up to 22 professional-quality pages per minute with automatic two-sided printing. Its high-yield cartridges are incredibly efficient, and it also comes with a 35-page auto document feeder for easier copying and scanning.
The HP Smart app, meanwhile, has a ton of productivity features designed to streamline workflows and save time, from setup to remote printing to technical support.
As for how it addresses the pain points described above?
Self-healing WiFi. The OfficeJet Pro 9015 is designed to automatically detect and resolve connectivity issues. That means no more time wasted trying to figure out why your network and your printer aren't playing nice together.
Guided Setup. Simply install the HP Smart app on your phone, and follow the steps to get your printer up and running. Adding new devices and users is a breeze, and can be done entirely within the app. No unnecessary bloatware, no cables, and no discs required. Better yet, you can use the HP Smart app for easier troubleshooting if anything does go wrong with your printer.
Quality hardware. With the OfficeJet Pro 9015, you get what you pay for, with excellent print quality, reliable hardware, and smart output management to avoid paper jams and other print-related hardware issues.
Smart Tasks and mobile printing. The HP Smart app allows the OfficeJet Pro 9015 to do more than any other in its class, saving you both time and money. It turns your phone into a mobile printing hub and a tool for troubleshooting. Via your phone's camera, you can instantly scan multiple pages into a single editable, searchable document, complete with automatic cropping, edge detection, and smoothing. Better yet, the Smart Tasks feature allows you to streamline your most common print and scan jobs, saving you even more time and organizing documents up to 50% faster.
Instant Ink Delivery. For a small monthly fee, your printer will automatically detect when you're running low on ink and order more. Said ink will be delivered automatically before you run out, so you'll never have to worry about running out at an inopportune moment. Best of all, color prints are just as affordable as black and white pages. HP's ink delivery service will save you up to 50% on ink.
In short, the OfficeJet Pro 9015 is more than just a printer. It's a productivity hub designed for small business owners. A powerful tool that addresses all the worst things about modern printers and saves you both time and money in the process.
Get the Windows Central Newsletter
All the latest news, reviews, and guides for Windows and Xbox diehards.