Advertisement Feature
Fix "DVD Not Playing in Windows 10 error" with WinX DVD Ripper Platinum
Come across a problem with a DVD not playing in Windows 10? Here's the easiest way to fix it.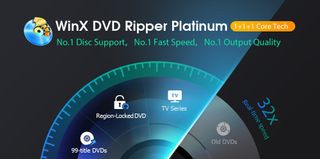 Since Windows Media Center is gone in Windows 10, playing a DVD is not as easy as it used to be in Windows Media Player. Users have to rely on another DVD player app for DVD playback. Even so, users still get stuck with the error DVD not playing in Windows 10 (opens in new tab) frequently. For example, the DVD drive could not read a disc in Windows 10, Windows DVD Player displays "can't decode DVD" error, VLC plays DVD with stuttering, DVD menus are blank but audio plays in Kodi, and Xbox One reports Error 0x91d70000, etc.
Is there any way to troubleshoot a DVD not playing error on Windows PCs? First, you must figure out why the DVD won't play in Windows 10, whether it's the disc itself, DVD drive, DVD codec, display driver, DVD player, copy protection, or other issue. It's hard and time-consuming to figure out the specific causes and fix it with corresponding solutions. Worse still, users must pay a premium for an external DVD drive as optical drives are drastically decreasing on desktops. In such cases, digitizing a DVD is an easy yet effective way to fix the DVD not playing error. WinX DVD Ripper Platinum is a leading DVD ripper (opens in new tab) to make a digital copy of DVD for playing on Windows 10.
The good news is that WinXDVD is hosting a special offer to celebrate its 13th anniversary, where you're lucky enough to get free license of WinX DVD Ripper Platinum (opens in new tab) and have a chance to win an Xbox One S All-Digital Edition.
Make A Digital Copy of DVD for Playback on Windows 10
WinX DVD Ripper Platinum is available to rip any DVD discs, including classic old discs, new DVD releases, multi-title discs, kids' DVDs, damaged/unplayable DVDs, fitness DVDs, etc. No matter if your DVD is encrypted with CSS, a region code, or other advanced copy protections, this DVD ripper updates weekly to ensure a solid support to decrypt it, even for the latest released DVDs. Besides, with the support of hardware acceleration, the DVD ripping speed has been improved exponentially, merely five minutes to rip a two hour DVD movie without quality loss.
To be frank, DVD ripping has never been easier than it is with WinX DVD Ripper Platinum. Once you have downloaded this DVD ripper for free (opens in new tab), you can accomplish the DVD digitization process in just a few steps.
Make sure the DVD disc is inserted properly into the PC's DVD tray.
Launch the WinX DVD Ripper.
Click the DVD Disc button to import the DVD inserted into the drive. After DVD is loaded, the main title will be selected and an output profile windows pops up automatically.
Choose an output format that plays well on Windows 10. MP4 is always preferred because it's compatible with almost all devices, including Windows 10 PCs, as well as Apple, Android, Xbox One, PS4, Kodi, and more. Just go to General Profiles > MP4 Video > OK.
Click Browse button to select a destination folder.
Click the Run button at the bottom right corner to start ripping DVD to digital copies. If your computer is configured with graphic cards that support hardware acceleration, WinX DVD Ripper will automatically detect your GPUs and invoke them to speed up DVD ripping, up to five times faster.
Installing a third-party DVD player on Windows also works for DVD playback, even if you may still suffer from DVD drive issues. 5KPlayer is a skilled and versatile 4K HD video player (opens in new tab), which can play DVDs, high definition videos, and even online radio channels.
Insert your DVD and open 5KPlayer. At the main screen, press the DVD button to load your DVD disc. Then tap on Play button, your DVD starts playing immediately. Yes, watching a DVD is as simple as that with 5KPlayer. You're also able to play, stop, jump ahead, skip behind, and change volume on onscreen controls.
Obviously, the DVD not playing error rises in Windows 10 with the removal of Windows Media Center, and it's also an inevitable outcome of DVD drive decrease. However, DVD discs will not go away and many users, especially DVD collectors, have a large library of DVD discs. Digitizing your DVDs would be the right way to watch DVD movies in the future. Don't wait until the optical DVD drive is gone to digitize your DVDs. Now, take your chance to get free WinX DVD Ripper Platinum (opens in new tab), which is $67.95 normally, to rip your DVDs to digital formats to watch them on Windows 10/8/7, Apple, Android, Xbox, PS4, Kodi, or HDTV anywhere anytime.
Windows Central Newsletter
Get the best of Windows Central in your inbox, every day!