Flow Free: Bridges, simple puzzle game you can waste a lot of time on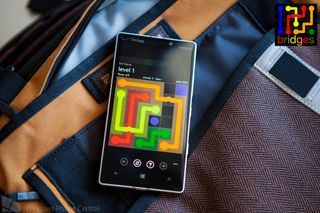 Looking for another great game to waste time on? Check out Flow Free: Bridges. In this puzzle game, you connect matching colors with pipes to create a flow. Pair all colors and cover the entire board. Use bridges to cross two pipes and solve each puzzle.
Head past the break to watch our gameplay video on a Nokia Lumia Icon.
Flow Free: Bridges features
Over 900 levels available in Free Play mode
10 different board sizes
Starter, Challenge, Bonus, Classic, Mania, and Jumbo level packs
Strive for accuracy in Free Play using the fewest, most efficient moves
Strive for speed in Time Trial for the most and fastest solves
20 scored Time Trial variants to choose from by board size and duration
It's best to jump straight into Free Play mode to understand the game. Simply drag to connect matching colors with pipe, creating a flow. You solve each puzzle when the entire boards are covered. Pipes cannot cross or overlap, unless you use the bridges.
The top of the board displays the number of flows and moves. If you complete a board in the lowest amount of moves, you get a star.
If you think Free Play is too easy, try selecting a larger board or different level pack. The starter pack has 5x5 and 6x6 boards, but they can go up to 14x14 boards. You can also try the Time Trial mode to make things more difficult.
If you're puzzled by some of the boards, you can ask for hints. You only have a handful of hints available until the game asks you to purchase more. You can buy 20 hints for $2.99 or five for $0.99.
Flow Free: Bridges is available at the Windows Phone Store for free. There's an advertisement on top of the screen that doesn't get in the way of gameplay, but it can be removed if you purchase any level pack for 99 cents. Since there are so many levels that you can play for free, you won't be in a rush to buy any of the additional packs.
Give Free Flow: Bridges a try and let us know what you think in the comments!
Windows Central Newsletter
Get the best of Windows Central in in your inbox, every day!
I've already finished the Free Play mode levels :D very addictive game, btw.

I'm halfway the Yellow Pack, it's getting pretty difficult at 12x12

I just love this game! In 7x7 Mania pack right now...

Awesome time pass game.. The gome becomes tougher and tougher as it progresses...

Played this on my iPhone (a year ago), the period when I wanted a Windows Phone and this app (on the iPhone) looked exactly like this one with the arrow button etc. Too bad I can't backup my progress to this version.

I downloaded angry birds rio today its fun playing that game. Xbox rules.

Yeah I too but they made the birds and other objects way too small. The original one still feels better, at least in my 720.

Love it had it on windows 8 aswell

Just wait until you get to the Yellow Pack. That's when "fun" turns to "homework."

Finished all the free levels before. Installed it again just for the fun of it xD

Love this game, beat it a while back. Very addicting.

Been there, done that, moved on. Entertaining game though :)

Just thought I'd try it out and just had to force myself to stop!! Best version of this type of game so far. Very addictive!

Like many of the best mobile games, a ripoff of an old Flash/Shockwave game. But still a fun concept.

Recently, we received an update for Free Flow that gave us bridges...so just wondering how's this different from the original Free Flow which was even released on WP7?

Well it gives you "bridge" sqares... a places where 2 lines can cross (actually they go either over or below the bridge). It adds a bit more complexity but it's still tons of fun...

Yea but that's what im talking about, we received an update to the original free flow that gave us bridges. The update was about 2-3 months ago...definitely fun game and im not complaining but i just found it odd...try checking for an update to free flow and if it's still there then you'll prob be just as stumped as i am =P

First I played this on Android and I finished it... Than I played it on Windows Phone again and also finshed it. Fantastic game... (both regular and bridges). There is also a game on market place that's flow in 3d but I didn't really like it. Also, whoever is crazy about flow deserves to play "glean". Woth every penny but I found it a bit short... wish we can get more levels...
Windows Central Newsletter
Thank you for signing up to Windows Central. You will receive a verification email shortly.
There was a problem. Please refresh the page and try again.