Flow Free: Bridges, simple puzzle game you can waste a lot of time on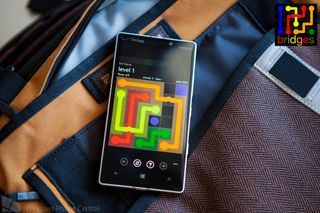 Looking for another great game to waste time on? Check out Flow Free: Bridges. In this puzzle game, you connect matching colors with pipes to create a flow. Pair all colors and cover the entire board. Use bridges to cross two pipes and solve each puzzle.
Head past the break to watch our gameplay video on a Nokia Lumia Icon.
Flow Free: Bridges features
Over 900 levels available in Free Play mode
10 different board sizes
Starter, Challenge, Bonus, Classic, Mania, and Jumbo level packs
Strive for accuracy in Free Play using the fewest, most efficient moves
Strive for speed in Time Trial for the most and fastest solves
20 scored Time Trial variants to choose from by board size and duration
It's best to jump straight into Free Play mode to understand the game. Simply drag to connect matching colors with pipe, creating a flow. You solve each puzzle when the entire boards are covered. Pipes cannot cross or overlap, unless you use the bridges.
The top of the board displays the number of flows and moves. If you complete a board in the lowest amount of moves, you get a star.
If you think Free Play is too easy, try selecting a larger board or different level pack. The starter pack has 5x5 and 6x6 boards, but they can go up to 14x14 boards. You can also try the Time Trial mode to make things more difficult.
If you're puzzled by some of the boards, you can ask for hints. You only have a handful of hints available until the game asks you to purchase more. You can buy 20 hints for $2.99 or five for $0.99.
Flow Free: Bridges is available at the Windows Phone Store for free. There's an advertisement on top of the screen that doesn't get in the way of gameplay, but it can be removed if you purchase any level pack for 99 cents. Since there are so many levels that you can play for free, you won't be in a rush to buy any of the additional packs.
Give Free Flow: Bridges a try and let us know what you think in the comments!
Get the Windows Central Newsletter
All the latest news, reviews, and guides for Windows and Xbox diehards.