Order out for dinner with the new Foodpanda app for Windows Phone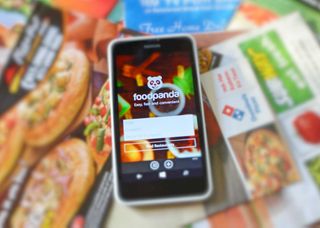 Foodpanda (www.foodpanda.com) is a global online food delivery marketplace, headquartered in Berlin, Germany, with operations in over 40 countries across four continents. First launched in Singapore in March 2012, Foodpanda allows users to select from a list of local restaurants, and place order for your preferred meal.
Foodpanda processes and sends orders directly to partner restaurants. Customers order food by browsing menus of local restaurants before entering an address and proceeding to the checkout. Restaurants receive these orders and then deliver to customers.
The app allows you to customize your meal with sauces and toppings, just like you would do at the restaurant. The checkout is pretty simple, and the app allows you store several addresses like home or work, which speeds up the process. Also, Foodpanda saves your past orders, so you can easily reorder it in quick taps.
In several markets, Foodpanda partners with restaurants offering exclusive deals and vouchers to its customers making it a better deal than to call those restaurants directly for home delivery.
The app has a very neat user experience, and features a seamless ordering process. If you order-in often, it's a great app to have on your phone. Tap, choose, and enjoy your meal from any of the restaurants around you, making it a one-stop food delivery service.
Download the Foodpanda- Food Delivery app for free for Windows Phone 8 devices from the Windows Phone Store. Give it a whirl, and let us know how you like it, while I dig into the chicken wings I just ordered.
Downloading:)
Btw Abhishek any news about lumia 630 in-depth review?? Waiting for it eagerly.

I heard 40 countries. Does this include the US?

No it doesn't include US the full list of supported countries is available in description.

There is a 1-star review that says not in US. Which is a horrible reason to give the app 1 star, but there you go.

it happens all the time with apps that are only available in the US. Entitlements are entitlements.

No different than people from other countries that give 1 star reviews because apps don't work in their country. See it all the times.

The name is making me hungry for panda express ;)

Never heard of Foodpanda, sounds like GrubHub though.

Again, foodpanda is really famous and highly used food related service only after zomato

When windows phone apps are designed correctly with the minimal metro theme in mind, dang do they look beautiful... Shame its not for the uk

I'd assume it alot like grubhub. Doesn't support US so ill wait and see if the developer picks us up. No biggie.

Oke... Let me get this right. This app is designed in Germany correct?! Why isn't Germany not even in the list. And what about other EU countries? Ridiculous. Installed and a few minutes later removed. Not worthed.
How come I get only 24 countries in my list.

Not available in the US makes me a sad panda.

It is a lie. It says it has Mexico support, but there is no Mexico option in the real country list of the app, there are only European and Asian countries. :(
Windows Central Newsletter
Get the best of Windows Central in in your inbox, every day!
Thank you for signing up to Windows Central. You will receive a verification email shortly.
There was a problem. Please refresh the page and try again.