Foxit MobilePDF Reader comes to Windows and Windows Phone as a universal app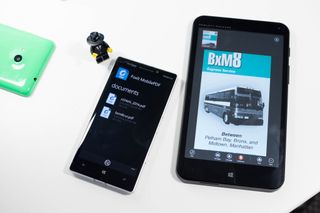 Over 275 million people use Foxit Reader (foxitsoftware.com) as their PDF reader on their computers. If you're a Windows Phone user, you can now install the company's MobilePDF Reader on your phone. It has been released as a Universal Windows app, so you can also install it on your Windows tablet. It's quick and dependable. Want to see it in action? Check out our hands-on video.
Foxit MobilePDF Reader features
High quality PDF rendering
View PDF files from local storage, SD card, and OneDrive
Text search within PDF content
View document properties
View password-protected PDF files
Foxit MobilePDF is built on the same core technology as Foxit Reader. You are able to read and navigate PDF documents.
The documents section of the MobilePDF reader shows your recently viewed files. You can see the file name, file size and time last viewed. There doesn't seem to be any loading time when opening documents. They open immediately on my Lumia Icon. PDF documents are shown in continuous mode by default. This means you scroll down to browse like it's web page. You can change this to single mode, which requires you to swipe left to go to the next page. You can tap the search button at the bottom if you need to look for something in the document.
Foxit MobilePDF Reader supports landscape view. You can also see the file properties by tapping the three dots on the lower right corner and selecting properties. Unfortunately, this initial version does not support comments, highlights, or annotations like the Android and iOS versions of this app. We look forward to that in a future update. On a positive note, Foxit MobilePDF has the ability to open files from OneDrive.
There are other free PDF readers for Windows Phone like Adobe Reader and Microsoft PDF Reader, but Foxit MobilePDF is worth checking out. Give it a try and let us know which one you prefer.
Thanks for the tip, Praveen N.!
Windows Central Newsletter
Get the best of Windows Central in in your inbox, every day!
Dumb question. Is this better than Adobe's nor Microsoft's?

I was wabout to ask the same.

Actually, it's a good question, one that I am interested in. Answer is probably subjective depending on a user's needs/expectations. I'm going to try it out and compare. :-)

It's really fast compared to Adobe Reader, but as is said in the article Foxit lacks of some features (comments, highlights, annotations...). It's a good option if you only want to view/read your documents.

yeah. It lack few features. I love foxit reader. It can open large files too on WP. Well adobe and Microsoft PDF reader can't open file larger than 150 Mb. That sucks. Foxit is best
just need to add few more features and it is the best pfd reader out there in windows phone. Desktop version is of course better too. Haven't try metro app in PC.

You should also try the recently launched Xodo Docs..... I believe it is far better than Adobe and Foxit.

Does Adobe reader have highlights and annotations feature?? I did not know!! :c

Both Adobe and MSFT PDF readers suck. I'm tire of requesting features to the two. Its worth a try.

Try Xodo Docs, Best PDF Reader

Microsoft's is pretty shit but not bad very basic and has not been updated for some time. Adobe has pretty feature filled and so far using foxit I would recommend adobe even on windows desktop

It was pre-installed when I bought Acer Nitro laptop and I never taught about installing Adobe Reader after using it.

I always using foxit on PC (desktop), faster and smaller than adobe. I'll try this

yup. Foxit is faster and also small setup file. Adobe is heavy PDF reader more functions but very slow on desktop.

Yay. But I haven't been using it much on my laptop anymore.

Better than Xodo Docs & Adobe ??

I like it more than Adobe. Haven't tried Xodo

Please give it a try! I hope you'll like it... :)

Xodo Docs is Much Optimized for Big screens like my Lumia 1320 ;)

Wow Today Windows Central is giving a grand slam! Too many news today. Easily best Webworld for Windows News

Not only OneDrive :) any cloud storage app.

I use SumatraPDF on PC. It is light and simple with tabs too. :)

No copy feature to paste text in word documents or messaging. I can do this with adobe

XODO docs is much better Pdf Reader and having anice UI too :)

Looks promising (in that it renders text nicely... oddly not a given) but no settings to configure, and no double tap auto fit on columns o.O

One question before I get it- does this reader eat up more and more storage with each use? Because with MS's PDF reader I have to clear the library every so often because it's gotten so huge.

I think I like OneReader more still.

Xodo Docs all the way... It's essentially the same as Foxit, but has all the annotation/highlighting/etc features too. :) http://www.windowsphone.com/s?appid=8dcee3d6-6043-4b22-b1ee-9fe7f90b4b63

Xodo..better than Foxit or Adobe.

I am curious to see if that version of Foxit is calling home like the iPhone's one is/was doing it. Meanwhile I am passing. Otherwise, yes, for the desktop, even if it lacks features, SumatraPDF is the very efficient: small, fast, open anything (even ePub and CBZ).

I'm using PDF Reader Pro. It doesn't do annotations but for reading is great. Some people don't like how purple it is, I don't mind it. Just waiting for it to be universal.

Tried xodo and foxit because of this discussion, they just don't fit the way I use pdfs on my phone.

I see that no one has asked this but what's up with the little Lego man?

Found this app early yesterday.

Yes I totally love Foxit. Thanks for this Have been using the software for a while. Pretty much like android app

Yes I totally love Foxit. Thanks for this Have been using the software for a while. Pretty much like vshare download and Myxer android app

What's with the plugs for xodo are the developers in this forum or something

It's better than Adobe's and MS'. Finally after years of requesting.

Love foxit on windows! Can't wait to try this!

Is there any pdf reader which allows text wrap..or reading mode in ehich we can change the size of fonts (just like few ebook readers).. This feature was available in my e63 long ago

Just tired Xodo Docs after reading some comments here. I found it to be the best PDF tool in the Store. Windows Central should do a review of this app soon.

I liked it. Thank you for the app.

I like Foxit best as well. I use the desktop version on my desktop and It has really comprehensive features. On mobile it is very flexible and am really happy it has come to Windows 8.1 and Win Phone 8.1 as well. Hav e downloaded it on both and will be using it as my default.

Better than the offerings from Adobe and Microsoft.

good Finally, you are maded with the application setup procedure. tutuappguide.com This is the option for such troubles in most of the moments nice.

Yea I totally love Foxit. Have been using the software for a while. Pretty much like Tutuapp android app.
Windows Central Newsletter
Thank you for signing up to Windows Central. You will receive a verification email shortly.
There was a problem. Please refresh the page and try again.