French Nokia Lumia 520 on Orange receiving Lumia Cyan update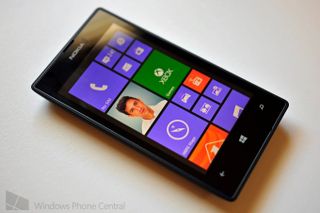 So far, the Lumia Cyan update has rolled out for the Lumia 625 and Lumia 925 across the globe, with only a few exceptions. The question for many is which phone model is next? Interestingly, the Lumia 520 on Orange in France is evidently the only Lumia 520 cleared for Lumia Cyan by a carrier.
The update gets confirmation by one user, Vishal A., who is receiving the new software bits. Likewise, the Lumia Cyan update page (opens in new tab) has that specific device and carrier listed as 'available' (Bouygues, LPM, and the generic variant are still in testing). As far as we can tell, it is the only Lumia 520 flagged for the update at this time, however we are expecting further devices over the next days and weeks.
Regardless, if you are Orange in France and you have a Lumia 520, head into your device Settings page to Phone Update to check to see if you have Window Phone 8.1 and Lumia Cyan.
Finally, remember to use our Lumia Cyan tracker page, as you can see which phone is getting an update in specific regions or carriers: www.wpcentral.com/windows-phone-81-tracker
Windows Central Newsletter
Get the best of Windows Central in in your inbox, every day!
Daniel Rubino is the Editor-in-chief of Windows Central, head reviewer, podcast co-host, and analyst. He has been covering Microsoft since 2007 when this site was called WMExperts (and later Windows Phone Central). His interests include Windows, laptops, next-gen computing, and for some reason, watches. Before all this tech stuff, he worked on a Ph.D. in linguistics, watched people sleep (for medical purposes!), and ran the projectors at movie theaters because it was fun.
+520 The best selling Windows Phone.

So ridiculous !!! Why not for all handsets together ???? Lumia 1520 pple are not being thought about !•••

So what makes 1520 users so special? A phone is a phone, no device is more deserving of the update than another. It will come when it comes.

+1520 But I agree with the above comment. A phone is a phone, you get the update when you get the update.
L1520 doesnt make you any more special.

they paid more for a higher end device, but still, so many people complaining... when for 1520? when for 520?

Don't exaggerate... Shut up, read and move on !!

Well, there are 1520 specific features in Cyan. That should be special enough.

Maybe because your carrier/country doesn't release yet.

There is 31% of L520's market share in all Windows Phones!!! So shut up!;!

Don't exaggerate. Shut up, read and move on ! When cyan comes to 1520 then see the features on it that won't be on L520. Oh ! And btw L520 is was my first windows phone. So take a chill pill !

ya man keep calm..u will definitely get update soon

I feel like my 1,5 years old 920 is abandoned :(

Every WP8 device is going to get the update. So, nobody is abandoned.

Dude! I have a 1020 and I feel the same way, many argue "a device is a device" but I do think those that have invested in the cutting edge of a platform that in turn drives innovation for said platform (be it android or IOS or heck... Blackberry) should get preference by both carriers and manufacturers... Just my opinion, super happy for all you french 520 people though :)

It's not it will get the update

Still waiting for 1020 -___-

Waiting is the Windows Phone game my friend.... Checks 1020 for update...... -__- ....LoL we are just growing impatient for some Cyan update awesomeness since BUILD.

How come country variants carriers aren't getting cyan first??

I keep asking the same thing....

money makes the world go round, if you know what i mean

Chill mate..it hasn't been released internationally for the L520 :P

That's upto the Carrier... So relax! If that carrier has vast market share of L520, then they'll roll out updtae for the L520!

Why should the 1520 receive the update first?

1520 specific updates perhaps?

Still waiting for my 1520

Before everyone goes Cyan?! on us....WPCentral has a page to track your specific phone and carrier as to when the update is coming. Go view it, and don't muddle comments, because it's all in the air. No one knows, but WPCentral has a page specifically for that. View it here: http://forums.wpcentral.com/windows-phone-8-1/293096-track-windows-phone...

Off topic but hey Daniel wurn are u going to interview our CEO Satya Nadella

We belongs to MS now yay
I've always wanted to work there

They Will be waiting... And hatin..

I keep checking the wpcentral and official Nokia tracker. That still doesn't stop me from manually checking the settings for available updates. I think it shouldn't be acceptable for OS updates to be announced 3 months before release

May be we'll get update in 2-3 days! :) Hope for the Best!

Nokia pls bless my 920 with cyan... :p

Wtf! Y r u teasing us everytime like this :( lumia 520 from india :'(

Still waiting for my unbranded 1520 to be updated, the role out is ridiculous

Hahaha, the rollout is a joke:))). Still 300 years to wait for my 1020. I think i will be selling this device before any cyan comes out...SAD.

Hahaha, its funny to read all this impatient Lumia owners... I am very anxious to get the cyan update on my 720 too, but the only thing we can do is wait.

I want to know whether I will get the update in India since I am still using preview for developer without any encryption

Ofcourse! Might be you'll have to downgrade your phone!

No, he said without encryption

Waiting in India. I hope this is a good sign. */ play that theme from due date in the background/*

Is there is any change in cyan then preview for developers

Preview for developers is an OS update which for all WP phones.
Lumia Cyan is a firmware update for Nokia handsets only. You can expect some care improvements and something like that.

Why the hell they are not updating High-end smartphones first ? Wtf ?

I guess they said they first would update the 920, 1020 and the 1520

What makes high end devices so special?

Because L520 has 31% market share of whole windows phone family! So respect the majority!

Thanx darkryd plz answer my first question too

Still waiting for the update for the Lumia 925 here In Nigeria

When recciving on romania on 520 orange?

Ce e asa de amuzant Stoicea? Da si tu o mana de ajutor

Auzi nu stii cumva de unde sa iau si eu un product code de nokia 520 orange franta ca nu pot sa mai astept pana apare si la noi update-ul ?

Isn't it possible that we can change our country location to France if we aren't on a carrier phone and get the update .... Like,how we changed our locations to get cortana to,work outside the US of A ???

Nope! Cz that update is carrier dependent...

What about the people in France who aren't on any specific carriers...

People on ATT are f***ed. We'll be getting it in 2016. ;)... :/

That's sad bro..... It must be painful

Well I'm not in a hurry since I have the 620 which is ALWAYS the last phone to get updates.

Earlier also MS ignored L620, now also they are doing the same. I dnt knw wats wrong with them. Feeling sad with Lumia 620 in India. :(

Are yr konsa hmare L520 ki update aa gyi!!! Hum bhi to abhi tak wait kr rhe h....

Phir bhi last time L620 was the last to receive the Black as well as Amber update...

I don't know what's wrong with that phone but... I got Black update on the same day when that was ready to download OTA....

No no no!! u didnt get me. i mean to say that MS released both updates in the end after they released for the other lumia devices. L620 was d last in the series to get both updates, & i think MS legacy will continue for Cyan update also. :(

Don't worry bro... Hope for the Best :) May be MS is trying to provide us an errorless OS for our devices!

Our low end devices need more optimization of OS for better performance, so it worth to wait...

Hmm thats rght...but MS should release it soon.

Me too can't wait anymore with my L520.... :-P

Fuck cyan.....going to android

Smartest man in the world I suppose

You won't find Cyan there either! lol

The day you leave is the day Cyan will come out for your device. I guarantee it.

Like Android gets all the updates, eh? You'll give now of a working game there than in here.

few days ago there was article that people who have "preview for devolopers" installed r facing problems after cyan update... so is it safe now to update or we should wait before we get green signal?

Its a complete roll out of OS and Firmware.... So of course its safe!

What my take on that was that Microsoft has,stopped the pfd program and even if the official update for your phone is released ....you won't be able to update your phone until you roll back to WP 8 ..... Rolling back isn't so tough ... I did it too early out of stupid eagerness ...now I'm stuck with wp8 till,I get the official update

Wait a li'l bit... The final update would be better than Dev version...

For all those saying why is 520 getting the update and not 1520. Well there are a few logical reasons behind that.
Firstly, the sales record for the 520 is way way better than 1520. So i guess its Nokia's way of saying thanks to the 520 buyers.
Secondly, the 1520 would get many feature which would need detailing for the great Nokia experience. Whereas the 520 wouldn't have most of the features due to hardware limitations, so wouldn't be that much of work to do.
So in the end it makes sense.

I'm saying the same thing...!

What about Preview For Developers ?

I cant believe that you people are still hype over MS windows phones. I am so sick and tired of their lack of providing a real inovative phone. Dan Rubino reported last Friday that they killed their 3D touch phone. I am still very upset by this news. Its sad to see a company that i defended so strongly, will have nothing new and inovatiove to show. I was waiting for the next gen 1520 with excitement now, such horrible let down... MS is not what it use to be, they are always playing catch up lagging light years behind apple and google oh samsung. For the first time ever... I am seriously conscerding trading in my L920 for the galaxy note4 for me, iPhone for the wife and replace all the window phone in my company. MS sucks!

They killed the McLaren, but they're still working on 3d touch on a new device (McLaren was just a prototype for developers)

I'm feeling light years ahead iPhone because I'm using 1520.

Remember the S4's sucky gimmick 3D touch aspects? MS didn't want something like that to be released to the public, which is responsible and I respect them for that. However, I am with you on the next Gen 152x and hope it comes with a removable battery for the holiday season.

True loyalists have patience and faith for deliverance ... The WP loyalists will be happy with a 520 over an I phone 5 ....

patience and faith for deliverance ... hahaha... i have been waiting for years like many other loyal MS Fan. You just need to know when to say kiss my ass and move on. Having hope and then constantly being dissapointed is horrible. Remenber the courier? that was before the first iPad and then they killed it. The iPad came out a few weeks later and killed... everyone wanted one including me and i still have two to date... and a mini. MS is not an inovator anymore they are a market follower not a market maker...

Dude, go with Blackberry then.

I am sorry that from what I wrote your understanding led you to believe that I was asking for your opinion... My small grasp of the english language would have allowed me to state that clearly if i was. But thank you for your suggestion.

In indonesia, nokia lumia 520 is the biggest market share here, i hope nokia cyan update coming to indonesia as fast as possible!

Release update L1520 before Aidilfitri please. Need better camera update for festival.

Got an update just now for 1520. It downloaded and installed. But i see no change. And the version still remains Black.

Are users with lumia 520 + developers preview still getting cyan update ??? Do you you have to downgrade like wpcentral mentioned last week. ??

I heard that and downgraded without thinking.....no use ... Don't downgrade until confirmed reports that your L520 update has been released

India is waiting for you cyan
Sincerely L520 :P

I think that I'd still rather have a functioning music player on wp8 on my 1020, then updating and getting the new, now broken Xbox Music. But that's just me.

Again I say, where is MS in this new world of technology...? Sleeping and lagging behind or maybe they just woke up and realize that the bus left the station, lol. Look out the back window of the bus... do you see that image in the distance...? Yep, thats MS still groggy form sleeping and is running behind everyone else, trying to catch up.

You came all the way here on a Windows blog to say that? (Round of Applause)

Yes and thank you. Mediocrity, it appears is something that you relish... to each his own. (Round of Applause) Now stay on point or please pass along...

Why don't you simply just go with Android or iOS maybe even BlackBerry. AndroidCentral might be more suitable for you dear ol child.

Maybe MS is also preparing the rollout for 8.1.1 at the same time this rollout is taking place who knows? Lol Lets wait and find what in the blue hell they doing and making us wait this long haha!

When cyan comes to India for lumia520?

After it comes to rest of world

i hate the fact that WP is so slow updating their device i think its time to hoop back to android

Android is even slower, you sound like a turtle. My ladies LG G2 took MONTHS nearly a year for KitKat for Sprint.

You do know that most Android phones never receive any updates, right?

I wonder why my US AT&T Lumia 520 is taking forever. These should have been first

Not seeing any OS update in my 520 in Indonesia. Hopefully to see it sooner...

I never understand why people keep asking "when is it coming in <insert country name here>?" NO ONE KNOWS.

People are catching feelings over OS updates hahaha :"D

So can I change my region to France to update my phone. +520

Looking at the availability of Cyan for L925 on the Nokia site, I think only a minority has received the Cyan update on his L925 device. Most of us are still waiting for the upgrade, especially since the BitLocker problem caused Microsoft to decide roll out of Cyan had to be stopped. Untill now no more news about a fix in the near future?

Why windows are rolling update this much late ,by doing that they will loose their customer

new cyan update for lumia devices.. http://geekthem.com/cyan-update-microsoft-released/

Pour les Français: Vous avez Cortana du coup ou bien?
------------------
Are we all supposed to get Cortana from cyan once getting the update or is it still US (and soon UK) exclusive?

Why do descriminari between phone models, and the problem is expected to set aside money each operator? Once you release the updates to all phone models SiO you did not like the model that you gave lumia 520 update only for France.
PS: to hell with France

Can someone give us a product code for Nokia 520 Orange France? I want to install the WP 8.1 on my phone with nokia care. Thank you !

Waiting for Lumia 520 in India

No first priority in updates for lumia 520 even it is more famous.

Hi. Can someone (French users of lumia520 on Orange) pls tell me whats the approx. size of the update on lumia520?? Does the size appear when the update notification shows up?

When arrives in India plzz reply me

Plzz update 8.1 o.t.a. In India
Windows Central Newsletter
Thank you for signing up to Windows Central. You will receive a verification email shortly.
There was a problem. Please refresh the page and try again.