Fruit Ninja wallpapers chop their way to Windows Phone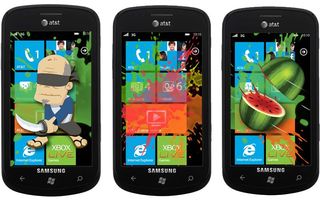 Do you like slicing fruit as much as we do? Then you'll want to check out the Fruit Ninja-themed lock screen wallpapers that Microsoft released today. The pack contains both transparent and non-transparent versions of three different designs, for a total of six images. With these, even when you don't have time to play Fruit Ninja, you'll still look like you do.
What's the occasion? As some of our readers who play console games may know, Fruit Ninja Kinect is coming to Xbox 360 on August 10 for 800 MS Points ($10). It adds motion support and multi-player to everyone's favorite fruit fighting game. The wallpapers are a way of thanking Windows Phone gamers for making Fruit Ninja such a success while perhaps reminding them to check it out on 360 too.
You can grab the Fruit Ninja wallpaper pack here. (This is a Filesonic link. Scroll down and click on Slow Download to download it for free.)
Microsoft is also running a Fruit Ninja contest at Comic Con later this month. Non-attendees can enter too. Check out the details below:
Paul Acevedo is the Games Editor at Windows Central. A lifelong gamer, he has written about videogames for over 15 years and reviewed over 350 games for our site. Follow him on Twitter @PaulRAcevedo. Don't hate. Appreciate!
That is where we are hosting them, dude.

That's so freaking awesome!

So it seems microsoft has embraced the transparent wallpaper trend. hopefully will see support for syncing them in the next zune release and maybe they'll allow the start screen to stay visable all the time when using them in a future update (if they didn't do so in mango)

Any chance Fruit Ninja will be the deal of the week on WP7 the week it is released on 360?

That's pretty sweet. God WP7 is so awesome.

Doesn't seem to work. Well, the transparency works, but on a static lockscreen, the transparency is replaced by random colours and the date text in random places. Would post a pic, but my phone is my camera.

Running Mango? I haven't tried these yet, but rumor has it that on Mango beta, transparency doesn't work right now.

Seriously, what's with the lame hosting? Why not use some modern service?Here is the zip: http://min.us/mduNbQsFirst time I've shared a gallery on min.us, so let me know if I didn't do something right.

Lame hosting? Really? Just because you have to wait 30 seconds? Great to see some mature patience around. FileSonic is a fantastic hosting platform, especially for large files (I host around 200 50MB+ with them). Much faster speeds than most competitors. The zip archive has been downloaded almost 600 times already, yet you're the only complainer?

It's not about patience, it's about simplicity. FileSonic might be fantastic (especially for large files, which this is not), but it doesn't work any better than other solutions in this case.Multiply 30 seconds and 5 clicks for each of those 600 people that downloaded the zip and you will get quite a lot of wasted productivity. Combine it with the complex interface of such sites, the difficulty of finding the proper "Download Free" option, the visual overload of all the blinking ads and promotions, and you get, like I said, a pretty lame experience.Compared to just clicking "Download". But hey, whatever, I'm just an immature and impatient user, because I like simple and fast solutions.

I can never download anything of filesonic, forever telling me I can only download one file at a time when I'm not downloading anything else lol Trying to force me to pay I think

love those wallpapers thx
Windows Central Newsletter
Get the best of Windows Central in in your inbox, every day!
Thank you for signing up to Windows Central. You will receive a verification email shortly.
There was a problem. Please refresh the page and try again.