Fujitsu handset running Windows 7?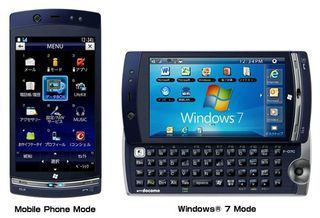 We've seen the upcoming Toshiba Fujitsu "Mango" handset, that is to become official on July 27th at a press event with Microsoft Japan. This is something in a whole different realm. A Fujitsu device running Windows 7. Not Windows Phone 7, just Windows 7. Allow me to introduce you to the Fujitsu Windows F-07C Mobile Phone.
What are the selling points of this device? Well, we have Internet Explorer 9, two years license of Microsoft Office, SSD (flash memory), trackball for mouse movement accompanied by a QWERTY keyboard. I'm not sure why they have SSD as a feature since I'd find it odd to find a traditional motor-driven hard drive inside a phone. This is probably the best part:
From first viewing the photos above, one will notice the massive resemblance of iOS with the icon grid layout, pane icons (small circles under the grid displaying which pane is currently active), and even an OS X-like dock. It's reported that this device will be available in Japan by the weekend.
What's impressive is the specifications (although battery life when in Win7 mode is only at ~2 hours), check them out after the break.
Specs/Phone Mode
Size: 125 × 61 × 19.8 mm (19.8 mm at thickest point)
Weight: 218 g (with battery pack)
Continuous Standby Time: ~600 hours in FOMA 3G
Continuous Talk Time:
~370 minutes in FOMA 3G voice mode
~170 minutes in videophone mode
Display: ~4" wide SVGA touchscreen (1024 × 600 resolution)
Camera: (back side) 5.1 megapixel effective resolution, CMOS sensor
(inside) 0.32 megapixel effective resolution, CMOS sensor (0.17 megapixel in Windows 7 mode)
Color: Navy Black
Windows 7 Mode
OS: Windows 7 Home Premium 32 bit Full Version (with SP1)
CPU: Intel Atom™ Z600 processor (supports HT technology) (1.20GHz)
Main memory: Comes standard with 1GB/max 1GB (LPDDR400)
SSD: ~32 GB (eMMC)
Wireless LAN: IEEE802.11b/g/n (communications speed: up to 65Mbps)
Windows 7 battery life: ~2 hours in Windows 7 mode
Source: Fujitsu (opens in new tab), via: RegHardware (opens in new tab)
Windows Central Newsletter
Get the best of Windows Central in in your inbox, every day!
Rich Edmonds is Senior Editor of PC hardware at Windows Central, covering everything related to PC components and NAS. He's been involved in technology for more than a decade and knows a thing or two about the magic inside a PC chassis. You can follow him over on Twitter at @RichEdmonds.
It looks quite cluttered to me in phone mode and the Windows 7 mode sort of reminds me of Mac OS X with the dock like bar ant the bottom and the info bar at the top. Personally to me I don't see it being good for its intended purposes as if I wanted to use Windows 7 on the go I'd rather get a Slate or a Netbook, as I would want screen size working on a desktop OS. But I'm sure some business people may buy it but I think for a mobile phone if you need Microsoft Office surely you can cope with the mobile version on WP7.But this is just my opinion on the matter.

Conceptually, wasn't this the problem with Windows Mobile? It was an attempt to cram a desktop OS into a mobile environment.If they had taken this same ridiculous path with WP7 and not introduced the world to live tiles instead of icons there is no way I would have switched over to WP7.

I love the left-click mouse button on the top left corner of the QWERTY keyboard. That device looks nice.

If Sprint put it out I would buy it. Well I would check it out with that processor it could be laggy I hate laggy devices.

Bwahahahahhahahahah *deep breath* hahahahhahaha!

This device is too little too late. Windows 7 is a great OS but its functionality is crippled on a small screen (crippled even further by bad specs). Most of the important features of a Windows 7 phone can be done via the very sleek and streamlined WP7 Mango. This would work better as a phone/tablet hybrid like the Dell Streak (and probably sell just as poorly). With Mango hitting the market soon and Windows 8 right around the corner, the market is dwindling for a product like this.

i dont get it, doesn't win7 support touch screen already? why the track ball for mouse..?
Windows Central Newsletter
Thank you for signing up to Windows Central. You will receive a verification email shortly.
There was a problem. Please refresh the page and try again.