Full specs for the Nokia Lumia 1020: 6 lenses, 2GB of RAM, and more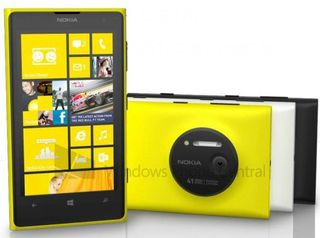 We're less than 24 hours from finally getting the official details on Nokia's 41 megapixel monster – the Lumia 1020. That doesn't mean leaks aren't still flowing in. Au contraire, we might have the full specs of the upcoming device. What to know what network bands it supports and more? Read on.
These specs from UnleashthePhones.com seem to be in line with what we've been reporting and can corroborate with our sources. Here we go.
Nokia Lumia 1020
Operating system – Windows Phone 8
Networks
GSM: 850 MHz, 900 MHz, 1800 MHz, 1900 MHz
WCDMA: 2100 MHz, 1900 MHz, 850 MHz, 900 MHz
LTE network bands 1, 3, 7, 20, 8
HSPA+ DL Cat 24, Dual Carrier 42.1 Mbps/UL Cat5.76 Mbps
Here Location and Mapping Service: Free global HERE Maps and HERE Drive+, free HERE transit available in the store
Memory
2GB RAM, 32GB internal user memory, 7GB Skydrive cloud storage
Display
4.5 inch AMOLED WXGA (1280 x 768) 2.5D sculpted glass Gorilla Glass 3, PureMotion HD+ ClearBlack, High Brightness Mode, Sunlight readability, Super sensitive touch for nail and glove usage
Processor
1.5 Ghz dual-core Snapdragon (no word on which snapdragon processor though)
Camera
PureView 41 MP sensor with Optical Image Stabilization (OIS), Backside-illuminated image sensor, 6 lens optics, High resolution zoom 3x, Autofocus, Xenon Flash, LED for video, 1080p video at 30 fps, Includes Nokia Pro Camera mode and Nokia Smart Camera Mode.
Secondary Camera
HD 1.2 Megapixel wide angle
Size
Weight
Connectivity
USB 2.0, BT 3.0, NFC with SIM based security, WLAN a/b/g/n, A-GPS and Glonass, 3.5 mm audio connector
Battery
2000 mAh battery, Wireless Charging supported via accessory cover
Audio
IHF speakers, 2 microphones, HD voice compliant, 3.5mm AV connector
Key Features
41 Megapixel sensor captures the sharpest images with details never though possible from a smartphone
Nokia Pro Camera boosts creativity through simple and easy to user controls usually reserved for the expert photographer
Nokia Rich Recording delivers distortion free stereo audio in the loudest environments
Comes with the only fully integrated and true offline Global maps experience from the HERE location suite
Nokia original accessories
Nokia Camera Grip PD-95G:
Confidence to take the perfect shot
Built-in extra battery for longer usage
Ergonomic grip with a two-stage camera key
Universal tripod-mount
Nokia Wireless Charging Cover CC-3066:
Effortless Wireless charging is just a snap away
Enable wireless charging with form fitting Qi compliant snap-on cover
Colors
Operating times
Maximum talk time (3G): 13.3 h
Standby time: 16 Days
Video Playback time: 6.8 hours
Music Playback time: 63 hours
This looks good to us. What do you guys think about the specs? Even if Nokia has data that suggests most consumers are content with 32GB of onboard storage, should they have 64GB in small batches for enthusiasts like yourself? I just really want to play with that camera grip!
Source: UnleashThePhones, Via; MyNokiaBlog
Thanks for the tip Vinayak!
Why haven't Nokia upped the battery??

Battery takes up space, people were complaining, so they made the phone thinner instead. You don't get something for nothing.

Good point. Let's also hope for some more battery effiency in software. That camera grip will be nice too for when you plan on doing a lot of shooting and don't want the battery to die so fast.

Jeff, this is not an argument. Motorolla Razr Maxx HD is still thinner and packs a 3300mAh battery.

... but it doesn't have a 41MP camera with a huge sensor..

The MAXX HD is 1.1 mm thinner, 1 gram lighter, and a bigger screen, with a smaller camera sensor and lens/flash assembly. Can't compare a phone they designed around a large battery to a phone they designed around a large camera module.

You could look at the camera accessory as the expanded battery? But yeah, would be nice for normal use to last a little longer

My Lumia device last a full day with a little bit more than normal use (of course that's subjective) but a few videos, listening to music at least 7 hours (on bluetooth), text, emails, etc). If used without some of the aforementioned it can last a good day and a half up to two full days. I think the battery life of my L810 is awesome. But compared to some of my friends with their Samsungs they barely have any battery, if any at all, with my normal use. I'm just curious how many hours do we expect smartphones to run and a daily bases?

Size. They wanted to keep it relatively thin (Not counting the camera bulge). This why they came out with the camera holster with added battery capacity for the more serious photographers.

I am not a poweruser, but I am pretty OCD about checking news and stocks on my phone. My 920 easily lasts all day. When I make sure no apps are running in the background by restarting it, it barely touches the battery while running.


Only 2000 mAh.... :( and besides the 32 gig storage, the 1020 is almost an upgrade to the 920 in every way. :)

Remember that they are using a AMOLED display. I am no phone nerd, but I still think the display is the component of the phone that consumes most battery. An AMOLED display gives higher brightness with less battery consumption.

Depends on what is on screen. Amoled screens consume THREE times the energy of LCD when displaying bright (eg white) colors. I personally make sure i mention it in app ratings whenever developers do not add option for dark colors. The wpcentral app is using black background but the disqus app stubbornly refuses to add that most important option

what do you mean "even"... it's the heaviest from the "main phones" out there so of course it's heavier. You have to name a particularly light phone to say "wow, even the [light phone here] is heavier"

what's wrong with you. im just supriced, are YUMAD?

It's not even that heavy to be honest. Atleast Nokia provides us with alternatives with similar features and tries to wrap everything up into a good package.

I think the additional 920 weight is from the built in wireless charging? 1020 doesn't have that built in. I could be wrong though!

I think that's actually the case in the 920.

wireless charging, heavier LCD screen, thick dense plastic/polycarbonate, slightly older battery tech, take your pick. Still an awesome phone (love mine) but the beating that Nokia took for the weight of their device in every review (even positive reviews) is definitely something they want to avoid in the future.

I didn't go for 920 because of the design - big size yet screen is just 4.5 ; very heavy ; display is not AMOLET ; poor battery ; not expandable memory. Pretty fundamental components. ATIV S ticked most of boxes. Glad that Nokia are moving in the right direction with 925 and 1020.

Worse, they had to remove wireless charging coils for the upgrade camera. Everything else is the same.

I'm glad they did... The trade-off is definitely worth it

Not like the charging would work very well with the camera buldge...

The camera bulge would have no effect in charging. The phone does not need to be in contact with the base to charge. You can hold it above the base and it will charge just as well as if it was laying on the base. That is why there is no issue with charging and being in a case.

It wouldn't sit flat on a flat surface though, that's what I'm getting at.

There will almost certainly be a snap on cover for wireless charging like the 620/720 have. While it's a step down from the 920, this is how every phone on the market (except the Nexus 4) at this point works - a cover or replacement back to enable it. I am OK with that, it keeps the cost down for those who don's use the feature.

There is a snap on for wirelessly charging... Did you even read a single post regarding the 1020 (909) which has covered this fact to a great extent... Hell did you even read this article which mentions it as well?

I am going to assume that you meant to reply to the OP here ;)

Nothing is the same on this phone as the 920 other than the 32GB of internal storage. It has 2GB of Ram, it has a newer screen, it has a way way way way better camera and i would imagine it has a better snapdragon cpu also, is a very good upgrade to the 920 if you are looking right now.

Uh, hellOOOoo. Has anyone NOT noticed that there is no sd card slot??? I am so, totally, massively, confused. I am totally freaking out. Totally. Oh, and confused, too.

About what I'd expect, though, those with a 920 really should just wait for a true successor. This isn't it (it's just a higher end version of the current model).

I don't understand why anyone with a 920 would be considering another phone right now. It is a great phone, no reason to update.

Because the camera is awful?

Because I cracked my Lumia 920 screen...

Agreed, plus I want to use that camera. Its so awesome looking!

Because it has a tiny screen... And so does this.

Speak for yourself im on my fourth 920 and it still freezes up on bluetooth timew to time.....so theres a great reason to upgrade. Plus the camera.

Exactly. On my 4th 920 in 7 months. Not impressive at all.

BT freezes are not uncommon. Any word on what the cause is?

C'mon! This is the mother of all phones:)

I bought my 920 off contract precisely for this reason. The trade in price for the 920 will be higher now than next year. By then, if and when the true successor comes, I'll trade in my 1020 for a good price too! The first outright price for the 920 was a killer...from now on, I can have a new phone every year for around £250 cash straight out of my pocket! And I've got a great sim only deal from Virgin. Still better than getting locked in for 2 years.

Um, yeah. Doesn't the 920 have an Sd card slot? Like every other phone on the market? Except the 1020. It's really confusing me.

No, only low-end and mid-range Nokia phones have microSD. The high-end / flagship phones are limited... because screw logic that the high-end phones should have the most storage!

"Every other phone on the market"? Are you high? Where is the SD card slot on the iPhone? The HTC One? Nexus?


Like the super popular iPhone? ohh wait.

Not every phone on the market has an SD card slot. Not even all Android phones have an SD card slot.

I don't understand that this beast don't has wireless charging, is it 10.4 mm with the bulk or without? I'm so gonna buy this phone but the only dissapointment is the lack of build in wireless charging, can't wait for tomorrow! How are you guys feeling about this Phone???!
Best regards!

Valid complaint. But I think Nokia is doing something else too. They wanted a thinner phone, had to omit something. Wireless charging gets left out, but you can add a cover that makes your phone a little thicker while adding the ability to charge wirelessly. The Qi standard that all Windows Phone devices currently use to charge wirelessly isn't the king of the hill yet. There is no universal standard yet. Qi and PMA are going to be fighting it out. Eventuallly I think one will emerge as the victor. Basically whichever Apple uses will be the winner. So instead of giving you a phone with a wireless charger that won't work at Starbucks or wherever, you can simply swap out the back to have a compatible device :) I think that makes sense. Lemme know what you guys think.

Valid reply:) Apple will choose opposite of android, so its Googles call:)

I think if Nokia included wireless charging, then the camera accessory plate would negate it. Just another reason I'm thinking wireless charging isn't included.

Can someone please explain why wireless charging significantly adds to the thickness of a phone? If you open up the Lumia 920 you will see that the wireless charging coils are about the same thickness as a piece of paper. CNET even has a video of adding wireless charging to a GS3 by using parts from a Palm. No bulk added to the phone at all. This fallacy that wireless charging adds a lot of bulk keeps getting repeated. http://cnettv.cnet.com/add-wireless-charging-samsung-galaxy-s3/9742-1_53-50140120.html

expect apple to go proprietary, whether they have a good reason or not, who knows... but i would lean towards proprietary. meaning... this whole game of standards is far from over. I see it playing out over the next couple years... perhaps Qi will win out, perhaps not... i wouldn't lose sleep over it, if another standard wins out then Nokia will switch just like the rest. obviously some will complain because of the investment in Qi accessories, but such is life...

Like the lightning connector, Apple will go with what isn't standard across the board, which in the end, makes Apple look like morons.

Going to upgrade just for the camera. Having kids means getting the dslr ready all the time is tough. I'm also looking forward to battery life compared to my 920. Here's to hoping that Amber/GDR2 have improved that a bit.

I recently brought a 925 with GDR2 and I can say the battery life beats my partners 920 hands down! Even with the thrashing I'm giving my new toy atm ;)

That is good to hear. Perhaps Amber will fix the 920's battery issues finally.

Sounds like my world... That's why this is my next phone:) still got my Stormtrooper

NOOOOOOOOOOOO not AMOLED
fail

You misspelled... The correct spelling is "WIN"

Ok. have fun with screen burn-ins, unnatural high saturated colors, short lifespan and green tints. WIN

I remember seeing the mall demo phones for the 900, they had the home menu image burned into the screen.

My L900 is still working with no burn in, same for my Dell Venue Pro. Plus Nokia has a colour profile option in their display + touch settings app so you can adjust the colours to suit you. Try and keep the FUD to a minimum, hmm?

AMOLED screens take around 8 years (running 8hr/day on average) to die, use less power, are considerably brighter and blacks are black. My Zune HD has no burn in, nor is it really an issue unless you leave your phone with the same image on it for very prolonged periods of time... As for color accuracy, my 928 has one of the most color-accurate screens I've ever seen on a phone.

+works better in bright locations (car/outside)
+better power usage
+calibrated screens are not green, and these will have some color adjustment options
+better contrast, clarity, readability, more natural pictures
+burn in only happens if you leave a static screen for several hours which is not realistic on a phone
+phones are only used for 2-4 years, which means that you will likely replace this device long before the expected 8 year life of the display

HM02 is right. Every phone I have had with AMOLED has experienced burn in in less than a year of use. I am a heavy text user and found that the text bubbles were burning in on every device. Unless Nokia is using some tech that is better than what is used by Samsung then I expect the same issues with this device. For those of you with AMOLED phones claiming no burn-in, open up your web browser and go to a blank page showing all white and tell me you see no burn in. If you don't then you must not use the device that much. Sure you get more battery life and deeper blacks from AMOLED but I am much happier with the LCD on the 920.

I use my launch day 900 a lot, and I have no burn in whatsoever. Of course I dont leave static images on the screen for extended lengths of time either. I vastly prefer amoled to LCD, so I'm glad that's what is in the 1020.

Burn-in on AMOLED is real. I have just a tiny bit on my Focus S after almost 2 years, which I think came from some long gaming sessions a while back. It's hardly ever noticeable in my case though, really just when scrolling against a white background I see the slightest shadow that isn't moving along with the contents that are scrolling.

Little-known fact by the way - even LCDs can suffer burn-in. Not sure if it happens much on phones, but I've seen it on LCD monitors before like the Dell 2001FP.

Also Sam, you ever get any response from Oggl or Molome? I'm Capn_Murphy on twitter.

Hell I want to know also about Oggl and Molome, I forgot that they were coming to win8

Nope. Emailed the CEO of Molome but nothing yet. Same for Oggle.

Very happy with my red 920 I'll wait for bigger Lumia...

I am happy with my 920 also. I think the 1020 is for those who have/had the 900. Me... I am waiting for the Nokia phablet, 5" plus screen. I want Galaxy Note owners to drool at my precious. I guess 5 more months??

Agreed. Love my 920 and (other than the obvious exception of the camera) this really does not feel like much of an upgrade. Once we see a similar phone with a 1080p 4.7-5" display with the GPU/CPU to support it then I will consider an upgrade. Toss in 64GB of storage, wireless 11ac, and USB3 and I will pretty much be sold.

I think this has the newer processor.. It's no iPhone 4 to iPhone S4, it's still more like S2 to S3.

Yay my next phone. I can see it running Wordament now....

Was really hoping this would be a 1080p screen =/. Tempted to buy it but also tempted to wait until bigger phones are announced.

There was never going to be a 1080 screen.
I'm tempted to sell my 920 and get this. I need that camera. Although I had a good look at a 925 today and damn that is one sexy ass phone.

I suppose selling the 920 is a good idea. I have an ATT upgrade available, and I'm not sure if I wanna use it on this or not, since I bought the rather cheap 920 off contract. The camera sure does look awesome though and would account for some good bragging rights.

I just wonder how long it will be before this drops in price as the 920 has come down fairly quickly. Bragging rights are definitely worth good money though ;-)

I can't say a bad thing about my 925... I think you're safe with either purchase lol ;)

A 1080p screen would drain that 2000mAh battery so fast you would cry.

How does the battery grip/extra battery work? Does it use the battery in the grip first then use the device battery?
If so, this is great; I would love to be able to have the grip around for when pics / videos will be taken and then take it off when I am done.
However, if it waits until the device is drained to switch to the grip battery then I don't really see the value for most people.

If it works like the battery case for the Lumia 920, you'll be able to charge the phone's battery with the press of a button.

shut up and go give them your money.

I am skeptical about the 32Gb only. I believe I would need 64Gb. I like the camera grip. I strongly suggest Nokia to also release a 64Gb version. Rest all seems fine to me. I would immediately buy a 64Gb version in Black with a Black camera grip.

How about additional storage in the cameragrip?

Extra storage in the grip (ideally a full SDcard slot) seems the most sensible way to be, effectively putting it into full digital camera mode!

built in SD slot in the grip would be pretty legit. Though I would prefer built in SD slot.