Fun Run 2 is a fast four-player online multiplayer game on Windows Phone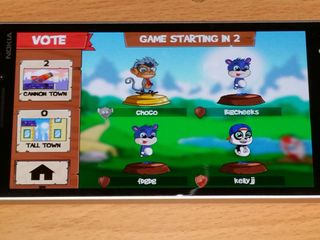 Yet another popular iOS and Android game has made its way to the Windows Phone Store. Developer Dirtybit has released its online multiplayer running game Fun Run 2 for Microsoft's mobile OS.
The game lets players control cute and furry forest animals in their race to the finish line. You can play the game with up to three other random players around the world in a quick game, or you can find friends to compete against online. Of course, it's not that simple as the runners can set up all kinds of traps and other hazards that can kill their opponents in various, and often bloody, ways.
The Windows Phone version has all of the updates that have been included in the iOS and Android versions. That means it supports organized Leagues. Here's a taste of that in the change notes.
Amazing new League
Get placed in divisions ranging from Wood to Elite
Bonus rating for beating higher ranked players
Compete for prizes at all skill levels
Show off your skill
The bad news is that Fun Run 2 does not currently support 512MB devices. Hopefully that will come in a future update.
Thank to everyone for the tips!
Download Fun Run 2 from the Windows Phone Store (Free)
Please also review test chamber!

Why dont devs understand that they won't get hit high in download charts until they support 512mb devices?And then they complain "There aren't many windows phone users to download our apps"

They're also REALLY late when releasing ports for wp

Well, 512 MB RAM in ANY phone in 2015 is severely limited. Cant blame developers for that and expect new apps to shun 512 MB RAM. MS was smart enough to include 1GB RAM in every device they released

Just bought Lumia 640 xl
No problem

Do they sell WP with 1 gig where you live?

I think you don't see that 1GB devices are the norm today, ESPECIALLY when it comes to gaming because of the bar iOS and Android have set way long before us. ALL WP devices being launched have this standard at least. Time to upgrade, my friend.

512 these days is horrible and should already be replaced. It's not the developers fault. Posted via the Windows Central App for Android

This is how technology works. Your hardware becomes obsolete really quickly. This is the nature of fast progress.

Don't know if I'm going to download this or what. But still a great addition to WP store.

Is this the latest MS posting software in action...? Like candy crush? Posted via the Windows Central App for Android

Hehehe... Well to answer your question about game development... When making games... Code development can get bulky when they start out. Then as the game get more and more time.. The code also get advanced also. Where it takes 10 steps to do something it may now take 3 steps... So give them time... Code advancement takes time... If you want to complain about an app or game, I recommend you give development a try and see how far you can get. Coding advancement takes times but worth it the wait...

This comment made my day. :) thanks!!

You are welcome... Everyone should give Hour of Code a try... Then take it to a new level...

Some of the guys at my work are playing this game from time to time - and since I'm the only one around (that I know of) which is using WP, I was always "that guy who can't play the game" since it wasn't available for WP. Time has changed :)


Hurray Posted via the Windows Central App for Android

Yay!!! Now slice and dice them!

Even though I can't played it on my Lumia 520 I am glad that it came to windows phone :).

Finally after so many mails..

Snail mail... Hehehe... It still works...

Hình như Game này chưa được tối ưu cho Lumia 640 . Nên hình ảnh nhìn ko được rõ nét hoàn toàn :(

I think it's trying to communicate. What should we do?

That's Vietnamese you asshat

Lol someone got a little frisky.
Not anyone knows Vietnamese.
Posted via the Windows Central App for iOS on my iPhone :-)

Calm down, caveman. It was a joke..

I got game and Lumia but the rest sounds like someone having a shit.

we should try to get a translator. I just understand "Lumia 640" & ":("

Is the multiplayer itself cross-platform? In other words, can I play with a friend with an android device?

Same here almost useless if just windows, not enough of us

Nice Game add me cooljatt :)

Really hope that they never make it 512..

My 820 lags with games that don't have 512mb support

Yes! One Major Question, Is it Cross Platform?!

Test and try.... Only way to find out and have fun... Fun game... Cute teddy bears getting chopped with trapps and saws... Progress and pure productivity...

Not able to find it anywhere in the store .. And i when i click on download app through windows central...my store opens to a blank home page

Yeeeay. But needs some serious optimizing

Porting revolution is already started

Anyone else having problems with speed? Even when running on a straight away, im like 2x slower than everyone else
Windows Central Newsletter
Thank you for signing up to Windows Central. You will receive a verification email shortly.
There was a problem. Please refresh the page and try again.