Galleries, a photo folder app for Windows Phone 8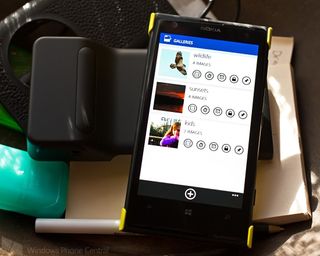 Galleries is a Windows Phone 8 photography app that will let you build custom photo galleries and generate collages, pin your galleries to your Start Screen and more from the pictures within these galleries.
Need to create a slide show from photos of your kids, Galleries will do just that. Need to generate a collage of your favorite scenic images, Galleries will do just that. It even has a clock function that transforms your Windows Phone into a digital clock personalized with your own photos.
While Galleries has a lot going for it, there is room for improvement. Still, it's a nice photography app for your Windows Phone 8 devices that is worth a try.
When you first launch Galleries you are greeted by a blank screen with a "+" button sitting at the bottom of the screen. Up under the three-dot menu you will also find options to rate the app, view the "how to use" screens, and access the app's settings.
Galleries gallery view, gallery page, and collage maker
Galleries settings cover how the gallery tiles react to touch (open gallery, open digital frame or open the clock), lock screen sequencing, digital frame settings, clock settings and viewing an about screen.
To create a gallery, just tap the "+" button, name your gallery and you are ready to start adding photos. The gallery listing on Galleries main page has five options (button controls) that are displayed out besides the thumbnail. The buttons include:
Collage building: The collage builder has eighteen patterns that you can use to build collages from your photos. Images in the collage can be randomly generated or you can tap an image frame to pick your own image. Finished collages can be saved your Saved Pictures folder in your Windows Phone Pictures Hub. Collages can also be shared within the app to your typical Windows Phone sharing outlets (tap+send, messaging, email, SkyDrive, other apps, etc.).
Clock: Galleries has the option to display a digital clock with your images rotating in the background. You can choose to display a collage of images or a single image at a time. This feature turns your Windows Phone into a nice bedside clock that supports landscape or portrait display.
Slide Show: Turn your Windows Phone into a slide show viewer that automatically rotates through all the pictures within a gallery. You can change the interval timing, sequencing, and how the image is displayed (fill screen or uniform) in Galleries settings. This feature turns your Windows Phone into a digital picture frame of sorts.
Lockscreen: If you want Galleries to be your Windows Phone lockscreen utility, tap the button with a padlock on it. This will rotate your lockscreen image from that particular gallery.
Pin: If you want to access your gallery quickly from your Windows Phone Start Screen, just tap the pin button. The Live Tile will display images from your gallery.
When you enter a particular gallery you will see thumbnail images that populate the gallery. To add a photo, just tap the "+" button at the bottom of the screen and you'll be sent to your Windows Phone Pictures Hub to select your photos. If you need to import multiple images, there's an option beneath the three-dot menu to do just that.
Galleries digital frame and clock settings and clock view
Galleries also has the ability to launch the native Windows Phone camera app to capture a new photo for the gallery. Additional options include the ability to edit (delete) specific images from the gallery, delete the entire gallery and rename the gallery.
The one feature that Galleries lack is the ability to view a single image. Sure you can view your images with the slide show feature but you can tap all day long on an image thumbnail but nothing will happen. It would be nice to be able to view single images and maybe share them from Galleries. Another minor nit is that while the clock feature can be useful, there is no alarm feature. You'll need to set an alarm through other means.
Lastly, while Galleries is a free app with no ads you will randomly see a pop-up window appear inviting you to rate the app in the Store. It's a way to give the developer feedback but unless you rate the app, this pop-up window won't go away. I understand the need for feedback and ratings but developers should be able to take no for an answer. The pop-up should time itself out after, say, three "cancel" responses.
When all is said and done, Galleries isn't a bad photography app. It has room for improvement but if you have the need to build galleries that can be used for slide show viewing, collage building and a digital clock...Galleries is worth a try.
Galleries is a free app for Windows Phone 8 that you can pick up here (opens in new tab) in the Windows Phone Store.
George is the Reviews Editor at Windows Central, concentrating on Windows 10 PC and Mobile apps. He's been a supporter of the platform since the days of Windows CE and uses his current Windows 10 Mobile phone daily to keep up with life and enjoy a game during down time.
Downloading and testing !!!

We cant see pics in camera roll in full resolution from stock gallery app?? I heard somewhere that there is restriction!!

HD photo viewer..download it :D in the stock photo album. It isn't full resolution and often looks a bit soft because it is supposed to help performance when panning and zooming

Yep, that's what I use
Although amber was supposed to allow you to view full res photos from the stock gallery.

By pressing upon an image of the gallery, you can edit you photos and add filters. The app uses Nokia Imaging SDK and you can see your photo fullscreen.
You can also add filters to collages, check it out!!!

Yes by pressing the image thunmnail will pop up the editing menu, where you can edit your images or see it fullscreen by pressing the image. Why the author says that there is no such capability????

The author reviewed the previous version of the app. The latest update braught Nokia Imaging SDK with a pack of amazing features!!!

nice one. Trying out asap.

Is this the only app that offers a Slide Show? Does HD photo viewer offer that?

No, start slideshow is what i use.

You can also try MusifyPictures. I'm shocked that Nokia hasn't come up with a slick Slideshow app- something with music and really smooth transitions, zooms and pan/scans. That seems like a great way to really showcase the Pureview experience on Lumia 9xx and 1020 devices. I would think the 1020 could easily handle that with its 2GB of RAM.

I just downloaded to test it out. Image editing was great but when it came time to put the gallery together (lots of layout options), the app failed. There's no way to zoom in/out of a photo or choose where in the collage the photos go. Every attempt I did resulted in poorly cropped images. Uninstalled. Edit: I re-read the review and saw that you can choose individual images so I reinstalled and dug a little deeper. You can indeed reposition images but it would be great to touch-edit directly from the screen and not have to go back into the camera roll. My mistake; I'll keep the app around.

Downloaded. Pretty cool. I'll have to take more photos :)

Noot good, I'll stick with the stock one. First of all, when selecting photos out of thousands like I got, multiple selection is a must. This app hasn't got it.
Second of all, where is the metro/modern love? It just doesn't look nice. Thanks to the developer though, I bet some find this app useful. :)

I think the UI is the best part of this app!!! Really clean,simple,modern... A characteristic design for windows phone

You can select multiple photos, go into the gallery > go to "..." at bottom of page > import multiple images

This app is GREAT!!!! Nice, functional UI, with a lot of features, you can really make use of the photos at every aspect of the phone. Plus sharing your collages at instagram is super :)

I really like the fact that you can edit your photos, add filters , adjust brightnes,.... Nokia Imaging SDK is great !!!

Pretty neat app!!! Makes collages with awesome filters and can share on instagram. I also like the clock features.

THIS APP'S IMAGE EDITOR IS AMAZING, IT LOOK LIKE A PROFESSIONAL APP FROM A PHOTOGRAPHY COMPANY!!! THE UI IS EXTREMELY FUNCTIONAL AND CLEAR

take this app as fast as you can. It's a full featured free, without ads collage maker with photo editing features. for how long this is gonna be free?

LOVE IT, LOVE IT, LOVE IT !!! It's a long missing app for wp8. It combines averything you want about photos in one:
Photo Editor
Collages Maker
Images folders
Sharing on social networks, including 6tag
Lock Screen Backround
Pinned Tile Images
and many more... Can't really believe it's free


Photo editing capabilities are awesome. Does this app using Nokia Imaging SDK??? If yes, Nokia must be proud

Yes, it's using NOKIA IMAGING SDK (read the description of the app)...Nokia is a real power for windows phone 8. can't wait for more...

All in one photography app, NICE!!!! Just shared a pic on 6tag :)

Great app, how can i edit my images with Nokia Imaging SDK???

Simply open the gallery you want and click upon the photo you want to edit. the editing menu will appear. If you want to see your picture fullscreen, click the image again.

The filters are great . It is like a combination of Instagram, Pictastic and Aviary, Really cool!!!!

Editing images is a piece of cake with this app!!!Plus excellent collage maker!! Marketplace should have more apps like this, COOL

NIce app, with integrated Imaging Sdk and instagram sharing features

I've been looking for an app with a live tile similar to the Picture hub tile that could rotate pictures from a gallery since wp7.5. I love this app. Thank you.

This app bring you the most beautiful photos from Flickr ( in many topic, such as: best of today, nature, animal, travel,..). I find it quite interesting
windowsphone. com/en-gb/store/app/flockrage/70f127e8-8776-4016-a42b-bb7a303e87e0

I only have a Lumia 520 so just copied my old albums to the added SD card, phone memory is not enough.
But Galleries can only use albums in the Local folders to create a gallery. And,
Does anyone know of a slideshow app that would work off the memory card?
Windows Central Newsletter
Get the best of Windows Central in in your inbox, every day!
Thank you for signing up to Windows Central. You will receive a verification email shortly.
There was a problem. Please refresh the page and try again.