The Geanee WPJ40-10 is destined for Japan with a 4-inch display and Windows 10 Mobile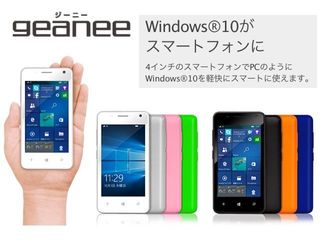 As we gear up for the official launch of Windows 10 Mobile, we're starting to get a peek at what phones manufacturers are cooking up for the mobile OS. The latest to be announced is one for Japan in the Geanee WPJ40-10, a smartphone that falls firmly into budget territory and comes in a tiny 4-inch form factor.
Inside the Geanee WPJ40-10, you'll find 1GB of RAM and 8GB of expandable storage, along with a 5MP camera on the back and a 2MP shooter up front. There's no mention of what processor is packed inside of the smartphone, but it will be available in a variety of colors, including white, red, green, and blue. All of this is packaged with a 4-inch 800 x 480 screen, which just seems adorable in an age of phablets.
The WPJ40-10 will is set to release in Japan sometime near the end of 2015, and will come in at ¥12,800 (right around $105).
Thanks for the tip, @Snatchertas
Source: S-Max.jp
Dan Thorp-Lancaster is the Editor in Chief for Windows Central. He began working with Windows Central as a news writer in 2014 and is obsessed with tech of all sorts. You can follow Dan on Twitter @DthorpL and Instagram @heyitsdtl. Got a hot tip? Send it to daniel.thorp-lancaster@futurenet.com.
Capacitive buttons are a plus.

Yup, also a screen size is a plus. Not everybody needs 5+" device.

Capacitive buttons are great!! I wonder why MS decided to forgo capacitive buttons for the Lumia 950s.

They wan't to be like Android. It's that simple.

Well for starters if I am right the on-screen buttons on any android of any OEM don't appear/disappear at a flick of a finger.

You are correct my good sir :-D

I know I wondered that too and it made me wonder about upgrading to one of those from my 1520.

I agree with the disagree.

I used to think so. But i've become more annoyed with them now that I've been doing more landscape stuff. They really aren't that great, nothing about them makes them better than software buttons. It just adds to the look of the phone but becomes a limiting factor.

One addition they have over onscreen buttons is more screen real estate with still having button access. One negative though is more accidental search button presses.

Actually, I just bought a 640 last week. This was my first phone with software buttons, and now I think they're the best thing about the phone. When I'm playing games, I no longer accidentally hit the Cortana button because now I can just swipe away the buttons. Also, software buttons have the option to double tap the Nav bar (in between or beside the buttons) to lock the screen, which goes very nicely with the double tap to wake function. I turned out loving software buttons, even though I thought I wouldn't, I now love them more.

This. Most of the haters haven't used them. Once used, I'd suspect not all, but a sizable majority, would agree with us.

One of Us, One of Us... =p

Indeed! Just discovered the double tap to lock screen a week ago and I love it. I mean, it's nothing revolutionary but just one of those nifty little features that pop up here and there. I just wish the nav bar would auto hide more often, like when launching a game or watching videos

Yeah. That feature is awesome. And theres a bug in this build .. In many apps.. The on-screen buttons wont go away.

Ha-ha no Posted via the Windows Central App for Android

So much colors, wish Lumia still had that variety of colors

Given that 950 will have fully replace-able back covers, why does not it address people's concerns? I would rather pay for xternal variety.

It *could* address those concerns if they made replacements in something other than black or white. But they do not. So the fact that there are no OEM parts makes that "feature" rather empty. And since the back cover is actually a part of the phone (with the Qi charging contacts) I want an OEM part. The Nokia colored covers for the 830 have been great.

Like leather, studded and metal? They've been shown to be made by 3rd party support and they're actual back shells not cases...

950(XL) has an infinite amount of colors and colorpaterns as the backcover is replaceable by custom covers.

Technically true, but still requires extra $$ in order to achieve a color that's not black or white, rather unfortunate. Especially if you want to retain NFC and Qi-Wireless Charging, as both are integrated into the back cover. I personally will be investigating potentially painting the back cover myself to save some dough. But gotta be careful: Don't want to make it look ratchet. Haha.

What makes you think the NFC and wireless charging are in the back cover?

The Qi Wireless charging Coils are usually attached to the back cover so they sit over the battery. NFC is usually as well. If you look at the FCC info. the NFC antenna is on the shell around the camera hole.

And they make wonderful paint for plastic.....don't forget the masking tape!

But the problem is that the availability of those covers. Online is great but not everybody do that also many don't even know they even exist.

If you don't know about eBay.....

Yeah, 3rd-party covers are nice but the problem is the availability and the cost can be a barrier to other consumers, especially on some emerging markets. Also having colored backs even on the store makes the device pops-out along the black and white phones already. This is why new Lumia looks bland in comparison.

I still believe that ppl Who use to buy or not a phone based on colors are stupid ones.. It doesn't change anything but color

I 100% completely agree with you.... Except for phones with white fronts. Those are hideous and a dealbreaker. Anything on the back can and should be covered with a case, so its meaningless. Front colors are not a big deal as long as they're not obnoxious, like white is. Typically it just adds character.

I don't think anyone buys a phone solely because of the colour, I certainly didn't. But once I'd figured out which phone to buy, getting to choose a colour was a nice touch and I like to make a statement with my device by having something bold. Like me, my mobile isn't boring. :P

Well...for a while I got really into Portal and just thought that the white models T-Mo was pushing looked a little reminiscent of, so I enjoyed that. Plus, anyone can get custom skins for their devices online nowadays or even in kiosks at the mall. Go nuts ppl! =]~)

I think $105 is a little steep for that phone more like 70-80, but I don't know japanese market so maybe that's normal for their prices

Ye indeed, doesn't the lumia 550 have better specs?

Having the exclusive Lumia apps is a plus

Lumia 550 has better screen, because it's a Microsoft device you can use insider preview as well. Anyway I think 550 is also over priced just because 640 you can get for 60 dollars now in us. Even when 640 came out in march I think is original price was very close to what 550 will sell. 640>>>550> this phone

Why would you need the insider preview? Both are already running Windows 10...

People just want to live dangerously asd

Lol I'm just happy we're actually getting phones out in Japen. Posted from space

why do I want one of these to mess around with??

Because it's cheap ? Posted via the Windows Central App for Android

Looks a lot like the old Lumia 620.

IPhone 3S clone running W10.

iPhone 3S? So, a clone of nothing.

Not true. My last phone before moving to Windows was an iPhone 3GS, It was awesone and if the home button hadnt broken I would have kept using it. Got 4 years out of it.

Now if Japanese carriers would simply accept my unlocked 930 outright. Refuse to support directly any device not manufactured in Japan.

Hey there, so this is true then. I've heard of problems with carriers in Japan not allowing customers to use phones that are unlocked. I'm in Japan using a Lumia 635 right now on vacation but I have T-Mobile service so I know the bands work, but sucks to hear I can't just buy a SIM card when I move here and pop it in to my phone to use. Do you think the Japanese carrier situation similar to this article about Verizon blocking phones from its service? http://www.windowscentral.com/verizon-reportedly-blocking-new-microsoft-...

Windows mobile need mid range no low but is ok to see them arrive

Already have 550 good low mobile the partner need to do mid range for the gab

I wish they had a flagship device in this size.

How do you, "Sweet on, bruh!" in Japanese?

I used Translator to get a phrase in here, try " Bruh に甘い "

A little something for everyone around the globe,.

It looks like an iphone 4. I don't know what to think.

It does resemble an iPhone. Since Japan is one of the biggest iPhone market they make it so it could attract customers

Japan-made phones are great!

At last more W10M phones on Japan! I hope this is a start of Windows phone device to actually have a market in Japan. That in return I wish that some Japanese game developers start to make games for Windows 10.

It has a Search tile. Not Cortana.:'(

Well ... It was intended for Japanese market. And Cortana doesn't support Japan region (yet). So...?

I wonder what a Japanese Cortana would be like...like with a baby-ish voice and a completely holographic appearance? lol, Japan rules =p

Anyone still remember that crazy waterproof Japan-exclusive Windows phone from Toshiba?

Yeah. I wanted one of those.

Start screen image needs to be changed to something more appealing. That blue MS logo is just unattractive.

So an iPhone 4/5 with W10m, huh?

Well, I'm happy seeing another OEM try Windows.

Articles about new phones are my favorite. I miss tje days whem Microsoft was cranking out one new phone after another. At least some oems are jumping onboard. Ive been going on Android Central to get my fill of phone news. Any port in a storm. Pardon the cliche.

4 inch screen n still such big phone..

I could use a 4" device - my hands are small. It's tough to use a 521 one-handed.

I loved you on SNL! Aw.... #BabyHands =p

A tough competitor for Lumia 435 !!

These seem to be good phones for the Japanese market. The smaller size is good since many Japanese people tend to be on the smaller side. I'm wondering how well these could realistically do though. Last I heard (which was a few years ago), most Japanese were still using feature phones. And if they are finally gravitating to smartphones, how well will WP do? I know the XBOX brand hasn't done very well there, which leads me to believe that Japan isn't crazy about Microsoft. Posted via the Windows Central App for Android

Well ... Most of smartphone users in Japan are using iPhone if I'm not mistaken. So Windows and Android still have rooms to battle for marketshare.

Mostly they appear very Nationalist, so it's not hard to see an aversion to outside companies when you have so much home advantage in that kind of industry...but then I may just be making an assumption like the fact that they "tend to be on the smaller side?" lol O-o

Lol MediaCastle... yeah that was a bit unintentionally racist... My apologies to anyone they might have been offended by my previous comment. Posted via the Windows Central App for Android

This is a good move for the platform, the same way that made android to grow.

Another unknown OEM offers a lowend Windows Phone. Great. Who needs devices by big brands or better devices?

The colour extension on the front as well is really looks great. lumia should do this instead of total black on the front IMO.

I wish Sony would make Windows phones. Just saying cos they make great hardware.

Which company makes this phone?

I'd buy one if it had flagship specs and a 5.7"+ screen size.

Horrid device. Posted via the Windows Central App for Android

Please .... bring it to Europe!!!!
Windows Central Newsletter
Get the best of Windows Central in in your inbox, every day!
Thank you for signing up to Windows Central. You will receive a verification email shortly.
There was a problem. Please refresh the page and try again.