Get instant messaging with Nimbuzz for Windows Phone, now available to download in the Marketplace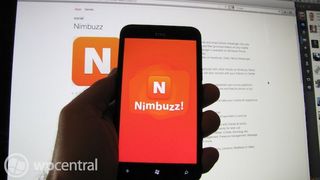 Great news for you instant messaging fans; Nimbuzz is now available to download in the Windows Marketplace. The popular cross platform app was a personal favorite of mine back in the Windows Mobile days and has also been a success on other operating systems. Now it is our turn on Windows Phone and the it will not cost you a penny to download. It is free.
Nimbuzz offers the following features:
Free messaging - Replaces SMS with unlimited free chat.
IM Community - Connect with multiple IM accounts and have them all in one list. Nimbuzz supports Facebook, Yahoo Messenger, MSN/Windows Live Messenger and Gtalk.
Picture sharing - Click and share you favorite pictures with friends and family.
Chat history - Keep your conversations handy for use later.
Chat Buddies - Use popular chat buddies for Twitter, Cricket, Astrology etc.
And much more - Guided tour, contact management, Presence management, Message typing indicator, N-Word, Free avatars and much more.
More information/Download Nimbuzz for Windows Phone via: WMPoweruser
Started loving windows phone

It should read: N-'World' (as per the app description).

Just a typo by the author of the post.

Thanks. I didn't know what it was.

I was wondering the same thing, scratching my head, how is this even right??

I've been waiting for a decent Yahoo! Messenger app, this looks promising, only if I can conect to yahoo... -,-

Used to have this app on my N97. Glad it's finally here.

This does not support push and does not run in the background, atleast for gtalk. Tried the run under lock screen feature, does not work either. Going back to octrotalk.

Wished it supported AIM. Guess I'm gonna have to stick with IM+ for now.

Yes! An app that isn't black and boring! Love this UI!

Other part need to install this app to be able to use.

It says: N-World on my app. I also agree, it needs to run in the background and push notifications. I'm also unable to purchase gift credit through SMS yet and can't connect to yahoo messenger. Hope the issues get fixed soon, other than that, it's a pretty decent app. Fixing those issues would make it an excellent app.

Yeah, it can not connect to Yahoo messenger. What a bug! How did Nimbuzz team test the app before publishing it to the marketplace!

I can't connect to yahoo on this or IM+. Something wrong with yahoo not the apps

Yup, had same issue install Yahoo. Left it out since we hardly using it. All I care about is MSN Messenger, now my wife iPhone can utilize her MSN messenger.

I thought IM+ couldn't pass certification because it offered access to WLM, and Microsoft strictly prohibited it? Yet, Nimbuzz passes as it connects to WLM? What gives? I'm not bashing the app; never used it. Just seems a bit strange, yet at the same time doesn't given some of the Marketplace certification missteps.

It seems Microsoft has dropped this issue. IM+ has now been able to connect to WLM again for quite some time.
EDIT: I must admit, I haven't used IM+ since Mango came out as I do not see the point in having two apps that connect to WLM and Facebook Chat as these are now built into the OS. For the same reason, I do not see the point in even trying this nimbuzz app, WLM and Facebook Chat work fine for me. And for the few people that don't use either, I can still use whatsapp.

Installed on my wife iPhone and i must say it is beautiful design. Removed IM+ (free version) ;) No need to install it on my Nokia 900 since we utilized MSN as text already. Woohoo Thanks!

Interface is not so smooth. Needs improvements.
Windows Central Newsletter
Thank you for signing up to Windows Central. You will receive a verification email shortly.
There was a problem. Please refresh the page and try again.