glƏƏk! for Windows updated with OneNote support and more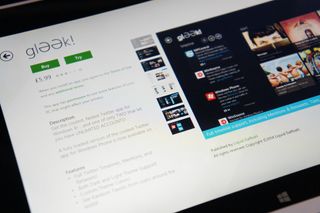 The popular Twitter client for Windows 8, glƏƏk! has received an update to add yet more functionality to the app. Fans of Microsoft's OneNote will rejoice at the integration glƏƏk! now has with the note-taking service. Ever felt like saving tweets (or even trends) to OneNote for further analysis/reading? Now you can in glƏƏk!.
It's not just the added OneNote integration in this release. The developer, Liquid Daffodil, has also implemented a new twƏƏplines tool, which essentially enables users to check through a timeline of when their followers actually registered their accounts. It's a neat interactive way of seeing how early (or late) followers were to the Twitter craze.
It's a pretty neat upgrade and if you're seeking a Twitter client for Windows, we urge you to check glƏƏk! out and see how you go. You can download glƏƏk! (opens in new tab) from the Windows Store for $9.99.
Windows Central Newsletter
Get the best of Windows Central in your inbox, every day!
Rich Edmonds was formerly a Senior Editor of PC hardware at Windows Central, covering everything related to PC components and NAS. He's been involved in technology for more than a decade and knows a thing or two about the magic inside a PC chassis. You can follow him on Twitter at @RichEdmonds.
The Preview for Developer is ready to instal

And i dont have wifi connection for now

Don't listen to this guy. Lies! I won't bother to check as Belfiore himself said not this week.

My Phone keep displaying notification for an update, im using L520 with Black update already

Please let me sleep. I love afternoon sleep. Please dont really make me excited about such rumours.

Some men just want to watch the world burn.

If you you're going to say something stupid, at least make sure it's grammatically correct. Now you look twice as dumb.

Im sorry for my bad English, after all, it just a little update, not the preview for developer, my bad

I gave up on gleek, since it was buggy, crashed and never updated properly. It's too expensive also. Tweetium is better and works properly.

It has some cool features on WP which other apps don't. I like clicking a wpcentral tweet and have the app open instead of taking me through the website.

Life is not a bed of roses. Its bed of bugs,lags and crashes. Each operating system has to go to certain difficulties to overcome the same

Can't find tweetium in the wp store. Can anyone provide a link to it?

Tweetium is a Windows 8 app ... But I think the developer is working on a Universal App .... I saw his\her tweet

I saw that about Tweetium. Gleek is over-priced and buggy.

When I'm not using MeTweets on Windows Phone, im using gleek!

Have cleared most of the apps from the phone still shows me other storage 3.4 GB. Have cleared temp files to hoe I clear other storage. Please help!!!!!

Wait for wp8.1 and upgrade. Take backup of everything on onedrive. Hard reset the phone. Start afresh.

Off topic but will the preview for developers roll out region by region or it's gonna be available to all developers around the world once Microsoft releases it????

Saying "off topic" does not make it ok to go off topic. Forums. Go to the forums and go wild! :)

Its like saying "No Offense" & then start mouthing off . Lol

Aww..come on guys, don't do this to me. This is just a brief question demanding a brief answer. Just tell me if you know.

Come to the forums, may the force be with you.

Demanding is right. These kinds of posts are rude. Use the forums. I wish mods would just delete these.

+1 just following the crowd. Like they've never asked anything in the comments before. Smh....to hell with what they know.

Used to love gleek, but after a while of using it I found that I live the official app much more.

Agreed. The official Twitter app is good enough.

Love Gleek!, has been my twitter client since released, has all the features I need and keeps getting better.

Hey guys, Waay off topic but dont all of you think Tom cruise is a bad ass dickhead? I mean what he did to Nicole Kidman,...bad guy he's ...serves him right what he got from Katie holmes

Gleek is just gimmicky and doesn't have half the functionality of the full twitter app. And it's butt ugly. Sadly had to pay £1.49 to find this out. Unfortunately the official twitter app doesn't seem supported anymore.

Only £1.49?? It was nearly $10 in the states! Horrible, gimmicky twitter client.

Only I want is getting the OneNote updates.

Is this WindowsCentral or WindowsPhoneCentral?! Really , you guys should stop reviewing windows apps or say that they've updated. This isn't WindowsCentral. And you guys are going to get people sad or something because they want windows8 but they can't afford one for example or their parents don't want to buy one for them. I don't come here to watch Windows news or apps. I came here to watch Windowsphone news and apps.

Disagree, especially because the 2 are getting closer and closer to sharing the same apps