Google Authentication issues causing problems with Metrotalk and other apps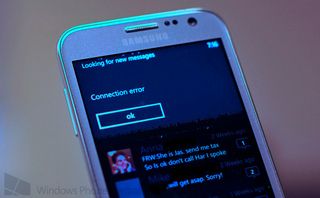 The past few months we've seen official apps slowly trickle into the Windows Phone Store. And for those services (cough YouTube, cough Instagram) that don't provide an official app, third party developers have stepped in to provide incredible applications.
Sometimes doing a job so good it's hard to see what companies can do better (Metrotube is a great example of this). Unfortunately, most apps require workarounds to function properly and can easily be broken by a change server side to all these apps. Right now users might experience some issues with MetroTalk and GVoice because of some authentication issues.
Are you surprised Google is the company we're talking about right now? Probably not. And while you can escape most of the services from Google and find alternatives, there are a few you can't – like YouTube and Google Voice. There isn't any official app for either, but most users seem to have settled on MetroTalk as a great alternative.
Cue the sad trombone...
MetroTalk and GVoice (and similar) are currently broken and hidden from the Store if you search for them. The cause? Here's what the guys behind MetroTalk have to say on the situation:
Update: The developers at MetroTalk just informed us that there are also some API changes. So the 'fix' might take a bit longer than expected. Give them a Twitter hug.
No word on how or when a fix is expected. Just a heads up for users that rely on those apps. You might need to power through the downtime with the browser based version of Google Talk. Godspeed.
Looks just to be Google Voice/Chat clients that are having issues. Sound off with other apps you notice acting funky. And per usual, we'll let you guys know when things are up and running again.
Thanks for the tip wlabar!
Get the Windows Central Newsletter
All the latest news, reviews, and guides for Windows and Xbox diehards.