Google Drive gets a new plug-in for Microsoft Office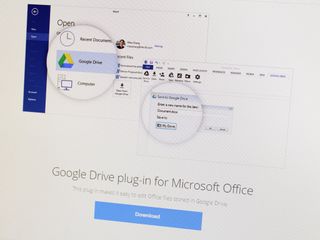 Google has made it even easier to open your Microsoft Office, Word, and Excel files that are stored in your Google Drive account with a new plug-in. Using this plug-in, you can open your documents stored in Drive, then save them back to Drive once changes are complete. Not only can you edit existing Drive documents, but you can edit local files and create new documents, then save them to Google Drive as well.
The plug-in allows you to use the apps you are comfortable using to create and edit documents, while still making use of the security and convenience of Google Drive. You can download the free plug-in from Google now.
Source: Google
Jared started off writing about mobile phones back when BlackBerry ruled the market, and Windows Mobile was kinda cool. Now, with a family, mortgage and other responsibilities he has no choice but to look for the best deals, and he's here to share them with you.
This will be very useful for school, where some of our teachers require us to use Google Docs.

Shame on them....become Google free......

There's one thing I use often that has no alternative from MS: Google cloud print I hope MS makes an alternative and I hope my printer gets a firmware update for it.

Well all MS needs to do is expand their xps spec. for said functionality

Hate it. Told them to use word online but nooooo.

Become scroogle free and also help other people to be free

My daughter asked me to set her up with a Google Drive account. I told her she already has 1TB with OneDrive. But "all" her friends use Google Drive because of school. I told her to get all her friends to experience freedom.

You should tell your daughter that she's cooler than her friends in school because of OneDrive. ;)

My University also pushes us to use Google Docs while Office Online already exist. I actually told my professor to introduce Office Online instead and he likes it but unfortunately my University seems have a deal with Google so they advertise it.

That's exactly the way things are here. None of the staff particularly enjoys Google Docs, but the county signed a deal to use Google Docs for Education a few years ago (Back when Google Docs was the only viable online collaboration suite, because Office Online was EXTREMELY lacking), so teachers are technically required to use it, and legally can only /require/ Google Docs to turn things in. They can optionally use other services, but then that also gets into a legal grey area because student data must remain strictly confidential by state and federal law. Which is also why the county, as a part of the deal, automatically creates an account for every student when enrolled, and it gets deleted upon graduation. The irony is my county also has a deal with Microsoft to give all students Office 365 for free until graduation, but it requires your Google Docs account to sign up and, due to the deal with Google, teachers cannot require to use of it (And most students and teachers are actually completely unaware this deal exists, and I only found it by accident). Ahh, the bureaucracy of the school system, ain't it wonderful?

whoa i get what you saying, and i could imagine the many other schools and universities that follow suit,hmm,i've shown many of my friends the many features that having a microsoft account gives them and no need to use Google services. Having a friend purchase a Lumia 640 next week also, he was thinking of the LG G3 Beat , 640 beats that phone hands down.

Google is beginning to feel the heat. It sucks saving files in google docs and the face compatibility issues. Office 365 & OneDrive is really really gaining traction

yep. they are. Although I specifically like how they double dip with their app support on wp platform. they only release app that generates them revenue or continue to help their platform to the wp platform. This is not news ofcourse. I wish MS would really hurt them where it matters but that is just a dream.

My school gives all students unlimited Drive storage, so this will be a huge plus for me!

Hahaha, google did that ! :p

Throwe an error on office 2016 preview Application Domain: C:\Users\arnold\AppData\Local\Google\Drive plugin for Office\
Assembly Codebase: file:///C:/Windows/Microsoft.NET/Framework/v4.0.30319/mscorlib.dll
Assembly Full Name: mscorlib, Version=4.0.0.0, Culture=neutral, PublicKeyToken=b77a5c561934e089
Assembly Version: 4.0.0.0 Exception Source: mscorlib
Exception Type: System.Collections.Generic.KeyNotFoundException
Exception Message: The given key was not present in the dictionary.
Exception Target Site: get_Item ---- Stack Trace ----
System.Collections.Generic.Dictionary`2.get_Item(key As TKey)
mscorlib.dll: N 0030 (0x1E) IL
DriveForOffice.AddinModule.OnBeforeCreateRibbon(sender As Object, ribbonId As String)
AddinModule.cs: line 0114, col 07, IL 0017 (0x11)
AddinExpress.MSO.ADXAddinModule.AddinExpress.MSO.IRibbonExtensibility.GetCustomUI(RibbonID As String)
mscorlib.dll: N 0135 (0x87) IL Application Domain: C:\Users\arnold\AppData\Local\Google\Drive plugin for Office\
Assembly Codebase: file:///C:/Users/arnold/AppData/Local/Google/Drive plugin for Office/AddinExpress.MSO.2005.DLL
Assembly Full Name: AddinExpress.MSO.2005, Version=7.5.4072.2005, Culture=neutral, PublicKeyToken=4416dd98f0861965
Assembly Version: 7.5.4072.2005 Exception Source:
Exception Type: AddinExpress.MSO.ADXExternalException
Exception Message: An error has occurred in the code of the add-in.
Exception Target Site: Object reference not set to an instance of an object. ---- Stack Trace ----

Errrr - this is the right place to report this???

Can't ms cripple compatibility.

Seriously, they should totally do this. There are too many people using Office. Microsoft needs to push them to Google Docs

Way too many people use Office because it is a full fledged enterprise level productivity suite. Google Docs can't even mail merge which is a big deal.

why would they want to do that that more google thing you no XD

Who's up for another anti-trust lawsuit?

Security of google docs lol

Sure it's secure; it's because Google watches everything stored on their servers. Kinda like a "big brother."

I don't get why people think its insecure. Has Google Drive ever been hacked?
Edit: Actually, I just remembered how a couple of months ago, Google let the security certificates expire on Gmail. Continue with the security concerns, everyone.

Office on Android + 1 billion Win 10 installations with intergrated onedrive in file explorer + Office 16/365 onedrive default saving will lead to increased Android & Windows onedrive usage over google drive... Is that the smell of fear in Mountain view?

Scroogle is now again trying to copy Microsoft's strategy

I was about to say this is awesome, but I just tried to use it on Office 2016 and it didn't work, so.... meh I guess?

Why on the earth you are still on IE8, unless you work for the same company I work for

Now they just need to allow saving of Google Docs to OneDrive.

lol some solutions are starting to popup. https://zapier.com/zapbook/google-docs/onedrive/

No matter how supportive Google now becomes for Microsoft, I'll never forget days when we (Windows Phone Community) pleaded for Google services on Windows Phone specially YouTube. After YouTube fiasco I completely banished Google from my life. :( YouTube is the only service I use now that too without logging in. :(

Me too and we have good developers making u tube apps on WP.

yup, my galaxy note won't get anymore kids because of that. its a good thing we have more capable alternatives than google's.

I just wish Google would allow MS to develope it's Own official youtube app for windows mobile.

MS did develop a Youtube App - all it does is a wrapper for youtube website on Internet Explorer

They did make a proper YouTube app, but Google demands unrealistically to Microsoft and went back to web wrapper again. Microsoft doing it for them but Google makes more excuses.

Always entertaining to read hate comments on a google article

Would be cool if it actually worked. Following the instructions to open it in Word 2013, all it ends up doing is opening the document in Drive in my browser.

It needs to be saved to your google drive as a docx, not a native google doc.

Google... The only thing I use of Google's is YouTube, and I use AdBlock Plus so technically I am costing them money. Scoogle you Google.
Windows Central Newsletter
Get the best of Windows Central in in your inbox, every day!
Thank you for signing up to Windows Central. You will receive a verification email shortly.
There was a problem. Please refresh the page and try again.