GoPro Windows Phone app for Nokia Lumia: total control for extreme sports fans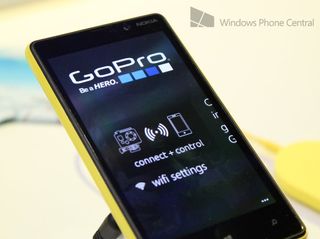 Continuing our tour of MWC 2013, we've been checking out the Partner apps Nokia is showcasing within their booth (something of a home-from-home for the Windows Phone Central team today). This time we're bringing you a hands on video with GoPro. Nokia have been working with the GoPro team to build a quality first party app for Windows Phone and it really shows with this app.
If we step back for a moment and answer the question, "what is Go Pro?" well the official website (opens in new tab) is probably better positioned to answer, but essentially what we're looking at is a wearable camera suitable for capturing sporting moments from a first-person perspective for editing and sharing with the world. Nokia even had a demonstration unit alongside their demo Lumia device and it certainly looks designed to take a beating.
But how do you control something that's strapped to your head? That's where the Nokia Windows Phone app steps in. Allowing you to connect directly to a GoPro camera to control the action as it happens (via an Ad-Hoc WiFi connection). The app also features a pretty smart use of picture-in-picture so that you can use your phone as a secondary camera to capture stills, perhaps to film your reactions or provide an alternate camera angle.
Alternatively, if you find yourself in a moment where you're not shredding a mountain or riding a wave then you can consume content from other GoPro users. For those just getting in to the GoPro world this will no doubt provide some inspiration.
You can find the full video demonstration below, it's a really impressive app that provides a wealth of control over the GoPro camera. You can expect it in the Windows Phone Marketplace sometime in the spring.
Windows Central Newsletter
Get the best of Windows Central in in your inbox, every day!
This is a massive win. Quite a few of the guys in the snowsports community have GoPro's and have mentioned how they love iOS and the app on it. There is a movement towards Nokia with my mates but I think this might help with some of the iOS crowd, along with the Burton App.

Awesome!!!! Great app to have.

This couldn't arrive too soon. In fact, having just spent a week in the Alps with a GoPro, I needed it in January!!
I have to mention though, they look like they're making that mistake with the panorama control that various other apps have (including the Facebook app). Their logo is only one screen wide, but they still allow it to scroll across with the panorama. Check it out from 35 seconds in. That the logo starts shifting along off the screen when there isn't anything else to the right of it coming into view just looks like a horrific bug. I hope they sort that.

Looks great! So other then the PiP sounds like we will all get this app in the Spring. Cool.

that's the way i heard it too. I bet that feature will be exclusive for a short time and then go live to all WP


Really could have done with this now, as I'm on holiday in Flaine and was wanting to rent a GoPro to see how good it was. Still good to see an app doing so well on other OS's coming to WP8 and Lumia.

The platform needs sutff like this. A drone copter app would be great.

Winter Ski & Ride app, this app, and burton sequencer are all awesome! Keep'em commin'!

Well, I guess this is going to be my new dashcam for my Car and my Harley. Just need the waterproof cover for the motorcycle :D

The stock cover is waterproof. I went diving with mine, held up really well at 30M, I think its rated for more than that

I've said this time and time again, Contour needs to step up and make a Windows Phone app as well!! Don't let Go Pro take over the whole market by itself

Contour and Sony need to step up.

In the last twenty years, the US has adopted mobile phones as a integral part of everyday life; 223 million people have started using personal mobile devices that emit microwave radiation. - Marla Ahlgrimm

Cool, do alot of filming when riding my motorcycle with GoPro 3.Been waiting for this app.

In the meantime, if you don't want to wait you can check out my GoPro viewer with live video preview! http://www.windowsphone.com/en-us/store/app/gopro-viewer/9022b9e2-15b8-4...
Windows Central Newsletter
Thank you for signing up to Windows Central. You will receive a verification email shortly.
There was a problem. Please refresh the page and try again.