Groove Music updated with settings menu tweaks on Windows 10 desktop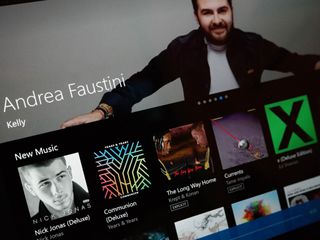 Goove Music has nabbed an update on Windows 10 jumping from build 1239 to 1271.
There's no changelog, but there is one change of note. Although it's not the most exciting thing in the world, the Settings menu has seen some tweaks that simplify things a bit. As seen below, there is a new "Manage Subscription" option on the left side of the screen, while the options under the "More" heading have been trimmed down a bit.
Aside from the settings tweaks, this update probably includes some performance improvements as well. Keep in mind that this update appears to be only hitting Windows 10 desktops right now, though we wouldn't expect a mobile update to be too far off.
If you happen to spot anything that we missed, be sure to shout out in the comments below. Otherwise, you can hit up the link below or head to the downloads section of your Windows Store app now to grab the update.
Download Groove Music on the Windows Store (opens in new tab)
Dan Thorp-Lancaster is the former Editor-in-Chief of Windows Central. He began working with Windows Central, Android Central, and iMore as a news writer in 2014 and is obsessed with tech of all sorts. You can follow Dan on Twitter @DthorpL and Instagram @heyitsdtl.
THey keep adding things to make them money, but not to entice us to the crapy software, which means, No money.

Add live tile with Artist image. I loved that. Too bad it's gone.

Live tile works fine for me.

I've said it a thousand times... Im not buying music from a service that runs on a crap program. Want me to buy music and videos from you? Then get this crap at minimum up to par with Zune. Also, DONT DUMP THE GOD DAMN GAME PLAN AFTER 16 MONTHS.

Yep! Make the offline experience enjoyable first then we customers invest on the service. Please improve the design, more features (like from Zune and WMP) and performance. Microsoft already raised the bar from Zune and WMP in the past, so they should make that as a goal.

I don't understand why you people are complaining. Groove is a very nice software and I like it. The only thing missing is the ability to play folders like in vlc.

DId you ever use Zune? Do you ever update your Metadata? Do you like to sort or play music by Type? Genre and SmartDJ are also missing, and not being able to Sync with your phone. THis is just a small list of what we miss.

agree, smartdj was awesome..

Send them feedback for each of those items as a separate feedback. They will get to it.

Oh come on. We have feedbacked them to hell. They know what we want. They just think they are smarter and think we are to dumb to know what we want. If they dont get it, we will say it one more damn time. ZUNE THIS BITCH. Call it whatever you want, but it better do everything Zune did, and after all this time, quite a bit more. People should be fired left and right over this.

everytime we get an update (from Zune forward) the native music app (phone or pc) takes away some function that users enjoy. The latest is the no background art anymore. You get a blow up of the album cover you are playing. Didn't we just spend damn near a year waiting and pleading with them to put it back in xbox music 8.1. We had it in 8.0. Kind of changes the meaning of the word "update"

The only program I would ever edit metadata with is musicbrainz picard. It has a Wikipedia style music database so it is always being updated and corrected by people. Allows you to scan all of your tracks and correct the metadata in seconds.

THere are more 1 star votes then 5 star on Cnet for your musicbrainz picard, I think I will pass.

I like the app too. I used to bother with updating metadata but I just use my Groove subscription these days which has all the correct data. I never play by genre but get that some people may want to. Sync to phone in Zune was okay,but easier to just re download the tracks for me these days, my drm free music is in OneDrive. Not ideal for everybody but for me it's less time consuming than doing a sync between devices. Does the old Windows Phone app not sync music anymore?

You don't have very high standards if you think groove is "nice".

As a service its great asits always been. As an app... Its sub par

I've lost count of how many years/rebrands this app has had since Zune. There is not a single time it's got better, every time it's worse (more buggy, worse UX and removed features). People complain until they're blue in the face (so much so that people then complain about the people complaining). Uservoice feedback is posted, when a post gets a LOT of votes it's marked as completed and hidden (when it's nowhere near completed). What is going on in that dept? It is beyond a joke now.

For example: http://groove.uservoice.com/forums/209733-groove-feature-suggestions/sug...

No kidding! All of that and add on top no Cortana integration. The MOST frustrating thing I try to do on my phone is to get Cortana to play a song. When she does a web seach instead I want to just throw my phone out the window! Windows 10 desktop? They didn't even try! This brand has gone to shizz! If it wasn't for the 3/14 ($31.4) deal I would not have reupped my subscription.

They need to add the ability to rip cds wtf?

Still waiting to be able to use it to sync with my phone.Someone subpoena the Zune code.

Well there is an app for that

I'm still waiting to select all so I can download all my music. Can't do either...

Groove music desperately needs some love, and it ain't in the billing menu. They should hide the cancel subsciption button until they rebuild the epicness of Zune. One thought...they should invest in Tidal, give them access to all the API's and allow them to create another music service on top of it that agnostic, but we can subscribe to for just a few bucks more. Every music genre needs a Tidal wave of musical coolness to be reinfused. Sucks that Beats aquisition was too immature for Apple to take advantage of the motives behind the product.

Still no "Repeat only this song" (repeat symbol with a '1' on it) option? Microsoft is the only developer that is incapable of adding this into their media players (WMP is missing it as well)? Guess iTunes is still the only viable choice for a decent storefront with a media player that makes sense.

"Still no "Repeat only this song"

Huh, you're right. That is bad/sad. Having said that, Music on Windows Phone 8.1 does have that very feature. Not sure why it's not here yet. Edit: It does work for Groove mobile but on desktop, I don't see the '1'.

Any chance you could do an interview/expose with the Groove/Xbox/Whatever They're Calling Themselves team, Daniel? I have loathed the music experience on MIcrosoft products since they abandoned Zune. Can we get some answers as to why they are so bad??

I think you can. Try hitting the repeat circle twice, a little 1 appears.

Seems to work on mobile but not desktop for some reason.

All these stupid little updates are getting ridiculous, we need some big fat changes. Actual features added, like Groups in contacts. What are they waiting for with this stuff?

Maybe but really why wait for obvious features that we used to have? :(

They like to wait to add features rather than consistently updating. They wonder why they always behind

I've been paying for Xbox Music/Groove for months but ever since they switched to the Groove app on Windows 10 Mobile Insider Preview I've been unable to search for new music. The Explore link hasn't worked at all. I know I'm using pre-release software, but why push out an update to the new app if it's broken and you can't use it for one of it's main functions? Very frustrating.

What I don't get is why, if it is a Universal App, Groove music pass works in tablets but not in phones...

I canceled my Subsciption when they went from 15 and 10 songs to 9 dollars no song. SInce then the Service Formally known as the Great Hidden Gem Zune, has gone down hill.

They need make Groove Music more fun! I should enjoy coming to it to discover music, to get in the groove of music based off MY musical taste/interest. Allow me to share cool music I find to others. Create Groove Music Festivals and give discounts to those with Windows 10 Mobile, leverage Skype for lucky few members to video chat with emerging or spotlight artists after they perform a small set. Get Tori Kelly and Pentatonix on board. Again, make it more FUN for those who love music. Just my thoughts....

Excellent ideas! This is why passionate people on any subject are some of the best resources for software design. If they don't know how to code, they at least provide feedback about what works and what doesn't. If they only have technical people building this, it'll never click with those who loves music. I'm seriously considering cancelling my paid subscription and subscribe to Spotify instead. If their app was just a bit more responsive and resuming worked better (similar to Pandora, maybe), I'd probably done it already.

I too will probably cancel my subscription when my music pass expires, but mainly cause a lot of artists I listen to have been pulled from Microsoft's catalogue recently. Spotify still has most of them do i don't understand why Microsoft doesn't.

Ugh waiting for the day when Groove Music and Movies & TV can feature wise replace windows media player. Ugh why is this so hard

Because Windows modern apps run on WinRT CLR which has a reduced features as compared to .Net framework. This is done to allow OS to run on low resources. Hence some features are compromised.

The only thing I need is they to fix the bug I reported months ago and they seem to have ignored: Groove in Mobile is recognizing audio files from games and are adding they to my colection as "Unknown Artist" and "Uknown Albuns". I hated this! I reported this on Feedback apps, in the two foruns they oriented me to do and so far NOTHING!

I still don't understand why if this is a universal app, there are different version numbers for phone/PC?? Can someone explain that?

I'm fairly sure the devs still have the option/control to release separate updates based on platform (phone/desktop).

In this case.....the devs are Microsoft themselves. They're dragging their feet on their own product? Bewildering.

Another update no features added, its been almost 2 years since Joe Blowifore told us they were adding features and were listening to us all of which was bullshit. Again, take every feature of Zune add ot to groove and hit enter dumbasses. Talking to MS people is like talking to a wall.

Or really just bring back Zune the app and rename it

I really don't know the f reason why they killed zune. It's so much much better than groove... Sad..

Well branding wise maybe but why not just rename it btw this is the 3rd time even though supposedly groove was just a name change they also have new apps that are yet again different I do like the direction so far I mean he'll we can swipe to change tracks

Ditto! Seriously Zune was great and ahead of its time. It may have some drawbacks but that's easier to fix than the Groove where every little thing needs to fix. Microsoft, you don't even need feedback for this. Just look at the Zune, very close and reflect what things Groove needed to be change. From looks to features Groove Music all lacks.

It will be 2028 before we get smart playlists. Ot also needs the ability to edit metadata, but if the cant get smart playlists, we sure as hell ain't going to see metadata editing.

The Explore button needs to start working on mobile ASAP! Makes my Music Pass almost worthless.

I don't have an explore button in the latest build I have get music from store and it works?

Sorry I am talking mobile not desktop

The Explore button is only relevant to people who have a Music Pass. If you don't have one then it's nothing you need to worry about.

I have had a pass since the first zune

Still Miss: Repeat this 1 song
And I really missing the simplicity (for keyboard & mouse use) and super metadata editing of zune.

It's on there, just have to know how to do it.

So 1239 to 1271 and they essentially did nothing. What are these people doing? It's mind boggling. Is it management wasting engineers time? Or are the engineers just awful at their job, requiring excessive bug fixes over features?

So you want features instead of making the app stable.
I get lots of crashes and stuck downloads so I want it to work before they add shit

No I'm just speculating why they're doing such an awful job at both fixing and adding

Please. They had a relative stable foundation with the Windows 8.1 app but they couldn't get a simple rebrand right and managed to screw even that barebones app up when it became groove. There's no excuse anymore, they've been at this for years and its still crap, I cant fathom how these guys receive their paychecks without feeling guilty for getting paid for doing absolutely nothing.

Wow, they removed some external links - progress ...

Still haven't switch from VLC yet! Xbox Music was crap. Groove has a way to go!

You use VLC for music?! Is Winamp still around? Posted via the Windows Central App for Android

I use real player,music match haha

Hey, it looks like the Explore and Radio links in the desktop app work now! Finally. Or.... Is that from an old update?

Where have you been?! They've been working for months even before the official Windows 10 release...

I understand everybody's frustration... I really do! but sometimes we ask to much to fast and have to be honest.. We got so much in so little time, even an OEM that is brave enough to bring continuum to a smartphone before an official MS announcement...I think MS is focused and many good things to come....patience is the key.

The problem: Microsoft had the music app right. Microsoft then destroyed it for branding.

Well Microsoft used to have awesome software's like Zune and even WMP. They already set the high standard themselves and that's where the frustration is. Most of us looking forward for features and design already existed. Instead they start over from abysmal Xbox Music and ever since there really isn't any worthy things about it. We need the Zune services and design plus the WMP functionality and versatility. This is 2015 and Windows devolved its music software and services.

You know that everytime they "redo" their products they come with less and less features? Compared to the features that Zune had Groove is beyond primitive. Movies & TV, Edge, OneDrive, Photos, Mail, hell, even the Store app have taken steps back in features and/or usability. It's like "Hey, let's redesign these apps but strip them naked". But they rather release an Insider build with better light and dark theme implementations. How the hell does that bring back the unified inbox? Where are placeholders? Where are extensions? When did I last download/update an app? Favorite pics on my live tile? Skip through chapters on an MKV?

Yep where the hell is history of ap updates

This is why I feel these constant redos are management. They are afraid of doing new things and instead are content to reinvent the wheel again and again

Sounds like a roundabout way to say "coming soon"......

Been waiting since April of 2014 when the preview of 8.1 came. I think that's enough waiting. There was honestly nothing wrong with Music+Videos app. They butchered it.

Did anyone have any albums disappear lately? My Imagine Dragons Night Visions album I got last year during the free holiday music giveaway is gone. It left me with the three songs in the deluxe version though. When I go to try and download Night Visions it wants me to pay for it. Any solutions?

There isn't a pole long enough for me to touch Groove on my PC with. MusicBee is still my go-to. The only reason I use this turd on my phone is because of a lack of alternatives.

I can't log in to groove on Windows 10 at my region, Indonesia? How to fix it? Thanks.

My complain is that i cant stream to my wifi speakers. But you know you are doing a crappy job if there is Not a single positive coment about your product on a review page such as one above. Folks in charge of Groove music and Onedrive should get fired.

I stay in India.. I still can't sign in to my groove music.. Im in latest tp build , ne1 knew hw to fix that dam issue

thought Groove is part of the MS universal apps.. but this update is only for PC?

Groove on mobile 10 preview with a music pass... Useless. Great on my sp3. But, by now my mobile should have my account And sync my music And playlists.. But it doesn't.

An update to move around a few text? Wish they would add features.

Groove organises my folders in a haphazard manner and dumps unrecognisable content into one folder. VLC app has no such issues. WM player remains my 'go to' player on PC followed by VLC.

I feel the headline should be, "Groove Music updated; still crap." The same applies to every Groove article.

I miss the hearts in the music player. "Loving" a song was very helpful for me to find a song I liked from a new album that I wasn't familiar with yet. Also it came in handy for when I scrobbled my music music to Last.fm. I've been following Windows Phone development since Windows Phone 7( which I'm still using as a daily driver). I still prefer the Zune experience on my Nokia Lumia 900 running Windows 7.8 over my friends Xbox Music on his HTC One running Windows 8.1.... and so does he

Still waiting for Recently Added and Recent Plays...

And still no "Cast to" or "Play to" option (just like Windows Media Player or Movies & TV on Windows 10 or like Xbox Music on Windows 8.1). This is a SHAME, Microsoft ! I don't listen to music on my laptop's speakers, I used to stream it with "Play to" (on Windows 8.1) to Pioneer network speakers. What the hell is Microsoft doing with Groove Music app ? Are you wanting us to keep using iTunes ???? FIX this NOW ! We need CAST TO !!!!!!!

Bro use bluetooth and cast yourself

I understand your frustration, and totally agree! I never listen to music on my SP3, I cast music to my Xbox One.

This is part of w10 but I have no idea how it was so easy before

Waiting for lyrics support before switching from Spotify. I can't believe that after so many years of development of Xbox music, it has less features than winamp had before the xbox had even been invented.

Lolget in line buddy. There are about 50 features they have been asked to bring back before they can get to any new features theynever had

It would be nice if they had a star ratings system, something like windows media player, as well as sorting music via genre, etc.

How about adding a simple "resume" or "continue where you left off" button. That would be more useful.

I'd like to be able to use my subscription to download new songs directly on the phone... I have to download on the PC first :( and I know WP10 is still preview - but isn't it supposed to be 1 store?

You can you have to use the store

I wish ihad the guts to cancel my zune subscription. Its becquse we continue to pay that things dont get improved...
Groove needs more bad press

If they fix Music Pass for Mobile client then any other missing features I can live with!!!

Maybe now they can add some sort of progress bar so when it decides to chew up 40 megabits per second to my NAS music folder I could tell what it's actually doing...

Still waiting on "PlayTo", the only feature that I miss from Xbox Music 8.1... Come on Microsoft, it is available on the Movie & TV app!

This seems to have fixed the issue I was having with Groove not recognizing my music folder since it's place on another drive. It's still terrible at reading my tags. Half my stuff shows up as "Unknown Artist"

it's always been rubbish with tags... ALWAYS

Wish they'd finally fix the bug where an artist with more than about 20 albums causes all songs on the "extra" albums to be lumped into a single album. I suppose I could edit the tags and regroup the albums into different artist names, but what a pain. This has been an issue at least since the switch from Zune desktop.

They need to fix that auto-download toggle. It's from an old Insider build, I believe.

Ummm. This app hasn't been working for weeks for me. I spoke about it just in this thread. It now works. All of my playlists, music, purchases, etc have synced. The only thing I did was buy an album on the phone, which I was not able to do before. Now all has synced. My album showed up on my surface and all of my music, playlists, etc are now synced on phone. I'm done bitching... For now.

Vote for "Cast to" ("Play to") support on Groove Music App on Windows 10 : http://groove.uservoice.com/forums/209733-microsoft-groove-feature-suggestions/suggestions/9079087-groove-music-application-playto-and-dlna-support
Windows Central Newsletter
Thank you for signing up to Windows Central. You will receive a verification email shortly.
There was a problem. Please refresh the page and try again.