Halo 2: Anniversary will get a remastered soundtrack release next week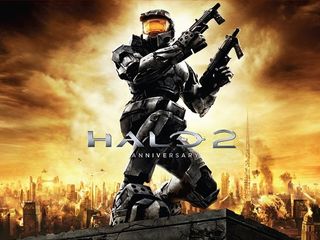 Microsoft will release a remastered version of the Halo 2 soundtrack on November 11, the same day that it will launch Halo: The Master Chief Collection for the Xbox One, which includes the graphically revamped game Halo 2: Anniversary.
Microsoft states that Halo 2: Anniversary Original Soundtrack will be made available on CD, vinyl and digital download. In fact, you can pre-order the album now for $14.99 on iTunes (opens in new tab). Microsoft says:
What soundtracks from games do you think stand alone as great music on their own terms?
Source: Xbox Wire (opens in new tab)
Windows Central Newsletter
Get the best of Windows Central in your inbox, every day!
Hope this will be released on Xbox Music...

Probably not. /s
People who pre-ordered the game should be gifted a copy. Through Xbox Music.

Cool! I preordered and have already downloaded... :-)

I agree what Nintendo has done is what it should be like

Excited to hear Misha Mansoor's song, the preview of it sounded good.

Final Fantasy, Halo, Super Mario Galaxy, Mass Effect, Metal Gear Solid. There are a lot.

I love the music from Mass Effect! Especially the first (best) game.

I play Halo 2 right now:) its awesome!!!!

hey guys i have an idea for xbox music app in windows 10 please vote it idea : most people in microsoft feedback asked to let them to make xbox music app so small to controll it better now i designed it you can see my idea in link below https://skydrive.live.com/redir?resid=4E4EAC1AB00F04EA!6535 and for vote go to link below http://xboxmusic.uservoice.com/forums/209733-xbox-music-suggestion-box/suggestions/6613984-shrink-xbox-music-in-windows-10

Interesting idea, just voted for it Posted via the Windows Central App for Android

Microsoft announcement of Microsoft Lumia and Halo both on November 11th, i wonder if the Microsoft Lumia will be released the same day as a bundle special. If they didn't, then they probably lost a good opportunity to use CORTANA, Halo Influence to promote the phone.

Maybe the new phone will be code named Spartan. That would be dope.

It should be included with the game.

I can't recall any of the music. Halo 2 was the one I played the least. Something about it made me feel sick playing it. Maybe the slanted elevator scene.

Funny. Instead of boosting their own (Xbox-labeled) music service, they advertise iTunes. Anyway I'm pretty sure it will be available on Xbox Music, too.

Isn't that the Microsoft way now, cater to ios and android users before their own user base?

Yeah, they probably should've mentioned Xbox Music, but in comparison, iTunes has exponentially more users, so it makes sense to promote it on iTunes.