Halo 5: Guardians teaser turns out to be a fictional expose on Master Chief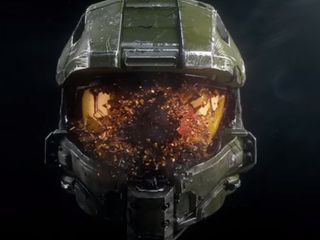 Microsoft has launched a new viral marketing campaign for the upcoming Xbox One first person shooter Halo 5: Guardians. The "HUNT the TRUTH" page on Tumblr that launched a few days ago has turned into a site that will serve as the basis for an expose on the central character in the Halo series, Master Chief.
The Tumblr site is the home for "Benjamin Giraud", a journalist in the fictional future of the Halo series. He will apparently be posting audio stories on the site every week that will take a deep look at the Spartan hero of the franchise, and from the first introductory episode, it sounds like it may not be very flattering.
The site also has a new version of the YouTube video that Microsoft posted this weekend, showing a sniper bullet being fired into the helmet of Master Chief. However, this version of the video can be stopped and dragged back and forth at will so you can check out some interesting messages that are placed on the sniper bullet itself.
It sounds like the marketing team for Halo 5: Guardians is doing a homage to 2014's big podcast hit Serial with this viral campaign. Hopefully it will all lead into some revealing some interesting things about the storyline for the game.
Source: HUNT the TRUTH (Tumblr)
Windows Central Newsletter
Get the best of Windows Central in your inbox, every day!
Where's Halo: Spartan Strike???

I was wondering the same thing

Went yesterday night looking for this special news about Halo 5, then I found Spartan Strike at 343 industries website. Wasn't it for december??????

Yea but it got delayed and we never heard of it again

Hopefully they wont anounce it later than E3.

Where is MCcollection on PC?

PC is only for LoL, Youporn, and Paint.

MC Collection will probably be one of the first universal win 10 games.

Win10/XB1 streaming will have to be a close second

Damn....ur mom spends a lot of time with other ppl...

Was with me but put her out to much coming out that bucket.

Where's my ick ? Posted via the Windows Central App for Android

You are missing that??? :-P that's a sad story altogether ;-)

Just saw the commercial during The Walking Dead. Said at the end to watch next weeks season finale to get the other side of the story.

Sucks that it's not for 360. They started the trilogy, shouldn't they be obliged to finish it in the same console and not leave people hanging?

Halo started on the original Xbox..

Halo released games are 4, starting with Halo CE on the first Xbox. Just saying.

Not according to the definition of capitalism

@ML10 that's gotta be the most casual bullshit ever written. It started on the original Xbox.

Yeah, like was repeatedly said, the first two games were originally on the first Xbox. How band woudl gaming franchises be with this mentality? Final Fantasy XV on the old Nintendo consoles? YUCK.

Return your underutilized PS4 and buy the Xbox One finally.

Why would they want to be held back in processing power when they could go forward and make better games? Also it started on the original Xbox. lol

Talking about tumblr, that app hasn't seen an update since 2013. As part of this promo they should've asked them to release a bug fix update + a few features.

No. Cause tumblr sucks :D

Tumblr is everything wrong with society

No, Tumblr rectifies everything that's wrong with society.

You're an idiot. Have fun bowing down to Big Sister.

If you look closely at the bullet you can see that the word that it dsiplayes changes from son to abductee, etc all the way up to traitor. It mirrors Master Chief's life and that could mean that in Halo 5 something happens that makes him look like a traitor. Maybe it is during that change of perspective that we will control Locke.

In a halo book that happens after halo 4 he leaves with a group of Spartans without the military's permission to investigate and eventually fight a resurrected version of Halo 4's main boss. Might be that him leaving without permission labels him a traitor.

It was after those events, he was told to take a vacation, but he goes off with his Spartan team. "gone rogue" I guess you could say. What is there for him besides battle? Or finding a way to bring back Cortana...? (hint hint)

I can't see any reason that leaving to go find Cortana to be labeled a traitor and killed. He's got to be doing something else...

Each word (there are 12) are the subjects of each podcast.

Seen the commercial during the Walking Dead. Said see the next part next weekend during the final episode this season of the Walking Dead

What if Jun from reach makes a return in halo 5 and turns out he has been a traitor all along? Explaining his disappearance at the end of reach