Halo: Reach, Fable III, and 14 other Xbox 360 games gain Xbox One compatibility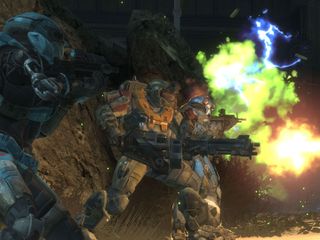 Xbox One owners can now play 16 additional Xbox 360 games on the console. Microsoft has added more games to the Xbox One backwards compatibility list, after officially launching the feature in November with over 100 Xbox 360 games.
Here's the full list of Xbox 360 games that can now be played on the Xbox One:
Braid
DEUS EX: HUMAN REVOLUTION
Doritos Crash Course
Fable III
Halo: Reach
Hydro Thunder
Iron Brigade
Kane & Lynch 2
Motocross Madness
MS. PAC-MAN
Peggle
Portal: Still Alive
Spelunky
Splosion Man
Ticket to Ride
Zuma's Revenge!
Microsoft plans to keep adding new games to the Xbox One backwards compatibility list on a monthly basis, and has already announced that BioShock, BioShock Infinite and Call of Duty: Black Ops will be among those titles.
Source: Xbox Wire (opens in new tab)
Halo: Reach and Fable III are awesome additions. I was expecting more 3rd party titles, but these are awesome too.

Fable would've been better

Fable wasn't on the 360...

Fable Anniversary was on the 360. So it's certainly possible.

Yes... this list is pretty disappointing. For some reason I thought we were going to see a lot more titles.

Yeah, if they're going to be adding a measly 16 titles per month, this is going to be a huge disappointment. That said, I know someone who bought an Xbox One within minutes of seeing Braid in the list, which is all the more reason for them to step up their game on this, big time.

You don't entirely know if it'll be a huge disappointment. Lots of these third party games(although unlikely) could be the make or break for people to switch. Plus, they have to get permission I believe from the game devs to make it backwards compatible. Posted via the Windows Central App for Android

That's why I used an "if" clause.

Wow. Good thing Doritos made the cut. How could life go on without that game being backwards compatible?!

I know right! Its an awesome game! Its a shame that Doritos Crash Course 2 didn't make it. It was dead long before than the Xbox One got Backwards Compatibility.

Still waiting on Sneak King

Lol to bad they didn't distribute digital. Maybe yaris will make it through

Ticket to Ride is great! You guys should try it if you like board games!

Same here, friend of mine sent me all the Burger King games but have been unable to play them... Would love to play these as the X1 is region free as well.

When Skate3 will be available?

No one knows. How could we know? They don't make an announcement until the game is ready.

Actually, mr know it all, they said it was next and ready weeks ago. He's asking why it's not on this list. Im wondering too.

Yeah, same here. That's one of my favorite games of all time. One of the main games I actually care that come to XB1

https://xbox.uservoice.com/forums/298503-backwards-compatibility/suggest...

Fable III and Halo: Reach. I've got them and will install them. This is good news indeed!

I had Halo Reach on disc when I had a 360 - Tempted to get it digital as I'm playing through the Master Chief Collection and then Halo 5 Campaign (Already sunk hours into the multiplayer). Looking at the price it's £19.99 digital, or I can get it on disc for £3 used.... Since getting more and more games digital I'm really coming around to preferring it, maybe not for a £17 difference though

Any hope at all for some Kinect games being ported? The original Kinect Sports and Kinect Party would be good.

No because 360 accessories aren't compatible.

Xbox one has a kinect of it's own too.

yeah but they have completely different sensors.

the two Kinects APIs are not compatible, they function like very different accessories

It was already announced they won't be porting any old kinect games.

I thought halo wars was coming..... But fable 3 will keep me going.

Me too I'm a little disappointed! They even said Bioshock was coming but that didn't make the cut either.

Soon hopefully for the Bioshock games. As you said, they've announced that it's coming: http://news.xbox.com/2015/11/09/introducing-your-first-104-xbox-one-back...

"On the way", it wasn't confirmed coming in December. Could be in the next or the next.

I only want Assassin's Creed: Rogue. It's the only one I'm yet to play!

I guess if it is true, you will have to wait until Assassins Creed Collection comes out.

Now how does that work for me, I don't have Halo reach on a disc it's on my 360 hard drive...can you transfer the download to One. And will it work?

If it's a digital copy it will show in your ready to install list on your one

Digital games get downloaded into the Xbox one automatically. In fact you should already have it in the ready to download part of your games list. You only need put your save file from the 360 into the cloud if you want to transfer it.

I don't think so, none of my 360 game was automatically downloaded, I had to manually start every installation. no biggie, but I doubt it will ever be automatic

You are correct. It will show up as available to download, but doesn't automagically download.

there would be complaints if the download was automatic since it takes up precious space and some people have huge libraries (mine is too big for the internal storage)


You're right. I thought there was a setting you could turn on and off for auto dl. I failed.

......well, I guess its better than not having them. I'm still waiting on Halo Wars and Activision to get off their *** with COD MW1&2

Is it the 18th?? Guess they couldn't wait.

Major nelson announced the list on the 16th as "for tomorrow" so its today :)

I hope they eventually add Deadly Premonition to list. That game is a cult classic.

So, i'm wondering, will Games with Gold that were purchased free before all this stuff was announced be able to be used on XBONE if they make it a BC title down the line?

Yes. If you got a digital 360 game from Games with Gold and that game is added to the compatibility list, it should now automatically show up in your ready to download list on the xbox one. This also applies to games you actually paid for as well. Moreover, just as an added note for anybody who isn't aware, all 360 games starting with last month that are released through the GwG program will be backwards compatible.

All previous purchases of GwG that you downloaded are available once they go BC - Fable III and Doritos Crash Course are in my list now

i would like Chronicles of Riddick

Doritos Crash Course!!! AWEOMSE! Love that game.

Today is December 17, 2015 and still no official release of Windows 10 Mobile......

If they can make a Doritos game backwards compatible, I better see some Rumble Roses on this list soon. And for the record, I think that game is awful. But it was a game my friends and I played a lot many years ago, so it'd be a fun trip down memory lane.

Lol yaris maybe king games not likely

I feel a little disapointed like a Kid opening is Christmas stocking & finding an apple. Was really hoping for a much better list with more games.

Sweet, I didn't even realise I already had Fable III in digital form... I must have got it from a Games with Gold before the Xbox One was out and never played through it. Also already have Doritos Crash Course (Can't remember if that was free anyway). Downloading them now

Knowing it's still coming is okay, but I am deeply saddened that Skate 3 didn't make that list.

Portal is on that list, so Valve may not be completely hampering the Backwards Compatibility to be spiteful towards Microsoft. Hopefully, L4D2 is next!

What a bunch of complainers some are... complaining about Microsoft adding more games? really? if Microsoft could add 192837901283 xbox 360 games to the list I am sure they would do it. they can't for X or Y reason, and if the game some stupid people don't want it's not released today, it will be coming​ eventually. If you don't like it, well you can get a 360 and play them there, or wait, or get a PS4 maybe you would get better Backwards compatibility there (oh yeah right... I laught about it especially about PS2 compatibility that even a 2006 computer can run the emulator). But wow... Microsoft releases new BC games, and people still complain? this is more than what many people thought they would get on Xbox One since BC wasn't there for many months. but now Microsoft has BC and keep adding games, people still complain about it. wow..

Exactly on point. Also, I was of the understanding that it's not entirely up to MS what games get the backwards compatibility. I thought the publisher has to contribute to that switch as well, which would explain why several titles aren't available yet.

wasn't Zuma available since day 1 or was that an insider thing? when BC was 1st made available for insiders, it was there waiting for me to download.

Yeah, but the newly added one is Zuma's revenge

All of you are the worst video game consumers. If you had a Playstation youll have to pay $10 - $20 for an old PS2 game. All you do is ***** and xomplain. Microsoft doesnt have to give us anything. Posted via the Windows Central App for Android

Wasn't Black Ops supposed to be on the list this month?

Hydro Thhhuuuunnndddeeerrrrrrr!!!!!!!

Ms. Pac Man, the best on the list, downloading now

Can we please get all the forza's (3, 4, and Horizon 1). I sunk a lot of money and time into those titles would love to have them on the list since thats an In House Studio for Microsoft. Actually speaking of In House you can y'all go ahead and release all in House Studio Projects to backwards compatibility since you made it sound so easy once you have permission.

Are we sure that these are it for the month considering Major Nelson said he would be releasing a list tommorrow on the 18th?

Man, I wish timesplitters came out on the x360.... that was one awesome trilogy for couch co-op and multiplayer - especially flame tag on 2.

How about all COD... even the very first ones.... ? Still not too impresed now I think they have 3 of the top 10 requested games....Voting is really working..

Where is my Tekken Tag Tournament 2?

Yeah whatever, i don't care you think Tekken Tag sucks, i just want it on the list, and i want it now! !TEKKEN 4EVER!

Where theFUCK is mass effect?

Thanks for the article. Just want to inform all folks who live outside US that Xbox 360 is a great media Player. If you want to access Netflix and other streaming stations on your Xbox 360 you can use UnoTelly as I do to get around the geo block.

There are good and less good in the list. But ultimately, it's still an excellent feature for owners and future owners XBOX ONE that can benefit now of about 120 XBOX 360 games! ______________________________________________ galaxy s7 iphone 7
Windows Central Newsletter
Thank you for signing up to Windows Central. You will receive a verification email shortly.
There was a problem. Please refresh the page and try again.