Halo: Spartan Assault among first Havok powered games on Windows Phone 8 and Windows 8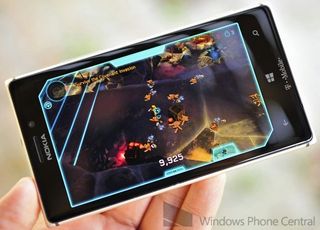 We've been enjoying Halo: Spartan Assault on both Windows Phone 8 and Windows 8 the past few weeks. How about you? We're a handful of weeks away from the first update to the title that will bring support for 512MB devices on Windows Phone. If you're on Windows 8 playing the game you'll be using your Xbox 360 controller then. We also suspect either new levels or more game modes. Of course we'll let you know when the update hits. In the meantime, here's the answer to a question I know every single one of you has been wondering. What's powering the AI?
Havok, as you may know, is a physics engine used by many video games. Depending on the game, a studio can use different tools from within the Havok portfolio. There's Havok Physics, Animation Studio, Cloth, Destruction, AI, Script, and Vision Engine. Developers may only need to use one particular product (or all) within the Havok product range. Halo 2, 3, ODST, and 4 have used Havok Physics and Animation in the past, with Halo 4 also using the Havok AI. What's Halo: Spartan Assault using? Havok AI.
When Halo: Spartan Assault launched two weeks ago it became one of the first games on both Windows Phone 8 and Windows 8 to be powered by Havok. We last touched on Havok coming to Windows Phone back in late April, when we sat down with Microsoft's Larry Lieberman and Casey McGee to talk game engines. And Havok was announced for Windows Phone way back last October at Build 2012.
Here's what Dan Ayoub, Executive Producer at343 Industries has to say about Spartan Assault and Havok:
We can't wait to see more advanced games come to Windows Phone and Windows 8. Havok will help game developers on that journey. Be sure to visit the Havok website if you're a game developer and want to learn more about using Havok in your next Windows or Windows Phone game.
Source: Havok
My car uses the Havok Engine

Both on windows 8 AND wp8? That's what the article states as first game.

Cry Havok and let slip the games of war........ Woot.

If i buy this in the phone, do i have to buy it for the surface?

Calm down bro. No need for that amount of intensity

What are you guys talking about?

What is your problem?!?!?!??? CALM DOWN!!!!!!

I'm depending entirely on the update. On the phone I need it even to buy the game (512mb limit). On the PC, I need it to play the game (XBOX 360 controller support). I've already bought the game for the PC.

If I have surface rt and windows 8 laptop do I have to buy it twice.

Nope, it works for either and you should be able to download from your account (just use same Microsoft account on each system) I believe. The only time you have to buy it twice is for Windows 8 system, and a separate purchase if you also want it on Windows Phone 8. (as far as I am aware)

Can't wait to play it on my 8x

Excellent.
I'm taking it slow and haven't gotten too far. I don't always have time to play it.
I'm on mission B-3.

Sweet. Are graphics clean?

The graphics for the game on a mobile device (on my Nokia Lumia 822) are fantastic. Smooth, beautiful, and clean.

I am on c4 ...it is awesome...i have never played any game on phone / tablet for this long...

I have finished it twice on Surface, different difficulties and skulls. Now I am trying to get all gold. Third times' a charm.

Its a must have for old fans and potential fans! The game has a good pace although a little repetitive I am enjoying it on PC I wish I had it on my L925 to help kill time at work

Awaiting to play it on my L925

Nope. Verizon exclusive right now. L925 in US is T-Mobile branded.

I'm waiting for availability on my L925 too. Can't wait for the exclusivity to be over!!! jejeje

You can take out your sim card and then download it from WiFi. That's what I did and I have a 920.

Got excited upon reading your comment. Popped mine out and rebooted my phone. Its a no-go for me... Got error 805a0194. I'll try again tomorrow though. Let the phone sit without a SIM for a bit and see... Is your 920 unlocked? That may be why I can't get it...

I just did it, and my 920 is not unlocked. When I used the QR code I got that error. But when went to the store page via the wpcentral app on my phone it worked fine after taking the sim card out.

My 920 is on At&t. Hmm thats weird. I was able to download it about a week ago. I would def give it another shot

Ha! That was the issue. I was lazy last night and used the QR code as I had done a quick search on the WP app but it did not come up and I didn't wanna click to load more articles. This morning I went ahead and did that before coming to work and BAM! Got the game. Was lucky it downloaded right before I had to take off to work. I will be trying this out today during my breaks. Thank you guys for the tips. Awesome. Now I can have Halo at home and at work... jejeje

*deleted comment*
I commented w/o reading...

Next version will be multiplayer across all screens

How about bringing Halo 4 to Windows 8 PCs??? PC gamers want a real Halo FPS game on Win8 not just a tablet/smartphone game.


PCs are for spread sheets.

And why do Verizon Lumias user get and the rest of the world has to wait? Hope that's not what people call marketing.. Just reasons I might stop buying nokia

Not just Lumias on Verizon, I have it on my 8X. It's Verizon exclusive, nothing to do with hardware.

Yea one thing is manufacture exclusive.. But carrier exclusive is even worse... Hence for example one HTC 8x Verizon can play the game. While a t-mobile version of the same phone can't lol jokes all around.

Here's the thing I'm using a 920 unlocked on T-mobile, Downloading it isn't a option for me.

You can download the game by taking out your sim card and downloading it over WiFi. That's what I did and I have a 920.

Is it not available to "the world"?
I thought it was only exclusive to Verizon in the US for 30 days.

Correct. No carrier restrictions outside US. That's something the EU has fixed for us....

Well that explains the poor US sales

Oh ok, that's what I meant how is this marketing? I have no plans to switch carrier just for game. It should of been available across the board, its a fairly new Os why limit anything??

Incorrect. The "rest of the world" has it. Just the "rest of the USA" doesn't.

I was impressed by Fable Coin Golf. This also looks nice. I'll buy it soon.

I can't even download it because I don't have enough space. Bummer.

So I bought Spartan Assault on my Surface, will I have to pay for it again on my Lumia 521 or just download it after the update?

Gotta buy it twice for w8 and wp8. The game progress syncs between the two, though.

Looking forward the 360 controller update on Windows 8... I'll actually buy it when that comes out.

I saw a Verizon Mobile ad featuring Spartan Assualt. It's good to see Verizon showing WP8 some love.
Windows Central Newsletter
Get the best of Windows Central in in your inbox, every day!
Thank you for signing up to Windows Central. You will receive a verification email shortly.
There was a problem. Please refresh the page and try again.