Halo: Spartan Strike is shooting its way on Windows Phone and Windows 8.1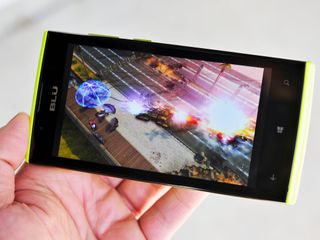 Microsoft has finally released Halo: Spartan Strike for Windows Phone and Windows 8.1, several months after it announced a delay in the game's release from December 2014 to "early 2015".
The sci-fi top-down shooter is a sequel to the 2013 game Halo: Spartan Assault. Both games were developed by Vanguard Games in coordination with the Halo series's main team at 343 Industries. The game is priced at $5.99 for both versions and is a universal app, which means if you buy the Windows Phone version you get the game for Windows 8.1 for free and vice-versa.
Here's a quick description of the game:
The good news for Windows Phone owners is that it is compatible with 512MB devices and is "buy once, get everywhere (phone, PC)". The bad news? No free trial. Also note, for the phone the game is a massive 864 MB to download!
Download Halo: Spartan Strike from the Windows Store (opens in new tab) - $5.99, no trial
Download Halo: Spartan Strike from the Windows Phone Store - $5.99, no trial
Will this game be available to Xbox One?

And Spartan Assault. Hoping we get the sequel too.

No ​PalmOS support? just kidding. ​ ​ ​ ​

Yes. This game also launched on iOS.

You can't still be on 7 when 8's are now cheaper than ever. $30 for a 630? Common!

FYI...your links are flipped. Windows link takes you to Windows Phone & vice versa.

Still sad that it's no longer a Windows exclusive title.

at $6 a pop why limit yourself to the small group of windows phone users?

Especially when it could help WP and MS in return. I think MS should release some games (indie games) on PS4 unless its a particular type of game

Still waiting for someone in the universe to explain how this could ever help WP.....

microsoft is not apple. microsoft puts their services on other devices like Office, OneDrive, ONenote. By doing this, just look at it as a way to fund WP for people like us. They act more like Google.

you hit it right. Microsoft is and always has been a software company. I get that WP users get upset when they release apps and services to other platforms, or other platforms have better apps, but that's not the leaderships fault entirely. WP SDK itself has always had limitations that iOS and Android had... 3 years ago -__- they also have shareholders to respond to, when your own mobile OS is at 4% worldwide share (at best) you cant prioritize it before an OS with 70% worldwide share. You just cant, its business management.

It's a harsh truth--it's the reason why Apple's desktop/laptop-side software arrangements are a joke (and why even Apple encourages people use MS Office and supports dual-booting). All versions of OSX represent between 5 and 6 percent of the personal computer market share worldwide--they have to integrate with the software that literally everyone else uses. Microsoft is trying a different approach, but they know they're a minority when it comes to hardware. No one wants to be stuck like that.

"They act more like Google." No way do Microsoft act more like Google, if they did then NONE of Microsofts apps and games would be available on other platforms!!!!

I'm disappointed, but I can understand. Still disappointed, though.

For the same reason that Halo isn't on Playstation. It's moronic and I've totally lost faith in Satya. I want Ballmer back. Satya has no backbone. I for one will be letting @satyanadella and @XboxP3 know how moronic they are for destroying Halo's exclusivity today. A decade and a half of exclusivity, killed by them. Today. #SaveXboxWP

You're getting so offended. I mean(hurts to say this), it's just Apple iOS. It's not even the real Halo so no biggy. Maybe Apple will help Microsoft in return(probably won't because they are evil.

Yes, I am offended. I vehemently disagree with Microsoft's decision to undermine both Xbox, by giving away their most famous franchise, and Windows Phone, which badly, badly, badly needs reasons to get people to choose it yet Microsoft seems keen to actively work against that.

I don't see any reason for disapointment. We can play Halo on our windows devices, and that's what matter to me!!! I'm too happy for this release to be saddened up now! I long waited for this!!!

It's literally one game that's not the real Halo, just a side story type thing. Xbox still is a huge thing and won't see any hurt from this release of a small game on iPhones.

No ones gonna choose Windows Phone because a halo top down shooter is exclusive to the platform.. They have tons more games on iOS.

There are actually a lot of people that chose Windows Phone early on because of the exclusivity of Xbox games on it compared to iOS or Android. Check out some of the online Xbox achievement hunting communities. You'll see that most of them are even more disillusioned than Windows Central members, having almost all abandoned Windows Phone for iOS or Android because of crap like this.

I do not intend on abandoning windows phone anytime soon, and you've seen my opinion on this matter, but as stated in a previous comment, it's business management.

It's poor business management--one that is short-sighted.

Correct: It's poor business management. People love to spout ofe "it's business" and usually have no idea what they're talking about. They only knew to repeat "market share".

Xbox Achievements are one reason why I chose Windows Phone. I'm an achievement Hunter. But the iOS version doesn't have achievements and I hate iOS so I am happily staying with Windows Phone for now. I understand you being pissed on broken exclusivity. Its not about Microsoft being a software company, if Microsoft released Halo 5 on PC/PS4 it would really hurt Xbox One. Halo is the biggest franchise of Microsoft and it shouldn't be available on other platforms

I have seen apples version, and it's not even Xbox live enabled. That means Windows has the definitive version. People wonder why my Xbox gamerscore is so high. I tell them I also play Xbox games on Windows Phone and Windows 8.

I never said that, I said they'll possibly get Halo on Xbox and it might even sell them into buying an Xbox if they didn't already have one

Don't want people to choose WP just for a game. And with windows 10 now, everything is all "one" and apple iOS owners do have windows tablets and computers too. IOS can still have the feeling of "one" but they won't get the fully featured capabilities of what having all windows devices will give. Plus, this halo game can be enticing to join windows and get an Xbox one which will showcase of windows and Microsoft and entice them even more. A HUGE amount of iOS users have Xbox ones as well and in the future it could help to entice more to adopt all windows. So chillax I think.

Marathon is much older than twelve years old.

Correct, Halo was originally a Mac and PC only RTS and that was in 1999.

lmao you're so mad its hilarious

Also available to Windows users (inc Windows 8 & Steam) so not really limited to just WP users.

To help make the group of users bigger

Microsoft should pull this game from iOS store so they can feel our pain lol...

Microsoft won't do that. Besides, that's not Google Play (who did the same to us) they released on.

You can feel offended that Microsoft is offering all of its services on other platforms...
OR, you can understand and realize that Microsoft is taking the open-ended realm and making all of its services available to every person they have, no matter what choice of platform they run. Quite frankly? This is the reason I hate Google and Apple because they only offer their services in sub-par options on the platforms they want you to use. Microsoft right now is AWESOME. :)

This guy. Thank you. Too bad Apple and Google fans are too blind to understand this.

There is a huge difference between offering something like Skype--where adoption by as many users as possible makes or breaks the servicie--on all platforms versus offering your most reknowned video game franchise on other platforms. Totally incomparable. By that logic, Microsoft Studios should release all of their games on all platforms: PS4, Wii U, Steam, iOS, Android, etc. What is the purpose of selling Xbox? What is the purpose of selling Lumias? Of selling Surfaces? Why even waste any money doing that if you're just going to bring all of your software to other platforms too, platforms run by companies who aren't bringing their killer apps to your platforms (i.e. they are literally making the case for choosing iOS over Windows Phone every single time they do something like this).

Because then by owning Microsoft technology and hardware, you're more inclined to use their services. And vice versa. It's a win-win for the customer. Hardware is not where your profits run....usually ever. (Apple is an exception, but that's only because they mark up their hardware like 25%.) By giving you both hardware AND software at a cheaper rate, you've essentially given your customer a grand scheme that locks them into a bundle of services. They're smart in doing this...might not seem like it, but it's brilliant business tactics.

They're not smart in doing this. It's short-sighted. Apple and Google rake in billions of dollars in fees from app store sales on their own platforms. Microsoft releasing their most reknowned IP on competing platforms, and not having the governers of those platforms reciprocate with their own services on Microsoft's platforms, simply pushes more people to the other platforms where they can get everything, including Microsoft's stuff. Windows Phone shrivels up. Xbox shrivels up. Windows shrivels up. And Microsoft's coffers shrivel up.

As a BUSINESS, Microsoft is making the right decision. Their most profitable products are software and cloud-based services (and perhaps the Xbox CONSOLE, which has more iOS and Android users on it than WP users). Why miss out on potential profit by refusing to develop for other platforms? Windows Phone (and their hardware division in general) is one of their least-profitable products right now, so it's natural for them to shy away from it until conditions are more favorable. It's basic economics.

That's not a good understanding of BUSINESS or economics. What competitive advantage is Microsoft attempting to exploit to grow Windows Phone. How are they getting ROI from the billions sunk into the Nokia deal? What incentive does anyone on iOS and Android have to switch and are Microsoft's actions causing their own users to switch? I can notes get everything Microsoft has to offer, plus all the things that it lacks, by going iDroid. I'll get MS products first and more fully featured on the competition. I missed that chapter on my way to an economics degree.

It is ECON 101. The more supply you have of a product for your customers, the more likely a customer will buy. By limiting Microsoft services to only Windows-based devices, it cuts that supply. By expanding, it expands it. :) therefore, a good decision business and economic-wise.

How is it not? Maybe not good business for WP sales, but it is good business for Office, Skype, (yes) Xbox, Windows (by making their current phone more connected to Microsoft's services, Windows 10 will attract a lot of people that has switched to mac or Linux), etc. Given that the software and cloud services are their most profitable products, it makes perfect business sense to focus on expanding those more than something that is losing you money currently. I agree with your point on incentives, although another important point in economics is that a business will usually cut back production or stop producing in a market entirely to cut losses. Given how much money Microsoft loses on Windows Phone every quarter, we ought to consider ourselves lucky they haven't canned it completely (source: As in both intro micro and micro theory). And about the Nokia deal? The software divisions are what's recovering the losses on that (fun fact: Only Ballmer thought it was a good idea. Apparently Gates is no longer speaking to him because of it, and they were good friends from college). Also, my above comment was mainly addressing those who truly believe that Microsoft will go out of business by not focusing on Windows Phone (our good buddy coip for starters), which as I've just explained, is a load of bull.

you're so shortsided its sad

Halo is not a service like Office. I understand Microsoft offering services to other platforms like Office and OneDrive, they need a higher user base

I too am disappointed but then two things dawned on me. As many have mentioned, ms is a software and services company first and foremost, so those getting upset about this need to realise and remember that. Secondly, this game offers unlockable content for HMCC, so why would Ms limit access to this to WP users when owners of the x1 are not solely WP users? With this in mind, this move makes sense even if some feel hard done by it.

I've been playing this came since February, when it briefly became available in Malaysia. Great game.

Is it a sequel to Spartan Assult?

Do u know if i can use my controller (xbox controller for PC) on windows 8.1 version?

Most likely since you could with Spartan Assult.

Yes, you can. I've just been playing it on my PC with an Xbox 360 Controller.

I've been highly enjoying the game with my XONE controlle, it works really well so yes its supported

You people jump to conclusions very fast. Look, it's on windows now! Lol

The point is, it got available on iOS FIRST, even before Microsoft's own platform.

No, the point is that iOS got it at all. So stupid.

Can we feel proud that it's not out for Android yet? Or need I refresh Windows Central homepage?

"got it first" By like 20 minutes

You people are sick! I mean what's the big deal?

Maybe apple leaked it on purpose?

I bet you it was released on wp and IOS at the same time but it just took a little longer to be published.

It was probably rejected by the Win8 / WP stores at first. Could explain why it showed on iOS first. :P

Is it just me or that Spartan helmet icon looks uglier?

Error 404: No more Agrees found.

Will wait for Steam version to play on my Win7 PC's as well.

It's already on Steam, go take a look if you don't believe me.

"buy once, buy everywhere" ???

Spend $5.99 for phone, unlock it for PC/tablet. Vice versa.

Exactly, buy once, don't get everywhere.. Jk

I'm also pretty sure you won't get the Steam version either

If you got the steam version as well, I would buy it already.

Yes it is, buy once, get it on WINDOWS everywhere :P

That's a windows thing. This is windows central...

I can't see it in store on my Surface 2?

He mean to say "buy once, get everywhere"

Buy once, play it on Pc and Windows Tablets and Windows Phone . Universal app

Do you see it on a Surface 2? Is it not available for RT?

The Windows Store says it is compatible with ARM.

Spartan assault only had coop on Xbox not on phone or PC

C'mon mehn, not even an EA game can cost this on its debut

Thats why I buy ea PC titles at retail because you get both a disc & a digital copy

Man MS needs to stop releasing games out of nowhere! This is the kind of stuff that ruined D4's launch. Sure it's not a lot of money, but I like to plan out my purchases.

I am still completely baffled by the total lack of promotion they gave to D4. They always get ridiculed for Xbox being a Western-centric, FPS-obsessed platform who forced Kinect on people without offering enticing Kinect games, so what do they have with D4? They have a critically acclaimed, exclusive game with fantastic Kinect controls, in a unique genre, from an esteemed and popular Japanese developer, that they themsleves are publishing, and they surprise launch it and then do absolutely zero promotion for it, even as Swery was literally begging them on Twitter to promote it. I seriously don't understand that at all.

It is a shame they dont produce proper multi player titles :(

Damn accidentally paid with carrier billing but this should be great.

Then you didn't have to hesitate before buying this, not? :grincry:

I just set up my phone so I didn't set everything up and carrier billing is selected by default when you go to purchase anything.

Yippie!!!! It's finally here! I don't need a trial anyway, downloading tonight!! xD

I've been waiting on this game since last year. I'm glad to pay for this one. I enjoyed the first one, I know I'm going to love this... It's almost finished installing.

Same exact feelings, mate. I loved playing Halo: Spartan Assualt last year and I can't, till date, find a game to compare the gameplay on mobile platform! :D

I've not yet finished Spartan Assault, soon as I do get around to it I'll be purchasing too. Hoping to see this on Xbox when Windows 10 is released as a universal purchase.

Same, downloading without hesitation :D

I'm buying it, thanks to you :)

Haha, now if only we had multiplayer to play together! :P

No multiplayer game? LoL.. I'll just play with myself with my hand.. If you know what i mean..

haha windows store link takes you to windowsphone.com where as windows phone store link takes you to https://www.windowscentral.com/e?link=https2F%2Fclick.linksynergy.co... which is windows store indeeed.

Thanks, think I'll pass this time.

Where are all the chicken littles now ??

We need original halo game first person shooter game like modern combat

Controls on this game was absolutely horrible Posted via the Windows Central App for Android

May I bought it for achievement only !!

Flagship franchise going multiplatform is so STUPID!!!

Let @satyanadella and @XboxP3 know that. Apparently they couldn't piece that together.

They did, and Halo is being sold wonderfully on iOS as a major hit for those who don't use Windows Phone. Meaning....Microsoft got more sales on an app that isn't even on their own platform that wouldn't exist otherwise..... Exactly how is this a problem?

Think bigger. It's not about one game's sales. If that were the case, they should release all of their games on all platforms. But if they did that, Xbox would die and they'd lose a ton of revenue and eat a ton of sunk costs. Putting Halo on enemy platforms hurts Windows Phone, and Windows Phone needs all the help it can get.

Thats true, it does bring in aditional revenue to MS, but one would argue that exclusives would look like an attempt to bring people to the windows platform. Also, MS would have kept all the profits from sales on their own platform but have to give 30% to apple for every one sold.

I like these kind of games because they don't just show a gun but the a real person.

Advantages to getting this on Windows Phone are that you also get it on Windows 8.1 (And I hope Xbox when Windows 10 is out). Also it runs on 512MB devices, i.e much cheaper phones than any current iPhone available. A lot of people saying there are no reasons to get Windows Phone but I personally love the cross platform purchases, and as I use a lot of Microsoft services get the best integration with those services (An example, ask Cortana what song is playing and then immediately tap through to add to my xbox music collection). I'm not that bothered about it going to iOS. If the real Halo went to PS4 I feel that would be a mistake, but not a big problem with a mobile spin off of the series like this. There are still advantages to having a Windows Phone, and MS don't need to have every single release revolve around Windows Phone - I've seen people suggest office should never have gone to android or iOS, that seems like madness to me when it comes to increasing office revenue and use, in other words WP isn't the most important division in MS, i still have many reasons to stick with it - If I didn't I would switch platforms

Why is it okay to put mobile Halo on iOS but not "real" Halo (whatever that means) on PS4?

Why would they when PS4 has Killzone!!!

I assume you're being sarcastic since Killzone pales in comparison to the almighty Halo.

Even so, do you really think that Microsoft would give a rival their biggest franchise, that would be like New Super Mario Bros. being released on the PS Vita!!!

Doesn't look like they improved a lot from the first. Wi-Fi coop and I would buy it without doubt.

Non related question : In the WP store, dead trigger 2 game shows that it's universal , but I can't find it in windows store
Anyone help please!

I can't get that game to download on my 1520.

WTF, guess Siri won't be jealous of Cortana having Halo on WP anymore.

I'm definitely purchasing this, but if anyone here that's playing on their Surface 2 could let me know if it performs well, that'd be great. :)

Downloading with my slow connection I can be blasting away by morning

What do we want with this game before the Windows 10 launch?!

"No matter where you are [...]."
I would say that's a blatant lie. Or did 'Spartan Strike' drop the online requirement of it's predecessor?

Nope, still syncs progress between Windows and WP just like Spartan Assault.

@neo158:
Thanks for the clarification.
That means, like I expected, that you can't play anywhere, because the game will cease work if you're having a spotty connection.
It should let the user play under any circumstances and sync afterwards, even if no connection is available on startup.

That's exactly what it does, if it detects two lots of save data then it gives you a choice of which one to keep.

Who was bad mouthing Microsoft?

as it is halo i don't care about trial but its expensive as I font know for some reason amount of all apps have increased by 5% - 15% in India! And its expensive enough that I can wait for it to get red striped in deal and so I can get it for 50% off!!

Released today for iOS too

Just like the article says...

Microsoft releasing these titles on other platforms makes sense especially if they intend for it to be a selling point for Hololens. They need as many people as possible to enjoy Halo on whatever device they have and then it would be a reason for consumers to buy hololens to play it there too. If