See all your social networks in one place with Harvester Messenger, today's myAppFree Deal
Harvester Messenger is a handy Windows 10 app that pulls together all your social networks in one place and offers a convenient way to jump between Instagram, Twitter and other popular social sites.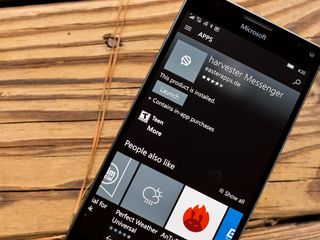 Available for Windows 10 PC and Mobile, as well as Xbox One, Harvester Messenger regularly costs $0.99. However, through this week's myAppFree promotion, you can pick during the next 24 hours free of charge.
Harvester Messenger supports WhatsApp, Facebook Messenger, Skype, Telegram, Reddit, Google+, Instagram, Twitter, Tweetdeck, Hangouts, WeChat, Slack and ICQ. The app is available for Windows 10 Mobile and Xbox One, but Tweetdeck and Hangouts are only available in the PC version.
Settings allow you to turn on which networks you want active, along with options to customize the color theme, turn on or off notifications and autostart features. The layout is simple, with menu options to switch around between your active networks in web wrapper form.
Additional features include a dark mode and a quantum browser to surf the web. Harvester Messenger offers a handy way to jump between your social networking sites without having to bounce from one app to another.
With the help of this MyFreeApp deal, you can save a buck and pull all your social networks under one roof.
Download Harvester Messenger from the Windows Store (opens in new tab)
myAppFree
Windows Central is proud to partner with myAppFree to bring you savings on Windows 10 apps and games. myAppFree is a free Windows 10 app and service that highlights special deals for software in the Windows Store. Make sure you download the app to keep track of all the weekly specials.
Windows Central will continue to highlight select Windows 10 titles from myAppFree on a regular basis as a benefit to the Windows Central community. Many of these deals will be available for both Windows 10 Mobile and PC, so you can double your savings.
Download myAppFree for Windows 10 PC and Mobile (opens in new tab)
Windows Central Newsletter
Get the best of Windows Central in in your inbox, every day!
George is the Reviews Editor at Windows Central, concentrating on Windows 10 PC and Mobile apps. He's been a supporter of the platform since the days of Windows CE and uses his current Windows 10 Mobile phone daily to keep up with life and enjoy a game during down time.
This is always how I imagined the "People" app should work. At their core, social media sites are 3 components: 1) network or friends, 2) messages between users, 3) content visible to public or user networks. Conceptually, I love the idea of going into one of my contacts and seeing their tweets, Instagram posts, Facebook messages, texts and phone calls, etc. One person, many services, all content.

Like WP7 people hub? Problem is social platforms want you to go to their silos as Microsoft found out.

Like in Meego! on the Nokia N9 :D ya I went there lol

Messenger and Skype don't work on mobile.

Skype works great on my phone

Are you by any chance still on WP8.1?

No, I'm on Release Preview with Lumi 950XL. When I login to skype it just says "Sorry, Skype for Web isn't available on this device yet."

that's weird then. Have you tried reinstalling it? I'm on fast ring with an 830 and got Skype version 11.10.147.0 and it works really well

The Official apps work great. I was talking about this app since it's name is harvester Messenger which implies it's an app for messaging. It would be great if I could use a different skype account with this app or use it instead of the official Messenger because that's just painfully slow on mobile. I really can't see the benefit of using this app on desktop and also none of the features work on mobile that would make it useful on my phone.

I don't have an option to add Skype to the Harvester app

You are not missing anything as it doesn't work. Actually it's not even on the screenshot that's on the article. I have also Facebook Messenger, WhatsApp, WeChat, Tweetdeck and Wire that are not on the screenshot. Weird app.

I've always had problems trusting anyone who put out any sort of all-in-one app that is used to allow you to access multiple services with YOUR various login credentials.

Just in my quick look of it so far, it is not asking for your credentials, it takes you to the company's login page.

Boo, I got super excited when you mentioned Hangouts and then my dreams were shot when you said its only available on PC...

Speaking of which, does anyone know what the best way to get Hangouts on Windows 10 Mobile currently (if any)?

The hangouts API is changing to business only... so it looks like only hope is if Google makes a hangout app for windows. I've resorted back to IM+ just to have my gtalk chats..... maybe I'll give harvester a shot

Maybe i was a bit unclear, but all I'm looking for is access to gtalk chats as well, not all of hangouts. Is IM+ the best route currently? Are there any others?

I can't say I try a lot of apps because I don't really do that, but IM+ has been good to me for me for many years, I've had the pro since the lumia 920 days. Client for Hangouts that showed up last year was a really great one too that supported features a lot better like inline pictures and was able to pull your chats from history, uwp.... but it got bogged down in performance and never recovered. Then sadly disappeared from store for good. It's too bad, was very promising.

I used to have the pro version but can't seem to find it in the store anymore. If you still have it, could you link it by any chance?
Edit: Nevermind. Just found out the Pro version is now only available for PC. I could have sworn it used to be on mobile too...

Hmmm, it was for mobile, I have it, can't share it either :(

well, never uninstall it or get a new phone then :)

So does this only check ur direct messages on Instagram? Interested in trying this out on my xbox

I have to try this. With friends on WhatsApp, Viber, Telegram WeChat and Skype I could use one live tile in stead of five to give me the gist.

This doesn't support WhatsApp (at the moment), is it? Would be awesome if it is possible...

Whoa, I'm going to need to download this!

Hmm "This app needs hardware that your device doesn't have, which will hinder app performance. Rating and reviewing is turned off" on a 950xl :(

Odd, I just installed it fine on a 950XL with no issues.

Yea it's just a comment you see when you scroll down to reviews

It keeps crashing on my 950xl... And I'm installing in on my internal hard drive

So is there a difference between Google+ Chat and Hangouts? Because I thought those were basically the same thing.

Hangouts is the video aspect I believe. Then there's the google chat in Gmail which I also use a lot. Video calls open a separate hangout window

Hangouts is not just video. It's also chat (for G+), including SMS and MMS, assuming you use Google Voice.

Doesn't open on my Lumia 950xl

Is it safe to reveal all you social networking details to a third party app ?

Is it safe to reveal all you social networking details to a third party app ?

Is it safe to reveal all you social networking details to a third party app ?

Is it safe to reveal all you social networking details to a third party app ?

It's using token transactions, just like any other app or website that uses this method so you're not revealing your details. Not unless it's doing a fishing exercise by snooping on the connection. From what I seen it's just pulling up the web interface in it's own browser engine (Quantum) but I'm sure someone will correct me if I'm wrong.

is it safer to ask the questions 4 time? ;)

How do you access messenger, skype, or WhatsApp on the mobile version?

Is this like WUPHF from The Office?

Nice app! Thanks to developers for making it easy! Wish someone develops third party Facebook messenger which is able to do calls

Am I missing the point? It doesn't actually seem to DO anything. It's basically a web browser with some handy bookmarks defaulting in?

I got the app, looked at it and uninstalled it.

omfg! now i dont have to use laggy Facebook/Messenger on my windows 10 desktop... all in one! skype on this app is slow tho....

Ok, It Says... "This App Needs Hardware My Phone Doesn't Have"... Huh, But I Have A Lumia 950xl... ☹
Windows Central Newsletter
Thank you for signing up to Windows Central. You will receive a verification email shortly.
There was a problem. Please refresh the page and try again.