Having trouble signing into your Microsoft account on Windows Phone 8.1? You're not alone [Update]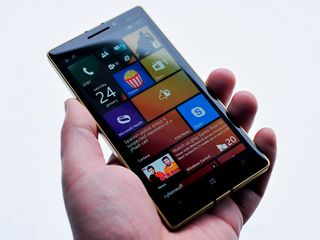 (Image credit: Windows Central)
Update: We've received word from several readers that the issue seems to be fixed now.
If you're hitting a snag trying to sign into your Microsoft account on Windows Phone 8.1 after a rollback or factory reset, it looks like you're not alone. A number of users have taken to Microsoft's Answers forum (opens in new tab) reporting issues signing in after either a factory reset or after rolling back from Windows 10 Mobile to Windows Phone 8.1.
It's not clear what's going on here, but it appears to be affecting a pretty large number of people. What makes the issue particularly nasty is that being unable to sign in prevents you from doing simple things like downloading apps from the Windows Store or syncing data from your Microsoft account.
Until whatever is causing the sign-in problems is fixed, it'd be a good idea to avoid factory resetting your Windows Phone 8.1 device or rolling your phone back from Windows 10 Mobile to Windows Phone 8.1. We'll bring you more if Microsoft acknowledges the issue and when there's a fix. In the meantime, let us know if you've encountered the problem for yourself and if you were able to find a way around it.
Thanks to Tanveer H. and JCerna for the tips!
Dan Thorp-Lancaster is the former Editor-in-Chief of Windows Central. He began working with Windows Central, Android Central, and iMore as a news writer in 2014 and is obsessed with tech of all sorts. You can follow Dan on Twitter @DthorpL and Instagram @heyitsdtl.
Bad news upon bad new...sheesh!!

Signing in is one thing but trying to sing into your account would certainly add challenges.
First line of the article. Re-read it.

Actually we can do that too.. Also, Cortana sings well.. :D

trying to sing into your account would certainly add challenges.

Facepalm!!! No wonder it didn't work!

Looks like the typo is fixed now. Hopefully a fix comes for the actual problem soon.

Some users told this problem is from Sunday.Microsoft do something,you don't care about your users????omg it's the first company which make this..Sad, windows mobile is amazing platform and you let this to die.Good job Microsoft.. :(

How old are you? No, seriously, how old? You think MS is just "meh, screw it"? They're probably working on fixing this issue, but it's not like they can just go to Settings and enable the "Allow WP8.1 devices to log in to MS Account" option. Also, doubt it's the first company to do this. Remember the celebrity leak caused by Apple's lax security on iCloud.com? Right...

I have 15 years,yes i know a simple kid which talk about microsoft,windows phone,etc.I don't want to blame Microsoft,i am just worry they wil not resolve this problem just that.I have respect for them,they created my favourite OS,on Mobile and PC.

Just read article in WinCentral. They explain what is coming for W8 & W8.1 users.

Maybe a work around isn't that easy. And anyway Windows Phone 8.1 is a dead platform, Windows 10 is the future, and any phone that came with WP8.1 out of the box is at least 2 years old what means it has run it's supported life cycle. So Microsoft doesn't have to fix this 'problem', people just need go upgrade to a new phone!

I want to upgrade to windows 10 but is imposibile,if can't connect to microsft account to download upgrade advisor.Yes,windows phone 8.1 is dead and i'm worry they don't resolve problem.

"upgrade advisor"? Seriously? You need to read the forums because that app is not needed at all. You have 1 2 or 3 options to get W10M on not supported devices :))

Sheesh, you guys are being a little harsh, don't you think? The most explicitly supported method is indeed using the upgrade advisor, is it not? So while this latest bug doesn't make it "impossible" to move from 8.1 to 10, it does make it harder.

It's about finding a Android phone that is as good supported as Windows Phones. There aren't any! And if you are still holding on to a device that was build with WP8.1 in mind it's high time to upgrade to new hardware!

Every single Android phone is better supported. It isn't even close.

Like which? Which, cheap, that's what this is about not high end (because people ******** about support in the Windows Phone space mostly use sub 200$ phones) Android handsets get supported to Googles latest an greatest?

Every Android phone is better supported. Support is more than just OS updates, which Windows phones aren't even that great with. Look at the Acer Jade Primo, it has already been left behind. Even the L950, what have updates even brought it? Not much in the way of new features and new features don't seem to be coming either. Updates suck just as bad on Windows phones. Google still updates phones back to 4.1, which is going on 5 years old. Every 6 weeks these phones get an update directly from Google and are still supported by nearly every app. You have to back quite a ways before apps stop working. You cannot say that about any WP from 2012. Microsoft actually kills support, even with huge services like Skype! If you don't get an update on Windows phones, you are left behind when it comes to app support. If you worried about OS updates, there are plenty of Android phones that give you them, and they will actually bring features and services.

I just love my HP elite x3 (came from a Nexus 6 and before that a Lumia 950xl), I don't mind updating a devices every now and then. I don't expect companies to support a device indefinitely, I understand that they expect me to upgrade to new hardware from time to time!

If you love android so much, why are you posting on a WINDOWS site?

I switched from my old Lumia 535 to a Moto G4 and I still waiting for Nougat update or any security patch. Meanwhile my old Lumia 535 still receiving Windows updates from Insider. Sad Android is sad.

Except all the updates to W10 do not bring anything new and when W10M is killed this year, it won't be long until services and apps stop working. Just ask people stuck on WP8, they are even losing support for Microsoft apps like Skype and Minecraft! Imagine if people an update behind on Android lost support for Hangouts! The G4 will recieve the Nougat update anytime now and will receive support directly from Google for years. It will be a long time before apps stop working or stop being available.

The G4 will recieve the Nougat update anytime now and will receive support directly from Google for years.

For years = 2 years, then custom ROMs.

No, it isn't Google's phone, they will update Google Play Services for years and keep apps compatible for quite a while. Even a five year old Android phone has very few app incompatibilities today. Android updates are up to Motorola and they aren't necessary for app compatibility.

I have lumia 640,is supported device.I roll back from insider,and now want to update to windows mobile 10 production ring because Fast ring is buggy.

Hopefully your 640 supports it. Production Win10 is available for the Lumia 640, but not all carrier versions support it. I found that the hard way and went the Insider route. If nothing else, try putting it onto the Slow or Release Preview mode, to at least get yourself into a older version of Win10. Then you can drop out of Insider to get updates beyond that. :)

All versions are avabile for my lumia 640 but i can't downloand upgrade advisor because microsoft account problem..

Well, don't worry. They will fix it. 😉

When there is an upgrade available for the 1020 I will jump on it. Anyway, no login problems for me.

Sadly, that is easier said than done. I use Verizon and there are no phones that work on their network that came with Windows 10 preloaded. They can only be updated to 10. ☹

There are still far more 8.1 mobile users than 10 users.

You realize 86% of Windows Phones run 8.1, right? Also, 8.1 is pretty good, some people might like to use it.

Those people need to, as Sean Spicer would put it, get with the program or leave!

But 8.1 is better than 10.

well im on win 10 and thinking of going back to 8.1 on my lumia 640 edge suck refreshing then crashing 100 times a day its absolutely terrible on my phone thought id have better ;luck on 8.1 at least i could use browser

I run W10 on L920 and L640, as well as my L950XL, and I have not had this issues at all on any of them.

It doesn't work from Saturday. I have used lumia for 3 years, got really disappointed at this. Anyway, who cares. MS has abandoned lumia, time to move on

Microsoft probably shut off the servers

It's not just happening on resets. I just took delivery of a new Lumia 735 and the OoB experience will not let me sign in to my Microsoft account. Hope they get this fixed soon. The 14393 insider update borked my 830. It's frustrating having 2 useless Windows Phones (3 if you count my Icon with a recently dead screen).

Do people having problems have dual factor authentication turned on? MS outlook kicked me off, and then I found out I needed to create an app password. Just a suggestion.

Looks like Windows mobile is trying to fail. Don't go to Microsoft help they will want to sell you a service to fix it.

Not windows mobile,windows phone.Because on windows mobile 10 is not happen this problem,just on 8.1

they want to kill the platform because less then 1% market share is a joke, they want 0,005% - sounds much better :))))

Aun hay gente usando WP8? A que se debe eso?.

Se debe a dos razones: Primero, los dispositivos que vienen con WP8.x de fábrica, no siempre se llevan bien con W10M, asumiendo que al menos sean compatibles con W10M Segundo, los que vienen con W10M out-of-the-box (especificamente los Lumia), no poseen el estandar de calidad que tenian los Lumia de Nokia. Mi primer WP fue el Lumia 920 (excelente), de ahi pase el Lumia 925 (excelente), luego pasé al Lumia 930 (excelente), y finalmente al Lumia 950XL (horrible).

Hmmm interesante dato, asumi que cualquiera con WP8 podia correr sin problemas W10M, ya que tengo un Lumia 640 y anda de lo mejor la verdad. Se agradece la explicacion.

If you rollback, setup the device as a new device, install Windows Insider, download and install all the updates to get to W10m, and then reset the phone and set it up so it restores your latest W10m backup. I've followed similar steps when I need to restore my 950XL because of a bad Insider build. I restore, fully update, reset the device, and restore it. It does take additional time, but it ensures that I don't lose anything by restoring my phone on an old build.

Can't install windows insider. You are not able to install apps without a Microsoft Account. And the problem is that you can not sign in to your Microsoft Account.

That is a pretty damn convoluted way to get a phone to work.

Ok, so a fix may or may not be easy, but not a word from Microsoft?. That's where the problem lies. Lumina 735, useless....

I have this issue, I tals with a MS expert and they are working to resolve the issue. Is a emerging issue, with all lumia devices.

OK, I had same problem on my 1520, here's how I solve it first I copied official upgrade advisor link https://www.windowscentral.com/e?link=https2F%2Fclick.linksynergy.co... and pasted it to http://wpsnitch.appspot.com/ to obtain appx file, then I side loaded it to my phone using windows phone 8.1 deployment tool on SDK. Of course it required me developer account which I had it already for sideloading apps, if you don't have developer account, just search for sideloading windows phone 8.1 apps without developer account, you may end up well.

With your method I get the following error "a packaging error prevented this application from installing" in the app load by distributing applications. How did you do?

do you even have a developer account or developer unlocked lumia? https://forum.xda-developers.com/attachment.php?attachmentid=3835936&d=1... try this alternate appx of upgrade advisor

Not sure if it's a coincidence, but my MSA isn't working with Feedly right now either. Wonder is MS changed some authentication systems and that is messing things up?

Having similar issue with Nextgen Reader using the Microsoft account to sync Feedly. I can sign in, but the subscriptions don't get synced properly. Looks like there's more going on behind the scenes...

Yeah, what's wierd is that I don't have any problems with Feedly.com or the Feedly apps. It's when I use a third-party reader app (which I prefer and paid for!) that I run into problems.

W10 on my 950 is having account issues today, with Skype Preview and Calendar. Endless busy circle of dots when launching. Already tried soft reset.

Great mobile site here! Can't even reply to comments using my 950 and then I reported tgp's comment by mistake while tapping around this small "reply" area. If even a Windows centric website isn't willing to optimize it's mobile site for Microsoft's Edge browser, then what are we here for? To install the app that still doesn't let me swipe to comments?

So i think is a problem with server.

I am on alone!!! For second day I am fighting with "sign in with microsoft account" and grtting error "problem with server" Is my Lumia now Absolute?

No, Absolut is from Sweeden. Nokia is from Finland. They are neighbors though. (sorry, couldn't help it)

I got the same issue here! I thought I was alone....Hope to have this fixed soon.

I BOUGHT LUMIA 640 XL TODAY AND I got the same issue here!

I thought I was the only one crazy that is reinstalling his Lumia 820 every week!

My Lumia 535 stop launching once the SD card died. It is a bad decision for MS to rely on widely varying quality of SD cards for Windows 10 Mobile to operate. I had to remove the card, replace it and return to Windows 8.1. With no access to my outlook account, I am stuck on Win 8.1 -which in perspective- is terrible.

This happened to me as well yesterday. Like everyone else, I'm really hoping for a fix soon!

Problem in Serbia, Lumia 1520, to sing into my Microsoft account??? PLS Fixit!!!!

switch.....toggled! buh bye 8.1. Been a treat!

I think i have broken the sign in step, because it worked once to log in with the account at sunday, then i stoped the syncing process because i deleted the Account while it was syncing. After that i couldn't sign in. So do you understand. I was probably the last person, Who could sign in on sunday.

I somehow sync my contacts, msgs, emails, calendar and tasks by signing into exchage account. NOTE: If u want sync contacts, msgs, calendar and tasks by signing into exchange account, please select "no" when ask "Do you also want to use this account in the Store and with Xbox". Hope they will solve the problem quickly.

Thanks for the tip! At least the phone is half useful while they sort this out.

Yes i have this problem on a 640xl, then on a 950xl updates get stuck like at 67% for 4 days with very good internet. I mean what the hell microsoft.? This is supposed to be a flagship device, why do i have budget phone problems?

Dropped badly my 950xl last night😢. Is dead now, I don't know if is worth it to repair the display, but that's not my major problem... I have found my old pal, lumia 620 😊. Trying to keep in touch with the world, I can't either to sign in to my microsoft account. On the web browsing, the account is fine, i can log in and read my emails, but can't sign to get any app from the store. Give it randoms hard resets but doesn't help. Got another back up htc hd2,my old dinosaur but the email doesn't work either. Looking really forward for some answer from Microsoft, or around the forum.

I had a problem with a replacement 950XL a while back in that it would not give me an option to restore from a back up when I set it up. I reset 3 times trying to get it to work, and it just kept skipping over the part where it asked you if you want to restore from back up. That was annoying enough, but this is worse.

I started having errors with store in multiple phones mainly in these models: 640, 1520, and 640 xl. That was last week Tuesday, I could not download any apps. They wil all give me an error. So I waited thinking its temporary and then when it would not work I did a hard reset to all and then tried the recovery tool. Nothing worked, Friday it got worse as you could not even sign in to a microsoft account. I send you a tip yesturday as I started to see others online with same problem. Windows 10 works fine and I actually want to upgreade them to 10 but can't, at least not easilly. BTW I had a 640 new in box and now its basicly useless since you can't sign in and sync your contacts. Out of desperation i opened it and tried to set it up.

I only have the problem when I'm sign into a WiFi That's not Verizon

This is a sign warning people not to go backwards.

as I see. I do not see MS going forward is IDLE!

cant go backwards or forwards edge doesn't work for me lumia 640 latest win 10 insider still broke.

I needed to use the windows recovery tool beause the latest update did n let my phone past the loading screen
And now I'm stuck on 8.1....
Come on Microsoft
So no fast insider ring for me again if this ever get solved
8.1 ugly on my Lumia 1520

Just checked again on my 1520 and it's now working! I'm signed in and heading back to fast ring :)

pathetic MS again...Nadella effect.

Magic, happend, my old pal is working again😊

Is a miracle! Is TOP secret what went wrong on first place!

I think this is not a WP8.X issue, but a Microsoft services issue. I have noticed people reporting problems signing in with their XBONE or having frequent disconnects while X360 seems to work fine. There are also reports of other online services having issues. I'm sure MS is working to fix these issues.

Is it Lumia 930 shown in the picture?? It look appealing.

That 930 in the Picture is Just effing Gorgeous. Such a Beauty

This phone is from the good old days, before the current CEO stepped in and destroyed our lovely platform
steve ballmer please come back!

Stil having this issue with a Lumia 640, MS told me to piss off when I asked them about it. Phone asks for a recovery key instead of sign in, and I can't get a recovery key because MS account wont give it to me. Guess I'll just throw this phone out.

Yes! Hopefully that Lumia 640 is still there at Walmart when I get paid
Windows Central Newsletter
Thank you for signing up to Windows Central. You will receive a verification email shortly.
There was a problem. Please refresh the page and try again.