HeyWire free texting app now on Windows Phone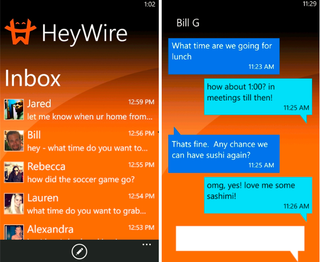 HeyWire (see website) is a cross-platform app that enables users to text each other for free from the US and 45 other countries. It sends SMS over any internet connection from iOS, Android, "dumb phones," and now, Windows Phone.
HeyWire not only lets you connect across mobile platforms, but Twitter as well. It has a simple, straight-forward user interface and can be downloaded for free here. Thanks, Amir, for the tip!
Can i send texts to people who do not have the app?

Yes your just using the phones data plan (or WiFi) to send SMS through a US number. When installing you get your number so people can reply as a SMS

This app uses the default startup screen. This shows a lack of attention to detail. Develops: I'm not buying you app if you use the default splashscreen.

I agree, it's crap when the do that. OTOH, this app is free so there's nothing to buy ;-)

If you're going to pass on this for that detail then it's your loss.
The service is good and the app works well. It will get better I hope. But I tested it and it worked flawless and for me thats more important than the splashscreen.
Oh, and its FREE

Don't know why it says "sends SMS". This is just another WhatsApp. Target need the app to receive msgs

You're saying it doesn't do what it claims? If so, that sucks... I was hoping to save about $20/month!

"Don't know why it says "sends SMS". This is just another WhatsApp. Target need the app to receive msgs"

False.

Did you even try the app? I just sent it a text to someone without the app and they responded just fine. Having said that with no landscape nor word suggestion, the app is kind of crap even if the service is good.

Well, I test it with a co-worker and he didn't receive the msg. Still, people need a HeyWire account to make this works

"¡Recuerda, siempre es gratis enviar textos a amigos que tengan HeyWire, de todo el mundo o de tu país!"


Mi hermana NO tiene Heywire instalado y pude intervambiar mensajes SMS perfectamente con ella.
Mi socio, recibio el SMS que le envie (estabamos en la misma oficina aqui en Venezuela) y lo recibio perfectamente.

It DOES send SMS for Christ's sake. Did you even use it??? God why are some people such morons?
Please look at the website http://heywire.com/
I live in Venezuela, I installed it, It gave me a US phone number that is used to send/recieve SMS.
The first test I did was send a friend of mine (also in Venezuela) a SMS and he recieved it perfectly and quick (I was standing beside him so I know he did).
The second test I did was send messages to my sister who lives in Miami, and she recieved it perfectly. SMS's from my US number and we chated for a while.
Please go troll somewhere else!

Is this SMS or IM? Is there a difference?

The service asssigns you a real "number" from which you text from via data. The receipient does not have to have the app and can respond back to you.

Exactly, And the SMS messages wotk like a charm.

Would love to see HeyTell app on wp7. Then it will be a lot more worth having.

Why does it have to be tied in with Facebook? I wanted to use something that would give me some anonymity but as usual Facebook messes that up.

I guess they wanted to use the authentication services and it supports facebook chat (In WP that isn't a big deals but it's multiplatform).

They attach it to Facebook because it gets them more attention and I hardly ever had problems with third party Facebook integration things on Windows Phone.

this one is not bad but i prefer Textfree from Pinger as it allows me to send to any number in latin america.. this one just let me send to US and Canada so far.

Dice que funciona en la mayor parte de latinoamerica y puedo confirmar que funciona en Venezuela
Just in case... It says it works in most of latin america. And I can confirm it works in Venezuela.

you are wrong it send to even jamaica and other places you didnt try it so you wouldnt know :p

I see some really bitchy people here. The app might not be perfect but I think nobody is appreciating a little fact that is important. This is a multiplatform App that at least is taking WP in consideration. For all that we complain that developers don't make their apps and services for us, this is a welcome change. Let's just hope they keep working on it

there they go bashing the app when to be it works better than whatsapp. the person dont have to have the client to get the message nor to respond to it. only downfall i notice its that you get random us number. its a nice thing to have an its free :)
Windows Central Newsletter
Get the best of Windows Central in in your inbox, every day!
Thank you for signing up to Windows Central. You will receive a verification email shortly.
There was a problem. Please refresh the page and try again.