Hitting the lanes with Windows Phone bowling games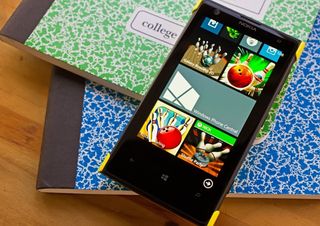 Windows Phone Central Game Roundup: Bowling Games
Sports games for our Windows Phones can have great entertainment value. These games can help you pass short bits of time or handle the longer gaming sessions when you plenty of time to kill. Bowling games fit that bill and are are the subject of this week's Windows Phone Central Roundup.
Bowling may not appeal to everyone but they are simple games to pick up but challenging to master. You often have customizations to make the game reflect more of your personal tastes and just when you think you have game play down pat, you roll a gutter ball.
These Windows Phone games may not turn you into the Big Lebowski but they are entertaining, all are free and well worth the try. We will focus on four of the more popular bowling titles in the Windows Phone Store and if we've missed your favorite bowling game, let us know in the comments.
AE Bowling 3D (free): AE Bowling 3D is an attractive bowling game with a healthy selection of gaming options. You have solo games, multi-player games, and "you vs. the computer" games. AE Bowling 3D also has several gaming modes that include single games, championship matches, and a challenge mode where you have to pick-up preset spares.
AE Bowling 3D Game Options and Settings
Settings are accessible from the main menu and cover sound/music on or off as well as ball spin control. You then have two methods to control the ball's spin direction once it begins the journey down the lane. You can tilt your phone left or right to control the direction of the ball's spin or slide your finger on the lane left or right to control the spin. I found the tilt control option to work the best.
Once you've chosen your gaming mode, you will then set each player's name and choose your alley preference as far as oil type is concerned.
You can position your ball in the lane by touch and to roll your bowling ball just tap the ball and swipe up the screen in the direction you want your ball to go. You can use your ball control to help curve your roll into the pins.
AE Bowling 3D Lane and Ball Choices
The game score will appear between each roll and a pin layout is displayed at the left side of the screen. If you want to customize your bowling ball, there is a ball icon in the lower left that will pull up your bowling ball menu. Here you can choose a ball color/pattern and weight.
AE Bowling 3D isn't a bad option to consider for a Windows Phone bowling game. Graphics are nice, there are plenty of gaming options, and has decent physics. Pin action (the reaction when hit) is good but lacks that explosive reaction when you hit the pocket (sweet spot that often results in a strike) just right.
AE Bowling 3D is a free, ad-supported game available for both Windows Phone 8 and 7.x devices. You can pick up your copy of AE Bowling 3D here in the Windows Phone Store.
Shuffle Party (free): Shuffle Party is the only Xbox Windows Phone title in this week's roundup and takes you away from the bowling alley and to a tabletop setting. Shuffle Party is a fantastic option for a quick game of bowling/shuffleboard or when you are in the mood for longer gaming spurts.
The main menu tosses out options to play the game, visit the pro shop to customize the game, access the help and options menu, view the Xbox leaderboards and check in on your gaming achievements.
Shuffle Party Game Modes, Store Options and Achievements
Shuffle Party has four gaming modes that include:
Bowling: A traditional, ten frame game of bowling played by your Xbox Live Avatar.
Shuffleboard Challenge: A game of shuffleboard where your skills at sliding the puck will be tested. You have to navigate your puck through a series of puzzles to collect coins and land in one of three goal zones.
Shuffleboard: A full, traditional game of tabletop shuffleboard.
Multiplayer Shuffleboard (Pass and Play): A two-player, pass and play game of shuffleboard.
Puck control, regardless of the game, is accomplished by touch. Tap/hold the puck to position it on the tabletop lane and swipe up at the screen to slide it down the table. The faster the screen swipe, the more power behind the puck's slide. Game scores will appear after each frame in the bowling game and after each set with the shuffleboard games.
As you play Shuffle Party, you will earn cash that can be used in the Pro Shop to buy different puck, pin, table, and table frame styles. With the bowling game, you'll earn cash for spares and strikes as well as your final score. With the shuffleboard games, you'll earn cash based on your final score.
Shuffle Party Bowling and Shuffleboard Challenge Games
One nice feature with Shuffle Party is that if you only have time for a short game, you can tap through all the animations to speed up game play. You've got the animations for the puck throw, pin destruction, the replay of the pin destruction and score summary/avatar celebration. While the animations contribute nicely to the game, they can take a bit of time.
While not your traditional game of bowling, Shuffle Party has fantastic graphics, challenging game play and one of the better physics engines around. Pin action is realistic and explosive. Shuffle Party's shuffleboard games are equally well drawn-up and benefit from the same physics engine for realistic play.
I do have two gripes with Shuffle Party. First, you are stuck with the same out-the-window scene for the entire game. The Pro Shop needs a few options to change this scene from the default skyscrapers to maybe a beach scene, a mountain scene or something off the wall like a lunar scene.
Shuffle Party for Windows 8
My other gripe is that the game is ad-supported. The ad banners make the game free but also clutters-up a very nice looking game. I am sure many would pay a reasonable price to get rid of these ads.
Nonetheless, Shuffle Party is a great game for your Windows Phone. It is available for both Windows Phone 8 and 7.x devices as a free, ad-supported title. You can find Shuffle Party here in the Windows Phone Store.
Shuffle Party is also available for Windows 8 devices and is a marvelous game for tablets. The Windows 8 version is also a free game and you can pick it up here in the Windows Store.
Rocka Bowling 3D (free): Rocka Bowling is attractively drawn-up but has a little quirky method of tossing the bowling. The game's strength may rest with the multi-player game that supports up to six players in pass-n-play style.
The main menu offers options to play the game, visit the Rocka Bowling Store, mute the sounds, and view the online leaderboard. At the very bottom of the main screen, you will see your high scores for each gaming mode.
Rocka Bowling Menu and Store Options
As you play Rocka Bowling, you will earn coins that are used in the gaming store to buy custom bowling balls, pins, alleys, and background songs. If you want to get a jump on things, you can buy game coins through an in-app purchase.
Game play is separated into two gaming modes, a three-frame game or a full, ten-frame game. Both modes support up to six players. You can position your bowling ball on the lane by touch and throwing the ball requires you tap/hold, swipe backwards then forwards. This has a bit of an odd feel to it with so many other bowling games just requiring you to swipe forward to toss your ball. You can give your throw a little curve by angling your swipe to the left or right and the faster the swipe, the faster the roll.
Pausing the game will pull up options to view your full score for the round, mute the sound effects, songs and to pull up an extensive help section. You also have the option to end the game on the next frame if you are pressed for time. Side note… the help section is very comprehensive and I'm a little surprised it's not accessible from the main menu.
Rocka Bowling Game Screens
Your pin count/placement is displayed on the marque above the bowling lane and a frame-by-frame score will appear in between frames. At the conclusion of each game, you will receive a scoring summary along with the amount of coins you have earned.
Rocka Bowling's game pace is a little on the slow side and lacks the ability to tap past the animations. Graphics are very well drawn and covers the bowling alley details nicely, complete with ceiling fans. The physics engine does a nice job of things, especially with any spin action you put on your throws. Pin action is good but a little stiff.
All things considered, Rocka Bowling 3D is a very good bowling app for your Windows Phone. It is available for Windows Phone 8 devices and is a free, ad-supported game. You can find Rocka Bowling 3D here in the Windows Phone Store.
Galaxy Bowling 3D (free): Billed as a 3D bowling game of universal proportions, Galaxy Bowling 3D does not fall short of the mark. The bowling game has six single player games and has multiplayer support. Add eye-appealing graphics, a handful of bowling alley themes and a healthy selection of bowling balls and Galaxy Bowling 3D makes a nice impression.
Galaxy Bowling 3D's main menu offers options to start a game, choose your bowling ball, choose your lane theme and access the game's settings. Settings cover sound and music on or off, a few camera view options, options to play the game in landscape or portrait view, and options to control your ball spin (finger swipe vs. tilt controls).
Galaxy Bowling Menu, Ball Choice and Settings
As you play Galaxy Bowling 3D, you will be given scoring goals to reach. As you do, bowling balls will become unlocked that represent the planets of the solar system. The new bowling ball styles will be available off the main menu. Additionally, new bowling alley themes will become unlocked after you play a set number of games. You can choose a specific alley them or let the game choose your theme at random.
Multiplayer games supports up to four players in a traditional game of bowling in pass-n-play style. Single player games with the free game include:
Normal: This is your standard, ten-frame game of bowling.
Spares: Is a game where you are presented with a wide range of spares that you need to pick up. It is a multi-level game and if you miss picking up four spares, the game is over.
You can also purchase two additional game packs to give you access to Duckpin and Candlepin games or Kingpin and 100 pins games. Each add-on pack will cost you $.99.
Galaxy Bowling Game Modes and Game Screens
Game controls fall in line with your typical bowling games. Your ball placement is done by touch and to throw the ball, you swipe up at the screen. To control your ball's spin you can either (set in the game's settings) swipe left or right to control the spin or use your Windows Phone tilt controls with the latter seeming to work the best.
Game play is rather nice with Galaxy Bowling 3D. The graphics are top notch and while the add-on gaming packs offer a lot, the free version can survive on its own. The sound effects and physics engine represents the game of bowling realistically. Pin action was spot on and all that is missing is the background noise of games being played on other lanes.
Galaxy Bowling 3D is a free game available for Windows Phone 8 devices with two, $.99 add-on game packs that can be purchased in-app. You can pick up your copy of Galaxy Bowling 3D here at the Windows Phone Store.
How do they stack up?
All four Windows Phone bowling games in this week's roundup perform admirably and I do not think you can go wrong with any of these games. However, having said that, I do think that Shuffle Party and Galaxy Bowling 3D stand out from the pack.
Shuffle Party moves away from the traditional game of bowling by placing the game on a tabletop. The game offers a little variety with the shuffleboard games. Then add the Xbox Live integration, some of the smoothest game play around and Shuffle Party should be on everyone's Windows Phone gaming short list.
Galaxy Bowling takes the traditional game of bowling and delivers it very nicely to your Windows Phone 8 device. The developer went into a lot of detail to give the game a realistic feel. When the ball hits the sweet spot (resulting in a strike) sound effects increase with intensity, the physics engine offers solid pin action and the graphics pick up the smallest of details such as ceiling lights reflecting on the lane. The only downside is to enjoy the full game is that it will cost you two in-app purchases. Then again, if you are content with the traditional game of bowling you are set with the free version.
Bowling is an entertaining gaming option for those times when you need a little help passing the time or when you are in the mood for longer gaming sessions. If we've missed your favorite bowling game, sound off below in the comments.
Get the Windows Central Newsletter
All the latest news, reviews, and guides for Windows and Xbox diehards.
George is the Reviews Editor at Windows Central, concentrating on Windows 10 PC and Mobile apps. He's been a supporter of the platform since the days of Windows CE and uses his current Windows 10 Mobile phone daily to keep up with life and enjoy a game during down time.