How do you feel about Windows Phone 8.1 Update 1?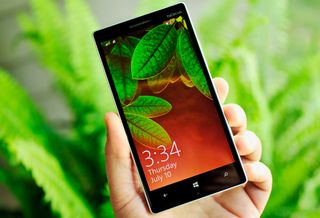 Microsoft revealed what will be included in Update 1 for Windows Phone 8.1 earlier this morning and we're interested to hear your thoughts on features expected to make their way to Windows Phone. We're talking about Live Folders, Xbox Music improvements, Apps Corner and more.
So, what are your thoughts on Update 1 for Windows Phone 8.1? Do note that if you're a Preview user, you'll be able to enjoy this update as early as next week.
Let us know your thoughts in the comments and be sure to actively utilize the UserVoice pages (opens in new tab) Microsoft has set up – the company is using feedback gathered on these pages to help shape products.
Rich Edmonds is Senior Editor of PC hardware at Windows Central, covering everything related to PC components and NAS. He's been involved in technology for more than a decade and knows a thing or two about the magic inside a PC chassis. You can follow him over on Twitter at @RichEdmonds.
I just wanted Wi-Fi direct. Please provide it Microsoft.

There is wifi direct in windows phone 8.1. Search for app called 'Easy transfer'. One of the first apps to use that thing.

But what is it please explain

File transfer using wifi. Its faster a lot faster. *flies away*

oh ok it's exactly what you can do with nfc or bluetooh but much faster. I get it now!

is a "direct" connection between two wi-fi devices.. in a normal connection you need a router between the devices.. it's used for example to show the screen of you phone in a TV without a router...

Marcelo_M , WP. Central show us a video that the 630 connected to a tv without USB cable does that mean it has Wi-Fi direct ?

No, that's display sharing via USB Posted via Windows Phone Central App

Yes. Miracast is based on Wifi Direct

In 8.1 we have just the API. http://msdn.microsoft.com/en-us/library/windows/apps/windows.devices.wif...

Sarthak: Do a Bing Search, it helps. Wifi Direct allows to you communicate directly with another Wifi Direct device. Miracast and NFC could be looked as examples. Bluetooth could be replaced with Wifi Direct.

That's wifi transfer not direct , Wi-Fi direct is when the two devices are connected without a third party Wi-Fi network. Miracast uses Wi-Fi direct technology

Michael99UK, pretty sure that the video to which Yahia is referring is the Miracast demonstration by Daniel and maybe Yahia is just anxious to get cyan on their device that will support WiDi (Miracast), such as the 1520/928, that doesn't spread host the Cyan update? That was my read, anyway.

Ok but we need Microsoft to implement Wi-Fi direct. I have tweeted jeo belfior like 10 times for it and USB host along with Bluetooth mouse and keyboard.

but it requires a wifi hotspot setup....windows phone doesn't allow wifi hotspot without active cellular data connection. That is not the true wifi direct!

Turn it on, enable internet sharing, turn cellular data off again. You can turn on battery saver if you don't want apps to use data for those seconds.

easy transfer is not literally wifi direct. but serves the purpose to some extent

You made my day, thank you so much for app recommendation :)

That app is based on wp8 not wp8.1 and that app doesn't uses Wi-Fi direct. And Wi-Fi direct is still not available for WP even after 8.1 , Microsoft dev centre has so many universal apps example on their website which run on both Windows and WP but the Wi-Fi direct code example is only for Windows not WP, clearly indicating that Wi-Fi direct is still not available on WP. There isn't a single app in the store for WP using Wi-Fi direct, consult any developer he'll let you know the difference between what is Wi-Fi direct and what is the thing the app easy transfer is using

WiFi Direct is already supported by WP. SmartGlass uses it. It just needs apps to implement it.

That's WiFi transfer, not WiFi Direct.

Mobile data toggle in quick actions please!!

Heard mobile data toggle is in there.

Hell yeah! That is one of the few things I still miss in WP, otherwise for me the OS has pretty much all the basic functionally I really need. Of course I would never say no to more functionality but that's just extra :)

Finally, someone that shares the same ideas as me. :)

Mobile data option in action centre

I'm wishing for manual Wi-Fi configuration. They can't just overlook such basic things!

I have manual Wi-Fi on my 1520. Not sure what else is missing. There are settings to put in a static IP and to manually create a connection for use with a hidden SSID.

Hmm weird. Probably because it's Nokia. Mine's Ascend W1 and I can only set proxy. The IP address box and other stuff are visible though can't be edited. I do can connect to hidden SSID though.

For those who don't know Wi-Fi Direct ,
1. Two (or more devices) are connected , one creates a network by enabling his Wi-Fi hotspot (called internet sharing in wp) and other devices are connected to the created Wi-Fi network.
2. Then anyone of them 'pushes' a file others receive them.
3. Sharing is faster than Bluetooth/NFC (approx 1GB in 5 mins)
E.g. SOFTWARE DATA CABLE on Android

I have WiDi on my Android devices but have never used it. It could be a feature to replace Bluetooth but only it is universally adopted.

You've already got it in part in 8.1 MiraCast is a function of WiFi Direct (WiDi), so the new ability to 'project' your display wirelessly is a WiDi capability. You'll require a new handset to do it though, as it also reilies on the chipset to provide the relevant hardware side of it. Other capabilities of WiDi - like connecting peripherals or transferring files are of course future possibilities, but these kind of functions are generally well served by other means, such as bluetooth sharing (or NFC-assisted bluetooth sharing AKA 'Tap-To-Share', and other such 'sharing' capabilities. I expect the sharing capabilities of WIndows Phone will continue to improve, and if WiDi is really needed then it will come. In the meantime if you think of a feature you really need, remember to request it or vote for it on windowsphone.uservoice.com ! :)

I think the L1520/Icon/930 can do MiraCast. So I'm not sure everyone will need a new device.

you can vote for that feature here http://windowsphone.uservoice.com/forums/101801-feature-suggestions/sugg...

Hey, has anyone mentioned WiFi Direct yet?

I want a fix for the hold on the preview for developers! :(

Agreed. If you're using BitLocker or not, you signed up for the preview at your own risk.

We did but most sites, including this one, claimed there would be no issues with upgrading after signing up to the preview, and encouraged it. I don't blame MS, they had all the necessary hoops to jump through. But WPCentral could have been a little more cautious in their optimism.

Lol passing on the blame huh? It was worth the risk - no regrets here.

<shrug> my criticism is warranted. And yes it was worth the risk, since the carrier I'm with takes forever and a day to approve WP updates. In any case WPCentral was clearly incorrect in their early assessment of users upgrading to DP and receiving the Cyan update.

Nothing is wrong with your phone. You'll still be able to upgrade without a problem. I have a 1020 on at&t and their official update release for my phone isn't available yet as far as I know. Their was an unforeseen issue that even Microsoft was caught off guard but doesn't mean that there is something wrong with our phones and a solution will be available next week so we can receive the official update. Majority experienced a delay - that is all. On the next developer preview will you skip it and wait?

My carrier takes so long to get to WP upgrades that I'm not overly concerned. MS will probably have it fixed in the DP side long before Cyan is offically available for me. I have two WP devices, 920 for me, and a 1020 for my wife. By the time the next preview is out, and if my early upgrade fee isn't too expensive, I'll probably go for it. I won't on my wife's phone though.

How funny. My gf has my old red 920 and I have a white 1020. Almost the same...

First Microsoft should sort out releasing the update without carrier or oem, think about feature updates. Customer just can't keep waiting for the update. All in all what's the point of making a software which becomes old by the time it reach the phones.

Well to be fair, ever other update worked without any issues on the developer preview (inclusing Nokia additions). So we are talking about Amber, Black and all the minor updates in between them. So they were going off of positive past experience. Furthermore, as far as we know DP users will eventually get Cyan. They never said there wouldn't be a delay. Therefore if the update is ever delivered they would factually be correct that every update is available to the Developer Preview users. Personally to all those of DP 8.1 w/ no Cyan. I would just backup and flash 8.0 -> 8.1 Cyan > Developer Preview ON > 8.1 Update 1. If you have like 5 millions apps or otherwise don't want to downgrade you will unfortunatly have to wait.

I can think of one way to help solve that: have the installer check for BitLocker. If no, let the user install. The rest can go through the downgrade-to-upgrade process. Sucks for them, but (1) preview at own risk, and (2) the percentage of BitLocker users can't be that high.

Hmm, BitLocker Problem just seen in Locked Devices :), so the unlocked device can have the Lumia Cyan+8.1 full version, but we don't know when, when MS will fix it? :/

100% agree. I don't even know how to enable BitLocker, I'm pretty sure it hasn't been, is there a way for us to check?

You have to belong to a corporate server and an admin has to enable encryption for your device. Can't be done on the phone itself.

Oh geez, well that's definitely not me. Hopefully they'll at least open up the update to anyone not running bitlocker, and fix them at a later date. I can't imagine there's many who are using this. I don't know any company that supports WP like this. All corps in my part of the world are on iPhone's or Blackberry's.

I am looking forward for the native app folder in the home screen :)

It's cool. I helped beta test it

Probably https://connect.microsoft.com/

Think it's like kids corner

It's like what ATT uses at their stores stop you can't access everything, only select apps. It doesn't need a password and you can't see the main phone. However, it's REALLY glitchy.

The update will be released in six months, the firmware to make half of it usable and fix the phones it crashes will come over a year later.

Tell me about it. Samsung still haven't released the firmware to support WP8.1 so as it stands right now I'll be putting a DP on top of a DP, not good for stability!!! Lets not turn this into a "Hurdur, should have gone with Nokia" slanging match, you know who you are!!!

You should have though... And you know it deep down.

That reply button is there and your fingers are itching.. You know u don't have to use it to make a comment that neo specifically said you don't have to make because it helps no one in any way. But still; you do make it. Besides, it's not like every Nokia owner has Cyan already.

Neos comment actually served no purpose either. Everyone know going into WP 8 that Samsung would neglect their devices. Android and Tizen are where they are focused. The ativ line was made just BC they could, mot BC they wanted to. I am still waiting on cyan as well.

Which put u in the esact same place as Samsung owners, making neo158's post even MORE relevant. OS update after OS update is nice, but not if it introduces all kinds of driver related problems and the OEMs and telcos take their time with driver updates.

I've had no major issues. So I can't speak to that.

Neither have Nokia on a lot of their handsets. The 920 for example is probably the worst supported Windows phone there is.

You haven't met 900 then.

care to elaborate??? I have a 920...what has been neglected??

Don't let him elaborate. I can smell the troll slobber from here.

Are you high? It was released in 2012 and it is still getting latest updates and features. How many phones can you say the same thing about?

Excuse me? As Lumia 920 owner, I totally beg to differ.

Compare the 920 support to the 810? Lol. The 920 has been good for support and I'm sure it will get 8.1 soon enough (I can't say the same about the 810).

Coming from an HTC Titan owner on AT&T... no you are wrong. I have yet to receive a single update firmware or OS. I am still sitting on the original WP7.5... didn't even get the disappearing keyboard fix in Tango

Search for seveneighter on bing and you can update to 7.8. I did that to my att htc surround and it worked great, until the screen broke. It downloads and installs any update needed to bring it up to 7.8. :)

As a Lumia 920 user, I beg to differ.

Neo>LOL!!! Posted via Windows Phone Central App

Even a lot of us Nokia users are stuck on Lumia Black with the 8.1 DP, still (im)patiently waiting for Cyan.

Why not just use the Nokia tool to go back to original and get the update. It took me like 35 min.

I might eventually, but I have the Icon on Verizon, so Cyan isn't even available to me yet. Downgrading wouldn't be worth it right now.

People are hesitant in losing all their stuff. I have all my pictures backed up and most of my music is through my Xbox Music subscription, but that doesn't mean I wanna roll the dice with this when MS could next week release an DP patch.

It's being released on Dev Preview next week... They rarely launch features that require additional firmware updates and crash phones even more rarely.

Such OS, Much connected. WOW.

Can barely wait. Next week..wohoo get hands on Cortana in Alpha. Was thinking I'll wait firmware this time, but sounds damn appealing can't wait.

Kelmeteen galbat chat 3endak!
Ya 3amee el malkawiyah men yoom yoomhom wa9leen ;D

Tareq , men enta ? , akeed wa9leen kef lw shoft 221 replays 3 one comment ;)

Ordonee Wo ba3raf ktheer malkawiyah,
*Bas mesh Wa9el ;( ;( ;( :C

I started loving windows phone because every 2nd or 3rd week a new update with cool features. But in the case of Android any new update= nothing new

Whack whack whack whack whack whack whack whack SMACK

Seems faster,NOT A JOKE,ONLY USED BY PEOPLE WHO DONT READ.....
BAAAAAM!

Well it is bringing us at par with iOS and Droid..New features=New OEMs making WP=Increased market-share!!

Soon WP will have 50% of the features of iOS and Android!! Can't wait for 2018!

Enlighten the rest of us on what IOS has that WP doesn't.

kunalnanda , its just WP store lacks some important apps , no nothing else

Wrong. iOS provides better (more types) VPN support. I am happy we are catching up though. Finally backing up and restoring to a phone is getting closer, but I still think iOS has the edge on that one. And with iOS you can backup locally too including backing up apps, with WP you have to download again which sucks because if an app isn't published anymore no way to get it (like the free Sonic CD I picked up ages ago)

Sonic isn't published anymore?!

1 - A powerful control center. 2 - A better notification center. 3 - Support for custom keyboards. 4 - You can reply to text messages from the pop up notification itself. Since I have never owned an iPhone I can't come up with more at the moment... But that's not the point, WP is still years behind Android and MediocreSoft seems to have only 5 people working on WP.

No? Why would I? I like WP better for different reasons. One is that I get to buy a phone like the 1520. Apparently Apple is going to release the next iPhone in 3 different sizes. So that will be interesting and I will check the phone out when it's out in stores. It's just that MediocreSoft is so slow with updating the phone. Too few features for each update. But we're getting there eventually. Some changes are also just bad. I miss the picture and game hubs. Being able to easily find all apps that deal with images by just going to pictures was great. The games apps is very slow and bad at refreshing, but I guess that one can get fixed with updates. But why not list the picture apps on pictures? That was one feature WP had that was great. Soon they might remove "What's new?" from the people's hub. But I'm still happy with WP. Is just that Microsoft could do much better. If it wasn't for Nokia that added stuff that WP lacked with their firmware updates like Amber, Black and now Cyan I don't think I could have been much happy about my WP. But MediocreSoft seems to be trying harder now than before.

WIndows Phone 8.1 was an huge update, and they seem to be moving along nicely with releasing Update 1 before 8.1 is even widely available.

Microsoft will grow eventually!!

That is why I'm staying on WP. They seem to be addind the missing necessary features (like a file manager) and cool things. They need to add USB OTG, HDMI output (using MHL probably but hopefully with dedicated mini-HDMI) and better support for apps to work on the background (still restricted as it is now but somehow they need to fix for certain apps that really need to work for long periods and under the lockscreen, for example there are apps that can download from torrents, I'd like those to be able to work under the lockscreen or when I use a different app). Oh! I almost forgot. They need to add the speech recognition to the keyboard. Right now only the sms keyboard (and maybe some other thing) can write using speech. If it was integrated to the keyboard then any app could use it. I'd love to not have to type when using for instance the Facebook Messenger. If they add these things I think WP would be as close to perfect as it can get. Then there would still be improvements to be made, but those are some of the things I'm still missing.

I do own an Iphone. There isn't a need for many of the things built into android for average smartphone users. No need at all. Which is why IOS don't build that stuff in. You only want that level of complexity to feel smart but that doesn't make you smart.

I'm not talking about dumb features. I'm talking about important features that Android phones have that should be in WP. Like USB OTG and many others. WP is now much better than what it was before so my list of important stuff lacking is decreasing. For instance the lack of a file manager was really bad, but now we have it. We're soon getting Miracast with Cyan which will enable me to easily show movies, presentations and so on on any screen by just bringing a small dongle (pretty much the same size as a chromecast). Many of the features we got in WP 8.1, that we will get in Cyan and the 8.1 update 1 are not dumb features are they? Having Live Folders for instance is not a feature to "make me smart". It's a great feature to put Kik, Whatsapp, Messenger and other messaging apps in one place so that I get the Tile counter for messages without caring from which app it came and saving space. I'm talking about features, boy, not gimmicks.

"Like USB OTG and many others." Define many others?

Well there is a lot left to be done on WP. Many of the features it has are half done, that's why I call MS for MediocreSoft. Always close to being great, but never is. I want to first make clear that I'm happy about the progress of WP. Before my list used to be very long, but now we are getting things like Miracast and a file manager, but the system is still lacking. Please, since you asked, don't just say that because one thing in my list is something you don't need that then it's wrong, I'll just list some of my opinions and then opinions of many people: HDMI support. The inbuilt mail app is lacking when it comes to mail attachments. You should be able to attach any file that you have in the phone. The Start background for the tiles is something I really liked, but why not give mroe options like having a set of images that could be shuffled so that the image changes say twice a day or twice an hour. Also, check this out: http://xum.ir/images/2014/05/18/wp.jpg
From: https://windowsphone.uservoice.com/forums/101801-feature-suggestions/sug...
Also similar: https://windowsphone.uservoice.com/forums/101801-feature-suggestions/sug...
The point is that just the OPTION to have it makes the system more complete. The settings is not really a feature but boy... it needs fixing. The settings "page" could be revamped to be easier to use. Here's an example: http://windowsphone.uservoice.com/forums/101801-feature-suggestions/sugg... The notification center has 4 (5 in my case, 1520) quick buttons for settings. They are dumb at the moment. Pressing the Wi-Fi one won't simply turn it on/off instead takes you to Wi-Fi settings. These buttons need quick and long press support. Many settings are missing to be added to those quick buttons. The notification center should have more than 4-5 quick options. Here's an example: https://windowsphone.uservoice.com/forums/101801-feature-suggestions/sug... The pictures hub no longer shows apps that handle images. That's one feature that existed before that needs to come back. It was one of the things that I really liked about WP, the hubs. Since it's now an app and the games app can list game apps I hope they will update the picture hub soon. Support more languages for Speech. Right now very few languages are supported which is a shame seeing how WP is actually quite widespread. I understand though that by supporting English, Spanish and Chinese you have covered pretty much half the world, but still... One feature I would LOVE is interactive live tiles. I found one example: https://windowsphone.uservoice.com/forums/101801-feature-suggestions/sug... The apps list is a mess, we should be able to sort apps depending on the type of apps they are. That way we wouldn't need to have the imaging apps in the pictures hub like I suggested earlier. Instead of having all games on the apps list why not swipe again to get to the games list? Microsoft owns Xbox so why not let WP use an xbox controller? Microsoft needs to develop an SDK for on-screen game controller. What I mean by this is that it lets the developer add say one or two thumbsticks or a D-pad and then just buttons. The thumbsticks can work on different ways, but the idea here is that once a game is made with that sdk, lets say a racing game where there isn't an actual thumbstick on the screen but instead the gyro/accelerometer has been used for it, and then it has some buttons for say nitro or something else, you can then plug a controller to the phone and the phone will understand this and switch the gyro/accelerometer for a thumbstick, the on screen buttons for buttons on the controller. So when you press A for instance, it matches nitro. The triggers are transformed into the acceleration and braking buttons. Maybe the game auto-accelerates but the developer could simply have assigned that it only happens when no gamepad is attached. If WP supported HDMI imagine how great this would be. I know I have more issues but can't remember all of them now, meanwhile take a look here instead: https://windowsphone.uservoice.com/forums/101801-feature-suggestions/fil...

I remembered a feature that WP should have and I don't get why it doesn't. The messaging app (for sending text messages) can use speech recognition to write text. Why isn't this integrated to the keyboard so that any app can use it? This is another thing that should be included to WP. It is not a gimmick. It is not useless. It is not "bloatware". It would be very, very nice to have. I can't see why anyone would complain about it.

You are talking about gimmicks Paco. If you want that shit, stick with android.

Paco? Seriously? You just showed the low level type of person you are. And tell me more about how HDMI output is a "gimmick".

Also, Paco, how about having a functional Phone (app). Right now on WP you need 3rd party apps to solve simple things like being able dial someone from the number keys just typing in the letters of their name. Is that just a gimmick, would you say?

Average smartphone user, they don't bother posting on forums brother, I know a lot of users who don't even updated once and still using the stock OS which they got with purchase...

Simple is powerfull. Otherwise it will just lag and lag... and get messy...

That is true. That's why I don't want dumb stuff added in. But there is still quite a lot of stuff that is still missing.

Totally agree, but here in WPCentral you won't find a lot of parcial users. 99% of WPCentral users are just Windows Fan Boys, who will not see anything beyond their beloved windows phone, just like iOS users. I like all Mobile OS and non is perfect. That's why I have all 3 (and a playbook). We android users are more parcial to any OS than iOS and WP users so we get to enjoy mobile phones a lot more than the iSheeps and WinSheeps.

Sorry to say this but you sound like an android fanboy yourself by saying stuff about android users. Maybe you are a fanboy of android users. The reason I say that is because the people who bash WP the most are android users on pretty much every video about WP out there.

1. wp has a powerful control center 2. wp has a better notification system/center 3. ios doesnt have this yet either. ios 8 isn't out 4 ios doesn't have this yet either.

That's the point. WP needs to catch up yesterday, because otherwise WP will always be behind. iOS is doing catch up with android now and I hope we will soon have caught up with iOS and left them on third place when it comes to features at least so that then we will soon get second place on shares also.

More features != better. If they wanted to cram in a ton of features you don't think they could? They are the largest software company in the world. MS has said all along they want to make a consumer phone OS that is suitable for the average user. It is not for power users. They don't need to catchup and they don't need to surpass anyone. They need to do exactly what they are doing, which is make an OS with mass appeal for feature phone -> smartphone upgrade users. They should try to compete with iOS features wise but not Android.

TL;DR: Can't be done, if you think you don't want to read it then don't. Otherwise you have to. Wall of text: "More features != better." It's not about the ammount of features. It's about the lack of important necessary, practical features. For instance HDMI output, could be done with MHL support. Another example is a file manager. Before microsoft added this support the phone was useless in many areas, before you couldn't even open a pdf file from your phone. I remember how much it bothered me that there was a Documents folder on the phone but you couldn't simply move office or pdf documents from you pc to the phone to easily open them later from the phone. You HAD to use onedrive or mail them in order to access them from your phone. There are TONS of examples of features that the phone definitely needs in order to be deserving of the "smartphone" name. I'm really happy to see many of the basic features missing on WP since WP7 finally getting here at a fast pace which is why I'm staying in hope of more progress. "If they wanted to cram in a ton of features you don't think they could?" No, I do not think they could. Many features that got people into WP were even initially from Nokia, like city lens and even storage manager. Many of the features that have arrived and still haven't were announced a long time ago and were delivered over several updates and with bugs. For instance on WP8.1 Internet sharing no longer works, at least not on 1520. And many (or some) of the features are half-features, meaning they could have been done well and complete but instead lacked. For instance now we have sort of USB support but still not OTG. I cannot remember what other examples which is most likely due to the fact that Microsoft has finally completed most of my complaints. Either way, I do not think Microsoft can do it because they have been very slow, but that was before, they seem to be faster now. "They are the largest software company in the world." Yet it feels like they have only 5 people working on WP. "They don't need to catchup and they don't need to surpass anyone." Wrong. There would be no reason to switch to WP which has a lot less apps if they do not offer more than other systems. To give up the ability to have a large app store with the important apps in it which update quite often on other systems but are many times almost forgotten on WP you need something more. For many of us using WP we have found our reasons why we love WP, but for other people they just don't find it interesting. When it comes to hardware it is like Linux and Windows. Windows gets supported with good drivers while linux most of the times lacks the support. WP is the same, you will often find that you buy a new router or w/e and it says it supports Android and iOS but practically never WP. Featurewise WP is getting finally complete, but since third parties are not supporting WP that much due to lack of people on WP Microsoft needs to either add new features that will be practical but also blow people's mind in order for them to give up android or iPhone and come here. With more people more third parties will support the system and eventually WP will le