How old do you believe you look? Find out with VizAge for Windows Phone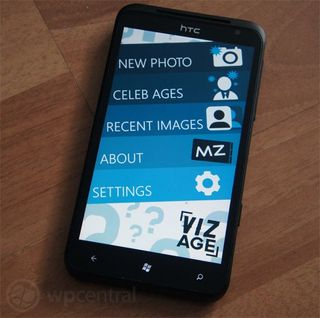 Dare to find out how old you look?
We're rather familiar with Mendzapp on windows Phone. The small UK student start-up brought us both Travelnapp and YuleTile (charity focused Christmas app), which were both unique and interesting projects. We especially love seeing indie developers advance and create more immersive and better looking apps, which is exactly what these guys are doing. We met up with James from Mendzapp at the previous WPUG for a good ol' pint and a chatter about his current projects and what's next in the pipeline.
James recently got in touch with us about a new app called VizAge, which is basically an app that uses face recognition technology to calculate an estimation of one's age. It really is as humorous as it sounds. Whether you're on your own and wish to quickly see how old the system believes you to be, or you're out with friends and decide to see who looks older than their actual age, VizAge provides ample fun in such a small and simple app.
The main functionality of the app is of course the capturing and analysing of innocent people to have a computer calculate their age. VizAge can be used on anyone, but requires a clear shot as age results may differ depending on how the photo was taken - much like taking passport. Once the photo has been taken (supports both front and rear cameras), the image is sent off for "wrinkle analysis", which is then sent back with the anticipated details. Of course, this is a novelty app and should not be taken seriously.
With the photo successfully taken and humiliating data now present on the screen, VisAge offers a number of options for the user. Using the integrated Windows Phone social profiles, the app is then able to publish a quick announcement to the world stating the age, etc. If you'd like to compare with celebrities, this is possible, or you can look up what they scored compared to their actual ages, which leaves plenty of room for sniggering and giggling.
I really like the design and feel of VizAge, as it's something new which stands out. The UI and transition effects used are both intuitive and refreshing. But what's an age calculation app without some test subjects? Well, I guess I should really boast what I received when I made use of the superbly, wonderfully and incredibly accurate functionality of VizAge, right? Here we go:
I'll take those five years off me, thanks! Not to mention the app reporting that I could be as young as eleven - not too bad if I do say so myself. What makes things worse is I was compared to Jusitin Bieber, who "looks" two years younger. That's pretty much VizAge in a nutshell. While it doesn't pack an awful lot of features, the functionality is amusing to say the least.
You can download VizAge from the Marketplace for $0.99 (£0.79). A free trial is available with a maximum of 3 photos. Let us know your results in the comments below, or better yet, share them with us @wpcentral to reveal your secrets to the social sphere!
Rich Edmonds is Senior Editor of PC hardware at Windows Central, covering everything related to PC components and NAS. He's been involved in technology for more than a decade and knows a thing or two about the magic inside a PC chassis. You can follow him over on Twitter at @RichEdmonds.
When I tried this, it let me take up to five photos. Also this uses (I believe) the face.com API. Which was recently bought by Facebook, and this app won't work for very long. (correct me if I'm wrong)

Hi ZuNuKoo, thanks for raising these questions. We recently decreased the number of photos allowed in the trial from 5 to 3. As for Face.com, we recently secured an extension to access the API up until October but after that VizAge will still remain active as we have been in contacted with some developers in the US who are developing an alternative API which will be a great replacement!
Thanks for raising these questions,

Thank you for clearing that up. If there's another app like this one I'll be installing that one also.

I had it when the trial was five pics too. I still have that version and didn't "upgrade" today. The app was WAY off my age, but in a good way! :). To be fair, people often think I'm younger, so I'll have to do further testing.

Said I was 25years old, when im 43. Guess it chooses flattery over honesty.

lol said I was 29. I'll take that!

Gotta love being 21 again, this app kept loads of my friends hating me at a party recently....i was younger, and they were older hahaha, aweseom

Nice app. And yes Zu it is just a client. The processing is done on face.com. The app is nice though.

tagged me as 18... i'm 31... WOOHOO!

I'm surprised it didn't work very well for the people commenting here, it worked quite well for me, it missed for 3 years.

It showed me 20 years while Im 17 haha, not bad though... but Im not that old :P

Doesn't exists in Sweden? Says not available for my Device (Nokia Lumia 920)

apparently it was shut down everywhere, in the first comments you can read that the API was bought by facebook and that they were going to use another one, maybe the failed :/

also look at this http://face.com/
Windows Central Newsletter
Thank you for signing up to Windows Central. You will receive a verification email shortly.
There was a problem. Please refresh the page and try again.