HTC rumored to be building a Windows Phone version of the new Android flagship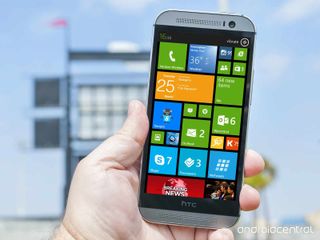 We'll be the first to say that we wish HTC would take its new One (M8) Android device and slap Windows Phone on it. It's a truly beautiful smartphone, just read Android Central's in-depth review of the device to get an idea how it looks. We ran a quick poll yesterday asking if you would like to see a Windows Phone version, but rumors are suggesting one may be in the works.
According to a report over on WPDang, which has a fairly solid track record for rumors and reporting, HTC is indeed planning to at least use some elements of the new Android flagship for an upcoming device running Windows Phone 8.1. Sources suggest that the new Windows Phone will share some of the technology and design of the HTC One (M8).
As a recap, the HTC One sports a 1080p LCD3 display (5-inches), Snapdragon 801 CPU, 2GB RAM and either 16GB or 32GB internal storage. Even though this is rumor, we can definitely see this happening and have no reason to question the source. Still, take with some salt and we'll look to update you all should we learn of anything else.
Microsoft has been attempting to bring Android hardware vendors and Windows Phone closer together with a number of measures. We could see a HTC One-type product running Windows Phone and believe it would be welcomed by the community as a new breath of fresh air, especially with Windows Phone 8.1 loaded.
Source: WPDang, via: Windows Phone Daily
Windows Central Newsletter
Get the best of Windows Central in in your inbox, every day!
Rich Edmonds was formerly a Senior Editor of PC hardware at Windows Central, covering everything related to PC components and NAS. He's been involved in technology for more than a decade and knows a thing or two about the magic inside a PC chassis. You can follow him on Twitter at @RichEdmonds.
I would definitely go back to HTC for a device like this.

Yeaaaaaaaaaah, very good news, I will be getting the HTC!

Would love yo see a better camera than the one on M8 but it would be an excellent choice nonetheless.

It's interesting they're using such a bad camera on the One. I had an HTC radar a while ago and it took amazing pictures for a cell phone. Hell it's still better than the phone I have currently. If HTC could up their game on the camera (as WP seems to be known for) then there would be a very good chance I'd pick this up for my next phone.

You do know the camera or should I say cameras Lol are not very good? Posted via the WPC App for Android!

Best front facing camera in the industry.

Front camera usage is exceeding low. And it's main camera, looking at the samples out there, is bottom of the pack. So much hype, so little delivery.

No it's not. Many of the Chinese OEM partners have at least a 5MP front camera and one was just released with a 13MP front camera... But if you are on wpcentral, you should know by now that megapixels aren't everything....

I HATE Selfies and don't use Skype. I'd rather a better rear facing Cam.

Atleast HTC tries there best, not like crapsung who are gonna release a gs4 with wp instead of the gs5

Where'd you get your info? I'd love to read it for myself.

here, it was a post on Wp Central that said samsung will most likely release a Wp version of GS4, even though the GS4 and the GS5 look the exact same.

I couldn't agree with you more!

First thing I thought when I saw the change to no hardware buttons on HTC One was a WinPhone version.

I want the iPhone with Windows Phone 8.

It's called Nokia 520. You're welcome.. ;-)

Haaa. Pos apple products.

I'm just messing with people. I would never want an iPhone or any Android phone with WP. My favorite Windows Phone slogan is, "It's not designed for all of us, it's designed for each of us." I know this is supposed to be just for the OS, but I feel sad that this is no longer going to be the case for the devices themselves. Nobody seems to agree with me, but there's nothing I can do about that. I've been feeling so disappointed these days, with the announcement of this as well as losing the requirement for the dedicated camera button, etc. I'm still looking forward to 8.1, but I'm on T-Mobile, which depresses me even more.

The 520 is a decent phone though, unlike the iPhone :P

it is forsure going to be like the htc 8s on sprint where it had a lame version of boom sound. But i was wondering why they got rid of the capacitive buttons on the m8 where as the m7 had capacative buttons! i could be they are planning on throwing windows phone on it! but last time a rumor was like this all we got was the lame htc 8s on sprint

I would - IF Nokia fails to give me a 5" phone. If the 930 is another 4.5er or the 1020 successor is one - HTC it is. And that is despite personally hating metal phones...

My first smartphone was an HTC WD7 phone...excellent device; easy to use & learn Bell Canada Wireless fee was excessive so I sold the phone. I would be willing to try/buy the Windows model or the Android model.

Good if it comes but lets talk about dev preview first for about how many days its getting delayed.

First Naval Strike, then this? The humanity!

Yeah even I am really apprehensive about it. All the days of waiting have to end next wednesday. For God's sake.

Yes, could WPC do an article to address the Preview delay rumor. They mentioned it coming on April 2 numerous times, and would like to know if that is still the case.

If cotulla works with that device...

Not sure why you want a small town in Texas to work with a device but anything is possible I suppose.

LOL.. LBJ was there though...

One good thing about LBJ. He's dead.

Not really, he got a lot of people killed for no good reason. He was also a lying, manipulative scumbag without a single scruple.

Very nice app but im committed with onedrive, I've completely ignored other services.

This would set the cat amongst the pigeons. The Nokia phones are good but they lack any real competition. This phone would add serious competition which can only be considered good news for WP fans.

that i would love to see, and we always need more phones to spread WP love...well that and better know how by store reps, i find it sad that i know more about the devices, software and updats whenever i go to t-mobile. i also noticed that they keep the WP devices in a lonely corner in the back of the stores too. anyway now as long as they keep up with the WP software and make good deals like nokia on apps, we will see a head to head. that was the thing i hated about htc they made 1 or 2 phone's and after that it seemed like they abandoned it for maldroid. the 8X was a good phone, but htc never really did anything with it after the first couple of months and never made another.

They put BoomSound on their 8XT, but skimped on the screen (480x800). Otherwise, it was a damn good phone, only held back by the screen (which isn't bad, especially for WP) and the Carrier of choice for it (Sprint). The dual front speakers I long for, even though my L925 (t-mobile) is superior in every other way.

Yeah I went to my local tmo the other week with my mom and the two lone WPs they have sit in the back corner next to the cheap android and feature phones. Sidenote: she got a S4 but returning it for a 925 after she saw my 1520

shop around then, you can get it for $200 outright, slap your t-mobile sim in it, and you're good to go.

Hahaha. It's downright annoying when these carriers treat windows phone with such disdain. It ends up misleading potential buyers as they get the erroneous misconceptions about windows phone being just an ordinary phone. So annoying.

And that forever will give you about one more month

Nice looking phone, but the level of support from Nokia is what really sells their devices. In order for me to switch, I want to see the same commitment from HTC or Nokia's apps make it to all WP devices once the sale is final and they are an MS company.

This for me too. That phone looks amazing but there is nothing worse than the day new app exclusive or features get announced for a Lumia and you're sitting with a Samsung or HTC in you hand trying to convince yourself that you don't need that anyways. I won't go back to that

I disagree. There is nothing worse than having to wait 3 months for a firmware update on WP8 just because Nokia has tailored the update. At least I'll be enjoying WP 8.1 on my HTC 8X within the first month of it's official release...

Good point. I am likely scared from the complete lack of attention from Samsung with the Samsung Focus.

I promise you I've never waited for an update 3 months after your HTC got. Never.

Yeah, because that doesn't happen with any of the other OEMs. /s

Same, would love this phone but really can't live without the huge amount of Nokia exclusive apps. If the Nokia apps are available on all windows phones after the Microsoft acquisition then I might consider buying a non Nokia.

I don't get all the 'HTC doesn't support WP8 phones' comments. The HTC 8XT was the first in the world to get both GDR2 & GDR3, both included firmware fixes...beating Nokia by months. Not weeks, Months before the first Nokia phones got Black. The HTC 8X also beat out Nokia... HTC doesn't heavily skin their phones allowing for quicker upgrades, think Nexus vs. Galaxy S series. I prefer the lightly touched version on my phone over the heavily customized Nokia models. I'll choose that over a Nokia everytime.

But at the end of it, Samsung sells more than a Nexus device. :)

Totally agree...only making the point that HTC does support their phones.

I could care less about the upgrades when u have a whole app store with nearly 2x as many quality apps than WP store it sell who cares u get a update a lil early that's why u get dev preview on ur phone. U get apps and updates and great support for both

You will if a Developer Preview goes bad...I seem to remember a Nokia App or 2 having issues with the GDR3 preview. Minor annoyance I'm sure, but, what happens if there's real damage? Corrupted SD Card or SMS not working properly, battery drain issues, for example...would that be ok? And what about all those users screaming for months and months "Where's my Black update?!?!?", they would seem to think otherwise. You have to look at those risks objectively...err...wait, this is an internet forum...nevermind.

Lol, my 928 got Amber and Black the day they were released. Beat Nokia? No, that's a nice fairy tale.

Umm...GDR3 came out in October...Black came out when? January? No fairy tale...its called reality.

Maybe if it had a significantly better camera.

I really loved my HTC Titan and Titan II. I wish they would release an updated Titan III.

Would love to see a wp8.1 version of the touch pro 2 but not holding my breath, the touch pro 7 didn't do well mainly due to the some what middling landscape support in wp7 (check pocketnow's review - http://pocketnow.com/windows-phone/htc-7-pro-review ). There certain parts of the os that are still locked in portrait, which is a shame I am hoping ms has fully unlocked the landscape orientation throughout the os in wp8.1 i.e games hub, office hub, people hub to name a few examples.

Had the original Titan, call quality was atrocious. Hope they have improved in this aspect.

I've never used a Touch Pro. The original Titan was my first HTC phone. I agree. Call quality on the Titan was horrible, but I loved the look and feel of it. With the Titan II, HTC got it as close to exactly right as possible...in my opinion. But I could see a 5 inch Titan III running WP8.1.

I agree about the Titan. I loved the design and hardware, but didn't love how WP7.8 was never released for it. I'd be happy to see some diversity in WP hardware, but I'm pleased with my Icon.

If this does happen any way we'd be able to take this and slap WP8.1 onto the HTC One original? I have it in red but want my WP goodness and can't get a new phone (that includes selling this and buying a new phone with the money I get for it, if I sell this I have to wait a year and use my HTC Titan instead) Posted via the WPC App for Android!

An android user wants to switch to WP, that's great.

I was a WP user before Phones4U forced me into becoming an android user by forcing me to take an android phone when my Nokia kept going faulty. As the 920 had already been discontinued there my options were take an android phone or be stuck with a faulty phone. Since 7 repairs didn't fix the issue. And trust me, I miss my Windows Phone. My friends all think I'm an idiot for wanting to "sacrilege a perfectly good Android device" but for me Android is the sacrilege! I want my WP! Posted via the WPC App for Android!

Start a new era with a WP8.1 device; advise, I will.

I would prefer they stick with their 8x styled offerings, with colorful options, but I suppose that the familiar look of the One design might be good for WP as far as adoption is concerned...

The fact that MS has loosened up its restrictions is the very reason this could be a HTC One variant with cutting overhead cost of creating a new design. I would hope it has some distinct characteristics however.

Yeah, I'm really excited to see how that helps the platform out.. IMO that's WP8.1's best new feature,,, being able to run directly on Android hardware... I think this not only has to do with hardware restrictions, but it sounds like maybe 8.1 is coded a little different so that it can be directly loaded onto Android hardware.. But, I'm not sure about that... If so then that should really help the platform out as far as OEM adoption is concerned.

I never owned an 8X but it is a much nicer looking phone and is comfortable to hold.

The 8x is really nice my friend has one, and I've used it a lot.. It's equal or better than Lumia devices, as far as look, and feel go...

The 8x is a nice looking phone but very vulnerable to wear and tear. They aren't pretty after a couple months.

I've been using my black 8X since January 2013 & it still look brand new.
Same with my sister's 8X.

My nephew owned an 8X. It is indeed a nice looking, comfortable phone. His family just has terrible luck with electronics though. It got to where his power button wasn't working, he would have to use the camera button to wake it up. I think that was his second one since he had some problem with the first one. He's currently using my old L900, but it has its own set of problems. Unfortunately, since his renewal time is coming up, he's planning on getting an iPhone since he has a MacBook and the rest of his family has them.

No microSD, no deal. I would've gladly bought any top-end offering from HTC, but the 8X is firmly mid-range and 8S low-end. Such a shame to see them do practically nothing since W8 release

The M8 has SD card slot, if they're making this phone an exact clone of the M8 just with Windows Phone (which this article is leading me to believe) then it should. Just because this one article doesn't specify doesn't mean its gone.

I'm spoiled by Nokia's camera. I can't accept a 4M camera, even if it's UltraPixel. So no, thanks, but no.

Why you that for ? You'll never know maybe this phone will have a better camera the Htc one with megapixel not ultrapixel.

Chances are it will have the ultra pixel camera, HTC are totting this as a high end camera tec. Don't get me wrong it takes amazing pictures but i personally feel they lack depth and detail when zoomed in later. For landscape pictures its ideal :P.

I had/have an HTC One (son has it now)...the camera is great in a very narrow set of situations...I'd rather have a traditional higher MP camera. I got a few great pictures, but most just look like plain old 4MP photos...nothing special

If Nokia doesn't release a new phone that is at least as good as the 920, then I may have to get this phone. I love Nokia, but they seem to be making only niche phones recently.

Not true. The only niche phone is the 1020. Every other phone has its place in the market.

The 1520 is a niche product at its size. They haven't put out a new phone that competes directly with the android flagships in a long time, except the icon, but that is out on one carrier in the world.

I disagree with phablets being a niche phone. It may be Windows only 6 inch phone but there is definitely a demand out for phablets. A 41 MP camera phone however, not so much. That's why I didn't mention the 1520

Don't forget the 1320... There are two six inch Windows phones...

Right. Thx for correcting me.

No way I see the 1520 picking up sales after 8.1 top of the line hardware already just needs a update maybe the rumored Green and hopefully the 920 variant has microsd this time and I'll buy 5

I think they have a slightly different time cycle to most OEMs, they have been only bringing out niche phones so that their flagship (L920) doesn't feel stale for those that picked it up when it was newly released, and I really like that. Being on a 2 year contract I was worried about new phones coming out and because of that no longer being satisfied with my L920 but not being able to buy a new phone because of my contract, but since they haven't made a successor to it yet I am still very happy with it and still fell like I have a top of the line phone.
I think that is what Nokia has been aiming for, a different kind of customer satisfaction.

+1, having seen relatives stung in the past buying a phone on contract i always buy sim unlocked phones as you invariably pay roughly 1.5x to 2.5x for the cost of the phone during the life of the contract when you compare it to the sim only version of the contract. Don't get me wrong contracts are okay if you want spread the cost but its way cheaper if you set aside €/£/$10 to 20 per week and get it unlocked. This way if you don't like it after a one or two weeks, you can always sell it and get another phone.

It is inconceivable to me that they would release a 930 that does not improve on the 920. Love my 920, but a bigger battery and infra red would be nice. So then I could control my devices with it. Makes more sense than the damned heart rate monitor in the Samsung. My wish list is, unrealistically,: 4.5-5inch screen, Qi charging, 1030 quality camera, 2GB RAM, 32GB storage, infra red out, decent LCD screen, 2750MA battery, FM transmitter.

Yes! This exactly! The only reason to ditch my 920...

Just give me the icon with SD card and I'd be happy and the 3d gesture thing would be cool swing for windows

I loved the moto 360, i hope Nokia gives us something like it...

That would be a great device to rock Windows Phone 8 on.

I hope they trend towards a bigger version of the 8X design. That's one sexy phone. Throw the new camera and sensor on the back, add another speaker on the bottom for boom sound and give us a five inch version of a Red, Blue, White, Black and Yellow device. I have the HTC ONE and while its the sexiest phone I've ever seen, metal takes a beating and doesn't look as good in varying colors that aren't silver or gray. Oh yea, give us the camera module from the HTC Titan line instead of the ultrapixel camera with zero zoom capabilities.

Have to agree with everything you said.

I would definitely try HTC if they're making this.

This would be an awesome phone to come out for WP8.1. I would be tempted to drop my Icon for this phone. Only issue would be the camera.

I would love this phone. And almost definitely buy it.

Samsung, HTC, and hopefully Sony will be adding some stiff competition to the WP line up. I wouldn't know where I would stand. I'm not however to keen on HTC but I think after all the HTC One X backlash they got their head together better. Would be nice if it held the same standards as the Android variant. Personally I live that cover they designed for it. It intrigues me.

Maybe they should name it: Htc 8.One,,,,, lol

I would welcome the HD8 with open arms, But Nokia has a great track record with camera and updates. MS better not fuck up the soon to be sold Nokia hardware/software division!

Thanks, i love my Nokia..

Definitely a good thing. I'll be sticking with Nokia, but I know that many would love a high quality HTC alternative. Hope it happens.

But there is no physical button on the front panel. How will you get home? Posted via the WPC App for Android!

those restrictions are gone in 8.1. On screen buttons, baby..

Or if its anything like the HTC One the HTC logo would be the home button

The thing about this device is that Nokia have none 5" and from my point of view 5" becoming to be the perfect size for a device

Having bought a 1520 when first released, that should give me plenty of time until it's time for a new device. If Microkia doesn't get it's act together after the buyout, whoever has the best Window Phone device and offers full app and firmware support gets my money

For a a WP site there's an awfully lot of android related news being posted, OS envy perhaps?

It's because WP is getting more popular. So you have a lot of ''Android app X and Y coming to WP'' and ''OEM X consider running WP on their android flagship Y''. I don't see how that makes it OS envy, if anything its the opposite. Where Android once had compelling thirdparty software and hardware, our favorite OS now has it as well + the stuff that makes it unique.

Only way I'll consider a non-Nokia device is if once Microsoft purchases them, the Nokia exclusive features begin to make their way to other devices as well.

Yeah,with camera key and a 12 mp ultrapixel camera.

Better a Z2 instead with WP 8.1

I have HTC 8X, amazing smartphone, durable, stylish. If they will launch the M8 (maybe they will call it M8X?) I will buy it.

Woeful storage though. Only reason I didn't buy it, and glad I didn't

It can handle a 128GB SD card...

He meant the 8X, which is true, it doesnt have SD support, however for me this was not an issue

Yes please! Although they really needed a 6 or 8MP Ultrapixel camera. Increase the sensor size if you need to, but daytime shots are too grainy as is.

Nice. I do prefer Nokia, but it would be great if HTC releases a WP version of the all new One. I think they should definitely include the microSD slot for it like they did with the new One, too.

It looks really nice on the concept picture, it looks reall sleak, a lot of potential. On this kind of ''industrial design'' hardware a more diverse UI (in terms of color) such as in the picture works best. Now only if we could categorize apps in the startscreen (like Windows 8) and add backgrounds. I think that kind of UI would make a lot of Android customers reconsider Windows Phone.

I need more than 4 MP, waiting for the 930.

I use to own The One, its a great phone, just has the wrong OS on it. LOL but won't downsize to it.

Any HTC android phone on market looks cheap compared to Lumia high-end. So stick to Nokia.

I disagree. For me, the design of the 8X convinced me. The lumia's are nice, but they aren't stylish. The 8X is beautiful, even when you are hold it in the hand it feels special.
=

Seriously have you ever seen an HTC One? That device gives real competition to Nokia flagships in terms of build quality and hardware except the Camera (I am a Nokia fan and all my WPs are high-end Nokias)

Pleeeeease HTC, hurry up. Pleeeeease!

I'm really going to be upset if I lose the camera button on my next device. I currently have a Lumia 920. After spending considerable time shooting photos and video of my kids in the snow last weekend, I LOVE my Lumia's camera button and super-sensitive screen.

Let's hope they won't use the same low mpx camera. On WP they will be competing with Lumia phones, so if the camera will be the same as in M8, despite the rummored metal design, they will not stand a chance

Only buy if it has all Nokia Apps...

Great news if they actually do this, but I'll stick with my Yellow Lumia 1020 with all the awesome Nokia support :)

Well, despite being a Nokia fan, I don't think they are necessarily going to always be the "end all be all" of Windows Phone, even despite being part MSFT. HTC has for the most part, always made impressive phone hardware. If they make a Windows variant of this phone, I'll certainly be getting one.

This would be dope! But I already have my Icon, which I love. But the more beautiful phones, the better.

This is a great idea but it all comes down to support. I have the HTC 8X on VZW and it is a great device but I miss the support that Nokia gives. No exclusive apps, etc. But if the MS/Nokia merger makes this go away then this device would be really compelling.

The M8 design doesn't fit well with WP. I prefer if they improve on the 8x design instead, maybe with metal body but keep the simple lines without the textured feel.

This would be good for the ecosystem. The M8 would look great running WP8.1. That said, am sticking with Nokia as their product line and quality are the best in regards to Windows Phone.

Hopefully when it's released here in the U.S. it will be available to all the major carriers & not have carrier exclusivity nonsense like Nokia does.

Given the way HTC "supported" the 3 Titans (incl. Titan II) I had, no thanks!

Oh yeah! With that "awesome" 4mp rear camera? It will smash Nokia's offerings for sure. /s Honestly, I'd rather they use the design of the HTC One M7. The M8 is unnecessarily big and as cool as the metal brushed back looks...it's begging for dents and scratches and whatnot. If they use only the internals of the M8 (except the pathetic "UltraPixel" camera) but the design of the M7 or keep the designs of their current WP line, then it should give a fine phone, in line with the L930, Xperia Z2 and the iGalaxy S5.

OMG, it greatttttttt. Shut up & take my money!


Well The One is a great phone but the camera its just pathetic...ultrapixel and that shit aditional camera to make an effect we can do with nokiareframe?

My first ever Windows phone was the HTC 7 Mozart and I absolutely loved it! It had a tiny 3.7" screen that was as clear as could be with a gunmetal coloured casing that always felt cold to the touch! The HTC apps or support were not very good but it was Windows Phone 7 and I am not sure if any Windows phones at the time were supported very well. These days I have a Lumia 720 which I also love, it gets lots of attention from Nokia with constant app updates, the battery lasts forever and the OS ecosystem has changed beyond recognition. Unfortunately, my Lumia is still an oblong piece of polycarbonate and I think as the OS matures, and myself with it, I am starting to get envious of the stunning looking phones that are crafted from precision engineered pieces of aluminium! I think the HTC One would be a big hit on Windows Phone, I know I would buy it. It would give a high end feel to Windows Phone that the Lumia range somehow lack! I would also like to think that once Nokia is taken over by Microsoft then the app issue would be solved as Microsoft would be creating and maintaining the apps for their phones and it would make sense for Microsoft to push any apps out to all Windows Phones!

Shold be ALL Technology. Better than any Nokia design

I don't know, but what is the deal with Bluetooth problems on WP. I have a 920 and 520 with black update and they both have Bluetooth problems. I thought the Black update was suppose to fix Bluetooth issues, it made it worse actually.

Currently have an 8x and missing the exclusive Nokia apps

To be honest, I had much better luck with my 3 HD7 devices than I have had with my 3 Lumia 920s. I never had to replace an HD7 due to lockups and constant reboots. Though beat to crap, never had to replace a screen. The only problem was the battery and I could replace those. Of my three 920s I have had two broken screens, two lemons replaced and a third that probably should be. It's battery rattles, the ffc is filled with crud and the earpiece is dying from trying to clean out the ffc. If a 930 and an HTC device based on the One are both available, I will probably opt for the HTC. If there is a 1030, I'm not sure about my wife. She likes the camera, but also comments on the one every time she sees it.

This would be awesome, especially since it might actually land on Sprint. I could finally get a worthy WP! Any rumor suggesting timeframe?

And Yes, as a Nokia fan myself i know htc is the only oem to hold the same crafting, build quality than Nokia, maybe even better. This thinny thing is very resistent, leaves the cheap plastic crap from Samsung very behind

No deal if they include that gimmicky ultrapixel camera. I didn't like it on my OG HTC One and gave it away to my son. Build quality was phenomenal, but the camera left much to be desired.

Competition is always good, so I'd welcome it, but it would take a LOT for HTC to outdo Nokia. Everything on Lumias has been superior, from hardware design, quality, apps, camera, etc. Nokia is simply in another class right now.

Forget it, I know HTC so well, it's not going to happen, they would only make Android phone, when it comes to Windows Phone device, HTC would only make mediocre one.

count me in... def would jump off ship for this if it DOES happen.

In that picture, was the WP start screen just pasted into the screen? Hahaha Posted via the WPC App for Android!

Might be a good phone but everyone I know had a hd7 and had nothing but problems with the phone

I think HTC should stick to WP design principles as it did with the 8X, the One IMHO smells like Android. Of course, that may lure new people into WP...

Might be enough to tempt me off Nokia if true. Lets see what Nokia say on the 2nd April.

If only it had Pureview software.

But doesn't Microsoft require at least 5 MP for Windows Phone's main camera?

I picked up the HTC 8X shortly after it came out for Verizon. I absolutely loved the phone, but there were two major issues with it-there was a sim card error where I would lose service(sometimes had to reboot to get service back) and the phone would randomly shut off(and not turn back on) sometimes up to ten times a day. I ended up getting the Nokia Lumia Icon and I love this phone. I'm not a Nokia fanboy, but Nokia really builds a great phone. It's a shame that I would be worried to go back to an HTC device, but once you have problems like that and they don't get fixed, it's hard to go back to a company. I hope that if this device gets released that it's a good one. However, Nokia has won me over.

Nokia/Microsoft Lumia is the only windows phone I'll be getting in future..

I doubt it, we heard this same rumor about the HTC Harmony and look how that turned out..

I would buy one immediately

I hope they slap on a real camera on the Windows phone version, instead of that 4 mp gimmick one the Android HTC One has. I know I own one and I loathe the camera.

Yet another puked retread. I'll stick with the best devices out there: Lumia. HTC=Samsung=Apple=ugly garbage.

Why make such absolute statements? I am a Nokia fan and do not like Samsung at all but you should not say they are garbage. It varies from person to person.

Me encantaria, el problema es que si lo sacan al mercado 6 meses despues, Android ya tendria un M9 en el mercado y tendriamos un HTC con WP8.1 "obsoleto"

With this news, what is the likelihood that carrier exclusivity will (at least somewhat) be a thing of the past? Having something like this device on ALL carriers at the same time would attract more people than the few stuck on a certain carrier.

Would totally get this as long as they don't dumb it down.

Agreed, this needs to be a flagship WP

Use that metal casing and dual front speaker. Ditch that Galaxy rounded corner and that Ultrapixel camera.

I like Nokia, but I still remember quality of mine HD2 so I'm sold.

I'm in. Have 8x now. Hope Nokia apps come after acquisition

You can't get everything at once. I can say the same that HTC apps can come to Nokia devices.

Needs a camera button. Hell! Needs a camera! Though I have had multiple HTC phones - all great, btw, I'll stick with my Lumia 1020 and its successor... Why go backwards?

I'm not a Nokia fan boy but here are some facts: Drop HTC One out of the pocket on concrete.Than drop Nokia 920 out of pocket on conrete. Repeat with back and screen hitting the ground first. See wich one you keep. Nuff said.

Don't be so quick to judge, I've tried on multiple occasions to snap my HTC One screen in two when I get angry and frustrated. The thing is still in one piece. The Lumia 920 however felt very fragile on the screen side for me. Posted via the WPC App for Android!

" I've tried on multiple occasions to snap my HTC One screen in two when I get angry and frustrated. The thing is still in one piece." eat some spinach

Options are good I suppose but competing with Nokia is really tough. They have done so much to bolster Windows Phone. It isn't really fair to compare the 8X to the One but I can say that HTC's support for the platform was sparse. We got the GDR3 update quickly but lets face it, if Nokia didn't release the HERE suite to everyone, it would have been incomplete unless you purchased a third party GPS / Nav app. When they did, it really scored some points with me. That may have been more Microsoft and less Nokia but either way, it opened my eyes to what could be done. HTC was clearly only interested in producing slabs of hardware for Windows Phone and had no interest in providing new and innovative features to enhance the experience. I couldn't wait to get the Icon and would find it really difficult to go back.

I feel bad for HTC. Really. Nobody buys their android phones, even less will buy their windows phones. They should get into the tree insurance business or something.

Been waiting for this phone for awhile.

Now that Nokia phones will be gone (forever?) it sure would be nice to have good alternatives. I wish Sony came onboard with a Z1 compact running windows phone 8.1 :)

Says who? Microsoft said that the next phones will still carry Nokia's branding.

I'll take one shaped like the 8x, w/ dedicated cam button, & a dark metal body

Too dang big!! MKBHD YouTube video short comparison of m8 and m7 and it's a lot taller than og one which is a big phone anyway. When will this trend cease, when we are all walking around with phablets??! Posted via the WPC App for Android!

I'll never own an HTC. My wife had the 8X and had nothing but problems. The rubberized exterior wears off and it suffers from a volume bug- the volume won't go down. We had to dig out the old iPhone 4 that doesn't make it half a day with little use. We're looking at replacing that with an 822. Its the best, most reliable phone I've ever had. Looking forward to the 8.1 phones on Verizon- hoping it won't take forever for one to come out.

I really like the look of the One M8 (and that dot cover looks super sexy), but just can't go back to HTC. Not only am I SUPREMELY satisfied with my Lumia 920, which still looks, feels, and operates like a brand-new flagship device after 15 months of constant use, but I've watched my wife and best friend both buy HTC flagships that were plagued with issues. First: the wife has the HTC Evo 4G LTE. Has been nothing but a pain in the rear since day one. Partially due to Sprint, partially due to crappy build quality, and partially due to buggy software. She will soon be getting the Galaxy S5. Second: my best friend was convinced to drop his Droid3, which he hated, and switch to WP8 with the HTC 8X on Verizon. Talk about a dog of a phone - the soft-touch corners were bare down to the plastic after a month, and the constant SIM card errors eventually drove my friend back to his Droid 3. Which he is still using to this day. My brother does have the HTC One (M7), though, and he really likes it except for the camera. I'm still totally in love with my Lumia 920, though. Nokia complety made up for the Lumia 900 embarrassment and has made an amazing phone with true staying power. I'm very excited to see what the next 9XX phone will look like.

Rather the M7 looks with same internals of the M8, a better camera and much less bezel. That = the perfect phone!

I'll get one for sure!!!!

I don't get it why everyone finds this such a beautiful phone. Does everybody just copy the opinion from the reviewers? I find it hard to see beauty in this device. I'm trying, but I can't see it. To me the L920 still blows it out of the water, designwise.

There are many users of htc that don't come to windows phone central and out of 1000 windows phone users only 1 go here in windows phone central ..

I can't help but to be a bit skeptical of this report, given the cozy relationship that HTC has developed with Google. Google has shown time and time again, that they have not interest in supporting or allowing Windows to gain any ground (not supporting apps, deterring partners from developing apps, buying competing or developing companies). I fail to understand why Microsoft does not do the same for their OS and how Google products work with Windows. Why not make it harder for their ecosystem to work with Windows? Apple does it! Anyway, don't hold your breath. If they do come out with a phone, expect it to be a low end product or have specs that are outdated. The Icon is a great product. Concentrate on the Lumia line.

To bad about the crap camera though. Otherwise a nice phone.

Ah! So, there IS a camera button! https://www.youtube.com/watch?v=1cXiem8zc-g

If this rumor turns out to be true it'll be great news.
The only phone manufacturer I like and would consider buying, other than Nokia, is HTC. Their new M8 is sweet. I can only hope a Windows Phone version doesn't deviate enough (from the M8) to make me feel bad. An example of this would be the original Samsung Ativ (world release) vs the shit (subsequent) models they released in the U.S.

Camera just kills it for me. I like styling and screen looks great, but that camera is bad even by Android standards. Compared to a Lumia camera, it is just sad. I'd take Lumia Icon over this any day.

I hope so. I have HTC One M7 and its a beautiful built phone. Just not an Android fan. Love to see this comes to WP, even with M7, I'm still happy with it.

I have had a Samsung Focus, then a Lumia 920 , then a 1020. The feature mostly missed is the memory card option from the Focus. Nokia better add a memory card option to the next 1020 version, or I will have to switch. And no, I am not interested in the 1520 phablet

I quite liked the HTC devices with WP while they lasted (market wise, not durability - had no issues there). And the 8X that I bought for my sister is still such a smooth phone. I'd certainly consider downsizing a tad to this phone if there are no other competitors in the 1080p < 6" space. I wonder if the metal backing has issues with incessant smudging/fingerprints vs polycarbonate shell (no case).

They should make a new 8X with current specs and 32 GB of storage and a micro SD slot. That would be pretty cool but an m8 with windows phone on it will be just as good.

Agree on comment on crapsung!

Can someone tell HTC to hurry up? Need it asap.

The lack of device buttons and internals definitely supports that the M8 can run Windows Phone without much trouble, though one thing I liked about the 8X and 8S was their characteristic design, so I hope the M8's body is tweaked a bit to make it stand out from its Android cousin. Maybe give it a nice splash of colour.

Sweet ! Fingers crossed its true.
Make it in Grey or Silver & sign me up.

I feel like I'm on an island using the HTC Titan II. A clear "fire-and-forget" support model. Not a bad phone, but zero updates ever. I'll pass on anything HTC at this point. However, I'm not a fan of Nokia's pointy corners and the fact that their phones run larger with smaller screens. The only Nokia phone I like is the Icon, but it's not on at&t. No idea what I'll do when I'm due for an upgrade next month. I'm really liking a 5" screen but there are no options out there for at&t. I either have to get a smaller screen on a bigger phone or get a phablet 6" device that won't fit in my pockets. I may have to defect to android...

...my contract is due for renewing later this year. So this might be a replacement of my HTC 8X....

I would kill if HTC made some kind of dual-booting model that lets you install either Windows Phone or Android. It would finally be the worthy successor of the HD2.
Windows Central Newsletter
Thank you for signing up to Windows Central. You will receive a verification email shortly.
There was a problem. Please refresh the page and try again.