HTC still committed to Windows Phone, new device in the works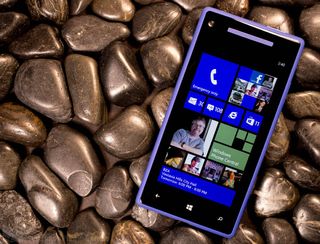 The good news, HTC is still committed to Windows Phone and plans on releasing a new handset later this year. The bad news, whatever is released won't likely be a large screened device or share design elements with HTC's latest Android offering, the One (opens in new tab).
Tai Ito, HTC's Vice President for Global Product Planning, commented while in attendance at Mobile World Congress 2013,
Ito added that any new HTC Windows Phones will likely not have larger screens and the company is taking a family approach to separation.
Ito didn't close the door on large screened devices saying that HTC wants larger displays but needs to find the right way for consumers based on "real human" data. With this separation, we likely won't see the ultrapixel camera land on HTC's next Windows Phone. Which is a little disappointing. HTC should be innovative with it's Windows Phone design but if the ultrapixel technology (or any other design technology) pans out on the One, why not incorporate it into a Windows Phone design?
HTC has been luke warm when it comes to Windows Phone 8 and really hasn't stepped up in promoting the devices. The HTC 8X is a quality Windows Phone but, as with previous devices, hasn't seen much support from the home office. The "build it and they will come" approach rarely works and it would be nice to see HTC put the same level of effort in Windows Phone development and support as they do with their Android devices.
Nokia has set the bar high with regards to Windows Phone development and support. HTC doesn't necessarily have to match Nokia's effort to see signs of success with Windows Phone but some effort is needed. Hopefully, we'll see a renewed effort from HTC with this latest commitment to Windows Phone.
Source: CNET (opens in new tab)
George is the Reviews Editor at Windows Central, concentrating on Windows 10 PC and Mobile apps. He's been a supporter of the platform since the days of Windows CE and uses his current Windows 10 Mobile phone daily to keep up with life and enjoy a game during down time.
I understand that Windows phone 8 is not as good as the market expected?? Ehhh??

what he meant to say was:

"I understand that OUR Windows phone 8 is not as good as the market expected"

Lol that's what I noticed when reading it as well.

i'm hoping Dell buys out HTC once they go private. With the MS investment they can influence Dell to shut down the wasteful Android shenanigans.

Even I was wondering about this statement.... Now I understand the importance of word "OUR"

I was about to post exactly the same thing.
Its clear from his statement that HTC are not very commited to the windows phone market as they had no need to release a put down for it, in fact I bet that if it wasn't for Samsung giving them the smack down in the android market they probably would have pulled out.
Unfortunately it is a tough world out there, so after getting mauled by Nokia in WP they turn around and pour all their "creative" energies into copying the iphone 5's design and doing something different with the camera (I will at least give them kudo's for that).
My prediction is they'll get another mauling from Samsung this year, both devices will be pretty simular, but Samsung's will be advertised on practically every billboard. Its a shame that HTC didn't do more with their WP devices, they even got the limelight shone on them from Microsoft which is effort that would have been better spent on Nokia in hindsight.

I'm starting to not like HTC anymore. They have to pick a side. Although it is obvious that they don't stand a chance on either platform. Nokia and Samsung are going to make sure it fails.

But they are "fully committed".

Or want a fully committed paycheck.

Yes, they totally waffled that answer, one new device is peanuts, plus where is the support?

Lol! I was just about to use his quote in a comment, but your expression mimics mine exactly!

I can't believe he had the audacity to say that! But it's a classic case of the blame shift....

At the end of the day, with Nokia usurping the majority of the WP marketshare in just over a year that they've been producing WP devices, HTC simply cannot compete design wise, nor in innovation. I recall LG blaming, as well, the WP OS for the poor sales of their devices.

Trust me, 8x and One are clearly well designed

Yet, the only accolades are coming from the few that purchase said device (8x).

HTC designs are not horrendous, but apparently the 8x is not eye catching enough to garner a significant amount of WP marketshare or kudos when compared to the Lumia's (by fans, blogs, etc.). The HTC One - time will tell.

I have the HTC8X and a Lumia920 for work and I have to say that I prefer the HTC model as it is slimmer, considerably lighter and has just as good a quality of screen. I don't understand why they binned the 8S but HTC seem commited to Android, not WP8. I think Microsoft need to make a Windows Phone and not rely on manufacturers to do their marketing for them. Windows Phone 8 is a better OS than iOS and Android in my opinion and yes, I have owned all of them. In saying that, every HTC phone I have had previously has been rooted to get rid of the god-awful Sense software and stick with vanilla Android.
I would like HTC and other manufacturers to put more effort into WP8 and I don't understand why HTC have 40 million Android handsets but only 1 Windows phone. Personally I think the One is FAR too big but then I can't stand the Galaxy S3 so it shows what I know.

Yeah but not original designs, if you know what I mean. Tell me one Nokia flagship that has been accused of copying the design of somebody else. I guess none. But both of the devices you mention, have. The first one looks like a Lumia (800, 900, 920) and the second looks like an iPhone 5 and a BlackBerry Z10. What's next? One that looks like a Samsung?

I Personnaly think that the HTC 8X and HTC One ( and the Droid DNA too ) are 3 of the most beautiful phones out there, All they need to compete with Nokia in the Windows phone market is more innovations. It's like my head says " go for the lumia " while my heart says " go for the 8x "

That's exactly my quandary! I'm in love with the 8x, but my head hears everything and says "Go for the Lumia!"

Actually, I think that contrary to peoples' rationalizations here, the person really meant exactly what he said. It is just a matter of a poor choice of words, not that they meant to say there was something wrong with their product line. It probably best translates into they are not making headway but are also not giving up. BTW, that usually means they really are gving up beyond bringing some token products to the table. So far Windows Phone is turning into a mostly Nokia show. The good thing is their market would appear to be responsive and growing. It is just too bad the 822 is such a useless piece of garbage or they might be making better inroads with VZW in the US.

The 822, if I recall correctly from one of the articles on here, is the second highest sold WP8 in the US after the 920. I can't really compare it internationally since its only available in the US. But it is one ugly device imo.

Dear HTC, stop whining, get your Android shades off and please put your full effort in making a flagship.

As much as I like my 8X, my next will probably be a Nokia if HTC doesn't get serious by then.

This. I am a huge HTC fan, have been since the Droid Eris back in 2009. I also love my 8x, but if HTC doesn't start putting in a little more effort than Nokia will get my money next round.

+2. Been emailing, facebooking, ect. To HTC about their connected media app, which is still available for wp7. My next will be a Nokia. Dammit Tmobile.

Only reason I got the HTC model is because of Verizon

Well I have an 8X and Lumia 920, and I like the 8X a bit more. But it is a shame to see HTC dragging their feet over Windows Phone. I also own a One X and would have loved to see WP8 on that.
HTC Android phones haven't exactly set the market alight either, with Samsung kicking their asses in terms of raw marketing, specs and sales. The One, while genuinely pretty, will fail again on the market, as many Android fans will be still waiting for Samsung to show their hands, just as they did last year. So why they aren't at least betting *some* money on WP8 baffles me.

HTC committed to windows phone? I doubt that. They just make the phones and forget about them. They need to support them like Nokia. I own the HTC Radar but I told all my friends to get a Nokia coz they support their phones really well.

I have to agree with you. I am feeling pretty cheated by HTC with my Titan. Maybe it's AT&T... maybe its HTC... either way I am sitting here with the original Mango install from when I bought my phone... disappearing keyboard and all.

People seem to forget time after time that manufacturers can't just push hardware to devices if the software doesn't support it.
HTC answered the question on the HTC One release date. Symon Whitehorn (HTC camera guy) said that the Windows Phone 8 kernel was too restrictive. Also remember that you need a lot of horsepower for it. HTC One uses Qualcomm 600, that's not supported on WP.

It's the exact problem Nokia has with true PureView. There's a reason why Nokia was able to make PureView over year ago on Symbian, but still can't do on Windows Phone. Oversampling will need a lot of power and software tweaks. Reason why i can't understand why some people thought they would see 41MP PureView Lumia phone in MWC.

Microsoft simply needs to get on it. They are unbelievably slow.

Then they should find other ways to innovate. Look at the Lumia 720, no OIS or oversampling but Nokia tood the step of introducing an f1.9 apeture camera which will allow for better pictures, probably better than the so called Ultrapixels. Thats how you deal with the limitations of the platform you are working with, not going around moaning that you cant do this or that. If Nokia can do it why not HTC?

I totally agree with you on that.
But would you not at least wish these manufacturers would at least be given same kind of tools to work with hardware than Android or even Symbian?

I think it's just telling that Nokia could do what it did with 808 PureView when Symbian was already announced death by Nokia . They implemented separate GPU on the sensor itself, giving it dual GPU cores. They were naturally free to do what they wanted with the algorithms, kernel and camera UI on Symbian, it being their own OS.
Here these manufacturers are stuck on to one core hardware/SoC every update and that's the reason peoples see so little hardware innovation in the platform. Especially Nokia and i'm sure HTC could do so much better.

I REALLY hope Windows Phone 8 will bring wider hardware support like it was promised.

Yes but remember, HTC won't be the only one with access to the higher specs, so it doesn't give HTC any advantage if they don't do anything other than slap a device together from the latest hardware. They need to do more and in my mind if Nokia can do this much with the current version of WP and overshadow HTC so completely it doesn't look good for HTC when you think of what Nokia will be able to do fully unleashed.

When was that promised? Source?

To get the cost down more than likely a WP with Pureview would use the SnapDragon 800 (support 55MP camera) or a 600 (21 MP camera). A dual GPU architecture wouldn't be necessary. I don't think Microsoft is in the way of a Pureview WP device as much as Nokia working on the technology. I imagine when we see a WP with Pureview 1 it will be in the ~20MP range with OIS (Pureview 2). That will allow for a smaller sensor then the 41MP sensor so it can be packaged in a more consumer friendly package. The 808 is a great camera phone, but it's not for everyone due to it's bulk.

tissotti...That phase of the Pureview technology was designed for Symbian over a 5 year period! You make it sound like Nokia announced the death of Symbian and then poof, they were able to quickly implement Pureview on their last Symbian device.

5 years.

exactly.there's no limitations now in wp8 and in the hardware from qualcom. ffs they used a single core 1.5 ghz chip on the pureview with aditional processor integrated in the camera module to help with the workload. even with a dual core snapdragon s4 and another chip they could make the pureview. it's just that it takes some time to marry the software with the hardware,especially since the tech is so special and especially since wp8 was finished very late. we will see the pureview in full this year,maybe in the summer with it's own event.no doubt about that.it will fit with the 18 months product development cycle

I wouldn't call OIS, resistive+capacitive screen on Lumia 920 little hardware innovation.

So you would call ultrapixes as innovation?.

Well said, theefman. It's called "thinking outside the box", better yet, "thinking outside the Android box."

Support is not the right word man. WP8 - which uses the NT kernel is fully capable of supporting up to 64 cores...higher resolutions...additional hardware support. -Now if we were talking about CE on WP7, then yes...support of hardware would be lacking. The first Gen WP8's were a statement showing that WP8 could be very capable of running on a dual core SoC...just like they did with WP7 and the fluidity of the OS with a single core...even though WP7 could be very capable of utilizing dual core SoC's. Now, with that said...even if HTC said that the camera kernel is too restrictive, how do you think Nokia is implementing their camera tech in WP? Nokia is just an OEM as well, and do not have special influences to MS's source code in WP8. I highly doubt MS would let anyone who wanted that to openly use it to design products...and "if" they did -which I highly doubt, you'd think MS would want the two major oems designing WP's, bringing the best of the best of hardware innovation and let them utilize the OS any way they can.

nokia has the right to modify windows phone.and they worked with microsoft to develop the camera plumbing for the os. so basically the camera in wp is designed by nokia largely and you can be sure they made all the necessary steps to support their future tech

"how do you think Nokia is implementing their camera tech in WP?" they are not..

True but they CAN push exclusive apps or include more exclusive software tweaks to differentiate themselves and show their support. But they aren't. Nokia is doing this practically every week and that's why we switched from the focus s and we told my mom and brother to get the 822. Support is huge, and Samsung/HTC showed me exactly what they were willing to do with wp7...glad I trusted my gut enough to know they are still all about android.

> Symon Whitehorn (HTC camera guy) said that the Windows Phone 8 kernel was too restrictive
Well, he probably meant that what HTC can do with the WP8 Kernel, and how much they can modify it or the HAL, is too restrictive. As long as they have the coders, they can pretty much do what they like with Android.

By only supporting dual core Snapdragon, Microsoft is ghettoizing WP8 into the "cheap but decent" smartphone market. Thanks to the looney specs of some of the top end Android phones, what is "high end" at the begining of 2013 now has to be quad core with a 1080p screen. Yes, I know WP8 doesn't need quad core, and the screens on the Lumia 920 and the 8x are already more than high enough res for the size of screen (and I for one don't want a screen that is physically any bigger). But from a marketing point of view, that doesn't matter, the bullet list for the Android phone is "more", and that must mean "better".

And the Tech Websites are gushing over the Lumia 620, because "WP8 is so lightweight and therefore well suited to low end, entry level hardware". A post on Engadget today even called the Lumia 620 hardware "mediocre" (and they meant it as a positive)!

tissotti..."True Pureview"? Nokia states that Pureview is an Imaging Technology, to be rolled out invarious iterations and phases. Just because the oversampling aspect has not yet been implemented on WP, doesn't mean that it won't be. Why wasn't OIS and the low technology not implemented in Symbian? Was it because the Symbian software couldn't be tweeked to handle it?

I disagree with your implication that 'True Pureview' is solely oversampling.

I think OIS was a side project, which was meant to be added to pureview later on, but they were kind of pushed into a corner and had to get it ouit as a stand alone product.

My point - 'true' Pureview is imaging technology developed by Nokia to encompass all aspects of imaging, not just oversampling.

I agree. Stephen Elop himself has stated that Pureview is a marketing umbrella for a suite of tech. Elop also instigated a new culture in Nokia of getting projects from R&D to products as fast as possible. He was aparently shocked when he first walked around their building in Espoo that there was so much great stuff they were not selling yet.
The 41MP sensor was more difficult to implement than the OIS because the sensor had its own scaling processor under software control, whereas the OIS is passive, it is effectively shock absorbers like Steadicam, but in miniature. I'm sure the only reason the 41MP sensor was shipped on a Symbian phone first is because Nokia had full control over the software for Symbian, which they didn't with WP7, so they could modify the OS for the "exotic" hardware of the 808. If it was not for this, I'm sure the 41MP sensor would have shipped in a Windows Phone device first. It will need Nokia and MS working together to bring this to WP, and the many leaks about a device codenamed EOS makes it clear they have been doing just that.

Not sure what school of economics Htc execs went to but i'm unclear how they expecct less effort in their WP offerings to result in more sales. Oh well, more for Nokia I suppose.

based on their recent quarterly earnings that is exactly what they expect.

It's some weird HTC alternate "logic", I suppose.

I've had it with all these companies (HTC/Sammy/LG and others) not caring about WP. Either show up and play, or don't bother. I"m fine with having just one, Nokia, be the only manufacturer of WP. They care and make quality products. They update regualarly. They work with developers to bring exclusive titles to the platform. Now I realize that they have to do this to stay alive. They are trying, really hard. I've had Sammy (focus), HTC (titan) and now Nokia (920). As far as I'm concerned, my first true WP is my 920. End rant.

Because if the greatness if the HD2 they get a pass on that stupid comment... But let's face it. Nokia is Windows phone.

I said it before...
If you want the best WP experience you have to go NOKIA..
HTC IS SLOWLY DYING..THEY NEED TO STOP MAKING HIGH END PHONES ALTHOUGH NICELY BUILT,SAMSUNG IS THE NEW KID IN THE TOWN FOR ANDROID..

Nokia is cheaper too on contract. Off priced fairly the same. Design alone is just not a factor to buy a device. Buy the one which has the bang for your buck, and Nokia would be the right choice.

Cheaper in the US maybe...

Comparing the 8x and 8s, you know its competively priced.

The 8x actually cost about $100 more than the 920 off-contract, thus why the 920 is my WP.

For me the 920 is more expensive prepaid. That's why I chose... neither, as they both don't have microSD. So I'll stick with my HD7 until someone (not Samsung) release something decent with 32 GB + microSD

Well this is a little disappointing. I'm currently on Sprint and HTC is one of the 2 WP manufacturers that have been announced as bring devices to our network. If they aren't going to look at bringing a high end handset to us then I'll either look at leaving Sprint or just stick with my Android phones.

This is very disappointing. I guess I'm stuck now. All I wanted was a Titan III but I guess I won't get that. With the Ativ S (NOT the Odyessy) seemingly not coming out in the US, I have nowhere to go from my Titan II since I don't want a Nokia.

I've been an HTC superfan since I first got my Wizard (aka the 8125) back in early 2006. HTC use to be the ONLY company seriously committed to making beautiful hardware for MS. What happened???

What happened was WP was a step backwards from WM in many ways and still is. Microsoft choked hard. This guy's comment about WP8 not being as good as the market had hoped certainly rings true for me. I am staying on WP7.5 and hope the next version is an upgrade, not a downgrade like I feel WP8 is.

Wp8 a downgrade??? There may be a couple issues here and there that need sorting but come on, things like Skype working in the background, faster CPUs and higher res plus phones with NFC and wireless charging, if you have the cash to buy a wp8, you'll buy a wp8. Its no downgrade.

Well, plenty of talk here about the random reboots on WP8. Has that been solved yet? If no, I can hold out with my HD7, even though I do want to upgrade.

Whatever the issues, it seems to have done and gone.

Of the items you have listed I wish I had wireless charging, but the others I do not care about. I don't want to lose Zune wireless synch, FM radio, my keyboard, and semi-decent navigation Those things I do care about.

I love my HTC titan but their lack of influence with at&t to support the device is mind boggling. HTC let every at&t titan owner down by not insisting that at&t push out updates. I just spent $65 to have my phone jail broken from at&t as I was stuck on windows phone build 7220 with the disappearing keyboard and truncated emails.

...and this is why, my next device will inevitably be a Nokia. I've been blinded from the truth these last few years. My relationship with HTC is turning bittersweet. I'm sorry to HTC fans (I was one of them ever since the brick WM 8525), but I'm now starting to see why they are in the position they are in.
My device lineup over the years....
HTC 8525-Hermes
HTC 8925-Kaiser-TyTN 1
HTC Touch Pro
HTC HD2
HTC Titan
HTC Titan 2 I was once proud of this list....

Microsoft needs to rethink their signature phone choice.

Of course they are comitted to WP8, Microsoft has them on their balls with the license agreement in regards to Android phones.

The HTC wins on style points.
The 822 wins on the 64 GB Micro SD Card Slot. Buy the SDs as $20 buck refurbs at Ebay.
The 920 wins on overall presentation and app support.
Bring on the Blue phones this November with 5.5" screens and HD support.

@bsmeri-your experience is the reason I warned everyone about buying a HTC 8X. It is a really good phone but they don't support it after it is released. I still have the disappearing keyboard and other bugs too because HTC hasn't pressed At&t to get updates out. Nokia meanwhile continues to deliver added value and support to their phones.

@murani-correct!! I went to a phone store by me and had my HTC titan jail broken from at&t for my hard earned $65. Now I get all the updates. You should do the same as HTC and at&t don't care after you bought the phone.
I WILL NEVER BUY AN HTC AGAIN..THEY JUST DON'T CARE TO SUPPORT THEIR DEVICES.

That's AT&T's fault. I had an HTC Trophy on Verizon and I got every update. Also the 8X on Verizon just got the Portico update and the 822 hasn't gotten it yet.

It is true that it is at&t fault to an extent. Nokia and Samsung forced at&t to update since these were important updates. HTC did nothing to affect at&t's decision not to update the HTC premium devices..titan and titan2. Now all of the power users who had a titan/titan2 will never buy or recommend an HTC device ever again.

It's good news, I guess, but the fact they we are talking about this issue means that wp future does not look good.
At the this point samsung seems pretty much put of wp, and if we loose htc, thats going to leave only nokia, and that's not good thing in my opinion.
Just a single manufacturer is never a food thing, it might be short term, but it won't be good in the longer run.
Hopefully, Microsoft works to retain the current partners but also tries to get others on board.

Who cares about the Android OEMs. We can bitch and moan all day long and at the of the day, the fact still remains, they have no interest in supporting MS's WP. Example, Sony out of the blue has decided to put full support for Firefox OS. And here's their excuse for not considering WP- when there's a market for WP, they will consider. What! There is no market for Firefox OS as of current! What the hell! That being said, come on. Just support Nokia and WP will be fine. Elope has a great strategy going right now, low to mid range phones for the emerging market and build outwards. Its building recognition both for Nokia and WP. Once that happens (we hope), Nokia and Wp will take both the icing and the cake!

Its simple ,,no effort for the product ,nobody gona buy the phone ,,all I see is Nokia doing things for the os ,,

Perfect example:"Nokia collaborates with foursquare to redo app" I really wanted to get an HTC 8X but am really concerned about future support. Seems Nokia is really enthusiastic and innovative when it comes to their Lumia line. Makes me just want to wait for Verizons "Nokia Laser" cause I know it will give me more bang for my buck and be the better choice in the long term. Nokia Support > HTC Support

You got it bro. Support the poor guy who does his homework diligently and who brings more to the table.

I'm actually glad that HTC won't make a big screen phone, because 4.7 inc phones are just stupid, well people look stupid when they make phone calls with them, 4.3 is my limit, anything bigger is unnecessary

I don't see why its a good thing about there being less choices. Especially when you aren't forced to buy or even pay attention to a product.

4.7" phones are selling like hotcakes so yeah, let's ignore that market because you think people look stupid holding a 4.7" phone. That's the ticket. /s

I don't understand why HTC would not bring the Ultrapixel cam to the Win 8 phone. It seems like Nokia is the reason they are making such a big deal about it. I think that even HTC can see that they need to keep up with the Joneses. I would put 10 dollars on them bringing the Ultrapixel to their next WP.
I would also put another 10 dollars to predict that HTC will release (arguably, at least) the best windows phone option this year and still get taken to school by Nokia and Samsung in sales. HTC seems to have many more critics than these two companies for some reason. It saddens me.
Full disclosure - I love my HTC.

It would have been a benefit for them to make two versions of the One and present them at their London presentation- an Android and a WP version. Similar hardware and design with certain unique differences and sold to the high end market. There would be so much buzz, comparison, and so forth! A force of two to go against the GS4. They have everything in there disposal to make it right. Nope! One's buzz is now done and gone, just like the One will be when the GS4 comes out.

WP8 doesn't currently support the tech being offered in the One. Neither the camera nor the screen resolution would work.

Nokia can't do 1080p either and while they have a great camera, they couldn't include the tech in the One.

HTC sucks wherever they stand no support on android no on windows mobile era everyone had to hack their HTC phones to get the latest. My last phone was HTC tilt 2 it had windows 6.5 cause of Microsoft not HTC.

Yebba! We all should know HTC's strategy. Replace 4-6 month old phones.

A strange comment from HTC. The 8X is the best device on Windows Phone 8 and if its not been successful it is HTCs fault as they've not marketed or supported it anywhere like at the level they should have. It is a real shame as having two manufacturers on WP instead of just Nokia would have given the platform a lot more strength. They clearly invested a lot of time in the 8X and made it a much more stable device than the 920. Had they put the same effort into their WP range as Nokia, it would look a lot rosier now.

Though not stable, support is outstanding. Can easily be replaced.

This attitude is exactly why I went wit Nokia instead.

Meanwhile, Nokia released Here for all WPs...

WP8 does not support state of the art specs. HTC is not fully committed either. Its a mutual blame situation here. MS needs to step up and allow full state of the art, 1080p, etc. I really like my 8x and prefer its form over the 920, but I'll switch to Nokia next time assuming they can cut some weight from their device and WP8 offers a platform that permits state of the art specs, MS supports its own platform with best in class apps instead of prioritizing iphone and android and the Other storage debacle is solved, otherwise I'm going back to android regretfully. Right now I'm stuck with 7.5 GB of Other and a phone that is half-functional. Its a choice between spec monsters that are fully functional but running a janky laggy OS (android) or last years tech with a smooth OS with serious flaws and a half-hearted MS. I would like to not compromise on the tech or the OS and definitely not switching to ATT, so we'll see where things stand in fall 2013 and if MS supports its own platform by offering apps comparable to the ones it gives android and iphone.

HTC is in trouble...only hope for them is if someone like Dell or Lenovo buys them out. Dell would be preferred for Win8 due to the increasingly tight MSFT connection...plus outside of Nokia I think Dell had the most innovative Win Phone design..

As others mentioned, HTC abandoned my HD7, so, I could care less about this company. I'll never purchase another HTC device. Period.

I'm not a fan of a large screened device anyhow.

Remember back when HTC was actually cool? Yeah me too, now they suck and nothing that HTC puts out impresses me... The 8X did when it was announced but after it came out mehhhh. On a somewhat related note, my aunt ordered the 8X last week, exciting move from her CrapBerry Bold.

I have always been an HTC fan and user since the Windows Mobile days and I am switching without hesitation!

Bang off HTC. the problem is this comes down to HTC can not skin WP8 and that is the bottom line on the whole thing. The only thing that HTC does is skining. I'm on T-MO as well and I'm still running the HD7 which was replaced #4 times... I wont buy the 8x for a number of reasons. I wanted something larger than 4.3 4.5 or better and something more than just 16. I'm not a fan of the color blue and it looks like that is al t-mo has. but mostly it's the lack of support that HTC offers. My kids have the L710 not one has needed to be replaced. My kids are phone terrorist. they drop them toss band them, one went and played a hockey game with it in his pocket. we have 12 L710 in my company, not one has been needed to be replaced. excuse me one did. it fell into a vat of Brine that was getting ready to corn ribs....
For HTC to come out and say what they have said while not supporting what they make is almost laughable.

I have to agree with you - back in 2010 when WP first launched, Peter Chou was asked how HTC felt about not being able to skin WP; he was obviously not happy about not being able to skin WP, and simply replied "we will continue to work with Microsoft". AS IF Microsoft would somehow change their mind and let them skin it!!!

That moment, that attitude...excluded HTC from ever receiving my money. If Nokia had not entered to WP fold, I would not be using WP - HTC/LG/Samsung simply didn't produce a design that I found worthy of my money.

I find this funny because the HTC One looks like it has a WP skin.

"I understand that Windows Phone 8 is not as good as the market expected, we think that it could take time and we will continue working with them."

How about taking the initiative and driving the platform so it can be as good as you think it should instead of releasing half-hearted devices and fighting a losing war in Android?
With Nokia going all out on WP8, everyone can tell who's in it and who's not.
You are pathetic, HTC.

I take it as him saying OUR WP8 offerings were not as good as the market expected....

I am waiting for my contract to expire on my l800 and was considering getting an 8x as my next device, since it's pretty much the only WP8 device that made me go "wow". It really looks nice and seems to have all the things I'd need. Sure, Nokia has dedicated apps, but counters is the only one I regularly use, and I hear it's not needed in WP 8. And carrier support is not as shitty here in Europe as in the US, so we get updates just fine.

They should at least commit to getting some applications in and fixing the bugs in their own apps

HTC is digging their own grave. They produced some really excellent devices running Windows Phone like TITAN, RADAR etc. But they have failed to provide good app support on WP platform. HTC can never become no. 1 in Android space however in WP space they had a chance of becoming no. 1 beating Nokia. However, with the kind of hitting it is facing from Nokia in WP space, they will be left out in no one's land. They are slowly and losing the market in WP arena and they cannot make up the loss in Android (Only Samsung sells good in Android space... even Google is afraid of Samsung). I must say Nokia is in a WIN WIN situation here.

"Ito added that any new HTC Windows Phones will likely not have larger screens and the company is taking a family approach to separation." Ito, what does that even mean? Marketing-speak for divorce?

Sounds like yet another bad translation to me. Maybe they meant "differentiation" instead of separation?

HTC is not sure what are doing ,i think they are experimenting .
On the Android side they are destroyed by Samsung and on WP8 side by Nokia .
And they are trying to find excuses .
I think HTC biggest problem with the customers is the software support.

I blame this on Nokia exclusives. This is why the OS is only 3. Microsoft gave Nokia a pile of cash to do these deals. It's not like Nokia spent their money. It's great for Nokia but a major setback for W8 as a whole. Nokia doesn't have flagship phones on all carriers. HTC and other OEM's know it's all about apps. They see everybody wanting Nokia for the apps. They also know Nokia is doing this with Microsoft's money. I know a lot of people fault OEM's for not supporting W8. Well money is tight and the see Nokia getting a free ride. Everybody is praising Nokia. All because Microsoft tipped the balance scales with all the cash to Nokia. Well like it or not W8 is gonna struggle until all 3rd party apps / games are available on all W8 phones.

Wasn't Nokia on the verge of bankruptcy until MS stepped in?

Yep, Symbian was a sinking ship.

Are you high? WP is NOT struggling because of Nokia. Nokia has done more for WP than all the other OEMs combined! WP would now be in deep poop if it wasn't for Nokia.

You're right. Nokia is doing way more for W8 than any other OEM. My point is their able to do this with cash from Microsoft. Locking up exclusives that are turning off other OEM's. It's not a level playing field. So yes it's great for Nokia but horrible for W8.

again with this crap?i wish nokia would have stayed with meego when reading crap like this. then what would have happened with wp

And I wish Nokia wouldn't lock up exclusives from 3rd party apps/games. If Nokia had any faith in their hardware they'd go head to head on hardware alone. Obviously Nokia doesn't believe they can go head to head on hardware. Therefore we got these backroom deals that's killing W8 as a whole.

Without Nokia the WP platform will be below 1% market share..

If the playing field was level W8 would be about 10% by now. Its all about apps / games. If a customer walks into Verizon or Tmobile there's no high end Nokia device. So if they wanna get the most apps / games what do they do? Settle for a mid/low end Nokia or get a high end Android? I think we know the answer. That's why W8 has a 3 market share.

Lol! Tbonenga, you're reaching!

Microsoft's deal with Nokia is for Nokia's IP and the WP OS licensing agreement. Nokia is using their own cash to subsidize the exclusive apps (wh