The Huffington Post releases official app for Windows Phone 8; leaves room for improvement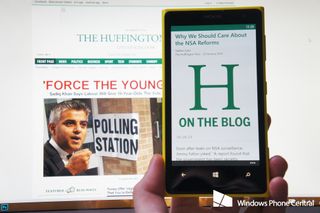 The official Huffington Post (www.huffingtonpost.com) app for Windows Phone 8 brings all your favourite articles, photos, videos and blogs from the popular resource and displays everything in a simple, intuitive user interface.
From politics to fashion, business and technology to entertainment, there's content covering the stories you wish to learn more about. Though this is the initial release of the app, The Huffington Post falls short on functionality and basic features we'd expect to see (and is highlighted on the store listing).
It's a strange app since the app listing itself boasts numerous features that just don't appear to be available in the initial release. Real-time updates are promised from HuffPost's newsroom, as well as the ability to share your favourite stories with friends through social media. Neither these features aren't present or we couldn't locate them. In fact, the app is rather bare when you've browsed through all the sections available (does the design remind you of anything? Bing News perhaps?).
We've not even begun to touch on the lack of comments in loaded articles -- both viewing threads and adding your own opinion. It's great to see The Huffington Post on Windows Phone, but we would have expected more from such a highly reputable news aggregator and blog.
Problems with optimisation, loading times and lack of functionality aside, it's a decent application and news resource. Articles are displayed neatly with the option to both increase or decrease font size. While formatting could be improved, it's a start and we're pleased that photos load successfully and it's not white text on dark backgrounds. You can pin the app to the Start screen, but don't count on there being options to customise exactly what's sent to the tile. Also, there's no lock screen support, which sucks.
Unfortunately, while it's superb to see the brand listed on the Windows Phone Store, we'd wholeheartedly recommend the mobile version of The Huffington Post website for the time being. Once more features have been added, including sharing, comments, account management, customisations and further Live Tile (and lockscreen) support, we'll take a second look at the app and see if it's worthy of the download.
You can download The Huffington Post from the Windows Phone Store for free and remember, it is only available for Windows Phone 8 devices. What are your thoughts on the Huffington Post Windows Phone app?
Rich Edmonds is a word conjurer at Windows Central, covering everything related to Windows, gaming, and hardware. He's been involved in technology for more than a decade and knows a thing or two about the magic inside a device chassis. You can follow him over on Twitter at @RichEdmonds.
The Rock has come back Jabroni!!!

Exactly the same interface as Bing news

Look at the Neowin app. It's completely identical in design. They must be based on the same design template. I just haven't found where the original is quite yet.

Bing News, Microsoft has provided them with a template so they can hop on to WP faster

Does it offer anything that the website does not provide?

I'll stick with the Fox News app, thank you.

Yep. Best place to keep up with the latest Republican talking points and misinformation available.

*slow clap Well played sir.

Yes, as opposed to getting liberal talking points from the Huffington Post.

I said Republican as in GOP not Conservative (vs. Liberal). Do you really not understand the difference between HP and Fox News? HP has a Liberal slant and mostly has a Liberal audience, but it doesn't present DNC talking points as news. Anyone can blog on HP...not so with FN. Bill O'Rielly and Sean Hannity are commentators who pose as journalists. A more accurate comparison would Fox News vs The PBS News Hour. Sorry, but anyone who really thinks that FN is anything but a schill for the GOP is clueless and knows little or nothing about Roger Ailes and Rupert Murdock.
http://www.rollingstone.com/politics/news/how-roger-ailes-built-the-fox-... http://en.wikipedia.org/wiki/Roger_Ailes

You sound angry. Life is to short to blow a gasket over a news app ;-)

Not angry in the least. And "blow a gasket"? Really???

Exactly my thought's on huffpo and progressive's.

I am with you. Fox News, The Blaze, and CNN.

If only we could get an official drudge app too :'(

The unofficial Drudge app is pretty good

That entire website has a lot of room for improvement.

Hate this liberal drivel site...not An app for me.

Good news app but pity it does not use the local news site. From UK here but news is from USA.

Not even gonna bother. How can they make such a crAPP?!?! Nobody should download it. Mail them instead and tell them to shove it.

Let them know how you feel about the App/Features, but it is also kind of important to install it if you have interest in them and other Sites like them in providing W8/WP8 Apps. (Downloads = more development attention to the platform.)

That sucks that the app is not good. I was just looking for a Huffington Post app for WP8 and Windows 8 the other day, too.

Very poor. No UK option so useless to me. Rated it 2 stars in the hope they may improve it.

They also removed my unofficial Huffington Post app for Win8 (which was crap though, sorry guys) yesterday. Maybe it has to do something with this? Maybe they're releasing a Win8 app as well?

Same here...They asked me to remove my WP app for it. User feedback I had on it was quite better than this 'kind of half baked' app.

wasn't this already available as a WebApp?

Yes, but the WebApp version isn't that well organized and you can't see the comments. These are issues more with the web version of the site but it's still nice to get the official app.

I use Huffy. It is pretty good.

Finally, it's nice to have this app back. I've missed it since moving from WP7 to WP8.

I've had it for a few days its not that bad. At least it official

Hmmm, not too bad. I like the flow of it. It could load stories faster but its good. I like that is takes advantage of the accelerometer. Not too many news apps are doing that. Font adjustments, live tile and the option for wifi updates only. All good. Its about time they updated their app. I think it well done for Windows Phone 8 overall. I bet it looks great on a Phab.

Don't just direct people away from installing the app.. It will only give the developers a reason to say that there's not enough users,and may also prevent or delay updates as a result.

Exactly. Download it, use it when you only feel like reading, and use the website when you're in an antagonistic mood. Don't think they aren't paying attention to downloads and usage.

This app will never see an update. I can almost guarantee it. Just another in the long list of WP8 apps that are there so they can be checked off as being available, but will suck and nobody will want to use it.

If by improvement you mean to the Huffington Post's journalistic content, then yes, lots of room for improvement.

Didn't they already have one, back in the day?

There was one for WP7 then it just dissappeared. Glad it's back, must some demand out there..

"Neither these features aren't present or we couldn't locate them." Rich, not to be a grammar police, but I think you may have meant "Either ...". But maybe not.

This is the worst liberal news around.. Mass media project = superior!

Perhaps they posted the wrong version of their app. Wouldn't be the first time such a thing has happened. It is a curious situation.

Never understood why they pulled their first Official App, other than a bias towards iCrap. You'd think that doing so and then making a high profile launch of their Italian service, just as WP took the lead in Smartphone sales in Italy would have struck them as nonsensical. In any case, glad their back as in this case the unofficial apps available were awful.
As for the comments not being available, this is pretty much standard with News Apps in WP. Anyone able to add comments on CNN, BBC, CBC, Bing, NBC apps? Lets hope they update it when they start to see traffic.

Like most 'web site' Apps, it isn't a brilliant replacement. However, it is worth downloading to help WP get attention from the developers. I find that most websites work quite well in IE10, better than they do in the Android/iOS browsers, making the need for dedicated mobile Apps less relevant.

I find The Poke delivers all the news I need.

A left wing radical's bible? No thanks. You can find more facts at "The Onion".

Hello Windows Phone users/developers/writers, I am trying to get some support for my new application Informed American, this application is packed with useful information about U.S. Congress including Member contact information, Campaign information, Legislations, Votes and much more. I am currently working on an update that will add State Government information and Live Tiles that will push information about status changes on legislations flagged(marked important) by the user. I created this application because I enjoy using and developing for Windows Phone and Windows 8. Please try the application and let me know what you think good/bad, this will help me make the application better. The application is free with NO ads and it will stay that way until I find a method that will let me add some ads without compromising on the user experience. Forgive me if this is not the right way of doing things, I have tried sending tips, emails, tweets etc. with no success. Thanks
Windows Central Newsletter
Get the best of Windows Central in in your inbox, every day!
Thank you for signing up to Windows Central. You will receive a verification email shortly.
There was a problem. Please refresh the page and try again.