Hulu may debut ad-free option as soon as this fall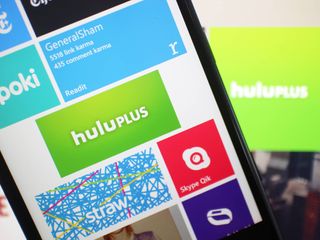 Streaming service Hulu is said to be exploring an ad-free streaming option. The new tier would reportedly cost somewhere between $12 and $14 per month, and may debut later this year, according to The Wall Street Journal:
Hulu currently offers two tiers of service to users, both of which utilize advertising. The free tier allows people to watch TV shows and movies via Hulu's website, while the $7.99 per month Hulu Plus lets you watch through the site, as well as apps for your phone, tablet, game console, or set-top box.
Source: The Wall Street Journal
Windows Central Newsletter
Get the best of Windows Central in in your inbox, every day!
Seems faster, but when in India?

The old Hulu desktop app, still works (you can still get it on a few sites), it's fully controllable via a remote control. And besides ads in the videos you play (to be expected), it's a nice on Demand feature for NOTHING. I use a plugin on Windows Media Center and I use it as a on-demand for a lot of channel that I never have to leave the remote control for. Pretty cool.

Or you can just get the Hulu desktop version that's newer via the windows store, it works well also. I loved the desktop version when it was still updated though.

This should have been the option since they officially released Hulu in the first place.

It used to be until it turned into cable where you pay a monthly fee to watch a shitload of ads.

Exactly, Hulu, even the free version was great when it started with just 10sec ads; but then the pricks got greedy and started pushing 1min+ ads every few minutes, and bit shorter ads in paid service; I am not going to waste an hour watching a 40min TV show WTF, Hulu is dead to me and never comming back to a company that puts ad revenue ahead of everything else.

You can't expect them to just give you service for nothing. Licensing shows, especially hot new ones, is expensive. Even the level of ads Hulu has now haven't made it as profitable as Netflix AFAIK.

Good. I have the paid version, and the ads always deter me from using it instead of Netflix. I will gladly pay a bit extra for their exclusion.

But there is a huge differenc between Netflix and Hulu. Netflix only has a few shows that are kept uptodate with the current season, and only a few shows with anything close to the current seasons, on top of that it just doesn't have anything close to the amount of tv shows that Hulu has. Being able to watch almost any tv show out there new and old via Hulu plus and being able to watch it the day of or the day after it airs makes the commercials worth it. I have both, the only reason to use Netflix is for the movies.

That's not worth it. Double...screw these giant media conglomerates.

OK, lets work on the math here. $8 x 2 = 16. 16 is not equal to $12 or $14. It is possibly a $4 (50%) increase. Not 100% (double). I would gladly pay $4 a month to get back 10 hours of my life!!! (figure is calculated by watching TV for 2 hrs a day for 5 days a week, 7 mins of commercials per 30 watched)

Hulu has gone down the shitter, I remember when the free version had just 10 second adds, now you waste more time with ads then the show itself. Life is too short for wasting time watchings ads for shit you will never buy and don't give a damn about. And for shit you may want the constant add just turns you off it anyway.

Personally, I stopped using hulu because of the ads. I found the ads to be really annoying. I stream shows so that I can get away from ads. If they made the regular plan ads-free, for the same price ($7.99), I would consider resubscribing. But I'm not going to pay more, just to remove ads.


Hulu sucks. I can't believe people pay for it.

Well if it means better support for their apps eg. more frequent updates on all platforms, longer viewing periods for content.

I don't even think I would be interested in this. I had a such bad experience with Hulu when I found an older TV series they had in their listings. I hated all the commercials...every 15 minutes about like network TV (But I with Hulu, I couldn't switch to another channel!) I was forced to watch a commercial. If the ads were interesting, it wouldn't have been so bad. But they were the same boring ones, over and over again. Plus, they kept on advertising (the same ones, over and over) other shows in their listings. The worst part is the other shows that were advertised weren't even remotely similar to the show I was watching. If they can at least taken the time to advertise another series similar to what I was watching, I may have been interested. It was a complete turn-off and I ended my free trial as soon as I got through the series I was watching. Really awful experience. They really have balls wanting to charge DOUBLE for no commercials.

I like hulu, but never paid to watch it because it still had commercials.

I thought the Plus version dropped ads since money is exchanged monthly. Eff that.

I dont care for Hulu for the content (or lack of) and the dreadful ads. Still get email all the time from them wanting me to come back.

This is goddam cable all over again! When we start paying for the "ad free" version they'll move the goalposts again, include ads with the explanation of "keeping costs down". The next thing you know, we're paying $100/month for their service. I thought the whole purpose of "Hulu Plus" (now defunct because it no longer has meaning), was a paid service to eliminate ads. I'm currently trialing Netflix with the express purpose of jettisoning the ad-riddled Hulu service.

No Hulu plus is awesome because it lets you watch most show that are on tv now while Netflix you can't. I have both and use both frequently but there are sooooo many more tv shows especially big name ones compared to Netflix. Netflix js for tv shows and movies from seasons past, with just a rare gem here or there that has current episodes. Hulu plus is not ad free, which I dont care about right now but definitely will be upgrading. Hulu plus you can watch every show the day after it airs, some shows the day it airs, and you can watch all the seasons of those shows, plus they have thousands of older shows that aren't on anymore that Netflix only has a few of.

Re: Cody Patterson,
Yes, you are right. I have been trying to tell people all that too, but everyone acts deaf to the words? If they do hear it, they don't seem to be able to remember it? They just keep saying how great Netflix is? Hulu is great. My family uses it to watch current TV shows. Don't give up.

Microsoft needs to debut a partnership with Hulu so we could use it rather than youtube.

Hulu plus is awesome! You can watch new shows the next day without a dvr. Exclusive library of shows (south park, Seinfeld). New partnership with Showtime for 8.99 / month.

Amazing! This is going to be awesome! Can't wait.

I canceled my subscription because I got tired of the commercials.

I hope they kill Hulu, useless ad pumping pile of shit...it takes 30 mins to watch a 20 mins show.

Bring the free tier to Windows Phone already

I would put up with ads if I didn't have to pay just to access the app on my Playstation.
Windows Central Newsletter
Thank you for signing up to Windows Central. You will receive a verification email shortly.
There was a problem. Please refresh the page and try again.