IM Options on Windows Mobile: Agile, WebMessenger, Palringo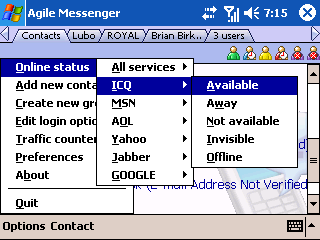 One of my favorite instant messaging apps is Agile Messenger. This instant messenger allows me to do it all. If you
I think they'd be better of trying to partner with the cell phone companies that sell WM smartphones, cause 45 bucks is way to much for an IM client, even one that supports so many IMs.

Nick, you forgot to mention my favorite! Slick!
http://www.lonelycatgames.com/?app=slick
One reason I like it is that you can set a custom status message. That's the only thing I don't like about Agile, I can't set a custom status message. Or at least I couldn't the last time I tried it.

Slick is very cool, especially for being a Symbian-type port. I was going to do a short-review of that app maybe next week to give it more exposure since it's still in early beta.
Definitely does some neat graphic tricks too.

HUNH! Never heard of slick - worth a look.

No one mentioned IM+ either.
Windows Central Newsletter
Get the best of Windows Central in in your inbox, every day!
Thank you for signing up to Windows Central. You will receive a verification email shortly.
There was a problem. Please refresh the page and try again.