IM+ for Windows Phone heads to version 3.0, goes on sale to celebrate new features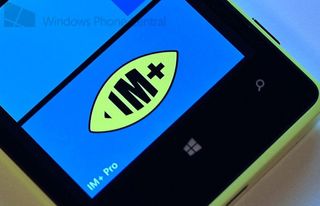 While WhatsApp seems to be doing well for the SMS crowd, IM+ from SHAPE is still the de facto messaging app for all other services. IM+ is an all-in-one and includes support for Skype, VK, Facebook, Yahoo!, ICQ and more. Even better is the fact that SHAPE actively pays attention to their Windows Phone and Windows 8 base, giving them frequent updates with new features.
Today, version 3.0 for the free and Pro versions have landed on the Store. Even better, the Pro version, which normally runs for $4.99, is on sale for just the weekend, being knocked down to $1.99. So what's new? We have the full changelog below.
New in both WP7 and WP8 versions
Option to change group chat topic
Lock display orientation the way you want
View VK.com timeline from contact info
Chat with MSN/WLM contacts in Skype.
Specific to WP8
Favorite contacts. Now you can add your favorite contacts from different services in one group.
Quick Voice messages - Instant recording, transferring and listening. New Quick Voice option is easier and faster to use. We've minimized the steps required to get to this feature – with Quick Voice selected under Settings / Messages, it'll appear next to text input field for fast access.
You can send and listen to the recorded voice messages in the IM+ app – there's no need to go to the native recorder app in order to listen to incoming voice messages.
Send you current location via IM+. Very helpful for making appointments, shouting for help or teasing friends with places like Miami Beach or such.
How well is IM+ doing on Windows Phone? It was way back in October that they surpassed 1 million downloads, as detailed on their Facebook page. That's a pretty huge success rate, considering the competition.
We're big fans of IM+, partially out of nostalgia, but also because it's a really good app on Windows Phone and Windows 8. Nothing beats having an all-in-one messaging app and this is the one to have.
Pick up IM+ for free here in the Store, or opt for the full-feature IM+ Pro, which has the push-to-email option and more. Pro is normally $4.99 for a lifetime license, but it is now $1.99 for the next two days. Grab it here in the Store. All Windows Phones.
Read more about their Windows Store app for 8.1 here.
Daniel Rubino is the Executive Editor of Windows Central, head reviewer, podcast co-host, and analyst. He has been covering Microsoft here since 2007, back when this site was called WMExperts (and later Windows Phone Central). His interests include Windows, Microsoft Surface, laptops, next-gen computing, and arguing with people on the internet.
Seeing many updates today....

Daniel u always post the best news. Keep it up.

I love this app. I use it as a substitute for gtalk. It works perfect as far as gtalk is concerned with prompt toast notifications, live tiling and also runs under lock screen and back ground task. No messages are lost at any point of time. Its the only gtalk client that works perfect that I have come across so far. I haven't tried out any of the other accounts this app supports and hence wouldn't comment on them. Good to see the new features added and bugs fixed with this update.

Does it work with Hangouts as well?

Only works with the basic xmpp protocol of Hangouts, so no emoticons, video or voice calls.

Ha, I paid $9.99 for this app when it was first released, still using it today for google talk.

Great app. I paid 9.99 and would gladly pay it again. 1.99 is a bargain!

But does it actually work any better?

I need Yahoo messenger for work and I have a tried a bunch of apps including the free version of IM+. I hope this one supports Yahoo messenger better, like running in background and showing immediate message notifications etc.

Does it add support for groups on Hangouts (google talk)?

Silly question but.... does it work with Google Hangouts?? Is that the same as Gtalk?

It does work for hangouts, but the last time I checked it didn't support groups, its only good for individual chat messages.

Thanks for the confirmation. I currently only do individual chats on Hangouts (not group) so it seems this would work pretty well for me.

What version are you guys running? Free or Pro? Just tried to sign in to use gtalk on the free version and keep getting a "your session has expired" after signing in on the google auth page. Am I doing something wrong? TIA.

I'm running the free version. Uninstall it and try again.

Gmail was down earlier. Try again.

Any way to get my group chats on google hangouts work with this? Individual chats already work.

The best solution for gchat grouping -by far- is partychat. http://partychapp.appspot.com/ Once you've been using that, hangouts is an unwanted feature that came close to breaking everyone's precious persistent groups.

This will be irrelevant if Microsoft could use Skype in such a way that it does all the chats (other than G-word) and group chats and video call baked in to the system - April 2014. One can dream.

Sigh. I don't even see why MS even purchased Skype. I could rant on for hours about what a waste Skype is. Hopefully they'll get on the job soon. :/

It's a complicated problem. Skype was built to be VOIP at a desktop, not a mobile messaging app. In order to do that, MS has to redo the entire backend as well as getting the platform apps all lined up with the same code and feature set (it was all over the place, previously). Once the backend is updated, Skype can move more to a mobile/messaging service. But it's not for lack of trying.

Wasn't some backend related "big news" due in Dec-Jan from Skype? Thought they were making those changes in December according to some story wrote.

Message syncing is coming soon. That's what you're referring too, so that a 'read' message on your desktop is 'read' on mobile, versus the current insane system. That's what I'm talking about regarding fixing backend and then pushing it out. That will go a long way to make Skype a more friendly messaging app.

Amen to that! At least that will be a start. Right now I get a toast in Skype app in Windows 8.1 PC, Windows 8.1 laptop, Windows Phone 8 messaging app AND Windows Phone 8 Skype. I spend most day clearing those notifications :(

God. Me too. The Skype app on WP is a monstrosity. Skype is integrated into chat on outlook.com even! Why not WP??

Because MSN Messenger wasn't going anywhere. I think buying Skype was a good deal for Microsoft.

Does this work with google hangout? I am desperatly trying to find an app that works with google hangout as that is how most of my friends communicate through that w/group chat.

We don't live in a google type of neighborhood, you may need another device because google will not make you an app, they would rather lure you to their platform

The app for win8 (notwp8 haven't tried yet) works for hangouts through googletalk( which is supported by this app)

Hopefully they fixed the toast message system. external toasts only take you into the app and not into the actual chat.

Lumia 525 supposed to be the best smartphone out in India. Getting very popular day by day. Good to see that but as a 720 owner i feel more apps will not be compatible in future

So I have a general question about the WP ecosystem. If I purchase the pro version of this app on my WP 7.8 running phone, and switch to a WP 8 phone in a couple of months, will I have to purchase the app again? I am guessing the answer will be true for all apps on WP. Right?

You won't have to. That's true for all apps. As long as you keep using the same MS account.

Cool. Then I will buy the Pro version right now! Thanks

Will it go on sale on the windows store? I can't afford $5

Did you actually read the article???

The minute it gets separate notification sounds for GDR3, I'm buying it.

Seeing this app frequently updated and giving support to Windows ecosystem, I would like to redownload it back. Use it a while ago and uninstalled it because I am not using any other chat medium in that app except for Facebook and Skype. Will redownload this back to show the support to the developer !

How do you change the background of IM+ to white like in the picture?

They need to change that ugly ass icon

So true....part of the reason I'm not using it

ICQ is still very nice for me...but I'll give this one another try

Is the pro version worth it anyway? Are any of the features useful?

Not really. I just wasted $2 on the app and unless someone else is using the service, they won't receive any attachments or anything. I don't see any real benefit of pro, other than ad removal.

That's what I thought... Sorry to hear that, I'm gonna stick with the free version for now

What's the advantage for premium?

The app is a nice solution to an all-in-one chat requirement. I just wish it worked better with hangouts. Sending anything to my girlfriend (photo, location, audio) just sends her a link to download, which is lame. I get that it has to be temp hosted somewhere and that Hangouts can't automatically donwload and display it, but it's still disappointing. I also get a lot of hangout/talk messages from friends that I never receive in IM+, even when push is still enabled

I've been using this for quite awhile for GChat (only IM platform my friends use and only a few of them at that, but I digress ...), and it works ok. Better reliability than Gchat (the app) and Octrotalk overall. Still, it loads really slow, toast notifications don't open the conversation directly and the autocorrect problem ... I just can't see the benefit of the Pro version when these kinds of problems still persist, even with this good deal. Sorry.

This could be me but I believe the autocorrect is fixed in this version. At least it seems better than before where I'd always have to click on the word above ot go back and proof read my mistyped words. This was one of my main gripes with IM+ before. Other than that, this app is solid!

Toast notifications has been fixed in this update for wp8, autocorrection fixed for wp7,8. The speed of loading was also improved, if it's still slow on WP8 check that you set TCP/IP connection, otherwise it will be slow on http.

I'm still sporting a Trophy ...

Thanks for the heads up. Wish I didnt have to purchase twice on windows 8 and windows phone. I had win8 for a year or more now. Finally got this with this sale on window's phone! I really only use it for GChat. All my friends have that cuz we all sit at our desks all day oh Gmail.

No toast notifications for me - no notifications at all, and yes I have the push turned on. While in a conversation, I go to another app, I receive nothing. I then click back on the IM+ on my homescreen and what do you know, 5 messages come through as it opens. Anyone else having this issue?
Windows Central Newsletter
Get the best of Windows Central in in your inbox, every day!
Thank you for signing up to Windows Central. You will receive a verification email shortly.
There was a problem. Please refresh the page and try again.