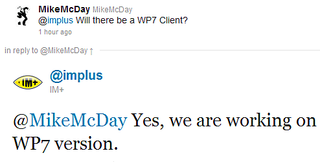 Sounds like chat users don't need to be too concerned about not having a viable solution for Windows Phone 7 for too much longer. Shape Services, maker of the extremely popular IM+ chat client, have mentioned on twitter that they have a version for Windows Phone 7 in the works. This was pretty much a given anyway as IM+ currently supports most every smart phone on the market, but it's nice to get some confirmation.
What other apps are you still hoping to come to Windows Phone 7? Hit us up in the comments.
Windows Central Newsletter
Get the best of Windows Central in in your inbox, every day!
I just hope they add in the ability to chat with XBox live users. I know video chat isn't there for the phones since they don't have front facing cameras in the first round of devices, but I expect that the second round will and I'd love it if IM+ will support the video chatting function. Just saw a demo of the Windows 7 client and Xbox live Kinnect video chat (http://wmpoweruser.com/) and it looks pretty good. Facetime is in for stiff competition if MS adds front facing camera support to the new devices slated for 2011.

Video chat would be really nice. We investigate this possibility, but it is unlikely that it will be added in the nearest future.

I would love to see all of the following apps made for the WP7: Pandora, Sirius/XM Online, ESPN Score Center, Engadget, DirecTV, PayPal, & Chase Bank. These were favs on my soon to be old phone and can't wait to get the Focus on Monday!!

I'm a webOS guy seiously looking at WP7. What I don't want is to run into the same problem with WP7 that I ran into with webOS. Awesome operating (I still think webOS is the coolest OS ever!) but lackluster execution and attention = lack of apps. What happens on the apps side of WP7 will make or break the platform, just like it has with Palm. So, I need to see a few things before I make the switch. First, and this is going to seem silly, I need to see at least 15,000 apps in the marketplace. I know that numbers are not really what count, and that many of them would probably be CRAPPS, but numbers do represent interest, and WP7 will have to probe that to me. Second, of those early apps there would have to be: Pandora, Wells Fargo, Engadget, I Heart Radio, Kindle (on it's way), LDS Scriptures, a decent blogspot app (yet to have on my Palm), and others. Third, I would also have to see random companies creating apps for the platform. For example, we use a CRM called Redtail. They have mobile apps for everyone except webOS, which really sucks.

Grubhub, Epicurious, package tracker, TWiT, Engadget, CSPAN, Skype, Fring/Nimbuzz, Hootsuite or TweetDeck, proper YouTube app, mind mapping, banking app, OTA podcast downloader, shopping apps from major retailers, flight tracker, Trip It, an official WMC app with dvr scheduling would be nice...

This is not so much of an app but I'd like MS to extend the live tile functionalities: Calendar: Allow more than one upcoming events. There is some screen space to show two or maybe even three, I think. Make it configurable. Outlook: Allow preview of new messages such as sender and snippet of the subject. Very useful for ignoring unimportant emails for later. Again, make it user configurable. I use a BB Curve and it has a home screen theme that shows the above. It lets me just glance at the screen and go. Very handy.

Thank you,The article is nice
Welcome to: Christian Louboutin Wholesale HandbagsMoncler Dowm JacketsTiffany JewelryUGG Bootsmbt shoesChanel handbagNFL JerseysNike Shoes
>>>------I love you! ---->http://www.vipgoto.com/
Believe you will love it.
Accept paypal or credit card and free shipping.
Windows Central Newsletter
Thank you for signing up to Windows Central. You will receive a verification email shortly.
There was a problem. Please refresh the page and try again.