Instagram Beta updated to fix crashes from yesterday's Lock screen update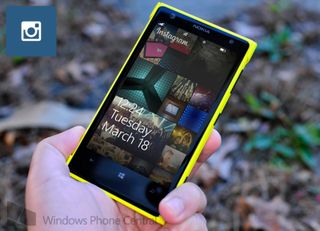 Last night, Instagram Beta for Windows Phone was updated. It brought a feature we think that all photo apps should have – Lock screen support. However, a large number of users voiced concern that Instagram Beta would crash anytime users set the app to control the Lock screen. Less than a day later, an update has been pushed through by Instagram to address those crashes.
It's a little disappointing to see the Instagram team moving at such a glacial pace to provide basic functionality to the app. We've yet to gain Instagram Direct or video support with the official Windows Phone app. Maybe the team is holding out for Window Phone 8.1 to wow us with feature parity. Who knows?
But hey, at least we have can finally set Instagram to control our Lock screen and at least they fixed the crashes from that very addition.
Head to the Windows Phone Store if you want to fix the crashes from the Lock screen settings in the Instagram Beta.
Thanks for the tip Chad F!
Doesn't seem faster. Still worst app around, terribly slow, doesn't load the 'feed' most of the time...

Same here, it loads about 1 out of 50 times on WiFi for me but 3 out of 20 times on cellular.
Not sure what that's about, but it sucks.
I still use 6tag and just check Instagram Beta every couple of days.

Loading speed is good here. 1020.

They are probably waiting for 8.1 to take it out of beta. Making excuses for them... Smh

That was fast work. Nice to see the support for this app =)

Awesome support for app. Waiting for video support...

Seems fas....
*gets slapped by Sam*

Anybody here follow for follow? :D ;)

Me. Louis O'Neal. I'm awesome.

Only if you have decent pics.

I am sure you will like them :D @prajjwaldimri

Screw instagram PornHub all the way... Wait I minute were am I? This isn't porn wars!

I'm using Instagram as lock screen now and it is gorgeous. The app may be slow and buggy (it's a beta) but it has an amazing interface.

How about lens support? Makes a bit more sense to do that I'd imagine.

I'm sure that will be in the next update.

I kinda like the lockscreen!

The only issue I've ever had is it would crash if I do a few high res photos in a row. But I use a lumia 520 so that's obviously because of memory. Other than that, it's never done anything than work.

This app doesn't load all your feed. It loads the first posts and then "jump" straight to the last posts loaded when you opened the app the last time!! This is so frustrating!!

When are they going to improve image resolution?

IG lowers the resolution of images. It's just to cut down on server load. It isn't the app at fault, at least not here.

It's funny how direct message and video are now considered "basic" functions of the app, when they are still relatively new to IG in general. Prior to those functions being introduced, IG was fine. The addition of DM and Video didn't make it outrageously better to me tbh. They are nice functions though, and I would like to see them at some point.

I am forced to log in everytime (to Instagram and Facebook, Foursquare, Twitter in app as well) :(

Yep, it's definitely faster

Lets all bitch about something! Yeah!

With Instagram, it comes with the territory.
Especially after taking so long to come to WP... and then only as a beta with half of the services available. And to top it off, it doesn't even load for some of us most of the time.

But at least we have the app now...it may not be the best but we have it. Seems like no matter what, good or bad, people bitch and complain about something.

I think most people wish for perfection, but expect to at least have parity.

Nobody enjoys complaining without good reason to do. It's been months and we still have this app in Beta version with slow annoying incremental updates that is miles away from the basic app on other platforms. Imagine, Instagram needed two updates to add lock screen feature to the app( I still see people complaining of crashes and slow speed even after second update) Maybe we will have to update four times to add every single feature of the basic app on other platforms! Ain't no good Windows Phone developer available for Instagram to hire even when the app is half a carbon copy of Rudy's 6tag. Ridiculous mehn!

App just keeps force closing upon opening on my Lumia Icon.

I don't know what's wrong with this app. Doesn't load on wifi, but loads on 2G/3g connection.

Just joined to Instagram, damn this app is slooow.

Lol, said I wouldn't download the update yesterday until they put up all the basic features, it's been waste of my data since the initial release. Slow and annoying incremental updates that just burn your data with nothing to show for it. Instagram couldn't add just lock screen support in one single update, useless developers! It's either many developers are playing with Microsoft or Windows Phone OS is difficult to work on. We cried for Instagram before they even brought this app in beta version, so maybe we all need to donate a dollar for Instagram to hire competent Windows Phone developers! Lmfao....

I wonder why dont they do the qulity check before releasing the app? That too official app. It is the basic requirement to test the feature before releasing the app..

Grab 6tag, it's better....

Maybe I am wrong, but I was under the impression that it takes a full week for a wp8 app to reach from the "just submitted to the store for certification" to "really available for enduser download". For example it took a week for VLC in the Windows 8 store to appear for download. So how does it work that the Instagram can fix an issue under 1 day? Especially when it -as per my understanding- needs another submission of an increased version of the app, that -most probably- should go through the same level of validation, as the very first version submitted to the MS store.

Does anyone know how to clear the cache of instagram? their size is growing quickly and in a very short time is the app that consumes more space on your smartphone.

With the arrival of social media into my instagram very helpful online storage, consequently my phone memory is always available a lot. Thank you Instagram. Pulau Tidung
Windows Central Newsletter
Get the best of Windows Central in in your inbox, every day!
Thank you for signing up to Windows Central. You will receive a verification email shortly.
There was a problem. Please refresh the page and try again.