Instagram for Windows Phone finally adds Lock screen support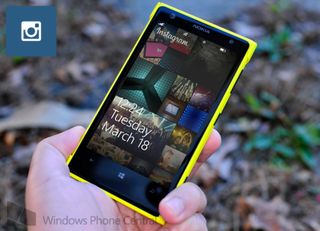 It's been awhile since we've seen an update to Instagram Beta, the official (but in perpetual development) Instagram app for Windows Phone. The app launched and became available in the Windows Phone Store back in late November. It's picked up a handful of intermittent updates in the subsequent period. Today we're looking at a nice addition to Instagram Beta. Anyone up for Lock screen support?
The last two updates to Instagram Beta were minor and only addressed bugs with the app. Today we're looking at version 0.4 in the Windows Phone Store. The big new feature? Lock screen support!
Update to the latest version of Instagram Beta and you'll be able to have the app power your Lock screen. It'll populate your Lock screen with a variety of photos from either your home (friends) feed or your feed. The home feed will show the newer photos from everyone you follow on Instagram. While the other feed will focus on and highlight your photos.
Head into the settings of your phone or Instagram to enable the Lock screen support. Let us know which feed you're going to use.
This is we would have loved to see the day the app came out. Nonetheless, nearly four months later, it's nice to see Instagram add an essential feature that most photo apps have on Windows Phone.
Grab version 0.4 of Instagram Beta from the Windows Phone Store for free.
Thanks for the tip everyone!
Windows Central Newsletter
Get the best of Windows Central in your inbox, every day!
That won't be until 1.0 is released and at this rate September sounds about right.

Platform limitation. Blame Microsoft.

False. 6tag has it and has had it for a very long time now. 6tag still has far more features than the official instagram app, not to mention better looking.

8.1 allows video manipulation. So when 8.1 drops instagram can add it. They aren't gonna add it until they can add their filters obviously.

Microsoft is very slow at adding basic features .

Tell me about it... I mean, it's Microsoft we're talking about here. If it were Jolla or some other shit, it would be comprehensible, but Microsoft? It's preposterous how slow they move. Hoping Nadella will make a difference!

Yeah, 18 months to deliver a .1 release with the feature set I've seen definitely seems slow.

Really❔ What makes you think that❔

Video manipulation is something that I miss a lot, mainly when I want to send low res videos and I can't reduce then. Hope that in WP 8.1 there will be no more limitation as you said!

Actually you can send different quality videos. Or is that a Nokia only feature?

Pathetic, I just hope they are saving the rest for wp8.1

Anyone have problems with network connection?

Same. The connection to instagram now is extremely slow, like I'm on dial-up. Wtf?!

The damn thing doesn't work without the data connection turned on. People who made this app are complete morons.

I am on wifi cause I'm roaming. So same thing if it is data connection or wifi, connection to instagram servers is poor or kinda limited in speed.

Amazing. I'm using Instagram over 6tag and I'm not missing any feature, cause I don't use videos or direct and I'm very happy with the official app

They work soooo slooow.. And lock screen support is the last thing that app need. Lol

Lol that's what I'm saying..

Stuff like this just makes me sad man

What it really needs is LENSE support so those clowns at techcrunch won't say it can't even shoot photos!

Such a nice feature! But nothing will replace my Bing lock screen, I just love it and can't seem to change it!

Hi there! I'm having problem with Bing lock screen. Does your WP refresh the imagen every day? In my Lumia 820, the image does not update every day. I have to go to Settings - Lock Screen - Set "Photo" and then "Bing" again and the imagen refresh. It happens when I'm with Wifi and Data. Please help! PS: I don't speak english, sorry :(

Hey! I used to have the same problem with my 920, then I downloaded lock screen apps (Lockmix), and chose Bing photos, and now it works like a charm, it updates every single day, just make sure you have internet connection

I'd rather have them put the app on pair with Android and iOS first and then add the WP8 gimmicks but ok...better than nothing, obviously. And meanwhile 6tag continues to be better.

Platform limitation. WP wont allow croping of Videos. (Instagram videos need to be square). They wont integrate Direct and Videos as long as this limitation exists.

That's right. I have used 6tag and official instagram beta app. But 6tag is far far better.

What about videos, take pictures with the app and DIRECT ? Is it so hard to add these must-have features ?

i love 6tag, but photo quality: instagram beta>6tag. i made a lot of tests again and again, and the processing quality is much better in the official one.

Too bad that the photo quality sucks on there also.. I wish Instagram didn't lower your resolution at all. I've taken some great shots with my 920 and 1520,but I can't show them off probably on Instagram because of Instagram.

Crashes when lockscreen set to instagram beta. No donut!!! :(

Crashes for me too. 8X here.

I can confirm that. (I have HTC 8X.)

I love official ig filter authenticity too bu they gotto rapid fix that lockscreen bug :(

Need to Fix the Settings UI and when upload photo.. ._.

This Instagram team are not serious. after a total redesign of the Android and iOS versions in the last updates, the only thing they can add to Windows Phone 8 version is lock screen support when tens of Instagram basic features are still missing. I'm not wasting my data on this until there's a full fledged update with all the basic features.

Can you blame them? WP is the distant third-place platform. That fact is not Instagram's fault nor is it their problem to fix. Microsoft gets 100% of the blame here.

If Nokia can have Video Trimmer and Video Uploader (although only to YouTube) how is Instagram not having these in their own app Microsoft's fault?

Every time I see you Instagram name, I read "Sans abri" which means homeless in French.

F that. When are they going to get this bitch out of beta?

Crashes immediately when I set the lockscreen feature on! :((( After that I cannot open the app anymore. I hope we'll get a fix quick!

for now you can change back the lockscreen app to other app in settings, then you'll be able to launch instagram.

Look at it this way - at least the app isn't 100% forgotten about. Slow updates yes, but better off than other apps that aren't ever updated at all anymore. Side note: lock screen would be great without the Instagram text on the top corner

Oh my god..the rate at which Instagram is being updated is pathetic. It's been around 5 months and the app is still stuck at BETA 0.4. At this rate its going to be another 1 year after which we would see 1.0

Lol. I think that's the point.

So can somebody confirm. Video and such is a windows phone limitation? If so will this be getting fixed in windows 8.1???? For the first time I actually feel like this app has finally surpassed 6tag regardless of no video etc....

There are no video transcoding facilities on Windows Phone. I'm unsure about other platforms. The 8.1 update adds this functionality.

How does the current Nokia Video Trimmer work then?

Stable. I'd been trimmong 1Gb full HD videos chopping beginning and the end of videos on Lumia 1020. Its flawless.

Definitely not platform limitation. Skype does have video, #6tag does, nokia has own video trimmer/ uploader. It just facebook is too slow to boost their development for WP platform. They're talking about bringing android and iOS into your WP platform. If I want android I can buy android phone, same goes with igadgets.

At least it's looks good..

Don't update!!!! App crashhh..

Rudy the legend......... Of microsoft

Rudy tweeted 6 snap submitted with a huge update.

Updatez, openz instagramz, intant crashez

I can't launch the app after I activated the lock screen.. Anyone else experienced the same?

Yep, crashes every time I open it. Set something else as lock screen, then it won't crash. Damn.

yeah, my entire morning was spoiled by this, then I switched to 6tag (again).

App crashes with lockscreen on and nothing is shown on lockscreen.

I only need the new WhatsApp update. For Instagram I have no hope on getting a full featured app until WP8.1 is released.

App crashes for me now, sigh

Ehhh.. I'm good with 6tag

It doesn't even work now on my 920. The app itself crashes.

People literally just comment on WP to say negative things lol. I like the lockscreen function its awesome. As for the other stuff, have some patience, it's not like you're losing money or your family is dying.. seriously. It's free..

If only 6Tag had added this before... http://forums.wpcentral.com/windows-phone-apps/257430-my-wishlist-6tag-v...

That looks very cool @astroXP

Nice buuuuuut, give me video and direct

nice , i want this feature on 6tag since i prefer 6tag over official app :D

Reach out to @rudyhuyn and tell him you want that! http://forums.wpcentral.com/windows-phone-apps/257430-my-wishlist-6tag-v3-5-a.html

I don't even use official instagram application on my Lumia... There is a lot of other applications for it.

Hmmm 6tag doesn't have lock screen support yet...

Help me grab Rudy's attention for this http://forums.wpcentral.com/windows-phone-apps/257430-my-wishlist-6tag-v3-5-a.html

Yeah, 6tag is too busy updating my live tile, uploading video, direct messaging and ...oh yeah... actually working.

and who needs it over igdirect, regramming and multiply accounts. Oh did I say video support?

Crashes on my 1020. 6tag could do with this feature, but not that pressing imo. Just wish 3rd part apps (like 6tag) could get push notifications!

3rd party apps can get push notifications, many do.

And still no Instagram Direct, I bought a Moto G specifically for Instagram, can you believe it? Such laggards!

Instagram app is my prefeerence over 6tag because of faster loading. Reading some comments here it seems like this is a stupid update.If i need to have active internet connection for lockscreen to work, HELL NO!!

It jumps out from the app after updating

Instagram Beta supporters can't deny that 6tag is a much better and full featured app. Whether you need the features of 6tag or prefer the look of Instagram Beta, it is a full featured app that is continued supported by ONE person. That being said, Instagram Beta is really not as bad as people make it. I use both and while I prefer 6tag over Instagram Beta, both are great

No crashes for me but the autoplay is annoying. >.

What's the impact of this app on the phone's battery?

My biggest complaint about Instagram & Vine is having videos auto-play. Also the features that are lacking compared to other platforms.

I choose it as my lock screen wallpaper and every time I enter to the app it crashes

I don't use Instagram and don't have crashes. Try that.

Does Instagram have a live tile that keeps changing photo from my feed? No? So I'll keep with 6tag that has.

They added the feature where you can choose to play sound when playing a video, this wasn't there before right?

It was in beta 0.3.2 also... the only change since 0.3.1

Instagram auto exit when I using feature Screen Lock

Boooo!!! 6tag is still the best!

I wish it could just go through pictures I have liked...

U can...just go into settings and hopefully u'll see

I'm sure he means for the lock screen.

Who cares about Instagram? The app still doesn't work. It takes over 20 seconds, after opening, just to tell me it "can't load image".

Pin to Start Screen greyed out... Anyone know why..?

Cool, now hopefully Awesome Lock will add Instagram for background photos in the next update.

no they won't as long as its beta... who knows perhapf IG decides to drop entire lockscreen feature...

Virtual keyboard covers login password field. You don't need to be a genius to place login fields in the upper half of the screen I'm frustrated and so sad about insignificant updates beta 0.4 provides

I love 6tag for one reason only which is that you can scale the entire image into the square mode instead of having to crop bits and parts of it before uploading.

You could also just use Squarify: http://www.windowsphone.com/en-us/store/app/squarify/3ee33dbf-ec12-4359-...

Works Great! I don't mind about the video at all... And, unless they do add it, you can always use a different 3rd party app for now.

has anyone noticed this: as u play music from xbox music, there will be album/author art displayed on the lock screen which i enabled it in the settings. but after i stop the music the instagram lockscreen will fail... now there's only BLACK in my lock screen. its a big bug.. instagram failed to recognise this bug eh?? well, it's beta anyway..

They don't make articles like this anymore.